How to make your own DIY Leather Feather earrings. These earrings are really easy to make and the best part? Really cheap!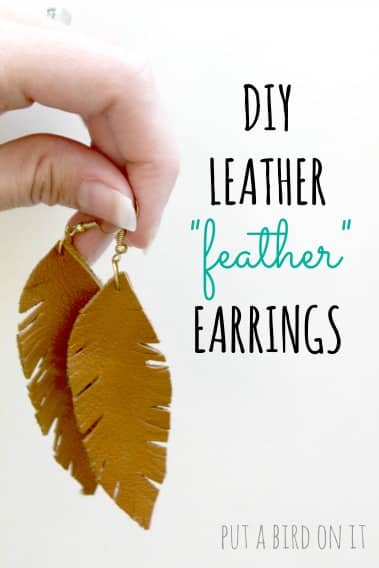 Hi friends! Daniela here. I'm back, for another round of Fashion DIY. I recently discovered a local leather store that sells scrap leather for super cheap. I bought a big pile of leather for less than $10. Which is awesome, because you can get SO many projects out of all those random scraps.
Fabric stores sell scrap leather and you can even get it on Amazon! My fave project I've made with it is these DIY Leather "Feather" Earrings!
How to Make Leather Feather Earrings
Supplies:
Scrap Leather in color of choice

Scissors

Jump Rings

Fish Hook Earring Findings

Needle nose Pliers (optional)

X-Acto Knife (optional)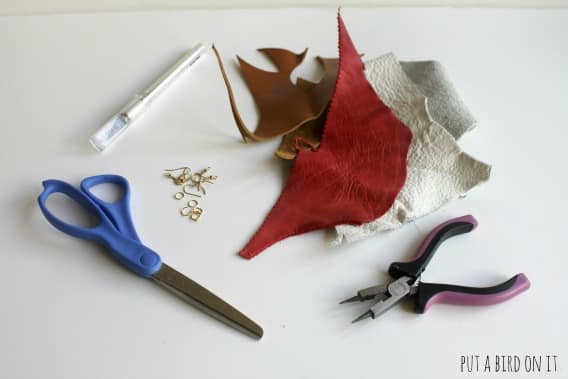 Instructions:
Cut 2 feather shapes out of your scrap leather. You can make them any size you want! Mine were about 3-1/2″ long.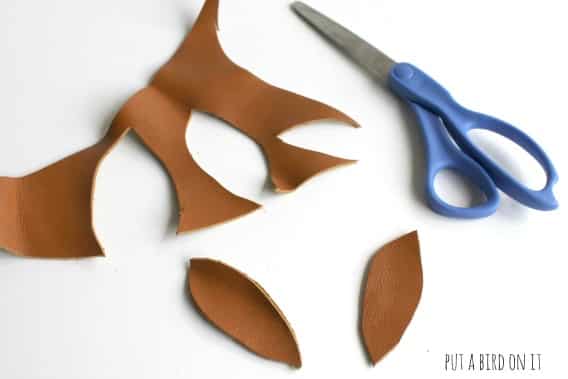 Cut slits along each curved side of your feather. I cut mine fairly close together and end halfway to the middle of the feather. This is where you can customize your feathers to look however you want.
I'll cut some of those slits in half again and "pull out" chunks, so it looks more like a frayed feather would look like. It's fun, because it's up to you to make it unique and how you want it!
You can see in the second photo below, how some chunks are cut out of mine – I'll finish, put them on, and look at them in the mirror to see if I like it and sometimes go back and fringe it more or cut more out!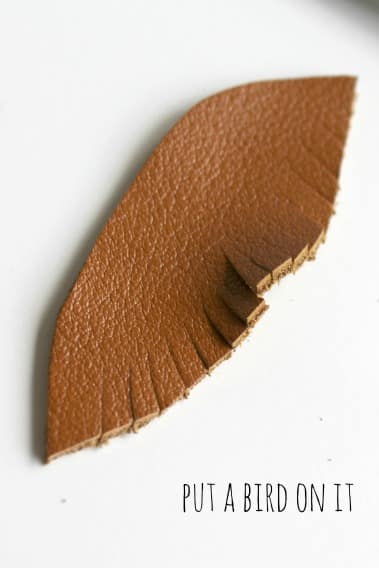 Poke a hole near the top of the feather. I use an X-Acto knife, but a thick needle or clothespin works, too.
Use pliers to open your jump ring and hook it through the hole you made. Hook the open jump ring through the bottom circle of the fish hook earring finding, and use your pliers again to close the jump ring.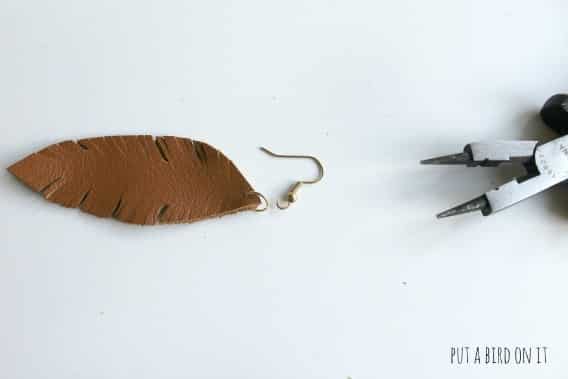 That's it! You're done! You have super cute leather earrings that didn't cost you a fortune and are adorable.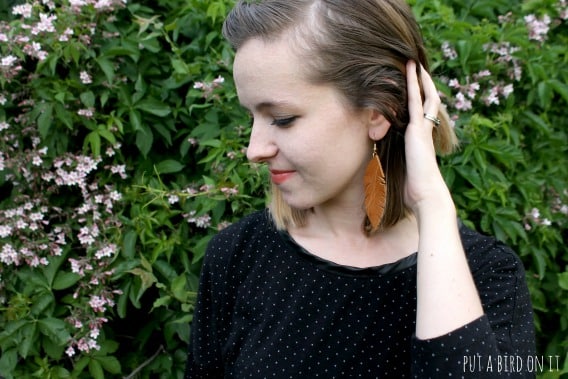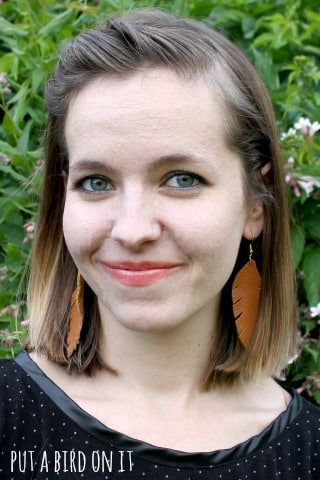 Do you have a favorite project to make with leather or a favorite jewelry DIY? I'm loving thinking up new ways to use my scrap leather. Thanks for having me!
If you are looking for another fun way to use up scraps, try this T-shirt Scrap Braided Headband Tutorial!