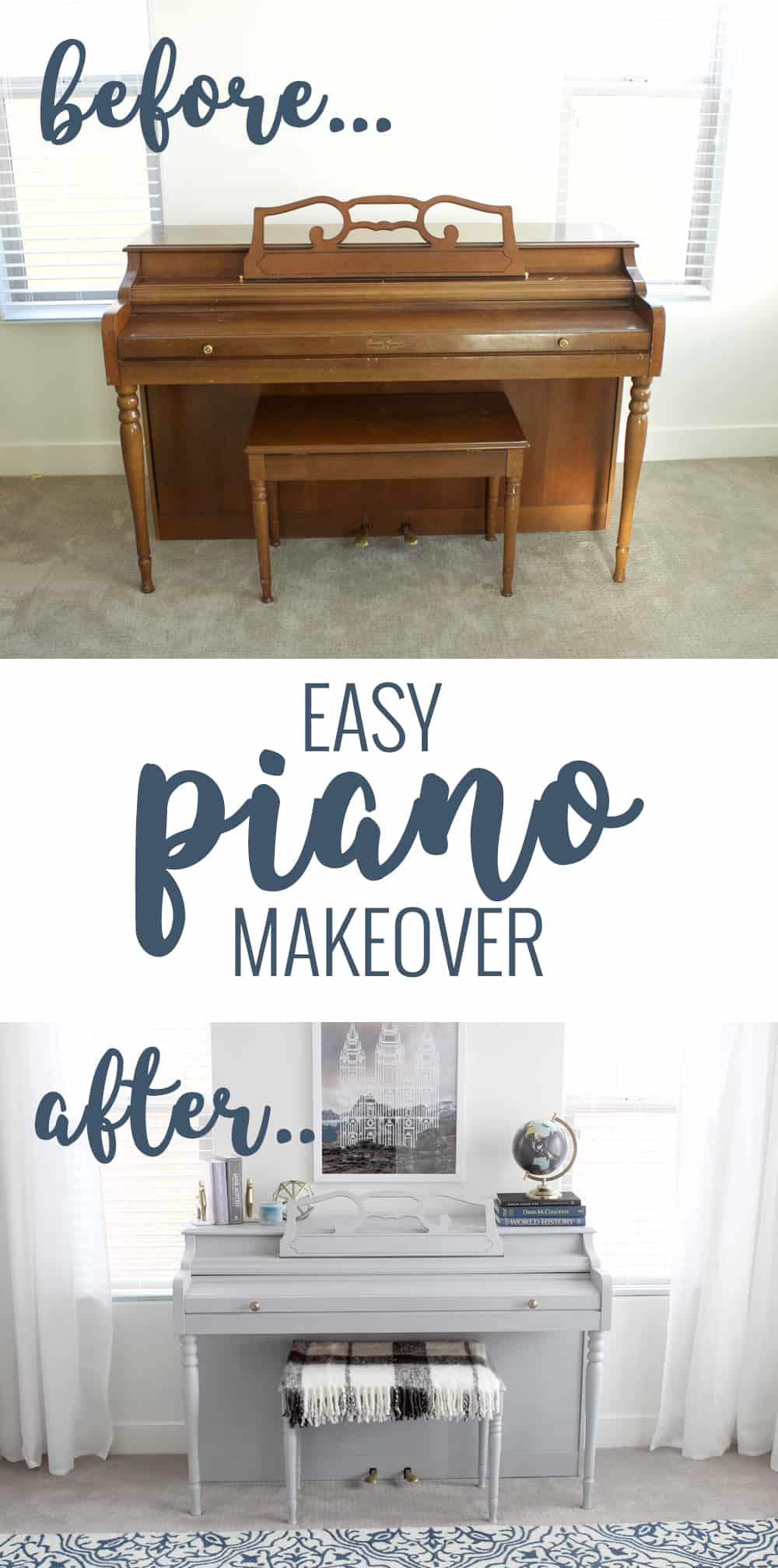 Hello friends! I'm so excited to be sharing about my piano makeover today! I have to be honest, I am not a big DIYer. I love small crafts and projects, but I get easily intimidated by big ones. I had literally wanted to re-finish this piano for like 9 years, but I always let someone else (or my internal demons) convince me not to! Well, let me tell you something. It was WAY easier than I thought it would be, and it looks even better than I dreamt it would! Honestly, I wish I had done it years ago! So don't make my same mistake! Let's do this!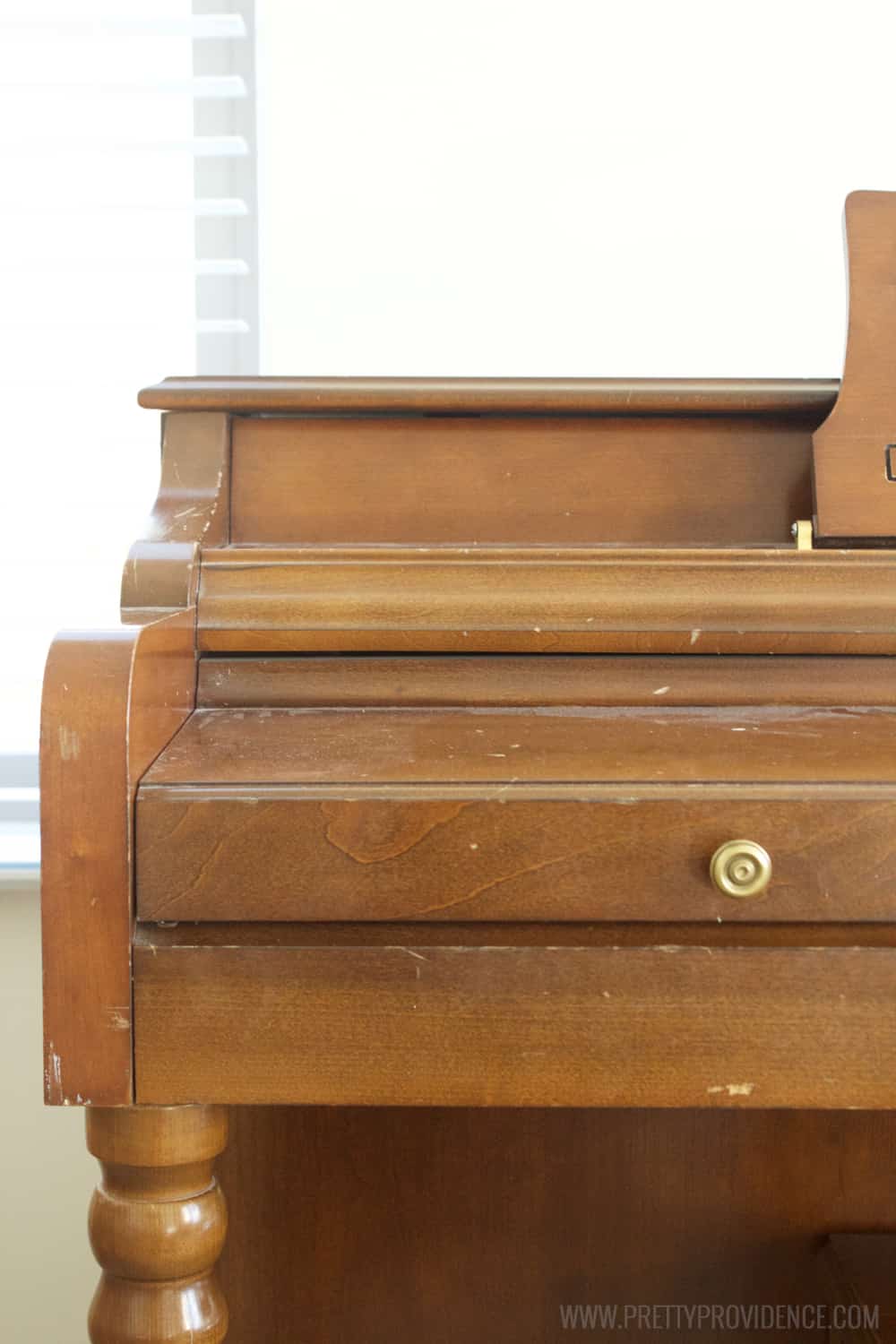 So this is an up close image of the piano as it was before! It was a pretty color, but just not my taste. Not only that though, but it was in really bad shape, and definitely in need of an update.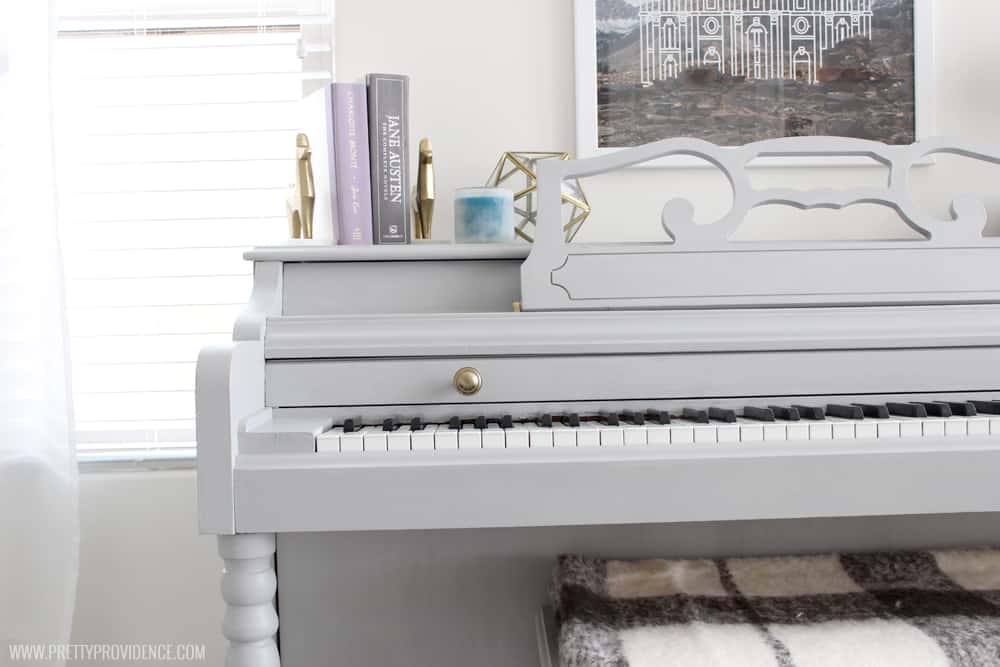 Okay, so here is what you need to refinish your piano:
A sander and/or fine sand paper
Rustoleum Chalk Paint (I used the color aged gray, you can find the other color options here)
Rustoleum Matte Clear Topcoat
Paint Brushes
New Knobs (if desired)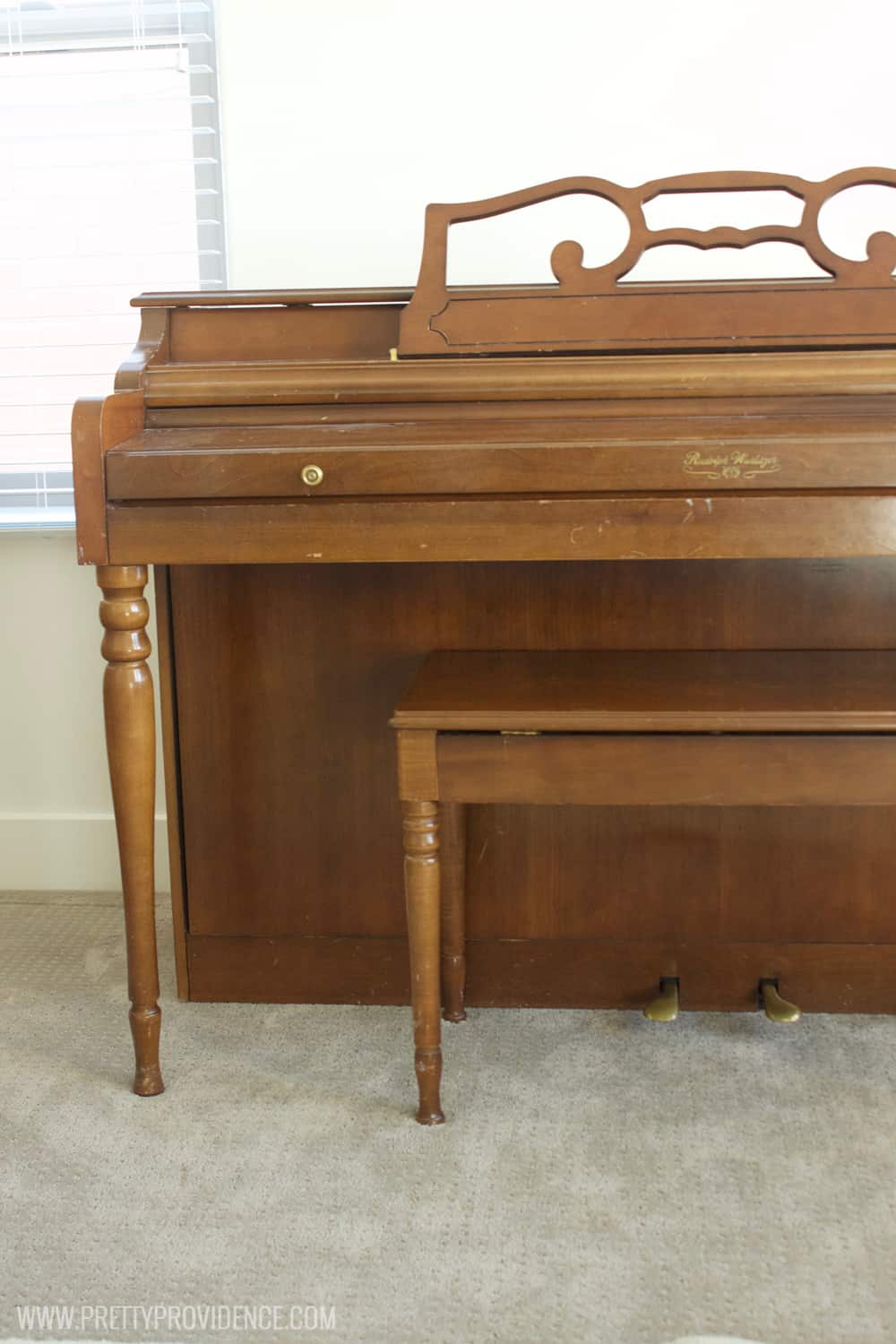 Here's the steps:
Take off the hardware and the music stand.
Lightly sand your piano. I used my sander (linked above and below) and when I say light I mean light. It literally took me an hour to sand the entire thing!
After sanding, wipe down the entire piano with a wet cloth to get the extra sand dust off, and then let dry.
Now comes the fun part, paint your first coat! This is the definitely the most time consuming part of the job. I put Gilmore Girl's on the kindle and painted a coat each night. I did 2 coats of the chalk paint (plus a touch up) and 1 coat of the top coat (plus a touch up). I didn't want my piano to be super shiny in finish, but if you do you may want to do an extra top coat! I did a coat each night for four nights and honestly it was kind of therapeutic. Also, I did not cover my keys (#lazy). I started to, and it wasn't working well so I quit and instead started used a piece of cardstock to protect the keys when I was painting the surrounding areas and it worked like a dream! I just moved it around as needed, super easy!
Add new hardware and voila! You have a beautiful new piano!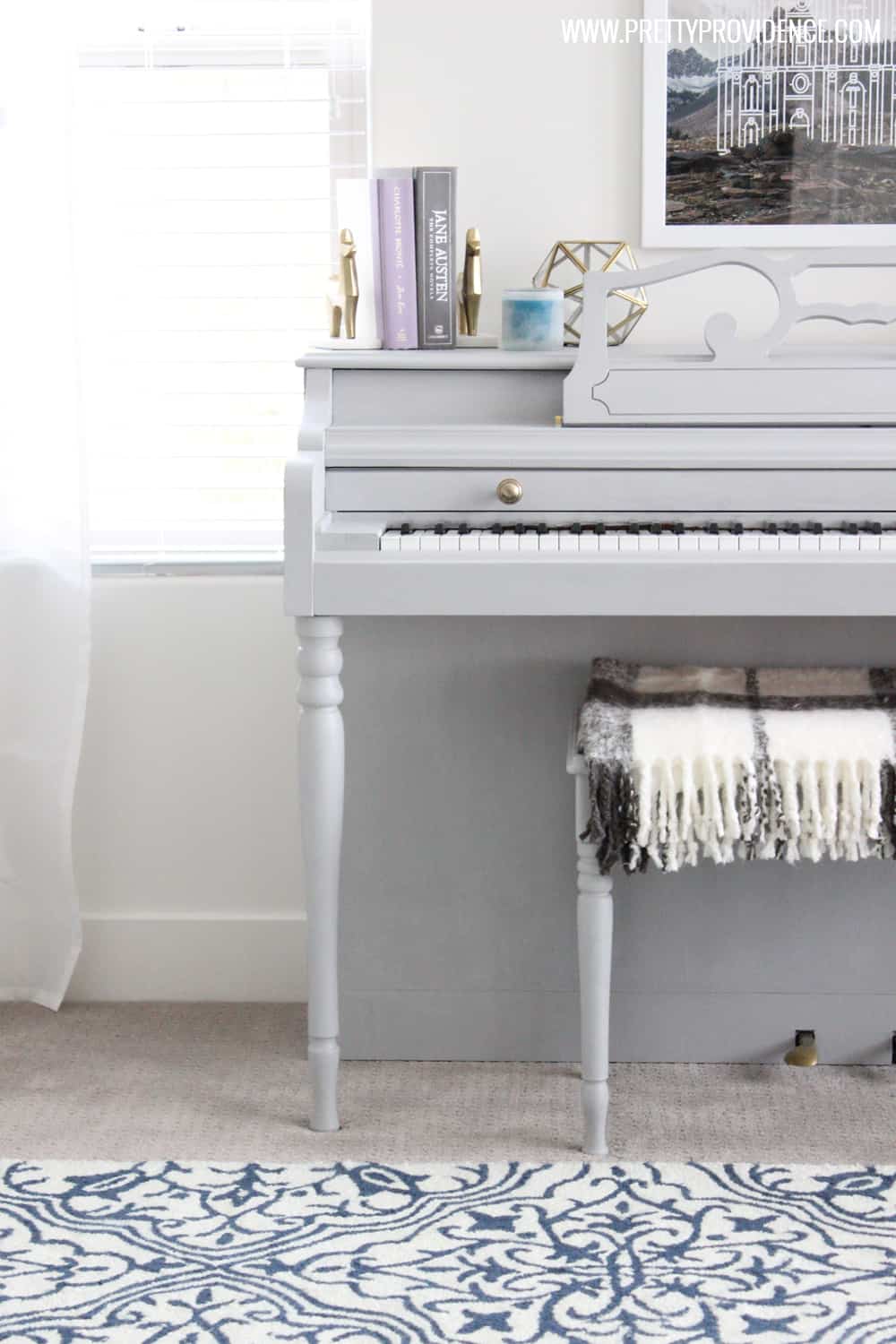 Isn't it beautiful? I has been months since I finished and the chalk paint has held up so well! I am so glad that I finally did it!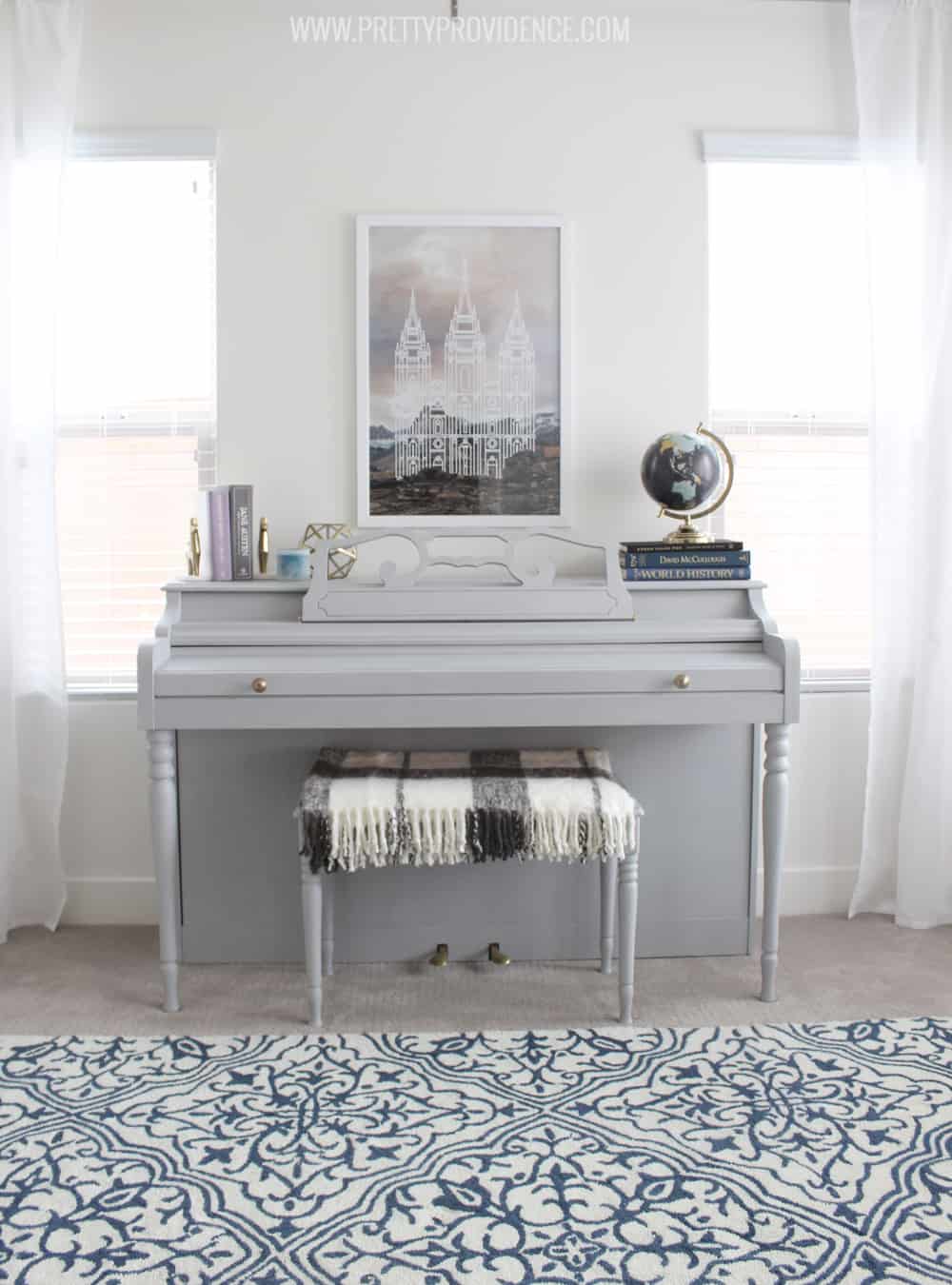 What do you think? Have I convinced you to give it a go?
xo,


| | | |
| --- | --- | --- |
| | | |

| | | |
| --- | --- | --- |
| | Craft Room Organization | |