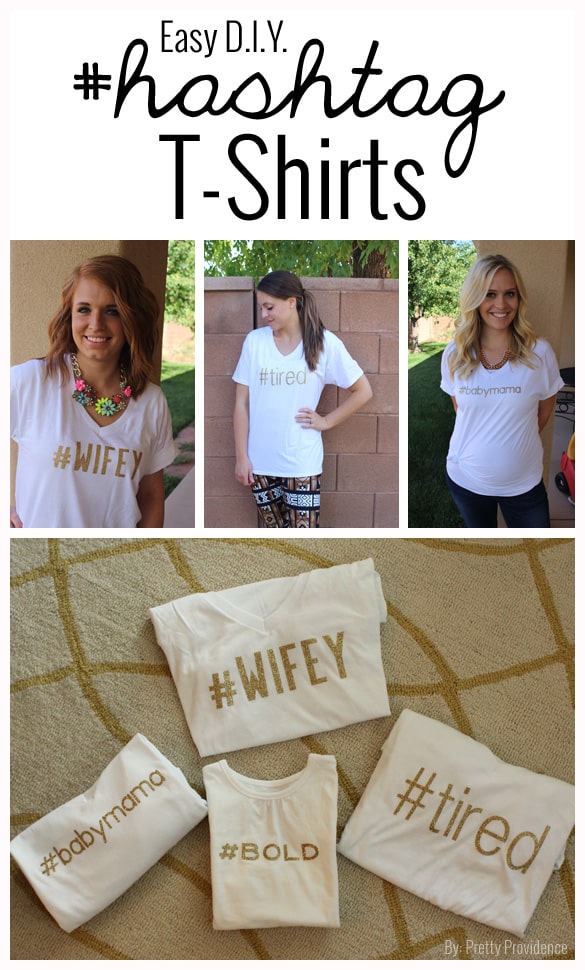 I am so excited to share today's project with you guys! I mean, who doesn't want an easy DIY #hashtag t-shirt.. right?? I guess I should start with a little back story.. I have been wanting a Cricut machine for like, ever! When the new Cricut Explore came out, that desire easily quadrupled! The only issue was, they aren't cheap, and I was nervous that it was going to be super complicated and I would never use it. It's hard to commit to a big purchase when you don't know how much you are actually going to like something or use it.. ya know? So then I got the opportunity to enter a contest with Cricut and even though I was super nervous, I knew that committing would force me to actually learn and use the machine.

OUR LATEST VIDEOS
Well, here I am, showing you my very first project I've made with my Explore! You guys. I am seriously DYING over how freaking easy that thing is to use. I was so nervous to break out my machine, and once I did I couldn't stop! I started with a #bold shirt for my little Nora bean  and I loved it so much that I had my beautiful bff's come over so they could be my models and we cranked out three customized shirts in like 30 minutes!
Now, before we get down to the details on how to make these shirts, I want to introduce you to my amazing team lucky #13!

We all used the the "gold is the new black" theme to make gold inspired projects with our Cricuts this month!
Click over here to view their awesome projects:
OKAY! Now back to our awesome #hashtag shirts! Here is what you need to make yours:
–Cricut machine
–gold iron on vinyl (on sale!)
-scissors
Literally all you do is go to the Cricut design space and click "create new project" then "add text" type your #hashtag and then pick a font and sizing. For Nora's baby shirt I kept the width at 5.5 inches, and for our adult shirts I set the width to 8.5 inches and the height to between 2-3 inches. After you have the sizing and font set how you like them make sure you rotate your image 90 degrees (so the image is mirrored) so that it will turn out right on your t-shirt! Next, click on the green go button and follow the prompts for loading your iron on vinyl into your machine. Then push the "go" button and the Cricut will cut your image! I cannot stress enough how easy this was. I was seriously so afraid of it, and the machine basically does all the work for you! After your word is cut, weed out the excess vinyl, and stick it onto your t-shirt where you want it. Heat for thirty seconds with iron on cotton setting then flip shirt over and heat from the back for 30 additional seconds. So simple, yet so fun!
Now, how about some pics of us hanging out in our new tees! You can't go wrong with the classic #wifey!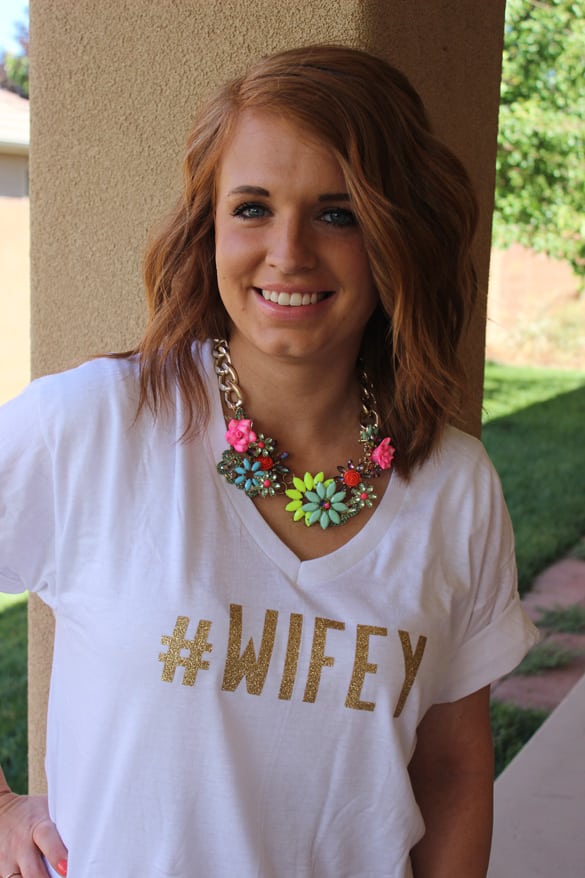 I mean.. how gorgeous is Cass?
Now for the beautiful Melissa rocking the #babymama tee…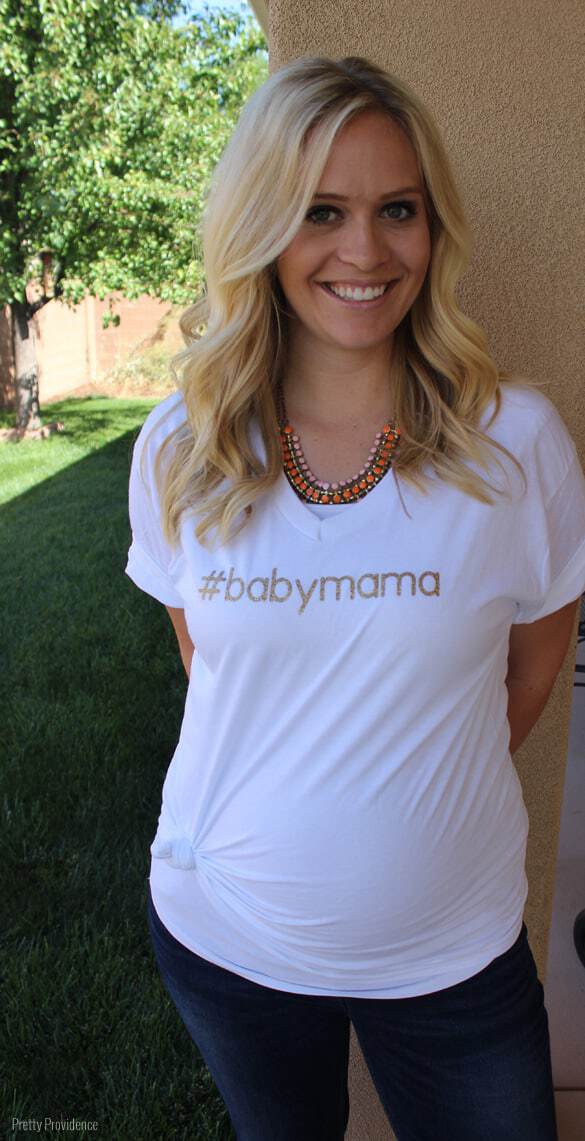 So fun right??
Here's a few pics of Miss Nora in her #bold tee…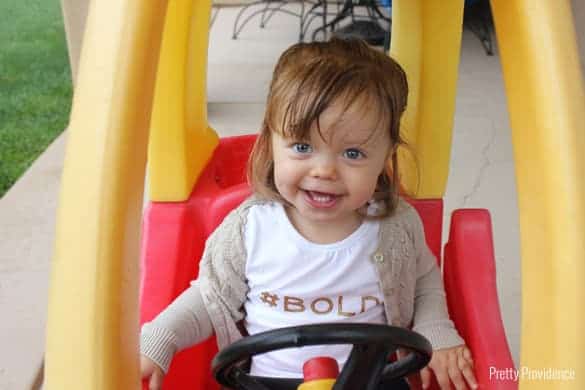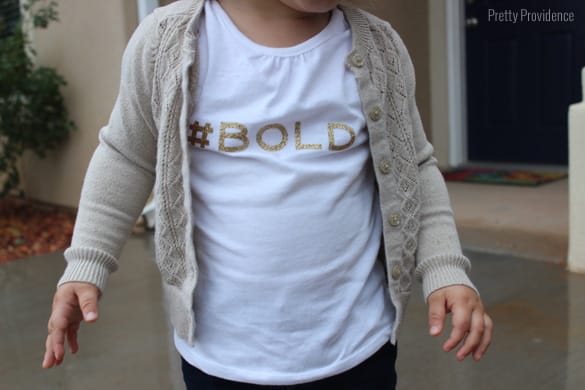 Isn't she amazing? "Bold" just fits this girl perfectly. She is absolutely fearless and positively bright. It was dumping rain outside when we took these pictures and she didn't have a care in the world.
Here I am in my personal favorite.. the #tired tee!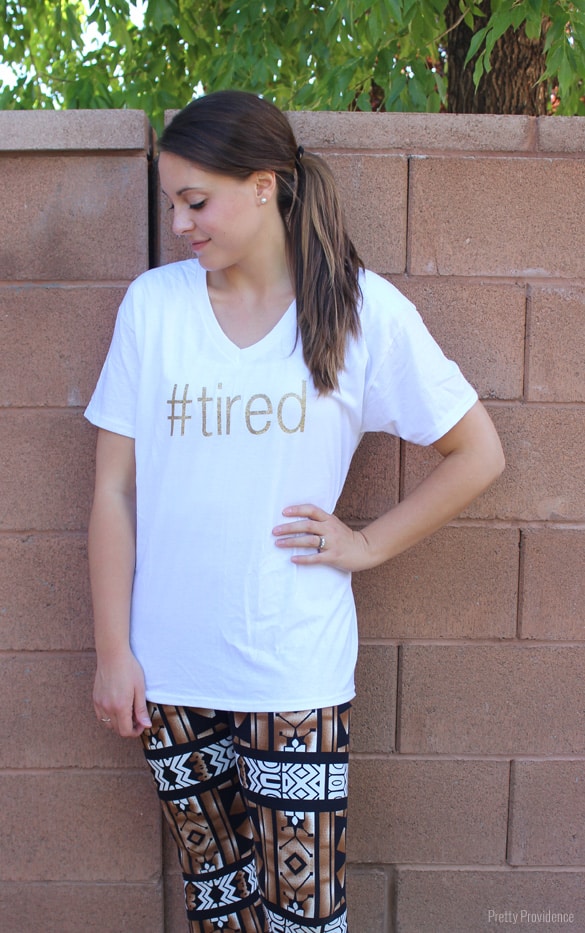 For some reason this one just totally makes me smile! It's a perfect shirt for lazing around at home, or for a morning when you woke up late with your favorite jeans and some cute gold flats. I wore this to the grocery store toting around my two babies and I can't tell you the smiles I got from people, haha! When Bryce came home from work and saw me he said, "I want one! Only not gold and not sparkly." You got it babe.
I hope you all have fun making your own #hashtag tees!
xo,

If you liked this post you will also love DIY freezer paper stencil shirts and DIY Mint Jeans!