Awesome family Star Wars shirts! With six options you are sure to find something each member of your family will love and identify with! We wore ours to Disneyland and were stopped 100x to ask where we got them.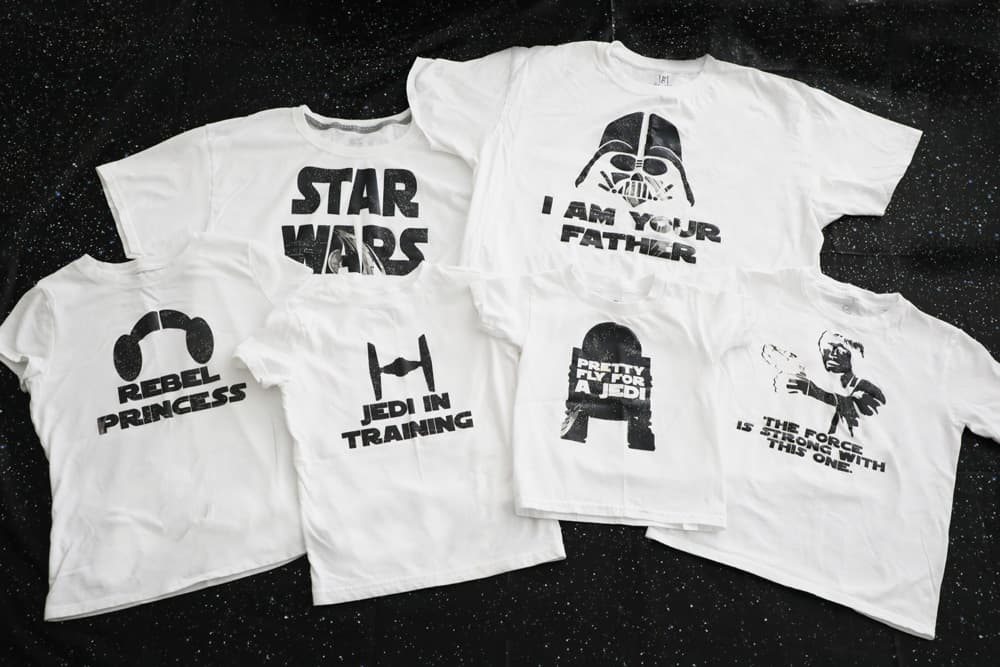 With The Rise Of Skywalker coming out and the opening of Star Wars Land at Disneyland I knew I wanted to make some family Star Wars shirts and I love how they turned out!
Family Star Wars Shirts
We are huge Star Wars fans at our house. My husband and I both grew up with the older films, and we are loving introducing our kids to the new movies and the Mandalorian! We even threw an epic Star Wars Party.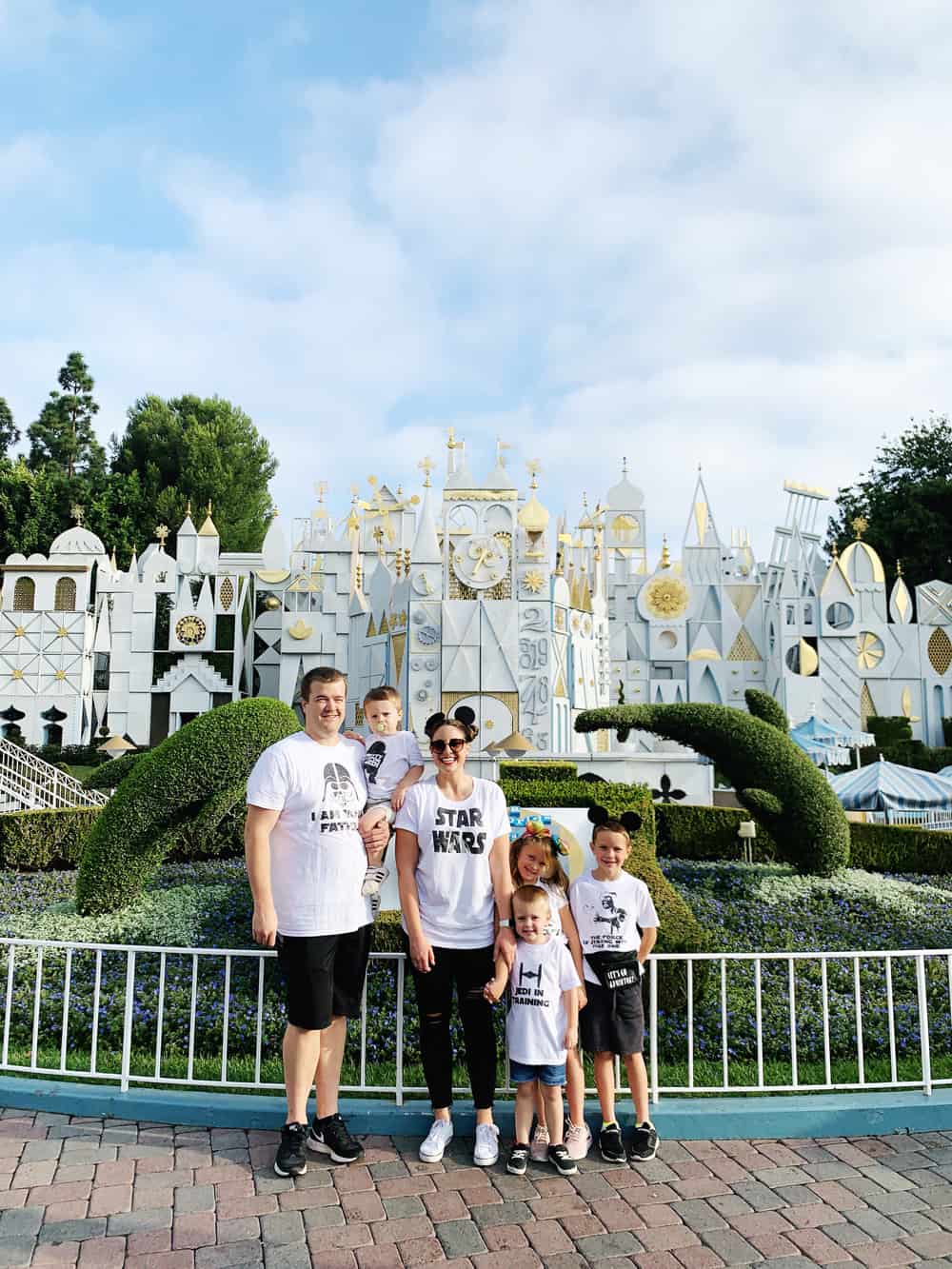 Disney Star Wars Shirts
We took a Disneyland trip this year for spring break and we literally got stopped a hundred times about our Star Wars shirts! Everyone commented on how fun they were, and several people asked me where they could buy them! For a DIY-er, there is no higher praise than that!
I wanted to make each of us our own unique shirt that reflects our personality. With six different options, you should be able to find the perfect shirt for any Star Wars lover in your life!
Scroll down to see the different options up close!
I Am Your Father Shirt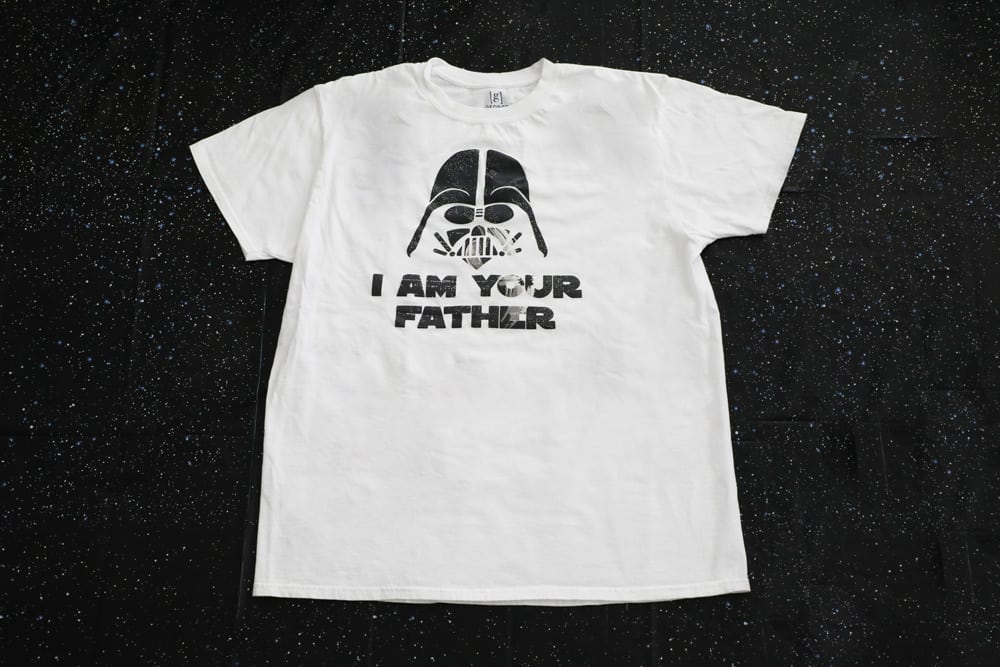 This shirt is especially applicable in our family because our oldest son's name is Luke! Haha. I made it without the name so that it would work for all of you as well! Perfect for the man of the house to wear.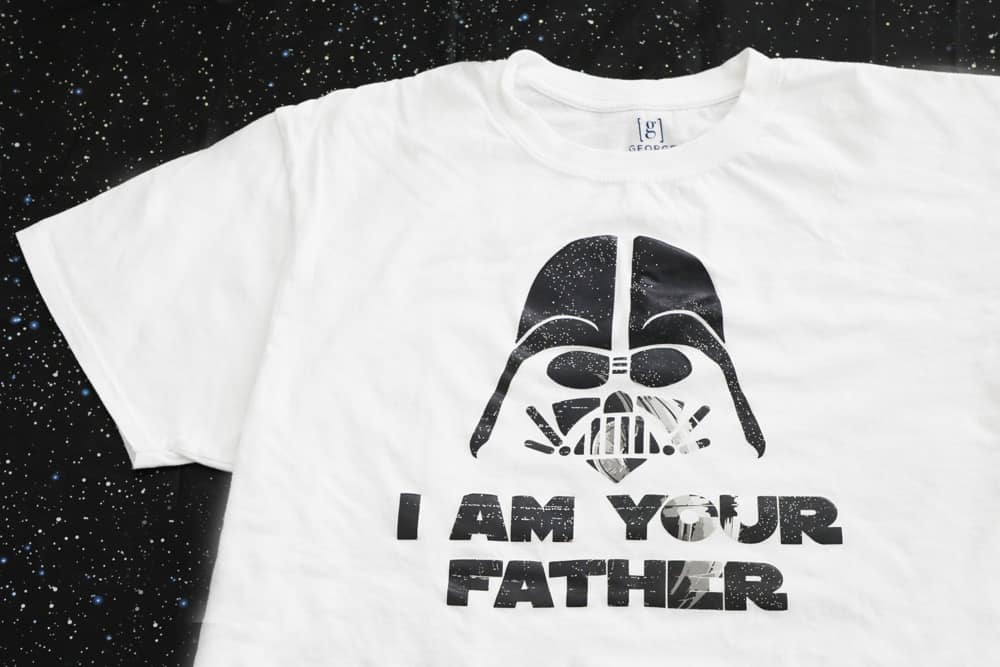 Star Wars Shirt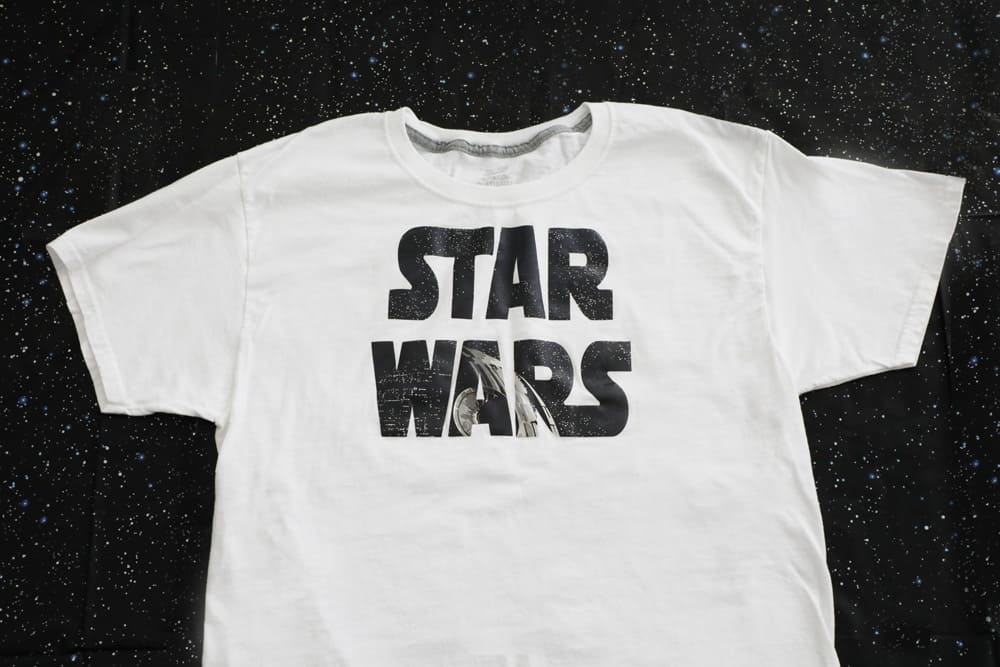 I like things pretty clean and classy, so I opted for just the Star Wars logo. I love the way that the Cricut Patterned Iron On looks in these designs. It is subtle enough that the writing is still bold but more interesting than plain black vinyl! A classic option that is sure to work for any Star Wars fan!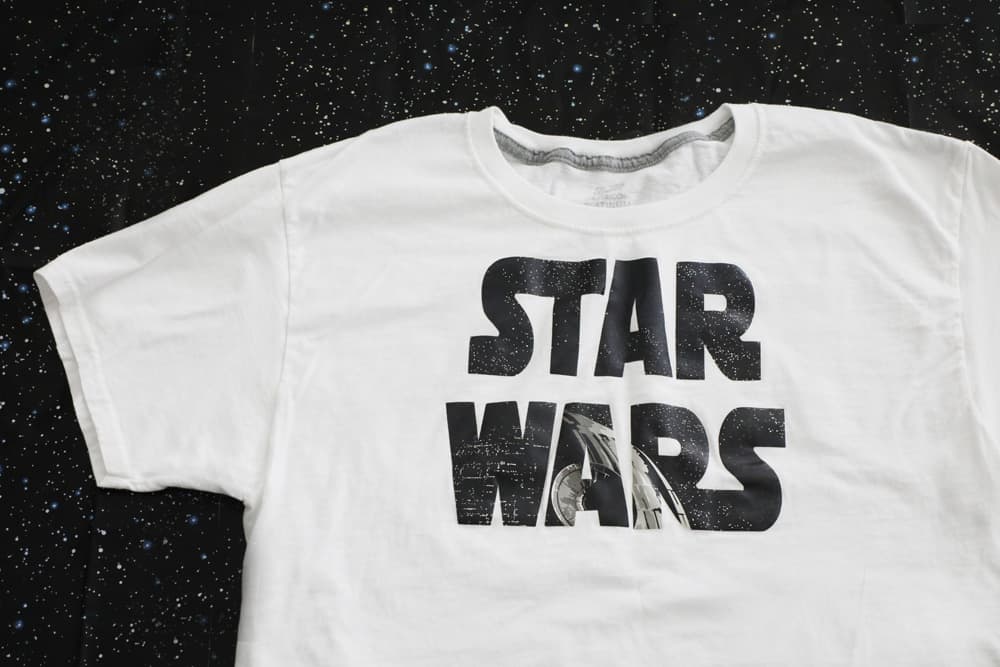 The Force Is Strong With This One Shirt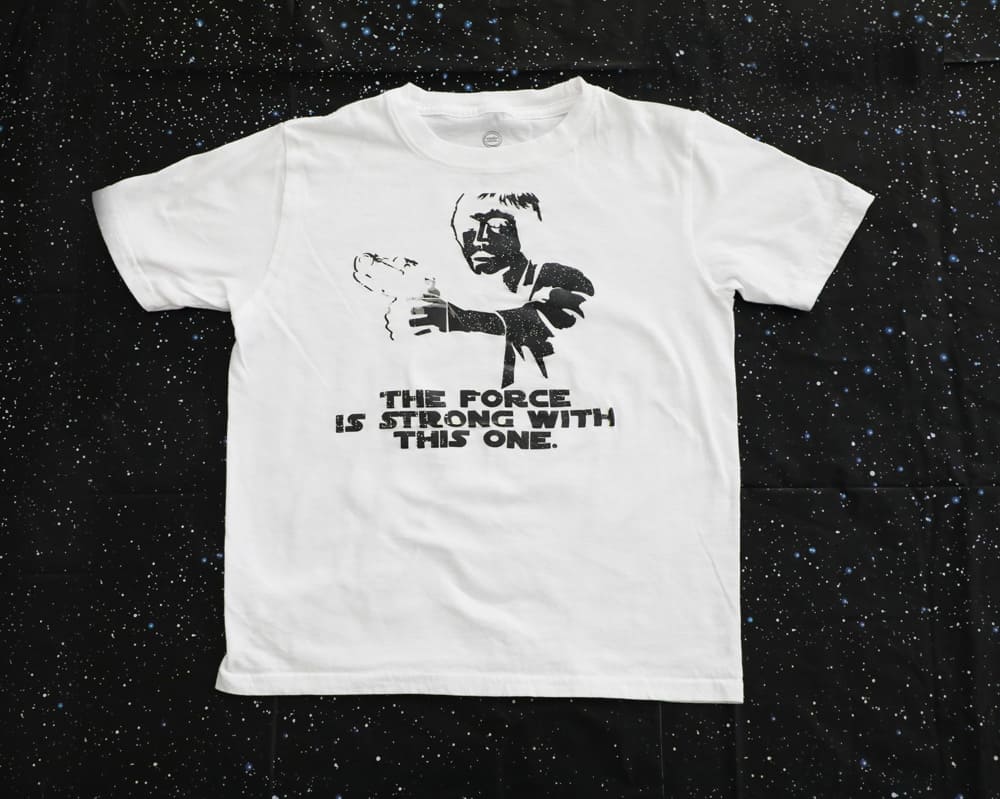 Of course for our oldest son, Luke, I wanted to incorporate Luke Skywalker. I opted for a simple silhouette and it turned out so cool! A nice option for any young Skywalker fan!
The Force is Strong With This One Cut File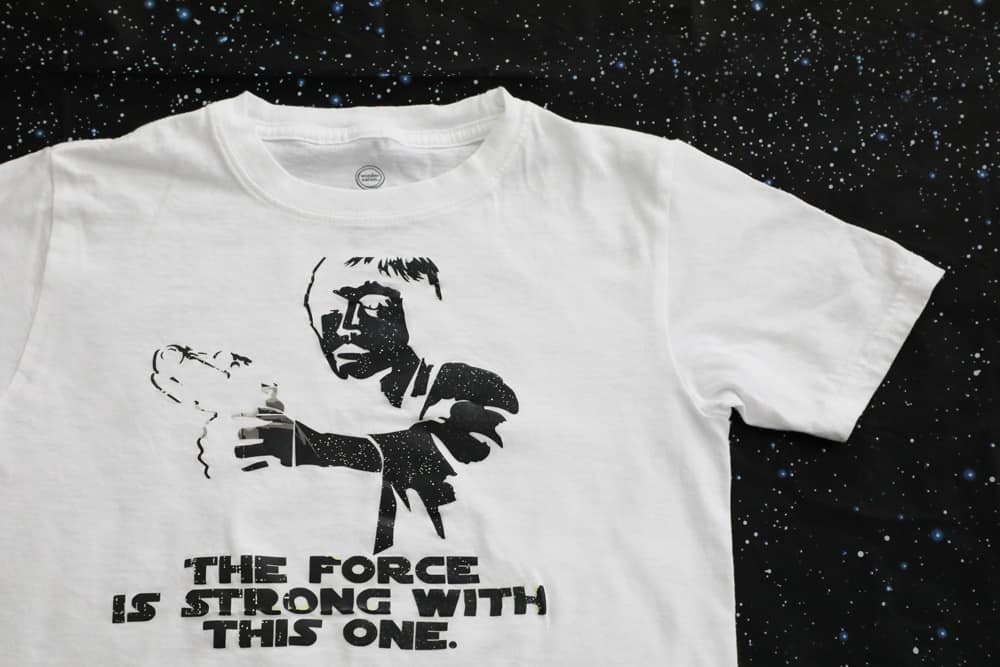 Rebel Princess Shirt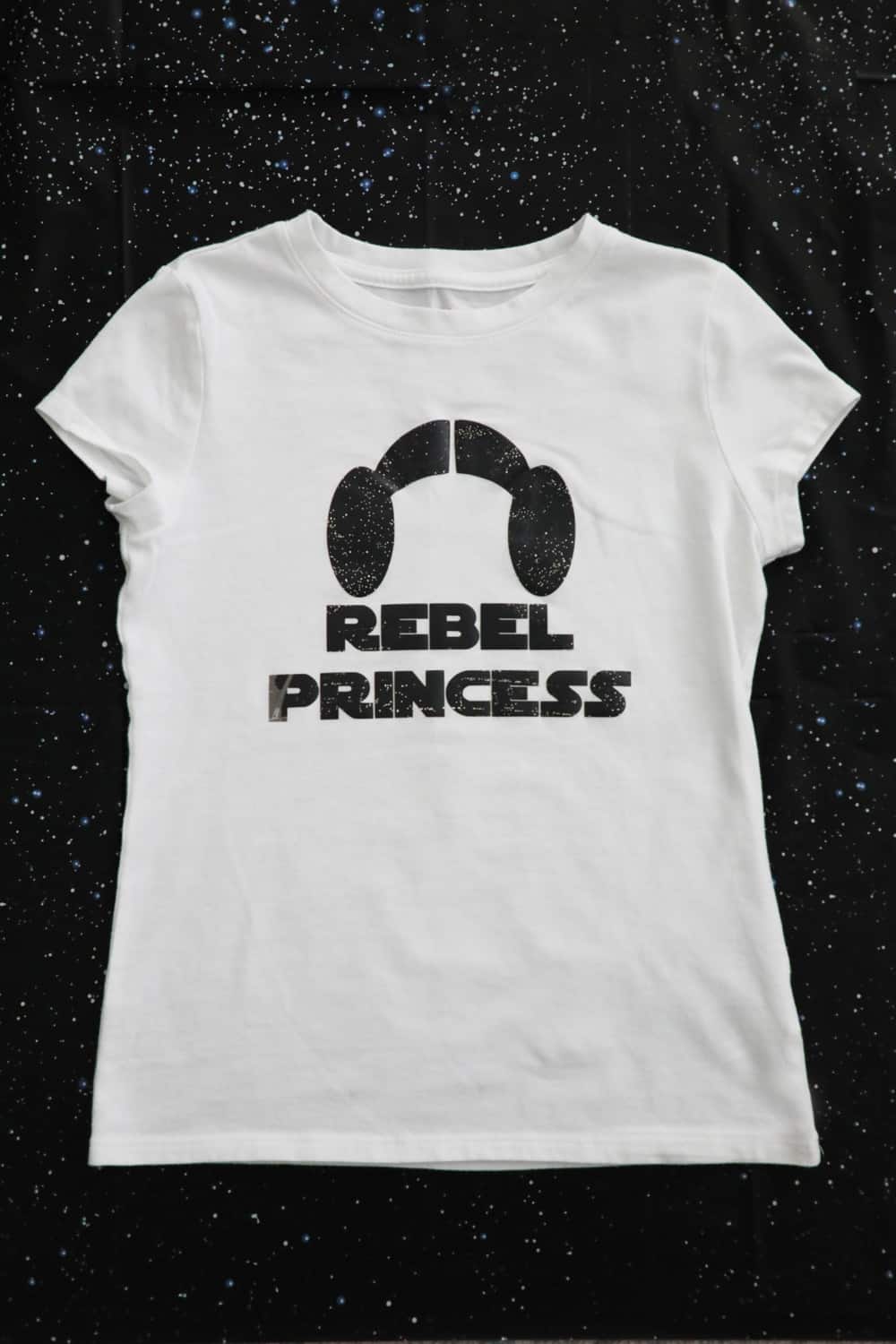 I knew I wanted to incorporate the women in the resistance for my daughter Nora's shirt. I was really torn between Rey or Leia, but at the end of the day I decided to go with General Organa because I didn't know yet how Rey's story ended. Her shirt got so much love at Disneyland, and I would totally wear this as a grown adult, too!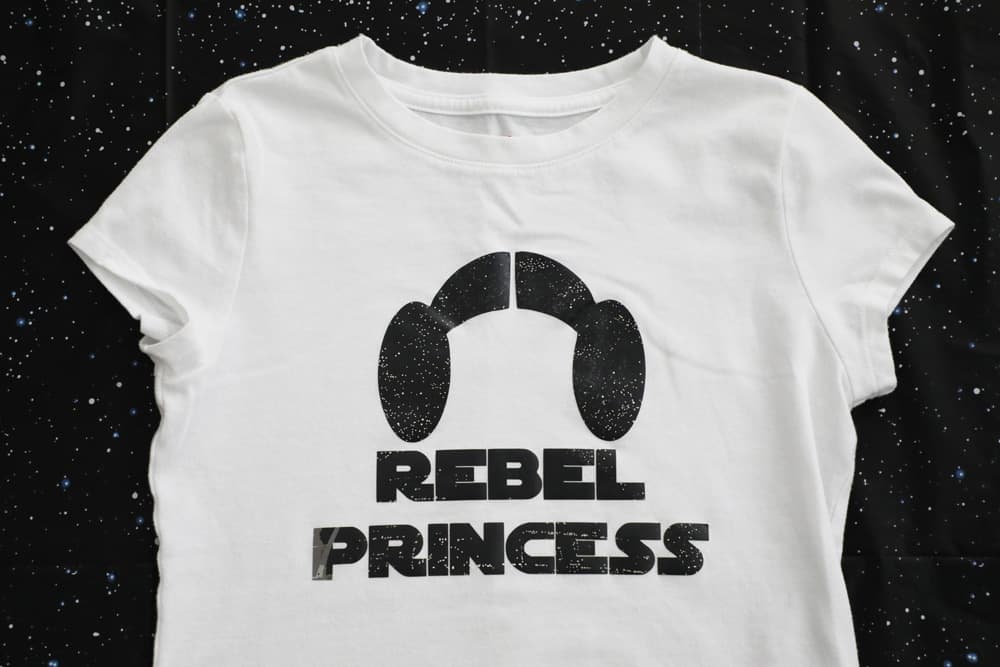 Jedi In Training Shirt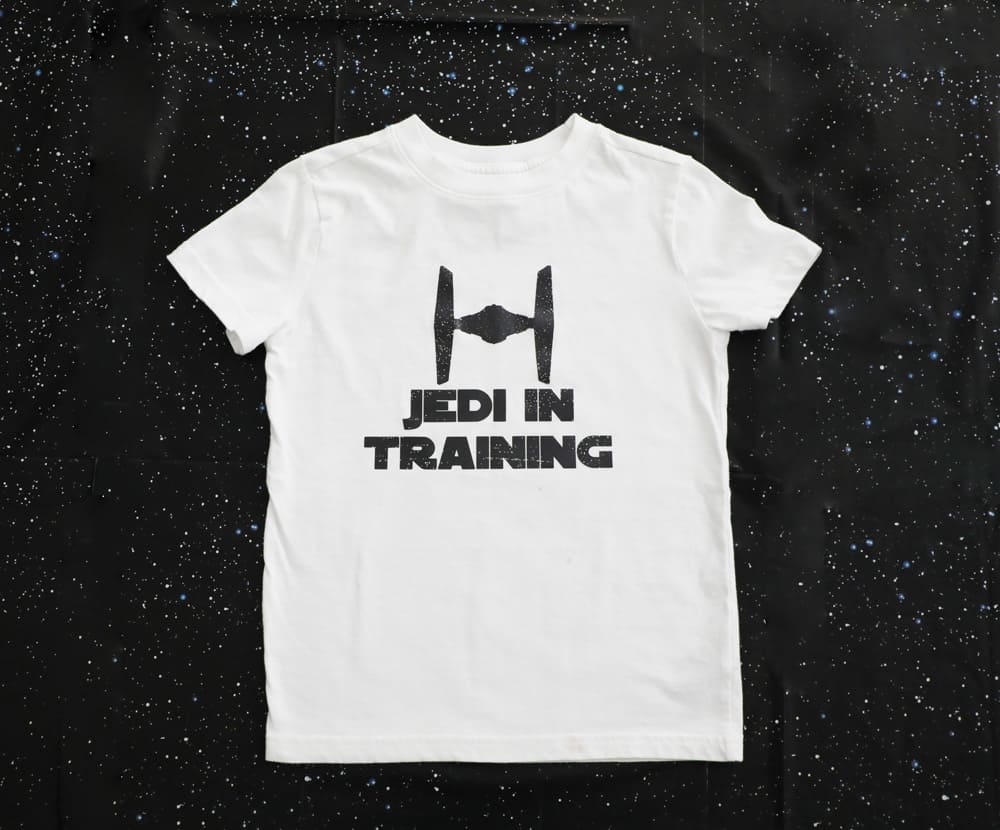 My middle son Liam loves cars, trains and planes so I knew I wanted to include a spacecraft on his shirt. The tie fighter combined with the Jedi In Training is perfect for the young Jedi in your life!
Jedi In Training Shirt Cut File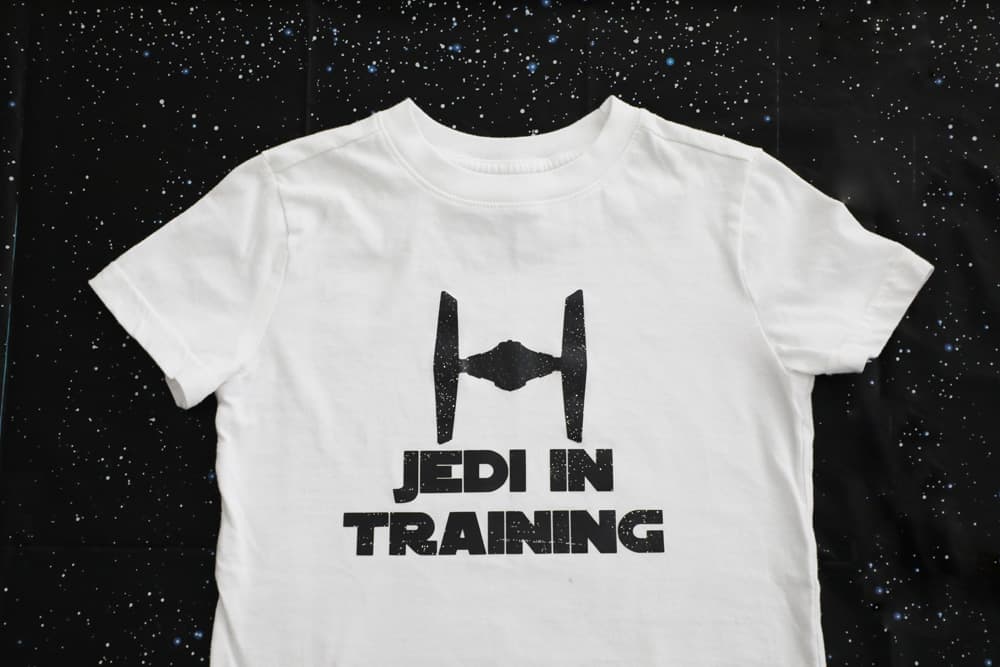 Pretty Fly For A Jedi Shirt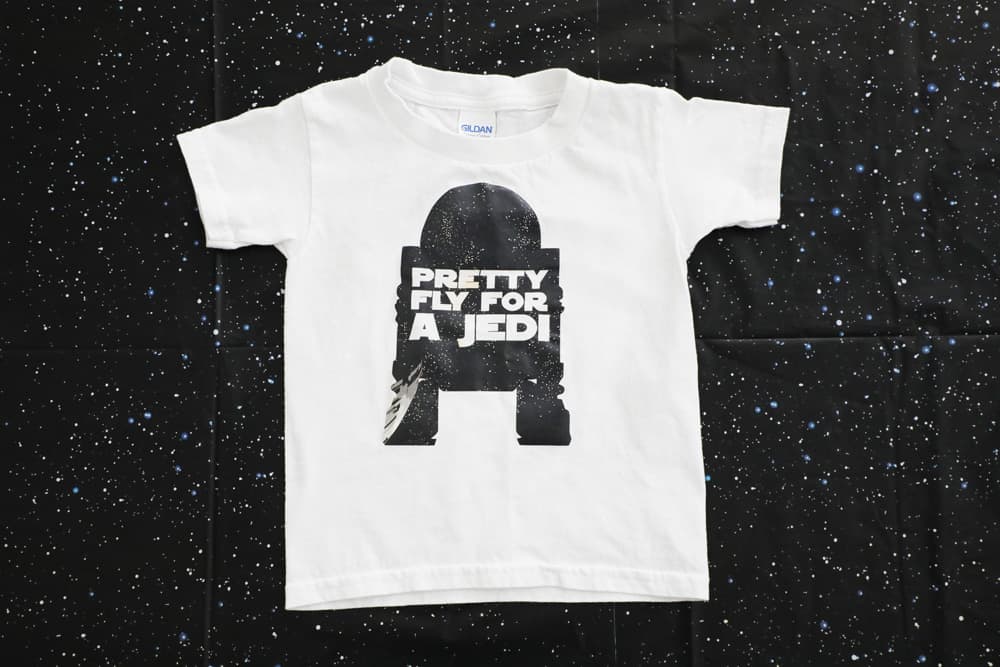 I couldn't make six shirts and not include at least one droid! The droids are some of my favorite characters in the movies and I love R2! I totally think this shirt could work for any age or gender as well, but I made it for my baby.
Pretty Fly For A Jedi Cut File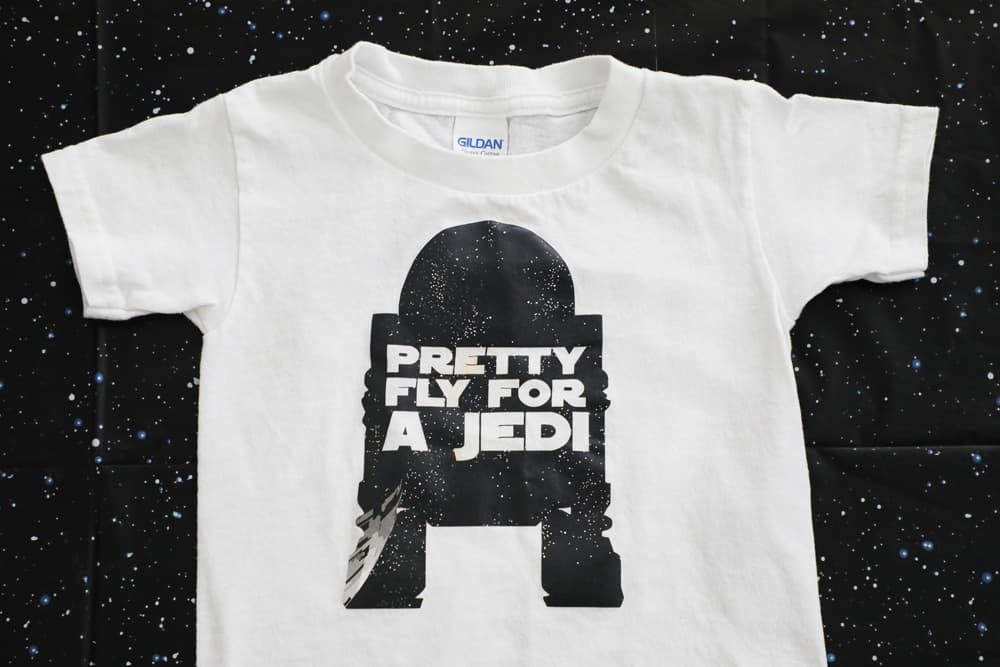 How to Make your own Star Wars Shirts
Okay let's get down to business. If you don't know how to make your own t-shirt from the cut files linked above, here is a very detailed tutorial to walk you through the entire process step by step!
Materials You Will Need:
Then simply follow this tutorial to make your shirts!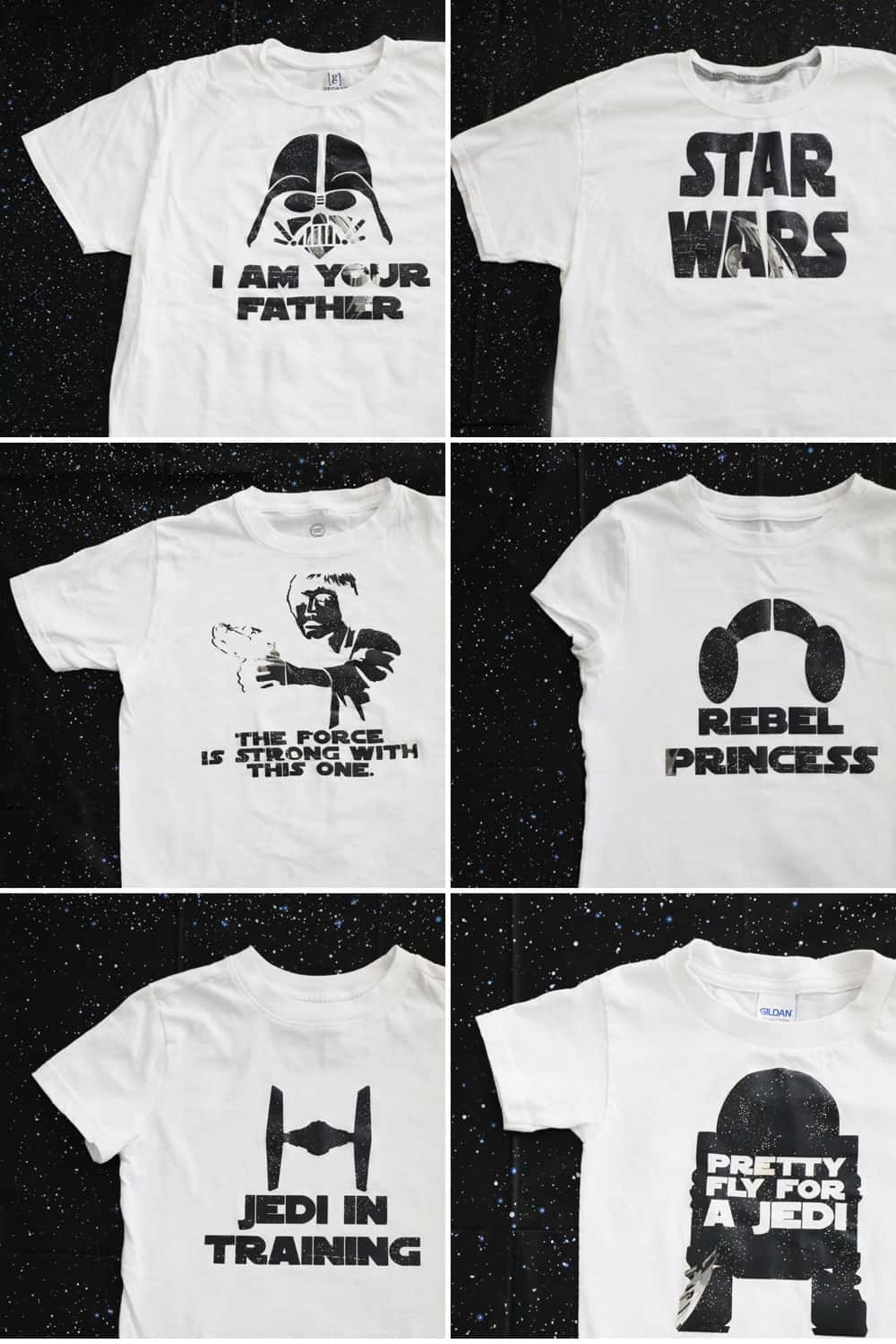 Which one is your favorite?
If you love making T-Shirts like we do, check out a few of our other favorite Disney themed designs! Disney Snacks T-Shirt, Disney Cruise Shirts, or our 'Not Today Cruella' Disney T-Shirt.
Happy T-Shirt Making!
xo,