Enjoy this simple and easy Fathers Day craft. It's beautiful that we get a day to honor the fathers within our lives. Father's Day is a great time to recognize the awesome fathers in our lives who have cared, loved, provided, and been examples to us. So here is a fun Fathers Day coloring page and card you can print off easily for the children to create and make for father figures in your life. And then they can search for the objects in the photo. If you haven't seen a post from me before, my name is Natashia and I blog and create over at CanaryJane.com. On my site you will see more free printables and fun ideas.
So onto this printable and craft. Creating this craft is easy and has other fun options. To get this file simply click here. This page will lead you to my free printables library. Follow the instructions on this page. Or follow these instructions when you get to the printable library.
Select the image you would like to print by clicking on the image.
Once the image is enlarged, right click on the image.
On the menu select save file.
You will now need to open the file in your folder where you saved the file.
Print the file being sure to select the right page size according to the size of paper you are using.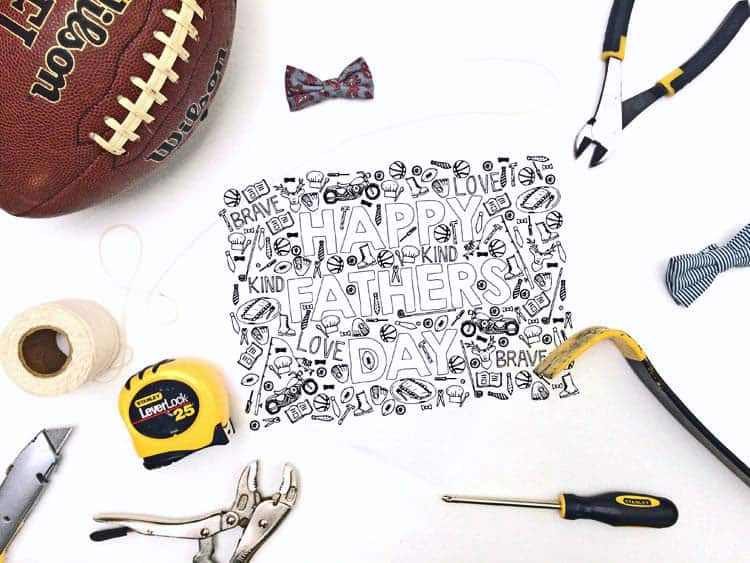 And that's it!
The simplest idea is to print off the file and let the children color the page. Then when they give it to Dad they can search together for the items. Another option is to print this off in the inverted version on cardstock and present it simply as a card. If you wanted something else fun, you could let the kids glue pinto beans, macaroni, or glitter where the words are. Or if gluing with your kids is not your favorite activity, simply let them put stickers on the words. Attach this as a fun card to go with another gift if you want. Frame the colored work of art too to give to Dad.
When I was thinking of making this printable I asked my husband what I should include, Fathers are all so different. What's funny is I decided I would just include a a couple bow ties and my husband suddenly got really invested in this project. He started naming items I should include. It was almost as if he was offended that I wouldn't include these other items associated with Fathers. Well, thanks hun for the good ideas and for helping me include all the fun Fathers have. So now this card is a celebration of everything awesome involved with Fatherhood.
There are so many fun options to make this printable a little personal so I hope you enjoy this printable and activity. Now, I'm off to figure out an awesome Father's Day gift to go with this printable. If you would like to see more printables and more about what I do, you can find me over on CanaryJane.com.  You can also receive notifications on Facebook and Instagram for new printables and DIY ideas. Follow me on Pinterest and Twitter for other great ideas too.
And if you love free printables here are a couple other posts about my printables. Read about my spring cleaning list, printable popcorn boxes, and floral hanging art.
Thanks for stopping here on Pretty Providence. I hope you enjoy Fathers Day and get to show those Father figures, whoever they may be, how much you love them.
-Natashia