This weekend I had the opportunity to see my little brother get married. I also got to plan the luncheon for after the ceremony for 100 guests, (yes, I love planning events!) Granted, it can be a little stressful at times- like when it is 95 degrees that day and your luncheon is in a barn and your helpers text you saying that the heat is on in the barn and won't go off. Some things you can't control. You have to chill. Thanks to my husband for reminding me of that. The heat went off about half hour before everyone showed up, thank the high heavens. Anyway, I was so pleased with how it all turned out. It was super cheap so I am going to share pictures today and a cost breakdown of how I did it so cheaply, with general tips. Hopefully this helps anyone who is planning this type of event to think outside the box and find ways to save dough. This is one party, one day. It will be amazing, and you don't need to spend a fortune on it!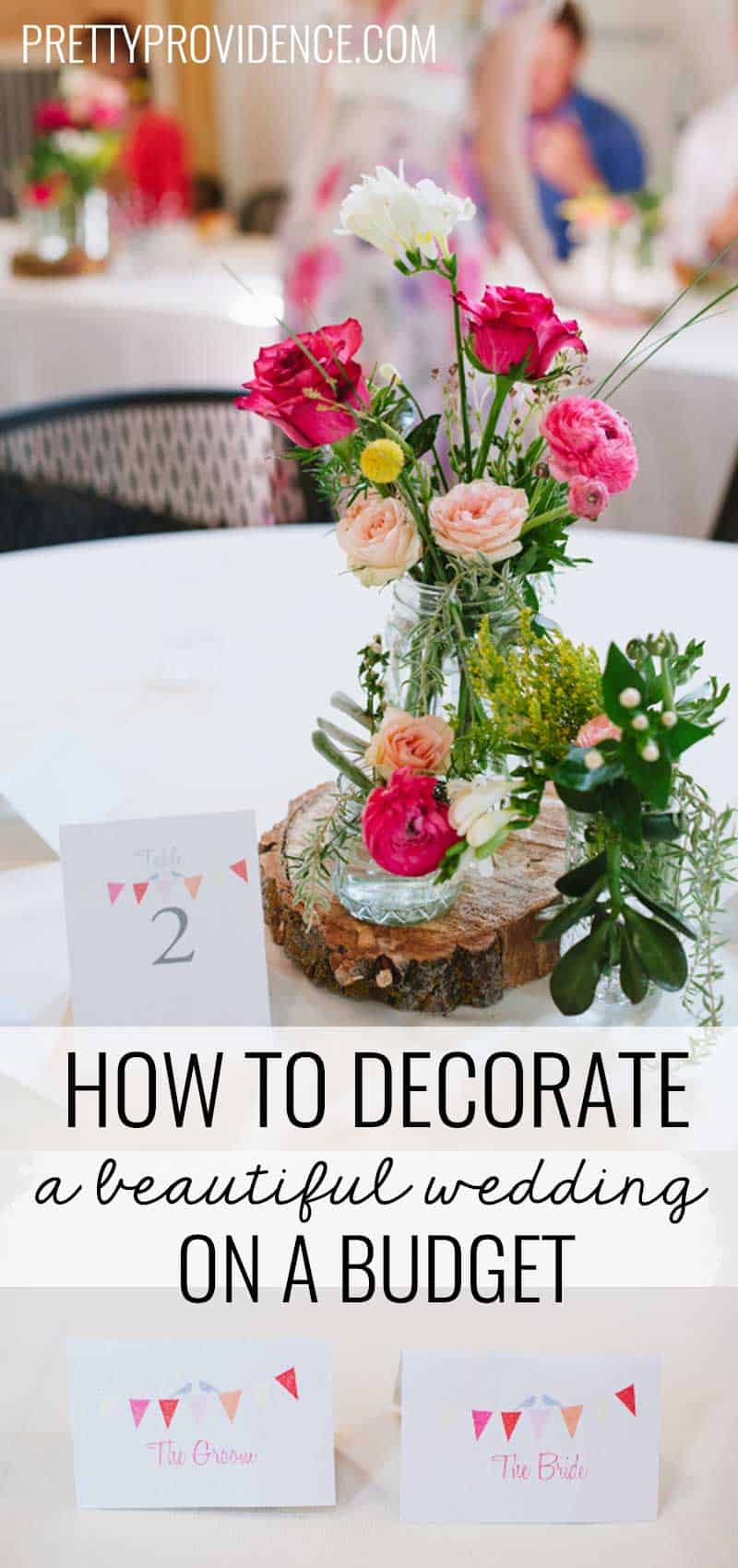 Choose a wedding reception venue that is pretty, and also cheap!
We held the luncheon in a restored barn owned by the city I grew up in. It is already pretty, was stocked with tables and chairs and only cost $150 to book. Outdoor venues are always great choices too, granted you can count on the weather to stay nice. Check out what options your parks department has available, or ask friends or neighbors if they have a backyard or know anyone with one who'd be willing to let you use it!
Borrow, Borrow, Borrow.
Tablecloths: Borrowed from a friend.
Wood slices: Borrowed from the bride's friend.
Jars: Borrowed from my mom's basement stash.
Digital media equipment for us to give our little speeches and show a slideshow: (PA, speakers, projector, screen) Borrowed from a co-worker.
My primary way of asking to borrow these things was via facebook status. Thanks to amazing friends, I was able to save hundreds of dollars just through their kindness and generosity. You probably have nice friends too.
J. Taylor Photography
Find wedding decorations or supplies for free:
Our place cards and table numbers were found online and were a free printable. I only had to buy paper and pay for printing, which cost about $30 total, after using JoAnn 50% off coupons to buy the paper. I shared the printable I used along with a few of my other favorites in this post. I also have a mother-in-law who is a florist. We asked her if she would do the flowers and were planning to pay her, but she offered her services free as a gift to the bride and groom. Obviously, you can't expect people to do that all the time. Sometimes it happens and it is a huge help. Once again, kindness and generosity prevails. People know weddings are expensive, and they want to help you!

Compare prices on wedding decorations:
This might seem obvious, but do not just choose the first vendor or take the first estimate you see. There are always cheaper options available and most of the time you don't have to sacrifice quality to find it, just look harder for those deals. Since my florist could get the flowers for us wholesale we only paid $135 for all of them. That was the only part of the centerpieces we had to pay for. The blue and white striped straws were also quite a bit cheaper than I originally thought we would pay for them.
J. Taylor Photography
Make wedding decorations DIY
Time is money, yes. But if you have a few months or longer and you know the event is coming up, you can probably find some time to make a few things and save yourself a bunch of cash. The bunting banners were handmade mostly by my mom and a little by me. She found fabric for cheap, used JoAnns coupons and we also used some that we had leftover from other projects. I posted a tutorial here for how we make them. We easily spent less than $15 on them.
So the final cost breakdown of this wedding luncheon (excluding food) goes like this:
Venue, tables & chairs: $150
Linens: $0
15 Centerpieces: $135 or $9 each
Table numbers and place cards: $30
Fabric Banners: $15
Media Equipment: $0
TOTAL: $330
If you enjoyed this post, make sure to check out these wedding or party posts: