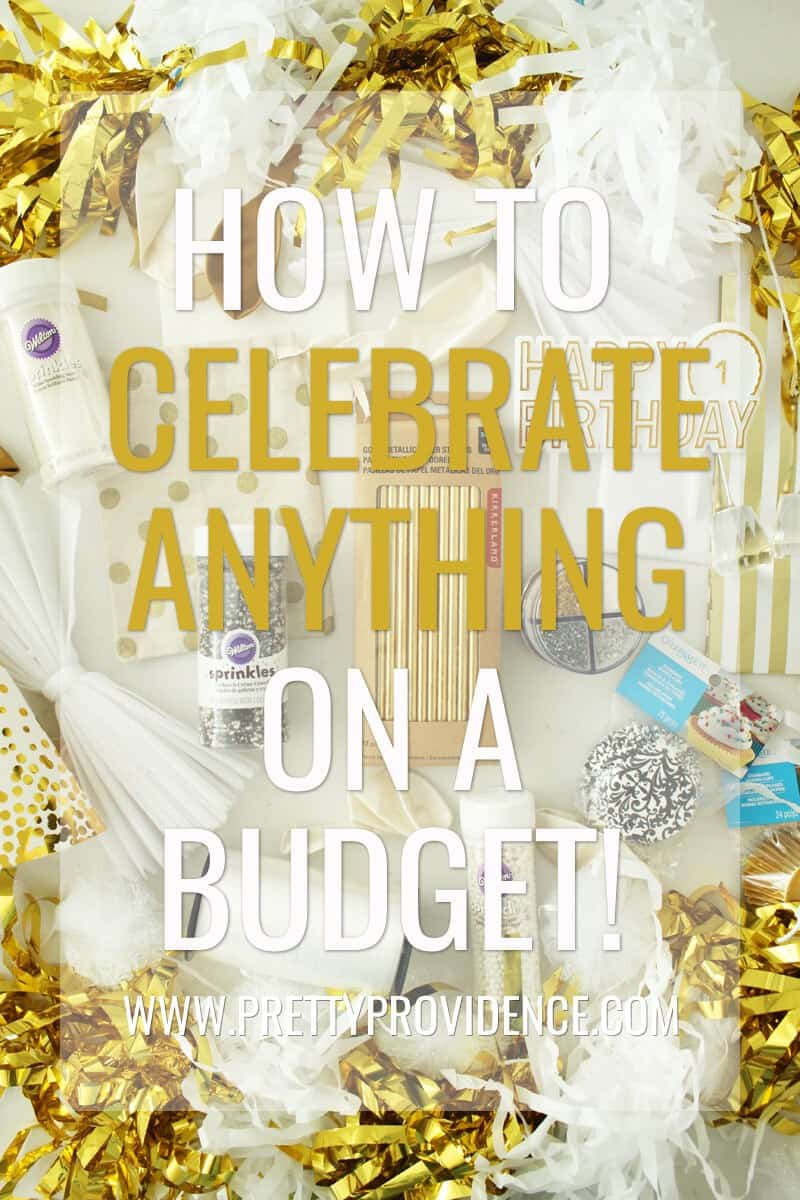 At our house the winter is full of parties and events! We go straight from Thanksgiving, to my daughters birthday in December, to Christmas, to our anniversary, to New Years Eve, to my birthday, to the superbowl, to Valentines day, all within 12 weeks! So last month when we found out our January Michaels' Makers challenge was organization I knew right away that I wanted to tackle my party supplies.
While I was going through them, I was kind of shocked at how much I had accumulated over the years! I am a person who likes to celebrate everything, and everyone. I love to make people feel special and remembered and I equally love having something to look forward to! The trouble is, I learned early on in my life that all these little "celebrations" can really add up budget-wise! You guys know I am a pretty strict budget-er, and I basically never go out of my normal budget for any of the fun celebratory dinners or parties we have throughout the year (other than gifts for my kids birthdays). So I thought today I would share with you a little bit about how I celebrate all life's little moments without hardly ever spending extra money!
You ready?
1.) Start Making or Collecting Party Staples.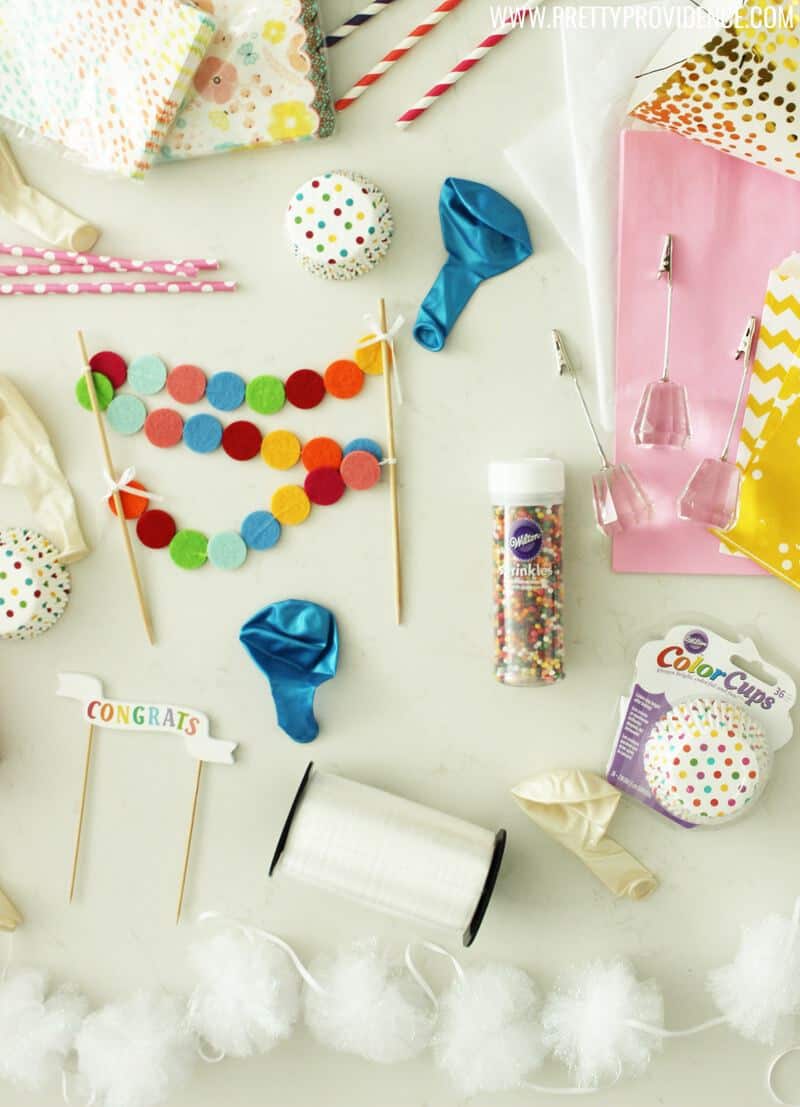 The great thing about party supplies is that many of them can be re-used, so once you have invested, you won't have to do it again! Of course, there are some things which shouldn't be re-used, and for those items I never spend more than one or two dollars. Another great thing about party supplies is that you can typically find them super cheap! My go to sources are the Target dollar spot, Michaels (don't forget your coupons!), and the dollar store. I will pick things up when I see a great deal or when I have a little extra room in the budget and store them away for whenever I might need them! Here is a list of things I typically look for: balloons, cute napkins, cute paper straws, tissue paper, cupcake liners, and sprinkles. Tissue paper is a great, affordable way to make things like pompoms and banners (here is a good tutorial for paper pom poms)! You can make banners and cake toppers out of scrapbook paper or fabric scraps, whatever you have on hand! However, if you find a great deal, don't pass it up! I found the cute cake toppers featured above and below at Michaels for $1.50 each in the party section! So so worth it, and I totally re-use cake toppers, just wipe off the bottoms and viola! Good as new.
2.) Use What You Have.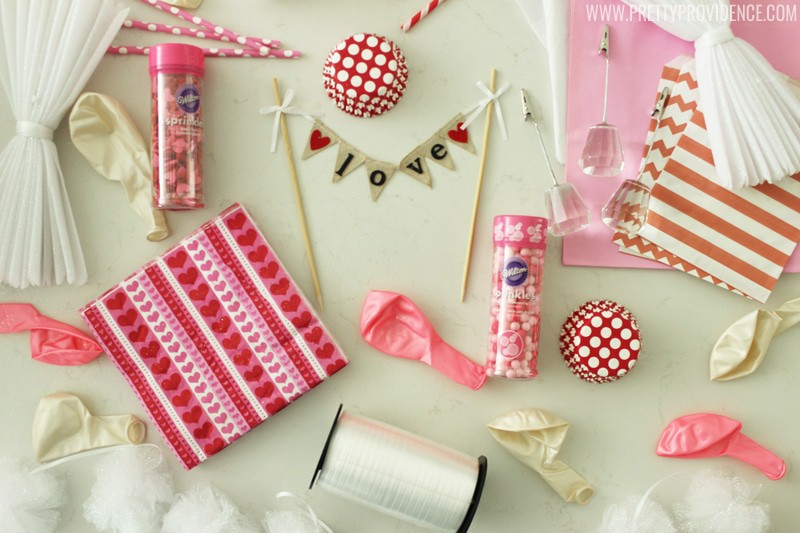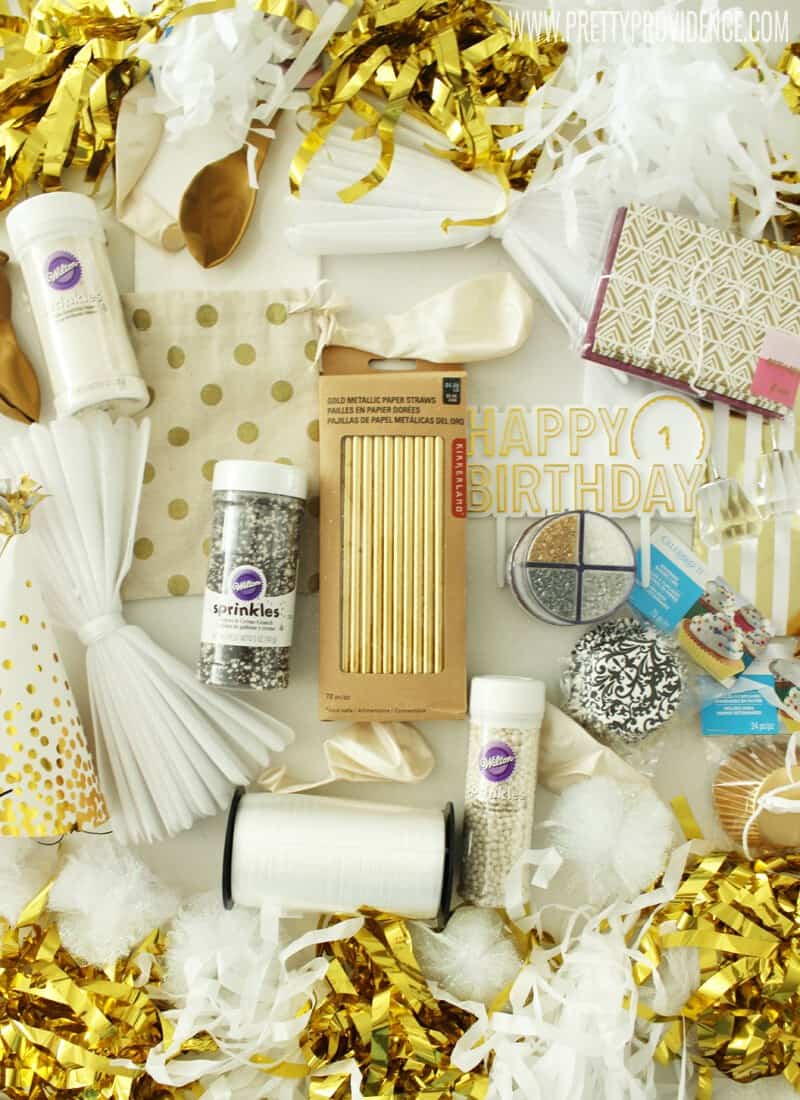 If you look closely at the three pictures above, you will realize that there are several items that are in all three photos, but the photos each represent a different theme or event. Using my same bank of supplies, I created a mock up of a gold party, colorful party, and a pink and red party… without spending one dollar. Obviously this is because of money spent gradually over time, but when you buy in advance you spend so much less money because of shopping sales. I love when there is a good deal on white banners or decor, because they get so much use!
3.) Get Organized.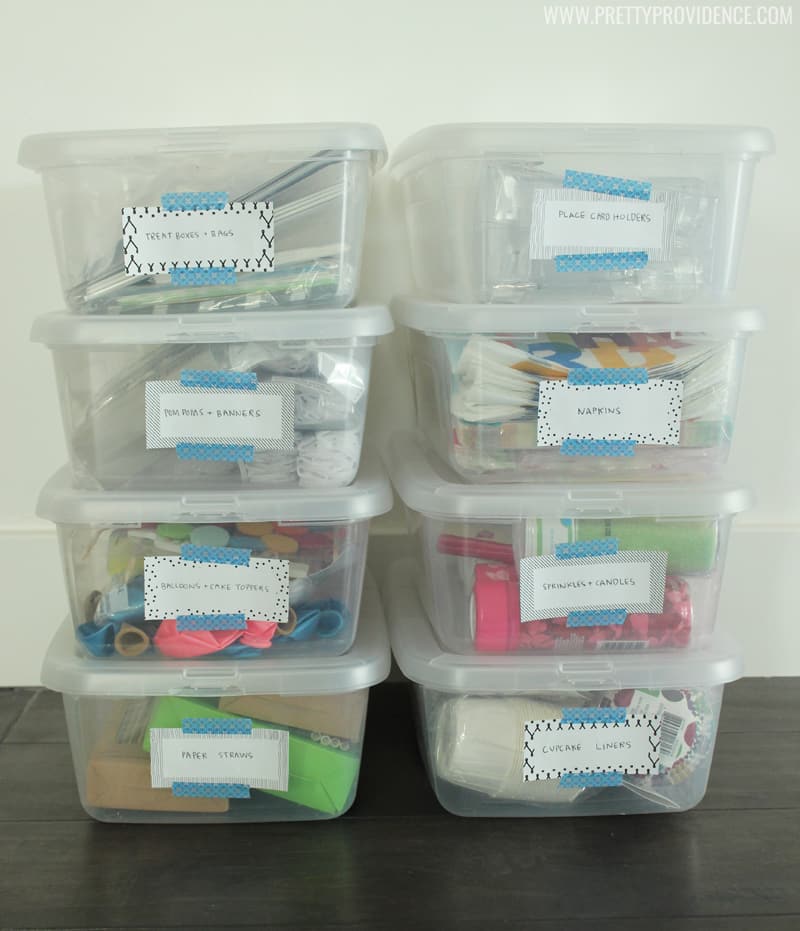 From personal experience what works best for me is having smaller, well labeled, clear containers. I found these at Michaels in a set of fourteen boxes with lids for only $19.99! If you bring your 50% off coupon that is less than $1.00 a piece, which is unheard of for this type of storage, believe me. I organize my things with like things (aka: napkins with napkins) because that is what works best for me, but you could also organize by color if you prefer! Just make sure that everything that is in the box gets put on the label. If you don't I can promise you will forget you have it. I used these free printable labels, and just stuck them on with some washi tape.
4.) It Doesn't Always Have to Be a Party.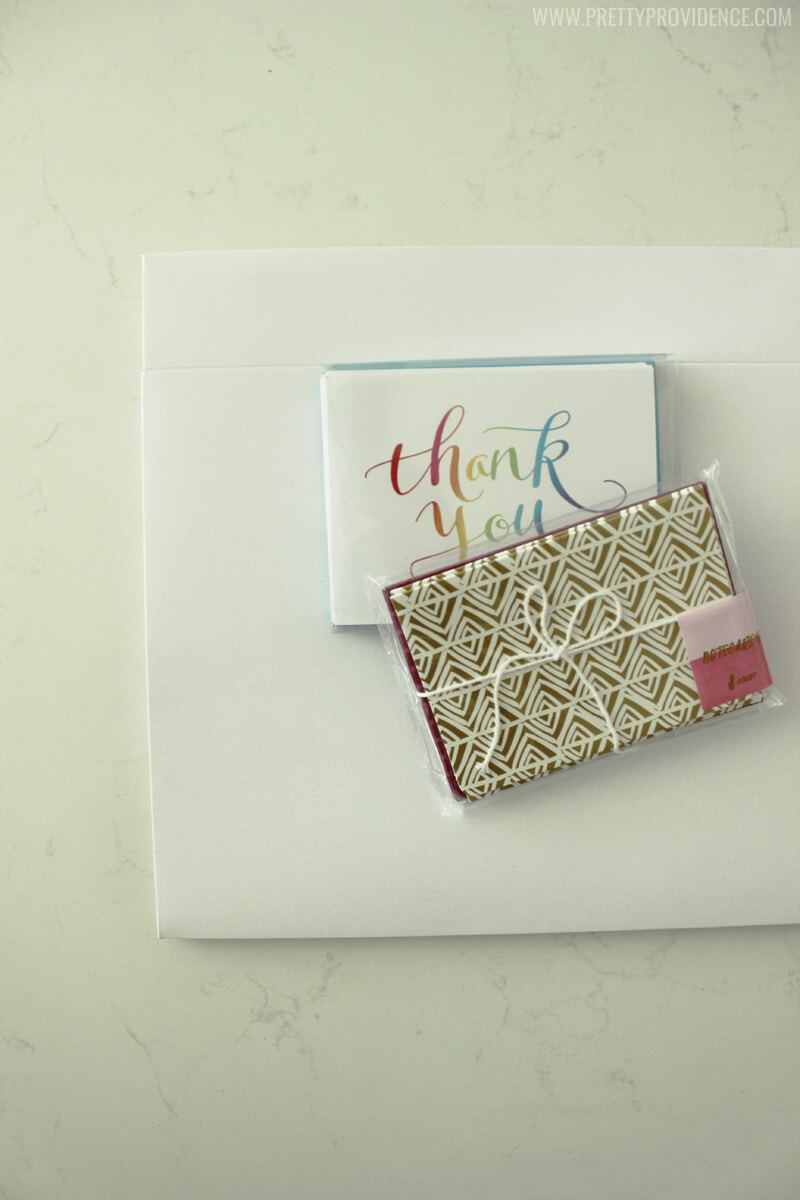 You can recognize a special person, occasion, or event in other ways besides just throwing a huge party. One of my favorite ways is with treats! Everyone loves receiving treats, but something about receiving them in a bakery box, tied with a balloon on a string just makes you feel that much more special on your birthday. It literally costs $1.00, but the small gesture can go a long way. I always keep a few of these boxes and a couple packs of cards on hand for when friends have a birthday or special event. The same could be used when a loved one has a really hard day and just need a little extra cheering up. These double chocolate cookies and these easy oreo truffles are some of my favorite treats to gift!
5.) Speaking of Food…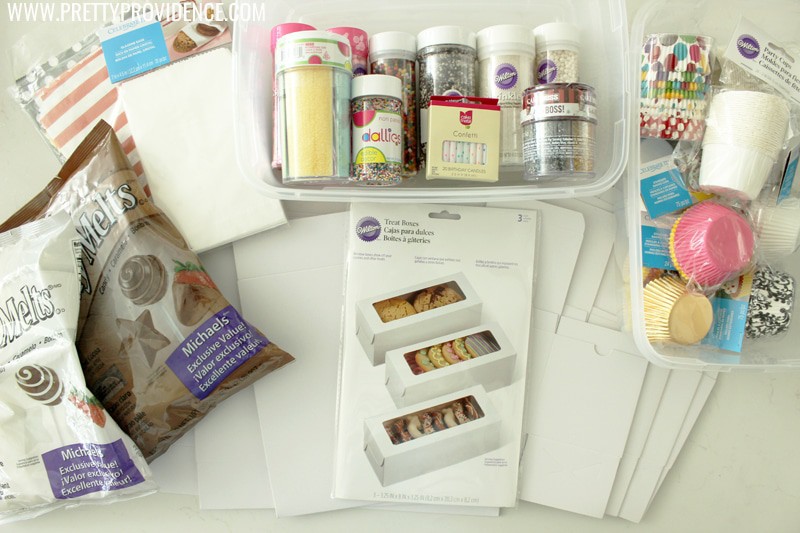 I mentioned earlier that cupcake liners and sprinkles were both on my list of supplies to buy when they go on sale! I have found that if you have one "centerpiece" dessert that matches your theme, it doesn't matter what else you serve, it will all feel pretty and well coordinated. I always keep a box cake and a pudding mix in the pantry so that I can make this cake on a moments notice. Then stick it on a cake plate in the middle of your food set up with one of your cute cake toppers and some appropriately colored sprinkles and it will look like you slaved for hours when all you did was pull a few things from your pantry.
6.) Collect White Dishes.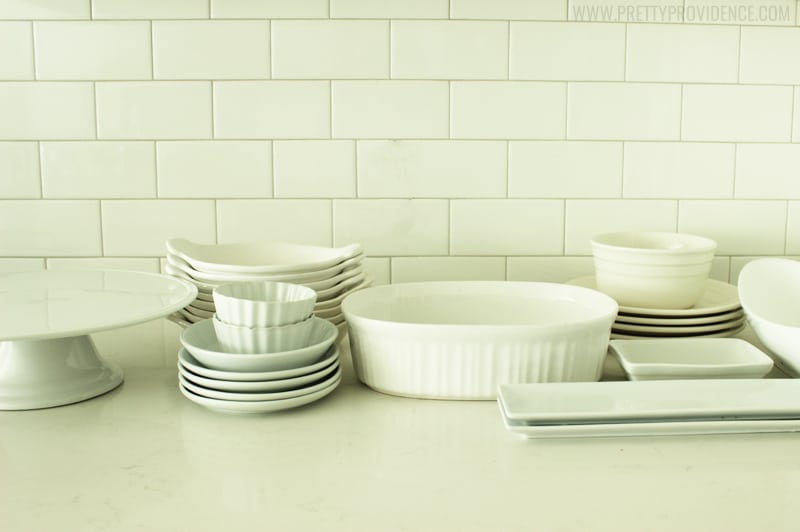 Or whatever color you like really, but I love white! The great thing about white is that it goes with everything, so when you use all white everything always looks really cohesive. I found most of the above dishes at thrift stores or garage sales for dirt cheap. I use these dishes to serve at any gathering, and I always use white paper plates and clear plastic cups to eat on! It saves money when the only themed paper products you buy are napkins and straws! Also, I think the white keeps things looking classy and not cheesy or overdone!
A recent example…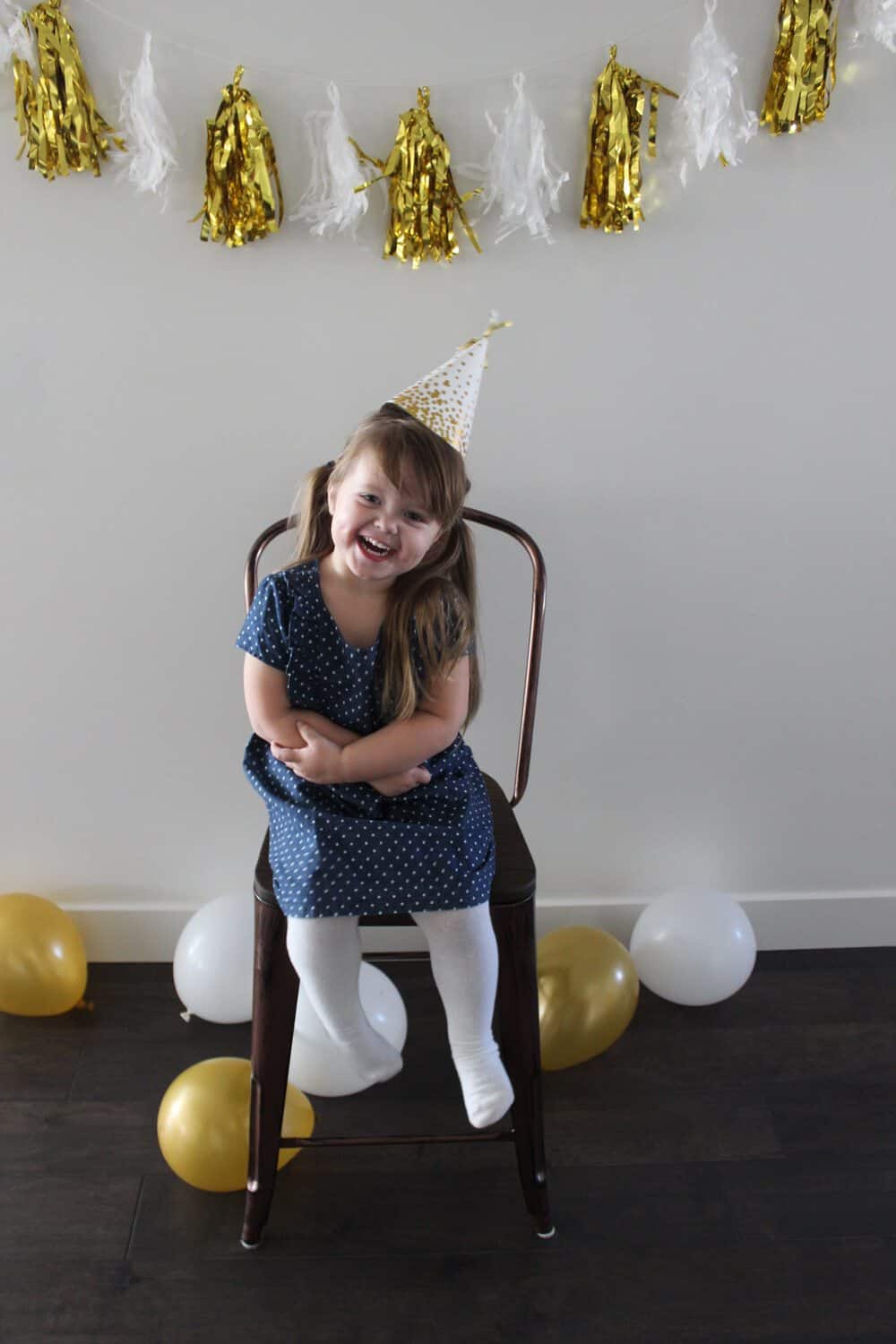 So a couple weeks ago my sweet baby girl turned three! Her birthday is the week before Christmas so it's a crazy time of year anyway, all of her little friends were either out of town or had family in town and a friend party wasn't in the cards. Not to mention, I was out of town for my cousins wedding leading up to her special day. Literally on my way to the airport at 9 p.m. the night before her birthday I called my husband and told him, "blow up some gold and white balloons and hang up the gold and white banner and pull a barstool in front of it and set the gold and white party hat on it, so she sees it when she comes down the stairs in the morning." Because everything was there, organized and ready to go he was able to set it up in all of 3 minutes. The next morning poor Nora woke up with hives all over her and we spent three hours in the instacare and came home drugged out on benedryll. The fact is, life isn't pinterest perfect, in life things happen like trips and late nights and hives on birthdays. But, I am so happy that even though the odds were against us, we still got this sweet picture of my sweet girl on her birthday that I will cherish forever, and it didn't cost any time or money.
I hope some of these tips were helpful in making your life events a little more fun… without breaking the bank!
Also, even though I got a little sidetracked (haha) be sure to take a look at some of the fun storage projects on Michaels.com or the other 49 Michaels makers' ideas on The Glue String for tips on decorating and organizing their favorite things!
xo,

P.S. If you liked this post check out how to be a great host on a budget or how to throw an awesome baby shower on a budget!