One of my favorite things to do in life is to maximize the usefulness of a small space! Maybe it is the OCD in me, or maybe it is just natural to love adding to somethings beauty and functionality! When we moved into our house the "mudroom" was really nothing more than an empty tiny hallway. Originally we thought we might do built ins, but we had them priced out and they were going to cost almost $2,000! There were just a million other things that we would rather do with that kind of money, so the mudroom got placed on the back burner for awhile.
It didn't take long though for me to be super sick of tripping over everybody's shoes there. Not to mention we needed a functional space where we could hang backpacks, coats etc. so I decided to tackle the mudroom issue and I'm super proud of what I came up with! Now, not only is the mudroom functional but it is bright and happy too, and at a tiny fraction of what built ins would have cost us!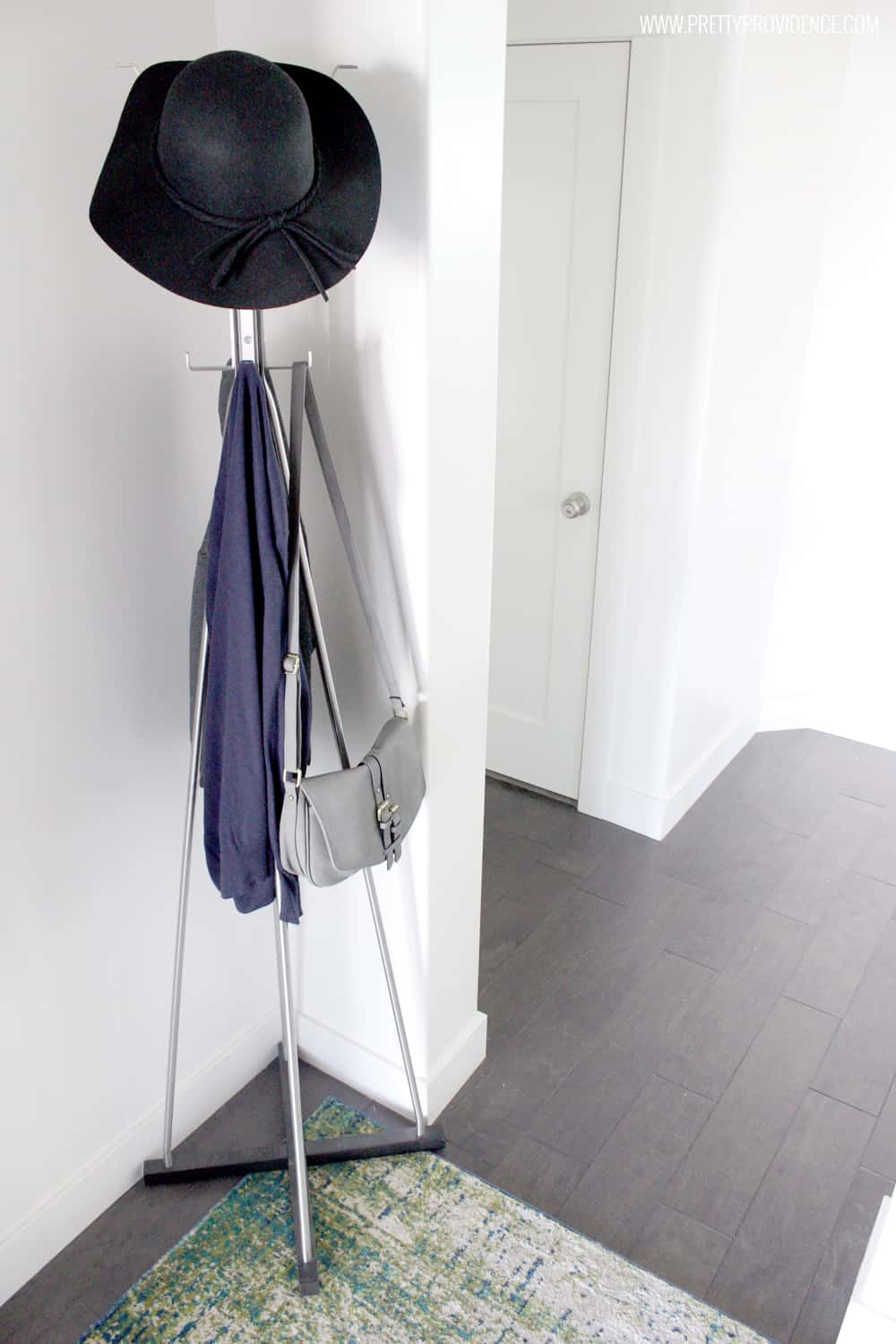 I knew that a coat rack in some form was a must! I found this one at IKEA and it works great because it has hooks about half way up and then again at the top– so the kids can hang their own jackets and backpacks on their level and Bryce and I can hang ours up top. There is also extra hooks on top for hats or additional jackets! It can hold a ton for such a small, sleek coat rack!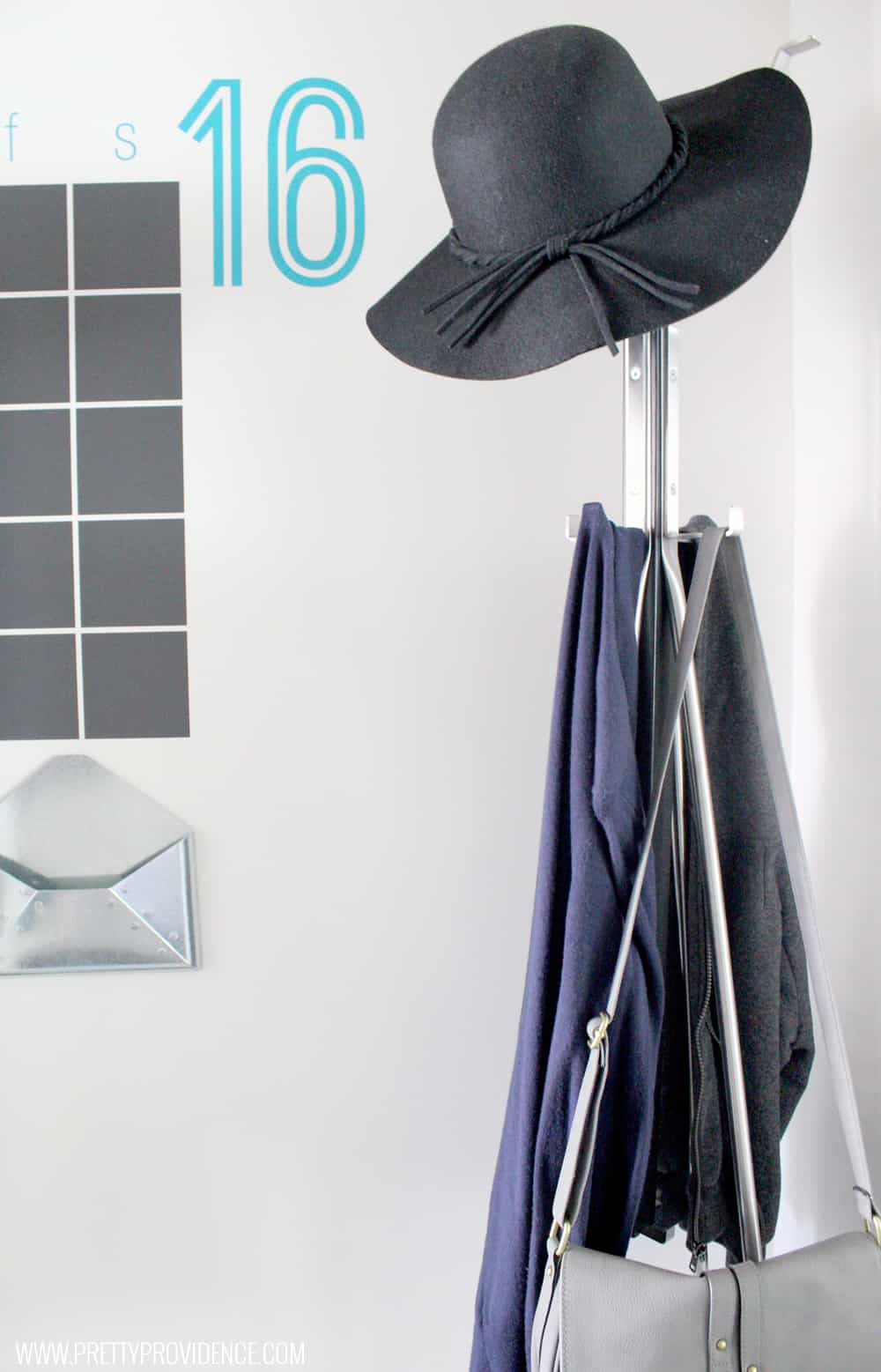 You can barely see them peeking out of this picture, but the giant vinyl monthly chalkboard and the metal envelopes have been so fun too! The calendar is a great way for the whole family to see what our schedule looks like in a room they pass through several times a day. We use the little silver envelopes for coupons and mail!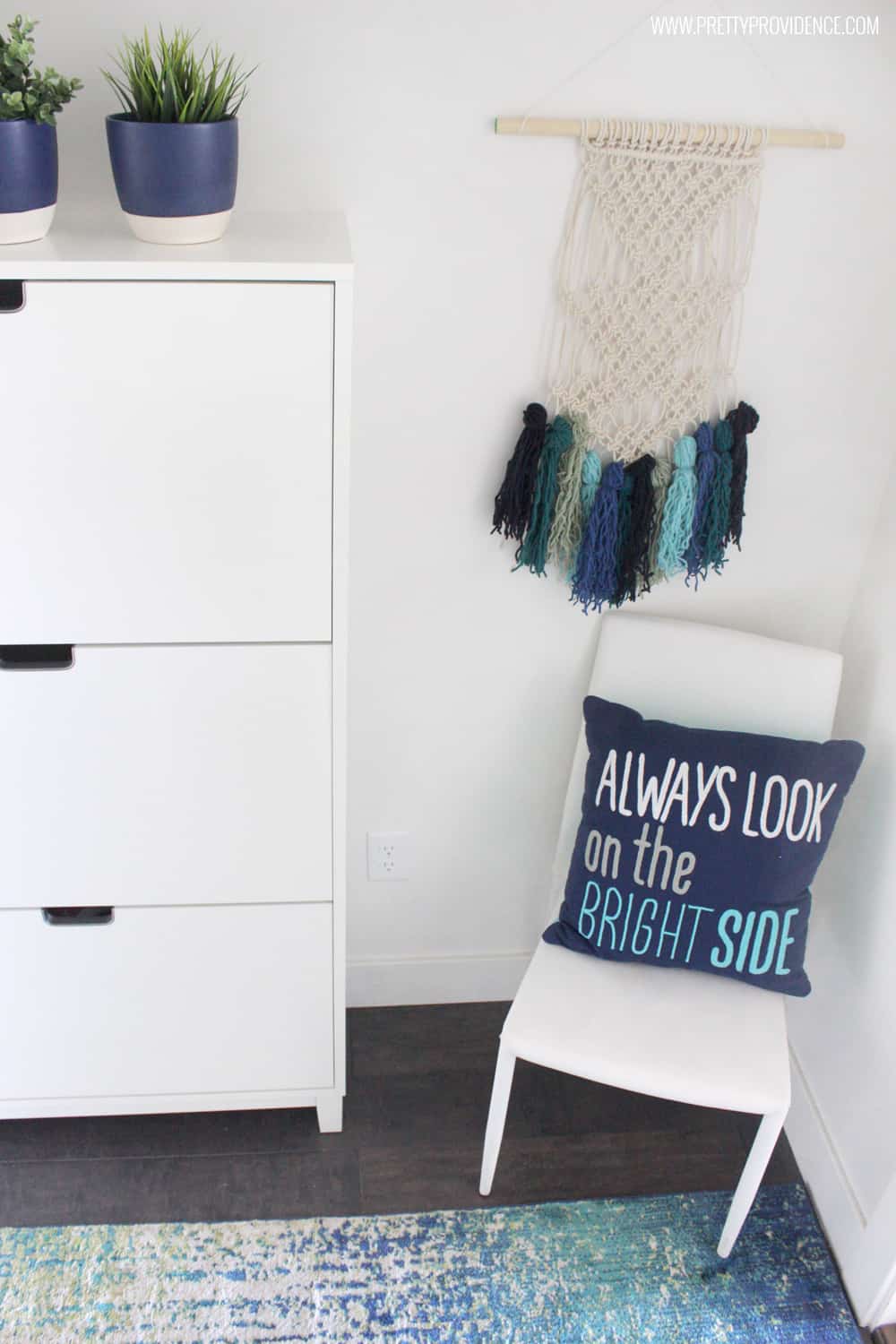 The shoe rack was also a must! We found this one at IKEA and I am obsessed with it! It is cute and sleek and still super functional! We gave the kids the bottom drawer and then Bryce and I each took one of the higher ones, we all have room for more shoes than we need in there, and it is so convenient!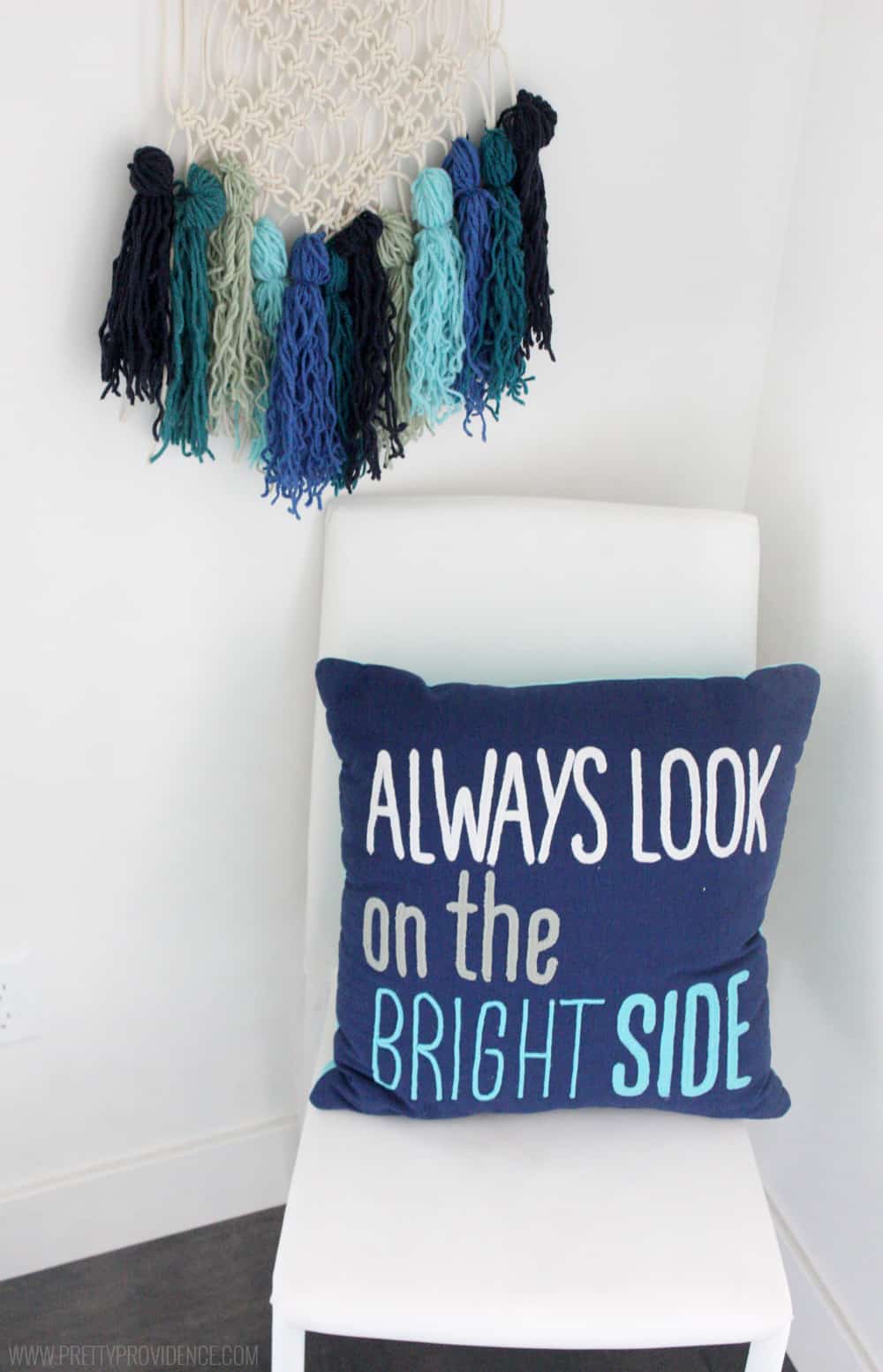 We already had this chair as an extra from when we re-did our dining room, and it fit perfectly in that spot. It's so nice to have a spot to sit down and get shoes on! The cute pillow is from Target and I made the macrame wall hanging at the Michaels Makers Summit!
By the way, if you love macrame you've gotta make this DIY macrame pillow!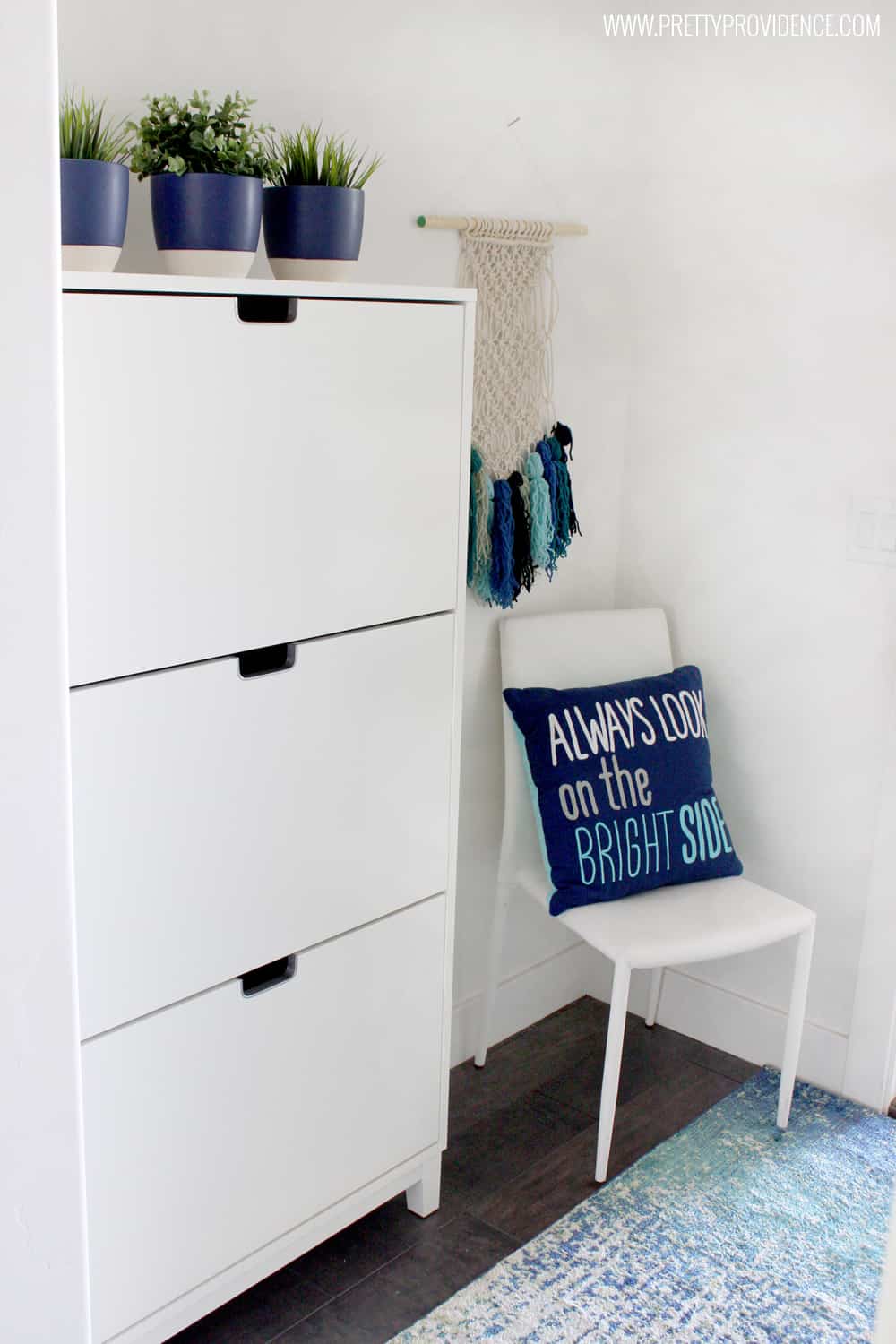 The Blue Cascade rug is from Rug Expedition! You can find it here. I love how it sort of ties all the colors of the space together, and it has held up so well in such a high traffic area!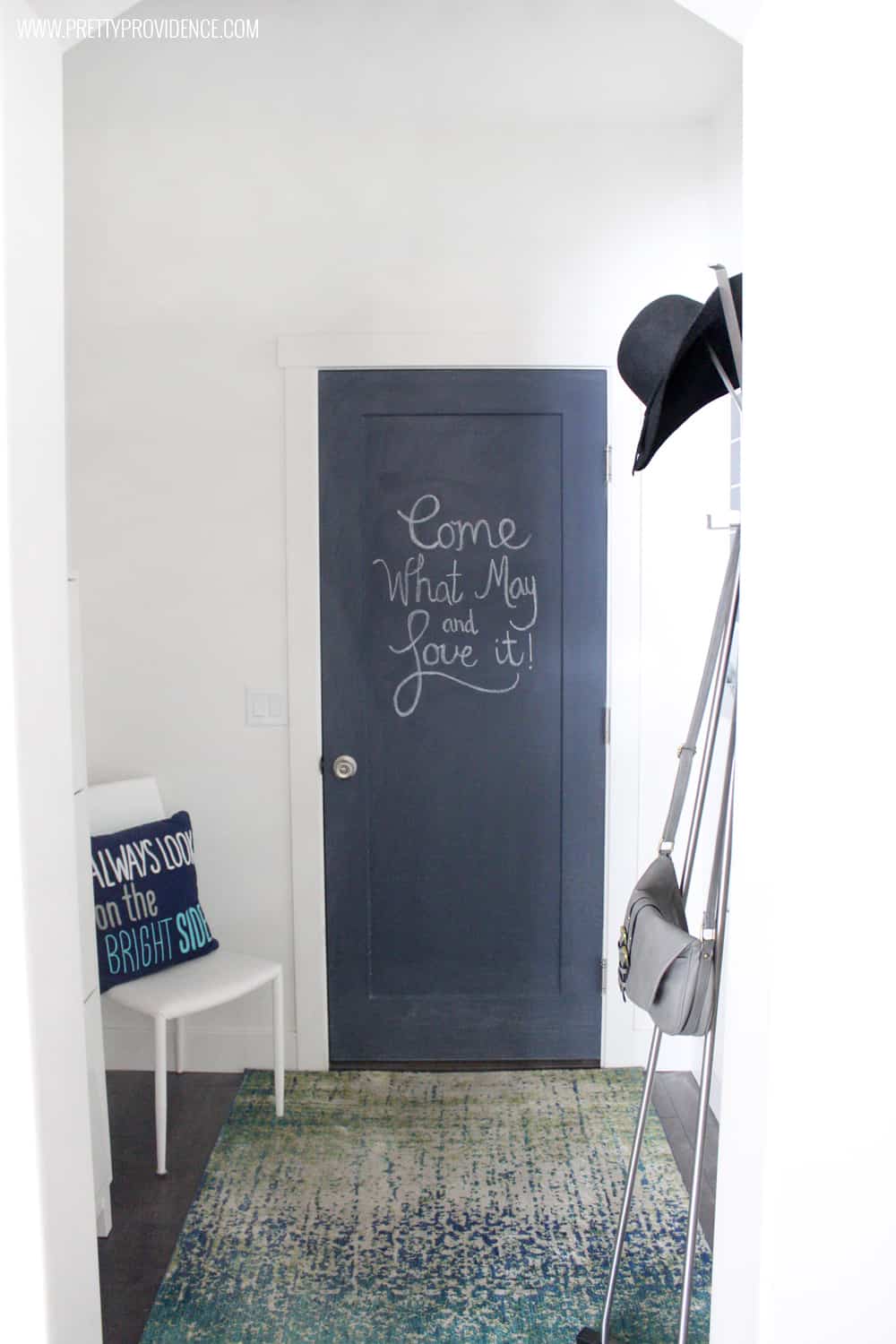 I painted the door using Devine Color's Navy chalkboard paint and it has been so fun leaving each other little notes and writing out fun sayings on the door! Full tutorial on how to paint your door coming soon!
Well, what do you think? Are you ready to tackle a small space in your house that needs a little love?
xo,


| | | |
| --- | --- | --- |
| | Standing Coat Rack | |