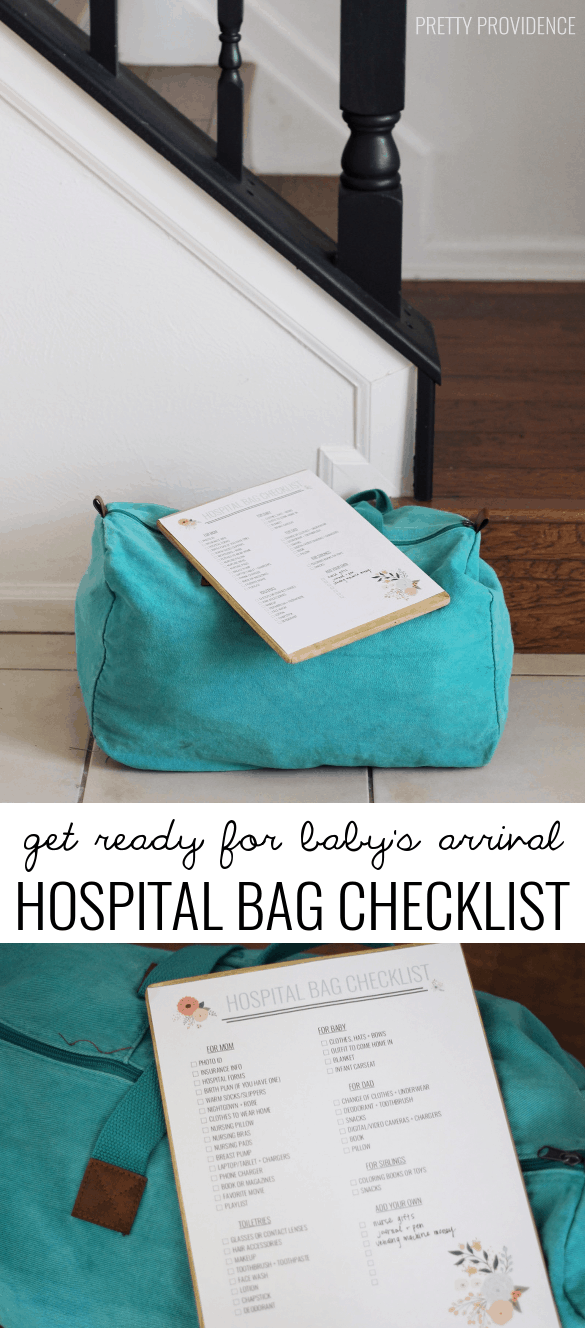 Since we both have tiny babies at home we decided it was high time we share this hospital bag checklist that we both used to get prepared to go deliver! This list has everything you really need to take to the hospital to have a baby plus a few spots for adding your own things. You can totally pare it down to less stuff if you want, too. We made a copy you can print (for free!) as well.
*This post contains affiliate links!
FOR MOM
Photo ID
Insurance info
Hospital forms
Birth Plan (If you have one…)
Warm socks or slippers
Nightgown + robe This is just if you don't want to wear the hospital gown. I found them scratchy and uncomfortable so I preferred wearing my own. Keep in mind that they could get ruined! If you plan to nurse you'll probably want one with easy access – I bought this set and love it!
Clothes to wear home Keep in mind you'll still have a belly and probably be swollen. Maternity clothes or yoga pants are your best bet!
Nursing pillow
Nursing bras (I love these camis.)
Nursing pads
Breast pump + I highly recommend a pumping bra as well! It makes pumping soooo much less of an ordeal!
Laptop/Tablet + Chargers if you think you'll use them
Long Phone charger (So nice to be able to use your phone while it's charging!)
Book or magazines – I loved this book!
Favorite movie
Birth playlists + something to play them on
TOILETRIES
Glasses or contact lenses
Hair accessories
Makeup
Toothbrush + Toothpaste
Face wash
Lotion
Chapstick
Deodorant
FOR BABY
Clothes, hats + bows for pictures
Outfit to wear home
Blanket
Infant carseat this should be installed in your car and not in your bag, of course.
FOR DAD (OR ANY OTHER SUPPORT PERSON)
Change of clothes + underwear
Pajamas + a pillow If Dad is staying the night he will probably be on a hard 'couch' or in a chair. Let's help him be a little more comfortable!
Deodorant + Toothbrush
Snacks
Book or Ipad
Digital/Video Cameras + Chargers
FOR OLDER SIBLINGS
Snacks
Coloring books or toys
ADD YOUR OWN!
I left a spot on the checklist for you to add your own ideas to the list. I know a lot of people prepare gifts for their nurses, or you could bring a journal and a pen if you want to write down your thoughts or your birth story.

| | | | |
| --- | --- | --- | --- |
| | | | |
| | | | Slippers |
Something I didn't have but wished I did was change and small bills for the vending machines! My husband ran out to the bank to get some for us the day after the baby came, but it would have been great to have that night. The cafeteria had closed by the time I delivered and the only thing they could offer me to eat was a ham and cheese sandwich. I know I'm spoiled, but that was the last thing I wanted to eat after being in labor for like 10 hours. #hangry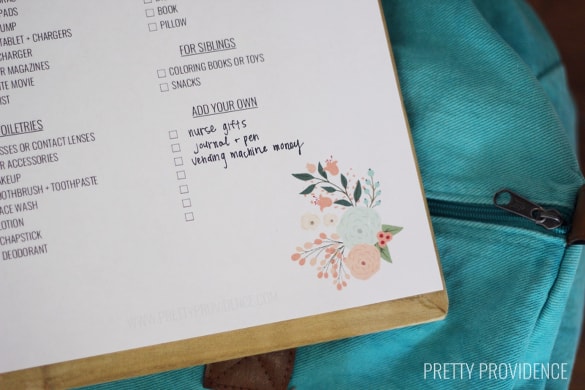 To print your checklist, click HERE! I hope this list helps you get some of your nesting taken care of and maybe you'll get a little bit more sleep knowing that your bag is packed and ready to go whenever baby decides to make his or her debut. Speaking of which, you're going to want to make some of these padsicles for afterward, too.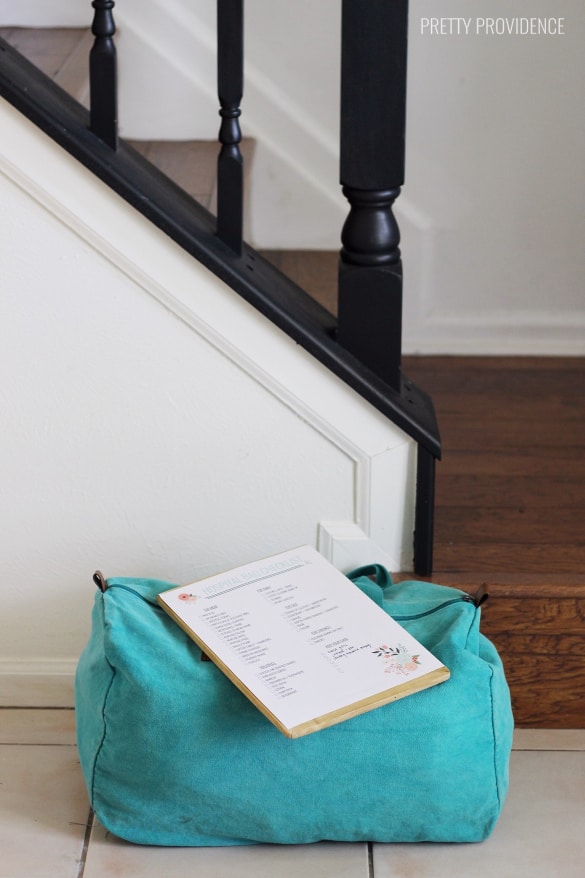 AND you will want to check these out too, especially the Padsicles guys, they could save your life!