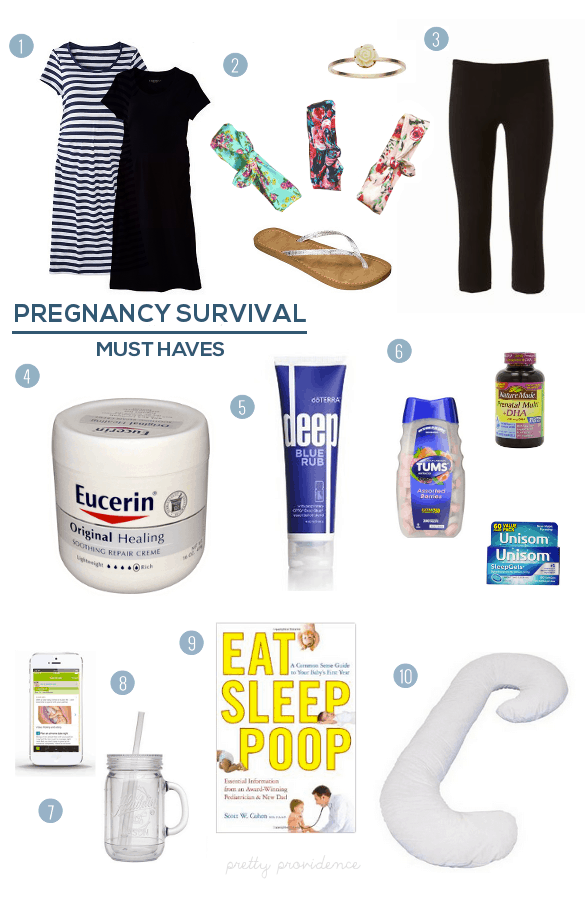 You guys! I'm sharing my pregnancy must haves with you today. I considered my pregnancy easy and was grateful to be growing a babe every day, I was always trying to be positive, but it was no picnic. Those were 40 uncomfortable weeks! Now I feel mostly back to normal and snuggling with my daughter was worth every symptom… so yay! But enough waxing poetic. Here are a few things that just I couldn't have gone without and if there's a chance I can help a sister feel a little better with one of these recommendations then I consider this post a win. Without further ado… my top ten pregnancy survival items or 'what to get when you're expecting!'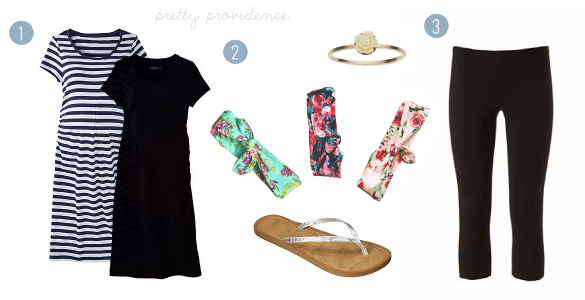 1. Maternity T-Shirt Dress — I'm in love with this dress and I don't care who knows it!
I've sung praises to this maternity t-shirt dress many times (and am wearing it here and here) and I'll sing them again! It's so comfortable, flattering and can be dressed up or left casual. Oh and yeah, it's on clearance now for less than $15. You're welcome.
If you're like me, at the end,
none
of the shoes will fit! So just get yourself some pretty,
shiny flip flops
and forget about whether they're right for the outfit or the weather. It's about survival. I also bought myself a
cheap, cute ring
to wear in place of my wedding ring that no longer fit half way through the second trimester, and found myself wearing more
headbands
, etc. Anything to feel less frumpy!
3. Be Maternity Workout Capris — Not just for working out!
Stretchy pants y'all. I was hesitant to buy actual maternity leggings because I had regular ones that were stretching enough just fine. Then, these were on sale for 40% off so I decided to give them a go in the dressing room – it was love. These are absolutely the most flattering maternity item I got! They "hold it all in" if you know what I mean, and are so comfortable. I found myself wearing them almost every day, and continue to wear them often even after baby.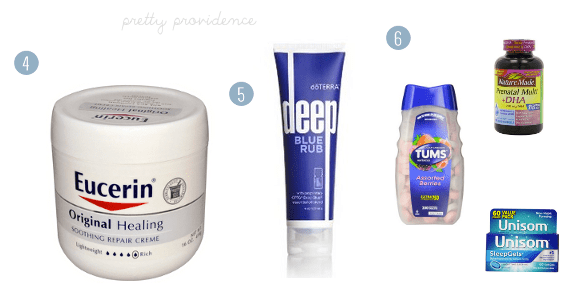 I heard about all kinds of magic stretch-mark creams and lotions. I read somewhere that stretch marks are not always preventable – some people are genetically disposed to them and some aren't, regardless of how well you lotion up. I knew either way I'd need some good lotion but didn't want to pay an arm and a leg, so I tried coconut oil as recommended by a friend and many blogs/websites. I used it for the first trimester and part of the second, and although it made my skin super soft, it wasn't slowing down the stretch marks at all and it was so greasy. I'm not a super big fan of that for the whole bod. Face, maybe. Anyway I decided to go back to my favorite lotion ever – a simple tub of Eucerin – and it worked great. This stuff really is intense but that's what I like about it. Highly recommend, pregnant or not! This specific kind (in a tub) is better than their other types, in my opinion.
There are a lot of little aches that come with pregnancy. I was experiencing lower back pain almost from the very beginning, and it was uncomfortable but not bad enough that I wanted to take any medicine for it. This all-natural essential oil rub is absolutely a life-saver! It's soothing and immediately makes me feel better. It doesn't last forever, but long enough for me to fall asleep at night. If you need more you can reapply as much as you want, guilt-free!6. Tums, Prenatal Vitamins, Floss and Unisom –I'm grouping these together because they're basic… but still important. Ask your doctor about Unisom, but mine said it was safe for me to take and it helped so much during the times that I couldn't get to sleep on my own. And don't skimp on the flossing! Your gums are especially susceptible to bacteria when you're pregnant and you don't want to experience pregnancy gingivitis if you can help it. #hormones #yay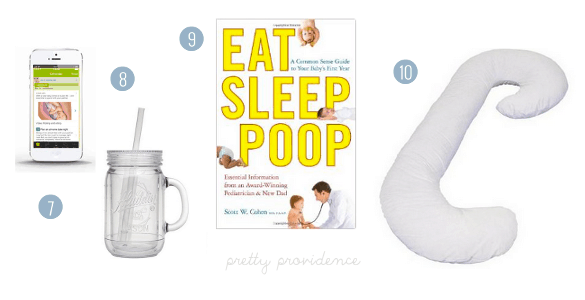 I tried out quite a few pregnancy apps at the beginning, and the BabyCenter one is my favorite. It's simple, no-frills, but has new info to read every day if you want to! It has info about your baby's development and what is happening to your body as well. I also got the Cute Fruit app which is indeed cute, but not always fruit, and is really straightforward. Literally, just the fruit (or veggie) switches week to week.
8.
BPA Free Cup
— Hydrating is more fun when your cup is cute.
It's super important to drink water while pregnant. I also found myself living on smoothies for certain portions of the pregnancy because it was the only way to get anything healthy down! I love these tumblers that have lids & straws so that I can take them wherever and not worry about spilling. Yes, spilling. I'm not sophisticated enough to carry any drink without a lid and not spill it all over myself! Oh and for added cuteness, make yours fancy.
9. Eat Sleep Poop — The best baby prep book, IMHO.
I read or tried to read plenty of baby books while I was pregnant, but this one was by far my favorite. This book is written by a pediatrician and first-time dad during his daughter's first year of life. It's simple, pretty short, and just goes through all the basic things you may not know about infants. It's all a mix of professional advice and "use your own common sense." I didn't know most of the stuff he covered and I felt so much more prepared. In the first few weeks I kept hearing myself say "It's okay! I read about this!"
10. Snoogle Pillow —
I saw these pillows all over and tried to avoid getting one because it seemed silly to pay $50+ for a pillow, but I ultimately decided to get one and wrote an entire post on it! Read it if you want to know all my thoughts but the gist is this: I got a great deal, the thing has been absolutely worth what I paid for it, and I think it would be worth it even without a deal! Sleep is kind, sleep is smart, sleep is important.
Honorable mention: Chocolate Teddy Grahams.
So there they are- the things I could not have lived without while pregnant. What about you mamas? What are your pregnancy must-haves?