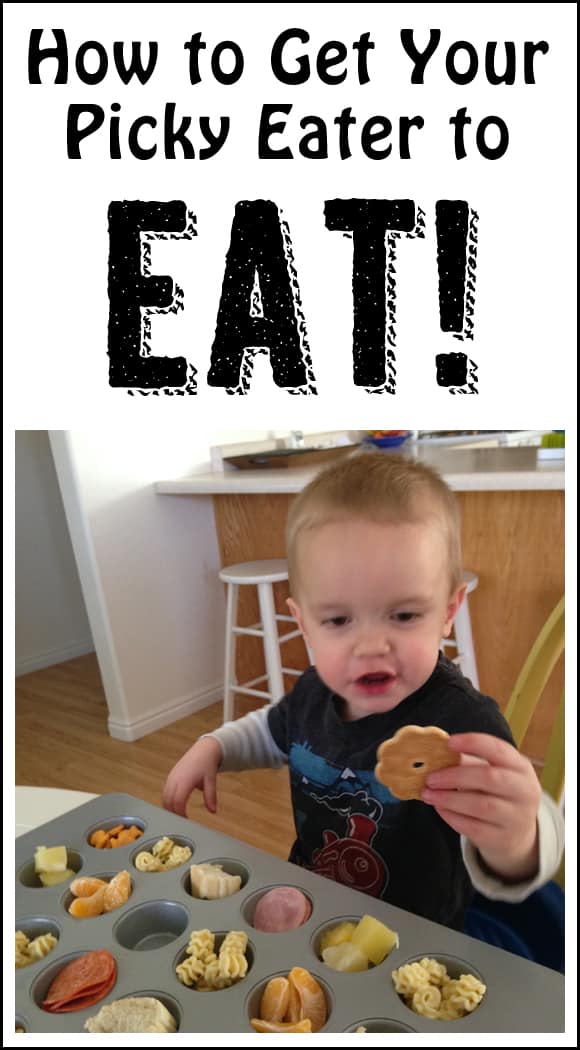 I can totally remember like six months ago talking on the phone with my BFF Pam and she was lamenting about how her boys wouldn't eat anything. I was totally naive and cocky and I said, "really? Luke is a great eater." She said something along the lines of, "yeah, just you wait." Well, all of the sudden about a month ago, my super great eater went all white bread and hot dogs on me and I couldn't get a veggie in there if it was the last food on earth. Talk about frustrating. The boy seriously was on carb overload and went through like 3 boxes of noodles a week. No sauce. Only salt and pepper. I would be lying if I said we were completely through it, and the little nugget still consumes at least one box of noodles per week, but at least I have found ways to sneak the fruits, veggies and proteins in and I thought I would share in case any of you mama's have a picky eater on your hands as well! (And if you don't yet, I wouldn't hold your breath ;).
1. Muffin Tray Lunches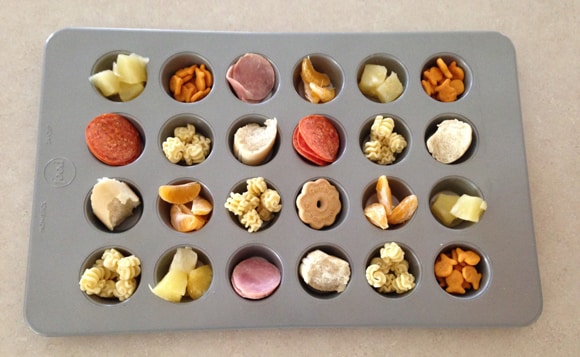 Nothing could be easier than muffin tray lunches. Basically all you do is serve whatever you are wanting your munchkins to eat, right out of a muffin tray! I basically use a mix of whatever is in my fridge or pantry at the time, I usually just try to include each of the food groups. There are no veggies in the picture above because, well to be honest tomorrow is grocery day and we are all out. My one tip for the muffin tin lunches (if your toddler is anything like mine) is DO NOT put a treat in one of the compartments. If your babe goes strait for the candy then the rest of the lunch will lose its cool factor because he will be just begging for more candy.. not like I'm speaking from experience or anything.
2. Mini Everything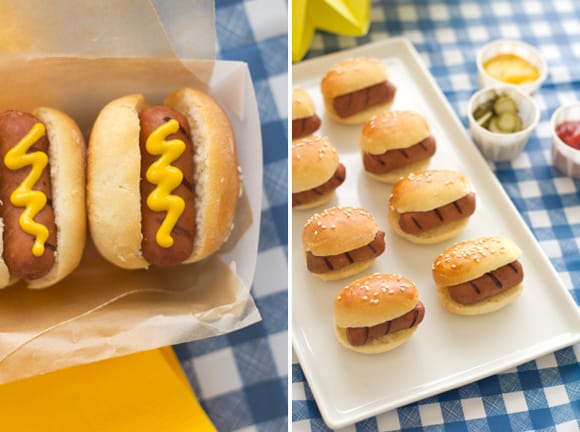 Everything is cuter/cooler when it is mini-fied. Mini pancakes, mini corn, mini oranges (cuties), mini sandwiches, you name it. A favorite of my kids is mini muffins (using the tin pictured above) I just buy a box of bran muffin mix from Walmart (our favorite is Lehi Roller Mills) and then add in a banana and a scoop of peanut butter. The kids love them and they are actually really good for you! Win, win.  **I love the mini hotdogs pictured above from Oh Happy Day! Check out her whole post here.
3. Toothpicks Make Anything Cool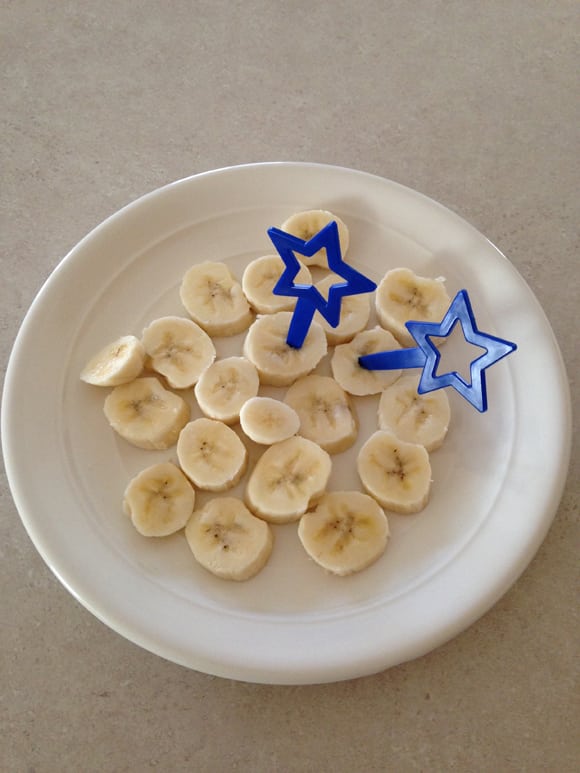 This was another tip learned from Pam (thank goodness for friends who will pass on all their motherly wisdom, am I right?) It was on a day when I couldn't get Luke to eat anything and she said, "have you tried sticking a toothpick in it?" I almost laughed out loud at her, but then he ate his whole entire pb&j, just because I let him do it off a toothpick. Fruit bowls are a favorite for toothpicks but they work with whatever! The star ones pictured above came in a fourth of July cupcake and we put them through the dishwasher because, well, they are the favorites.
4. Make Pictures with Food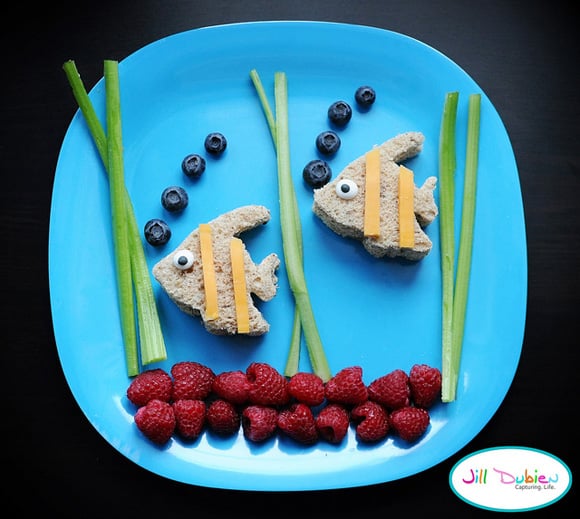 There are so many creative ideas floating around Pinterest for making pictures with food! I love them. I haven't tried any on Luke yet, but how could you not love these? Bonus Mom points too, because I swear I can hardly find ten seconds to throw leftovers in the microwave some days! ***How freakin' adorable are those swimming fishies from Meet the Dubiens? She does a "fun food Friday" so make sure to follow her for tons of other picture food ideas!
5. Cookie Cut it Up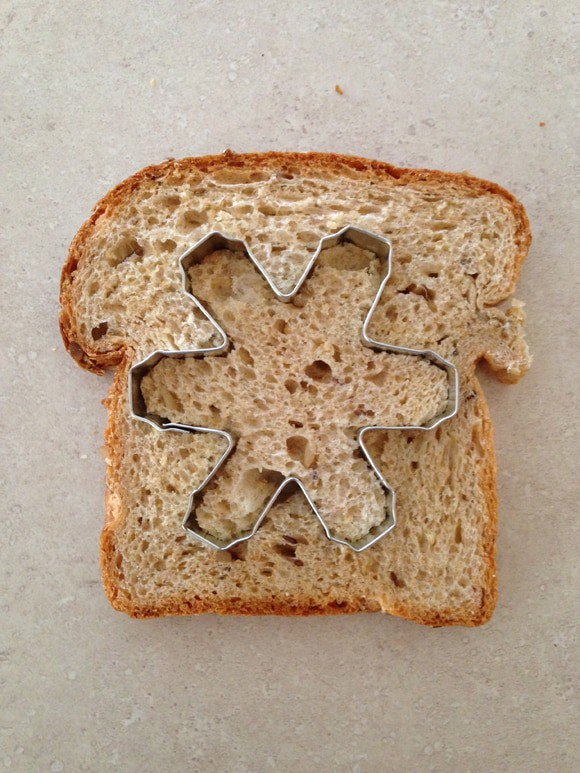 This one may seem lame or obvious, but if I am being honest this has actually been more successful than any of those listed above for my little nugget! Shapes are in, guys. I can basically get him to eat any sandwich if it is cut into a cool shape. The shape of choice these days is snowflake, recently graduated from pumpkin. Mama liked the pumpkin better, because it wasted less edges, but I have a big heart that I'm hoping to move to for Valentine's here soon! We have this huge set of cookie cutters and the kids love them, weather it be for food, playdough, or tracing.
Welp, there you have it folks! I hope that one of these ideas will help your stubborn eater accept a nutrient or two! If you have any great tips I've missed, please leave them in the comments! I always love what you share.
xoxo,

If you liked this post, you may also like how to make the postpartum period easier or advice for new dads! This post may be linked up.