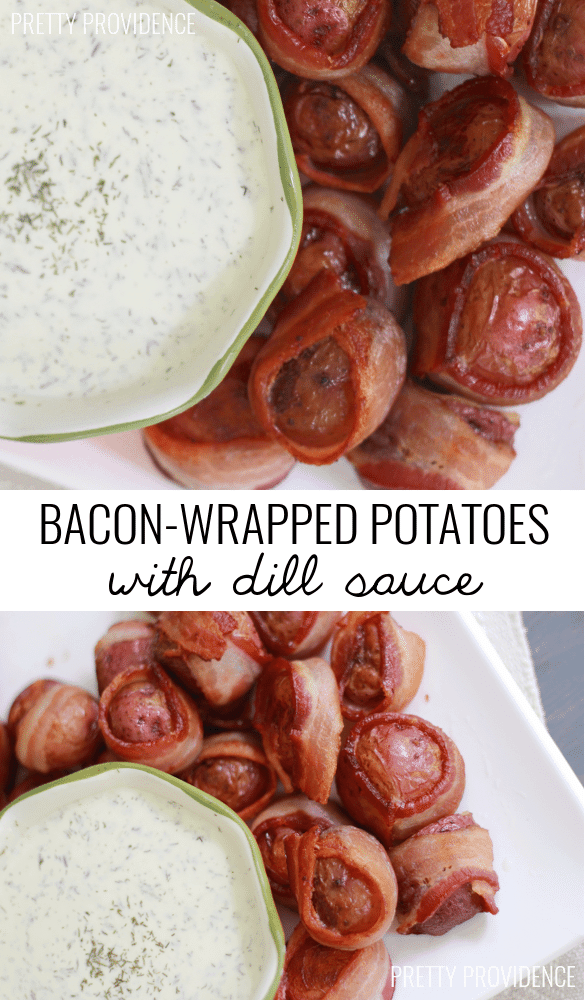 These potatoes literally taste like heaven. There is no other way to describe them. Since the first time I tried them in December, I have made them at least once a week! They are truly that good and potatoes are one of the most inexpensive foods out there, so it's great for my wallet too.
Ingredients for Potatoes:
Red potatoes
Bacon sliced in half
Salt
Ingredients for Dill Sauce:
3/4 Cup Mayonnaise
1/4 Cup Buttermilk
2 Teaspoons Dried Dill
1 Teaspoon Caraway Seeds
Salt + Pepper
Directions:
Whisk together the mayonnaise, buttermilk, dill, caraway seeds, and ¼ teaspoon each salt and pepper. Let chill in the fridge for at least 30 minutes to let the flavors really come together.
Preheat your oven to 400 degrees.
Peel potatoes.
Halve or quarter bigger potatoes. You can leave the small ones whole.
Boil 1 quart of water with salt. Add potatoes and turn heat to low, let simmer for 12 minutes. Drain.
Put potatoes on a greased baking sheet, sprinkle some salt on top of them.
Wrap each potato with half a piece of bacon, with the two ends meeting underneath the potato.
Bake potatoes for about 25 minutes, until bacon is crispy!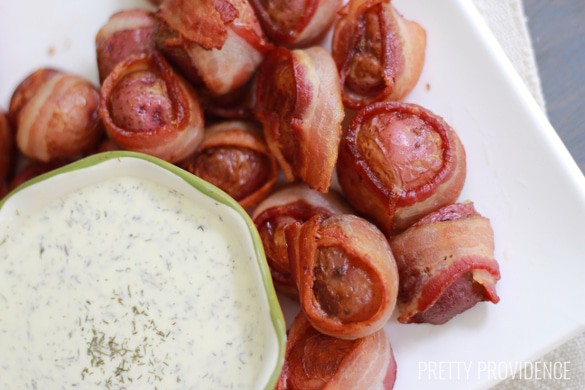 Serve potatoes with dill sauce and ENJOY! Do me a favor and make these tonight you guys. They are truly incredible. I can't say enough good things about them!
Recipe adapted from Real Simple.