Thank you to Disney Cruise Line for inviting us aboard the Disney Dream! This post was created for the Disney Cruise Pirate Night! As always, the opinions and text in this post are all mine.
*This post contains affiliate links.
We recently had the chance to go on a 4-Night Bahamian Disney Cruise. It was perfect in every way! One thing that separates Disney Cruise Line from others is the fun themed days they do on the ship. On this sailing we had Halloween on the High Seas on Day 2, and Pirate Night on Day 3.
What is Pirate Night on Disney Cruise Line?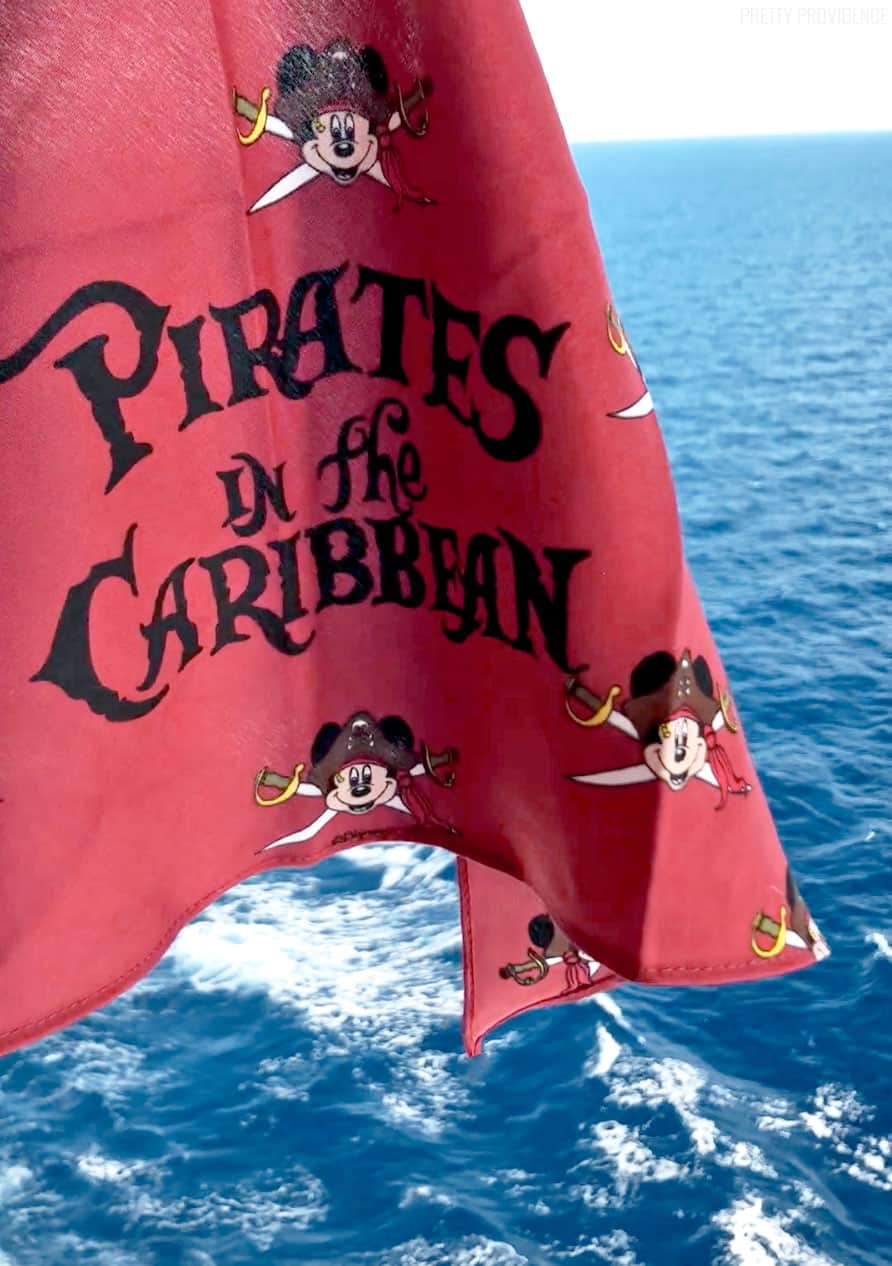 Pirate Night is a night where everyone dresses up in a pirate costume. When I say everyone, I really mean pretty much everyone – I was amazed at how many people were dressed up, and how awesome and detailed some of the costumes were. People get really into it, which makes it all the more fun! Every guest is given a bandana, like the one shown here, to add to their ensemble.
There is a 'Pirates in the Caribbean' inspired dinner menu in each of the main dining rooms. After dinner, there are tons of fun pirate-themed activities. There's a deck party – Captain Hook and Mr. Smee have been known to be there. There's also pirate trivia, crafts, games in the kids clubs, and more. Later, there is a show on the deck that ends with fireworks!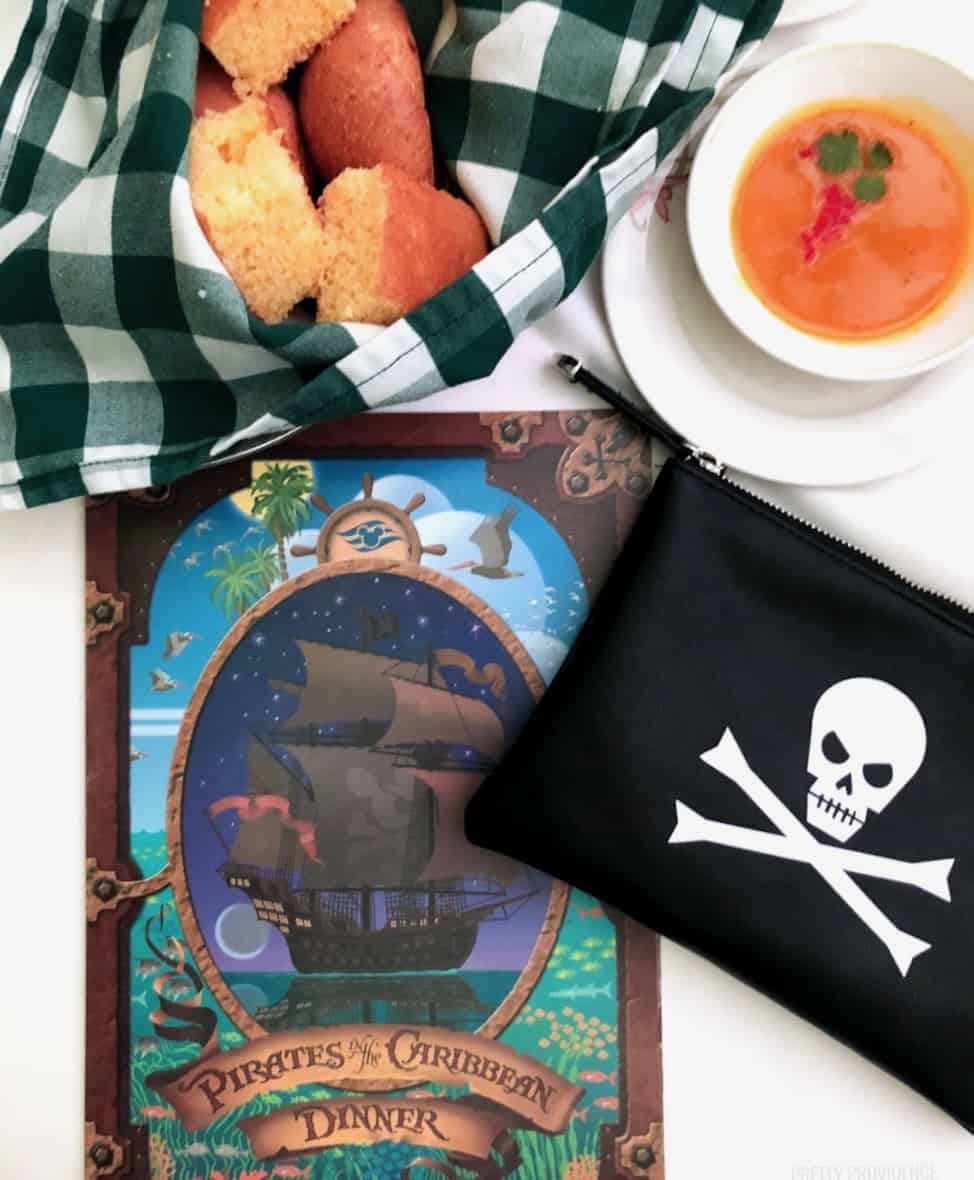 What to wear for Pirate Night on a Disney Cruise?
Some people wear a full-on Pirate costume, like something they would wear on Halloween. Others stick with black and white or red, and add a bandana. I'm still dying over how cute the little tiny toddler pirates were. It's really fun to see how creative people get with their costumes – some of them were really detailed and beautiful. I recommend joining in on the fun!
DIY Pirate Costume
I put together an easy pirate costume for Pirate Night, and made a DIY skull and crossbones clutch! I kept it pretty low key, with black distressed jeans, gold sneakers, and a wine colored tunic tee. Then, I added a lot of gold jewelry.
For a pirate costume, the more jewelry the better. Mixing and matching is encouraged. I finished the costume off with a striped sarong that I tied around my waist, and carried my DIY clutch.
One of the best things about this costume is that all of my jewelry and the striped sarong skirt I wore around my waist all fit neatly into the clutch. It's a costume in a bag, and made packing very easy!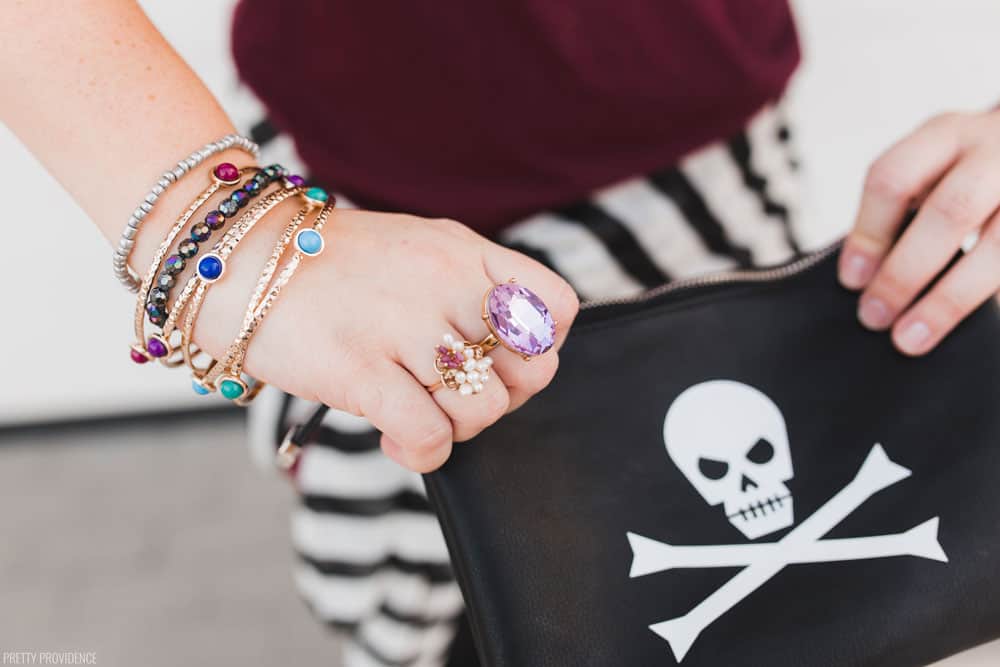 Here are some links to my pirate costume jewelry and my outfit. I am in love with my new gold sneakers, and the sarong really made the look – plus it was only $10!

Black and White Striped
Sarong

Tunic

Black Jeans
How to Make a Skull and Crossbones Clutch for your DIY Pirate Costume: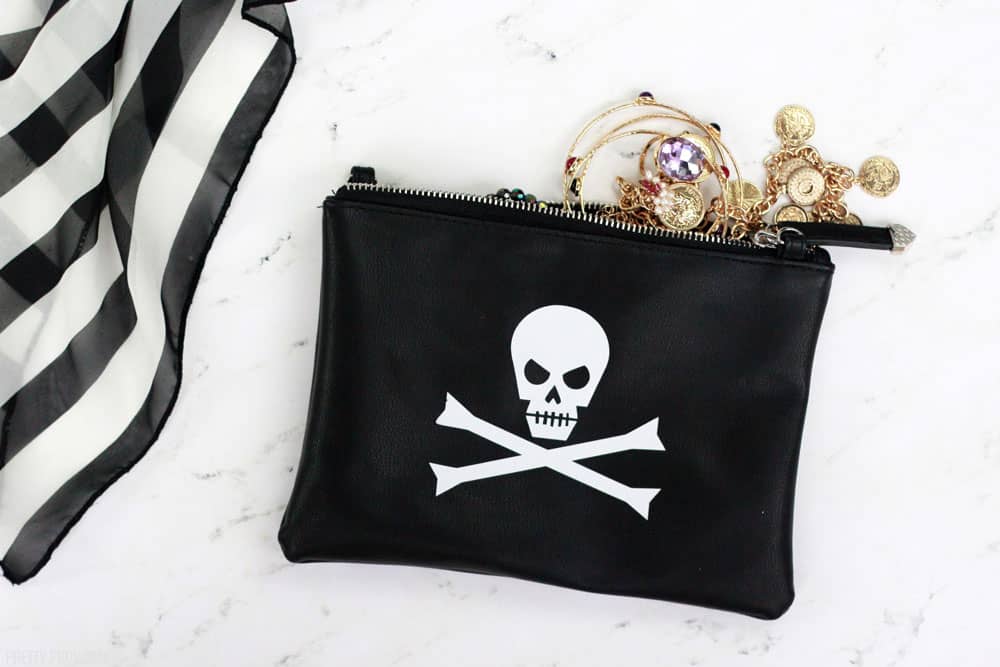 If you want to make this cute clutch, I've got you covered. I bought a plain black clutch and used white removable vinyl to add the skull and crossbones to it. Then, I used my Cricut Maker to cut the vinyl. If you're using a Cricut Design Space to make this project, here is the link to the skull and crossbones design. I also really like this set of SVG files on Etsy.
Here's everything you need to make the pirate clutch:
Black Clutch
White Vinyl
Cricut Machine or other vinyl cutting machine
Plain Black Clutch // Cricut Permanent Vinyl // Cricut Removable Vinyl // Cricut Maker // Transfer Tape
Directions:
1. Load the your design into Cricut Design Space or other cutting machine software.
2. Cut your vinyl design.
3. Weed the design.
4. Use transfer tape to keep the design together and place it onto your clutch.
5. Burnish well and remove the transfer tape. Voila!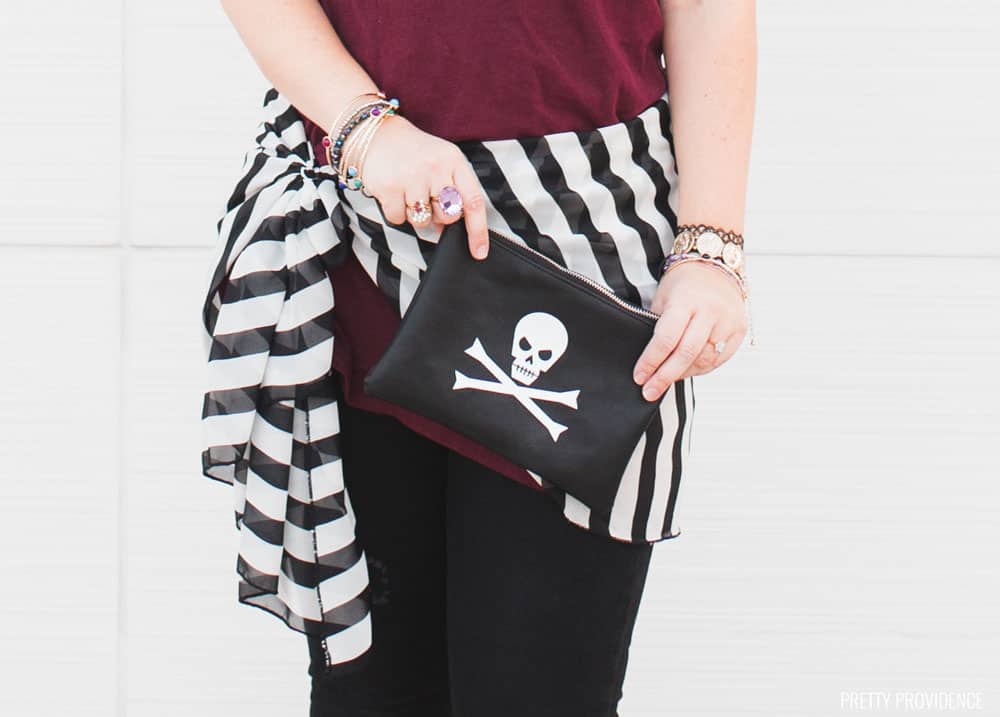 I made a little video so you can see more of what Pirate Night is all about. It is so much fun!
Can't wait to share more about our vacation with you guys next week! If you have been thinking about going on Disney Cruise, I recommend it 100%. Check out the sailing dates and different fun cruise themes they have on the Disney Cruise Line website!
If you like this, check out these other Disney Travel Posts:
DIY Disney Cruise T-Shirts
Fanny Packs for Disneyland
Disney Snacks List Shirt
Not Today Cruella T-Shirt
DIY Mickey Ears
All About Disney SMMC