I have been getting my pumpkin treat on lately. I can't help myself. Judging from my Pinterest feed neither can anyone else so I don't feel too bad. These pumpkin swirl brownies hit the spot. The best part is that I totally winged it and made it up, but it is a KEEPER. I took a basic Betty Crocker brownie mix and spiced it up to get my pumpkin fix in a brownie. These were so divine, I'm not kidding when I say I have never loved a brownie more in my life!
Pumpkin spiced things NEED chocolate with them to be their best. Who is with me?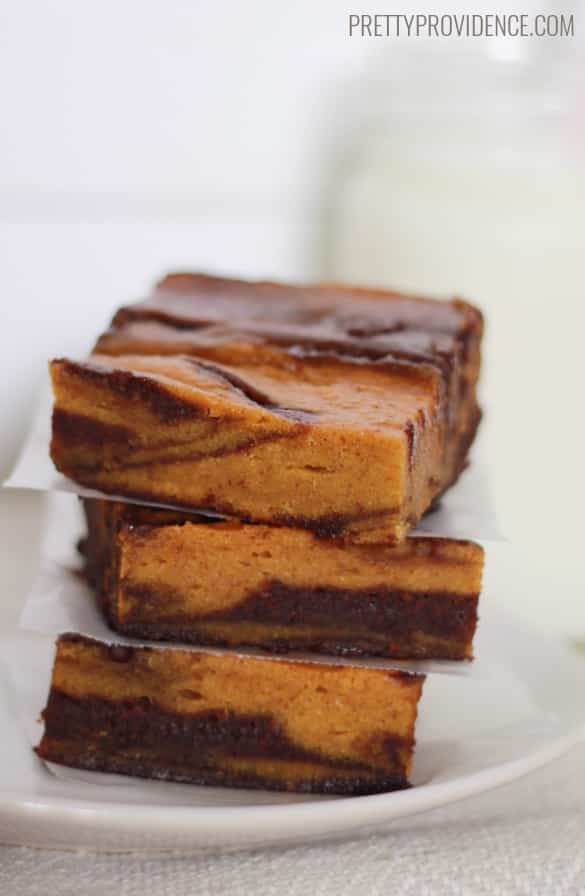 Here is one more close-up pic of the delectable swirled goodness of pumpkin and chocolate! And oh yeah, it's delish with milk.
How to make Pumpkin Swirl Brownies: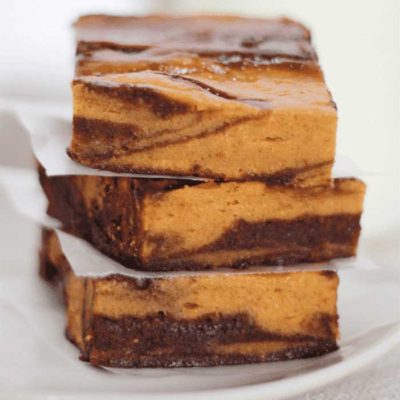 Pumpkin Swirl Brownies
These pumpkin swirl brownies are an easy pumpkin recipe for fall baking!
Ingredients
Brownie Batter
1

box Betty Crocker brownie mix

family size

2

eggs

oil

amt. on box directions

water

amt. on box directions
Pumpkin Batter
3/4

c

sugar

2

eggs

1

Tbsp

vanilla extract

1

c

flour

1/2

tsp

baking powder

1/4

tsp

salt

1/8

c

oil

1 1/4

c

pumpkin pureé

1

tsp

cinnamon
Instructions
Grease a 9x13 pan and dust with flour for less stick. Preheat your oven to 350 F. Take out three medium sized bowls for mixing.

In bowl number one mix your chocolate brownie mix according to box directions based on regular or high-altitude.

In bowl number two beat vanilla, sugar and eggs with a hand mixer until mixed well and somewhat creamy in texture (1-2 minutes.)

In bowl number three mix flour, salt and baking powder together and then pour into bowl number two and beat it together until mixed well. Now add pumpkin, oil and cinnamon, beat until mixed.

Pour half of chocolate mix into the bottom of your 9×13 pan. (If you love brownie edges, try THIS pan! It will change your life.) Next pour half of pumpkin mixture on top of that. Repeat both. Now that all of your mix is in the pan, swirl with a small spatula or butter knife until you get a marbled look like in the blurry cell phone picture below. (sorry!) Bake for 40-50 minutes or until you can stick a toothpick in and it comes out clean. ENJOY
If you like this post, you may also like: