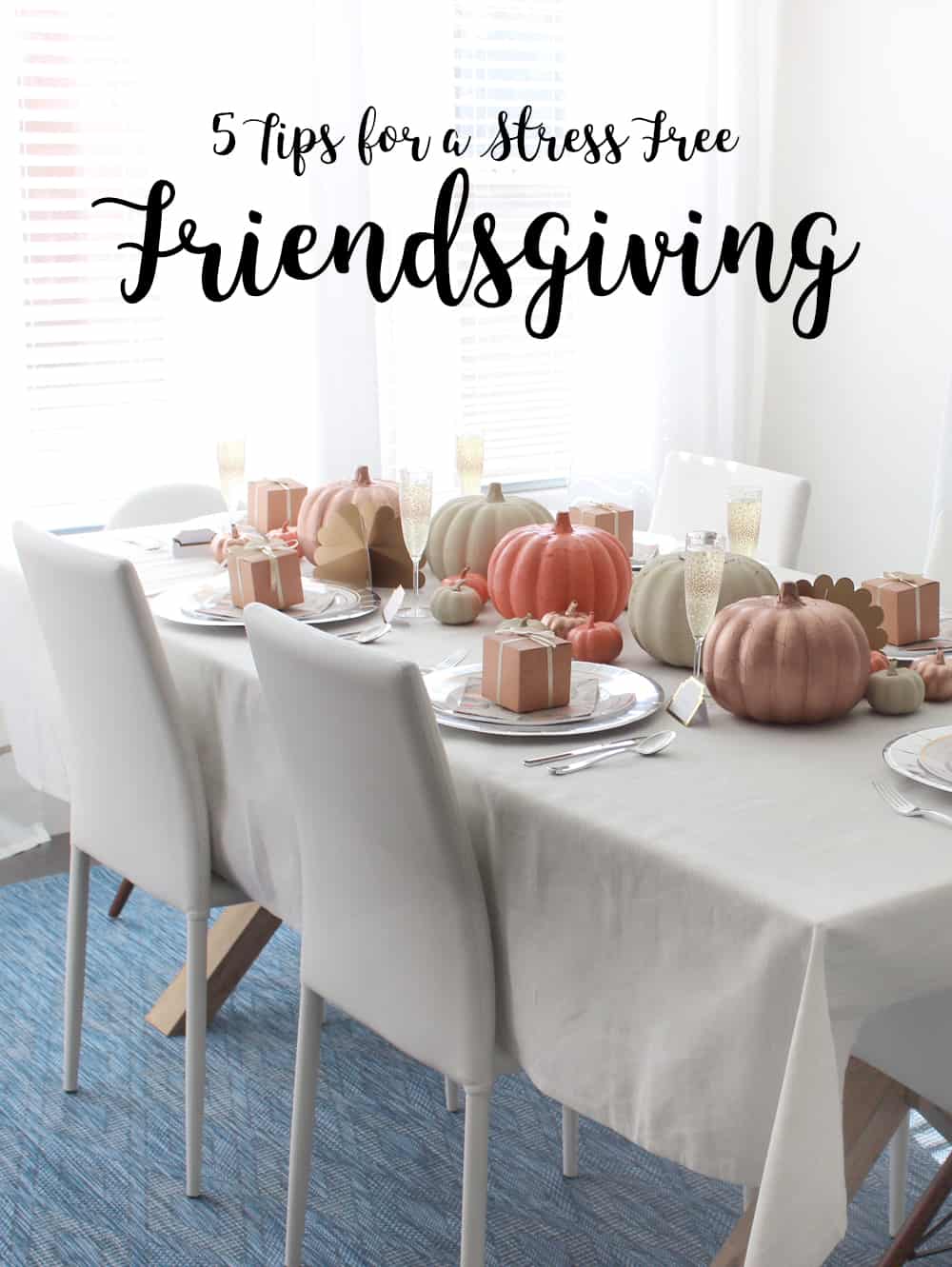 Hey friends! Can you believe we are already in the midst of the busy holiday season?! I love this time of year so much! We don't have family nearby, but we have lots of loved ones traveling in over the course of the coming months and I am so excited for each of those visits! Between having a new baby, crazy school and extracurricular schedules with my other three littles, and hosting company, all the holiday get-togethers can be a little bit overwhelming! I'm sure you all feel me! Even though this is the best time of year (in my humble opinion) it is also the busiest! So, today I'm working with Tim Tam biscuits to share a few tips for hosting a fun and stress-free Friendsgiving (or Thanksgiving) celebration! Here's to enjoying every moment and getting rid of that anxiety! You ready?

1.) Plan ahead.
Our Latest Videos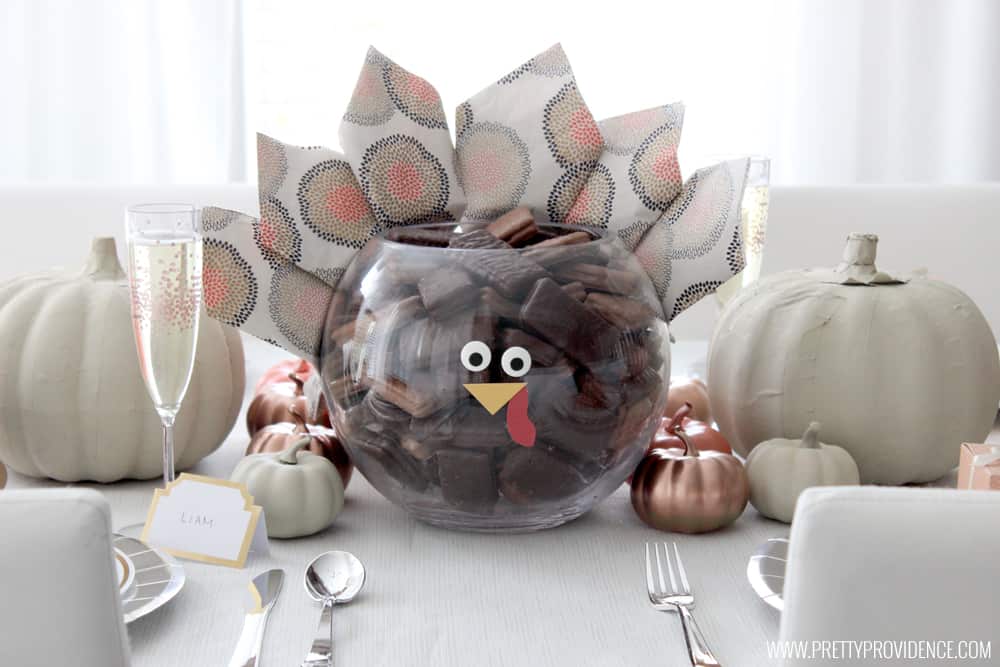 The main attraction for get-togethers at this time of year is definitely the food! I don't know about you, but as soon as I know what I'm serving I immediately feel less stressed! We have a few family members who aren't big pie fans (crazy right?) so I always try to have another delicious treat on hand for them. When I heard that Tim Tam Biscuits were finally going to be available stateside I was so excited to introduce them to my family and friends! If you've never heard of a Tim Tam biscuit, you are in for a treat! They are basically two wafers of malted biscuit with a creamy center all covered by a thin outer layer of chocolaty goodness. In other words, they are like heaven, you guys! They are bringing four flavors over to the U.S.: Original, Classic Dark, Dark Mint, and Chewy Caramel! Of course, I wanted to show off all of them, so I came up with this cute Tim Tam Turkey Treat bowl which can double as a fun centerpiece!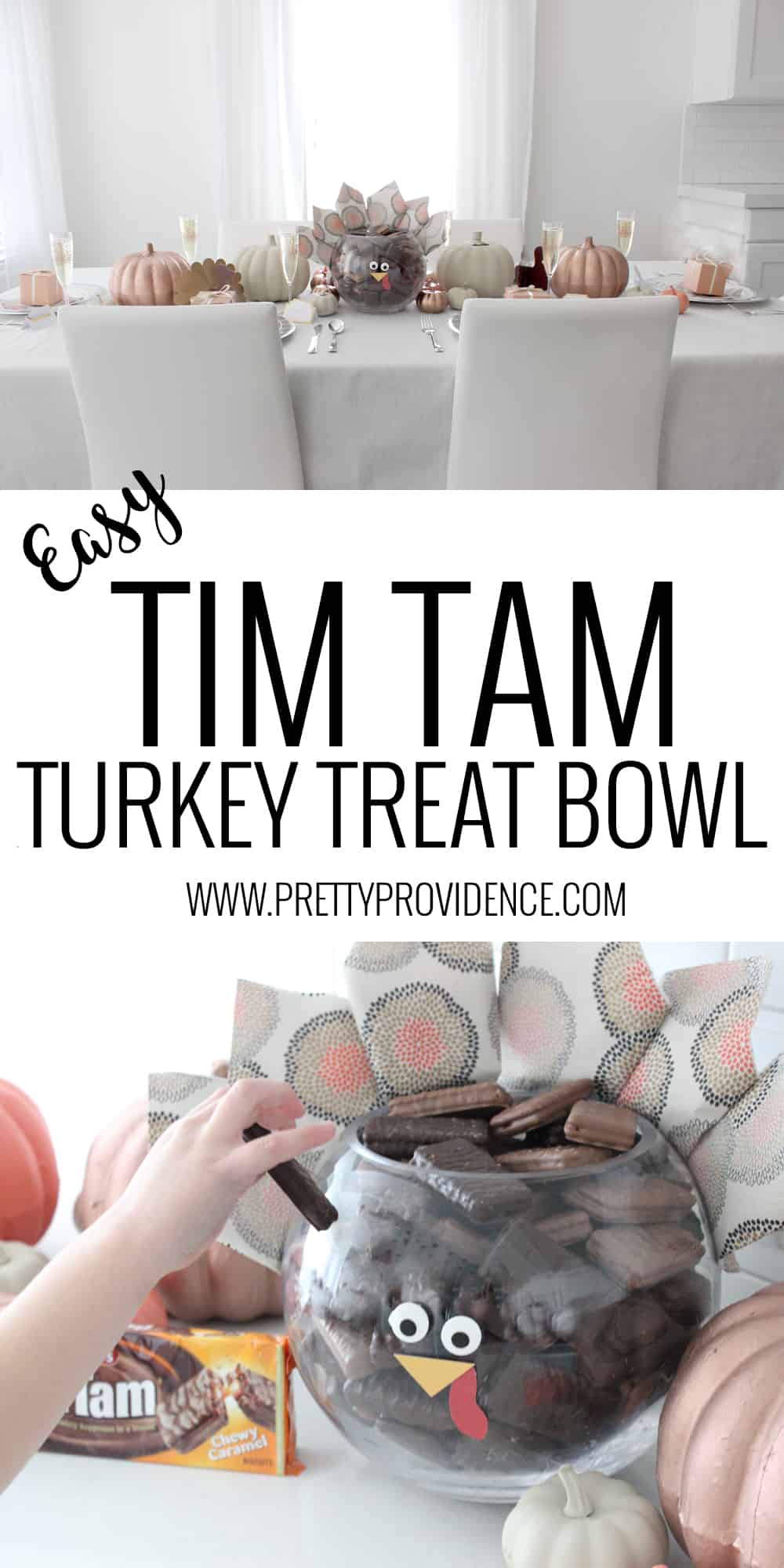 The only challenge will be keeping little hands from eating them all before guests arrive!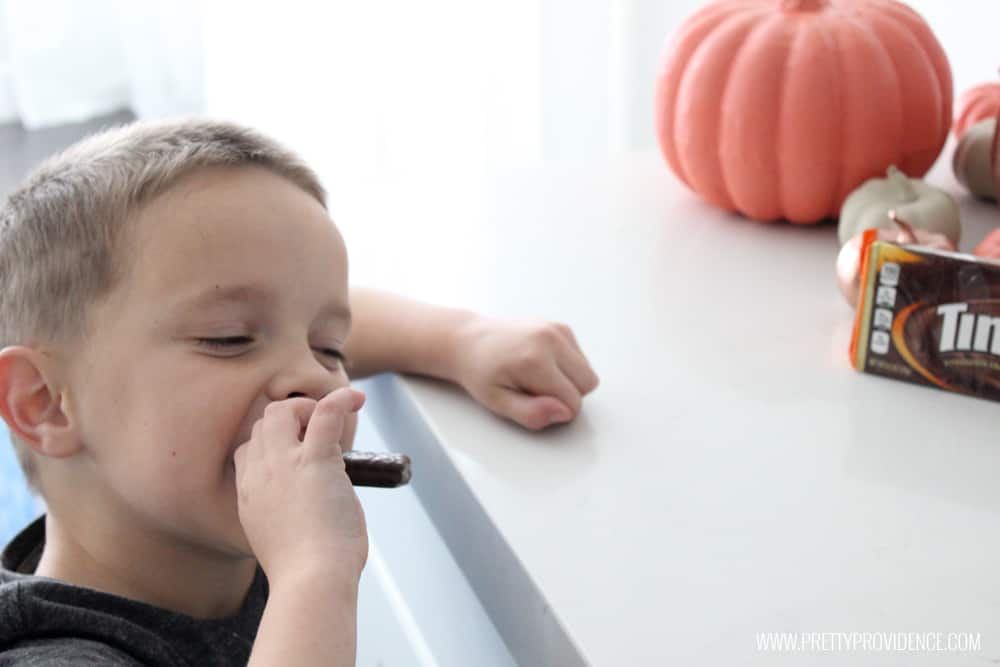 Another thing that has helped me to prepare food wise is to order a turkey. A few years ago, I was hosting my first Thanksgiving on my own, and I was just so stressed about having to do it all. I was worried about having cooking space, keeping everything warm, and basically just having enough hours in the day! I ordered a turkey and gravy from a local grocer that had great reviews and it turned out fantastic! Then, I put my time and energy into making all the side dishes we can't live without! If you need a list of great side dishes find all our favorite Thanksgiving dishes here!
2.) Use paper products.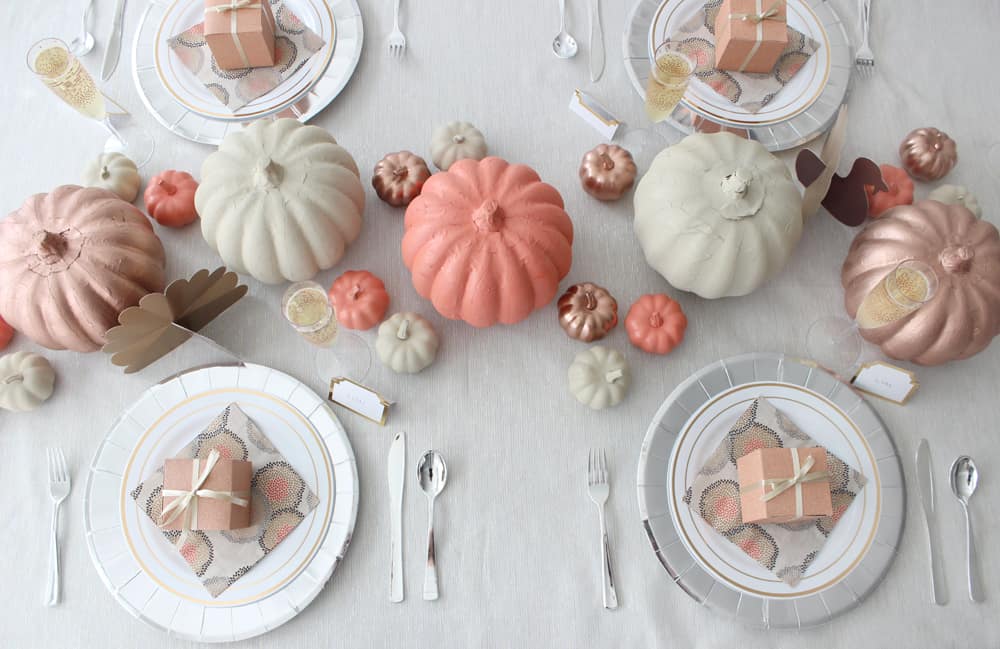 Okay this one has been a lifesaver for me! I hate doing dishes! It always used to annoy me to have to miss so much of the party washing dishes instead of visiting with friends (or cleaning for literally hours once they had left) so I almost never host parties on real dishes anymore! You guys, it is so FREEING! Guess what, it can still be beautiful, too! Would you believe that the entire set up pictured above is using disposable products? They totally are! The chargers, silverware, napkins, plates, favor boxes, glasses and paper turkeys pictured above are all from Oriental Trading (they have everything!), and then I found some papier maché pumpkins on clearance after Halloween and spray painted them using what I had! They turned out so cute and fun and I already can't wait to incorporate them into my decor next year! Here's a closer look at this set up: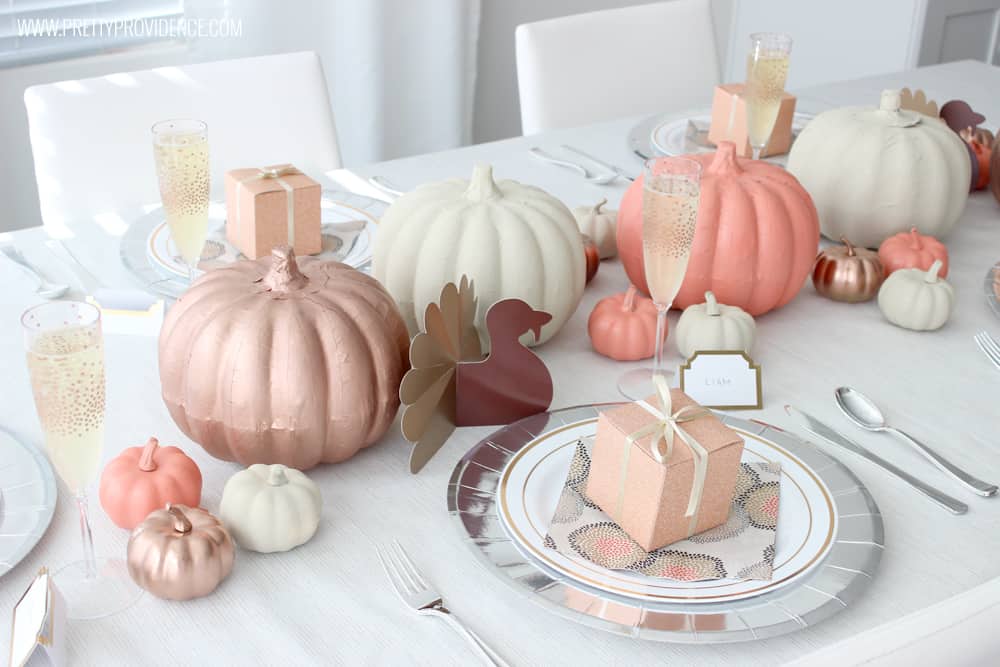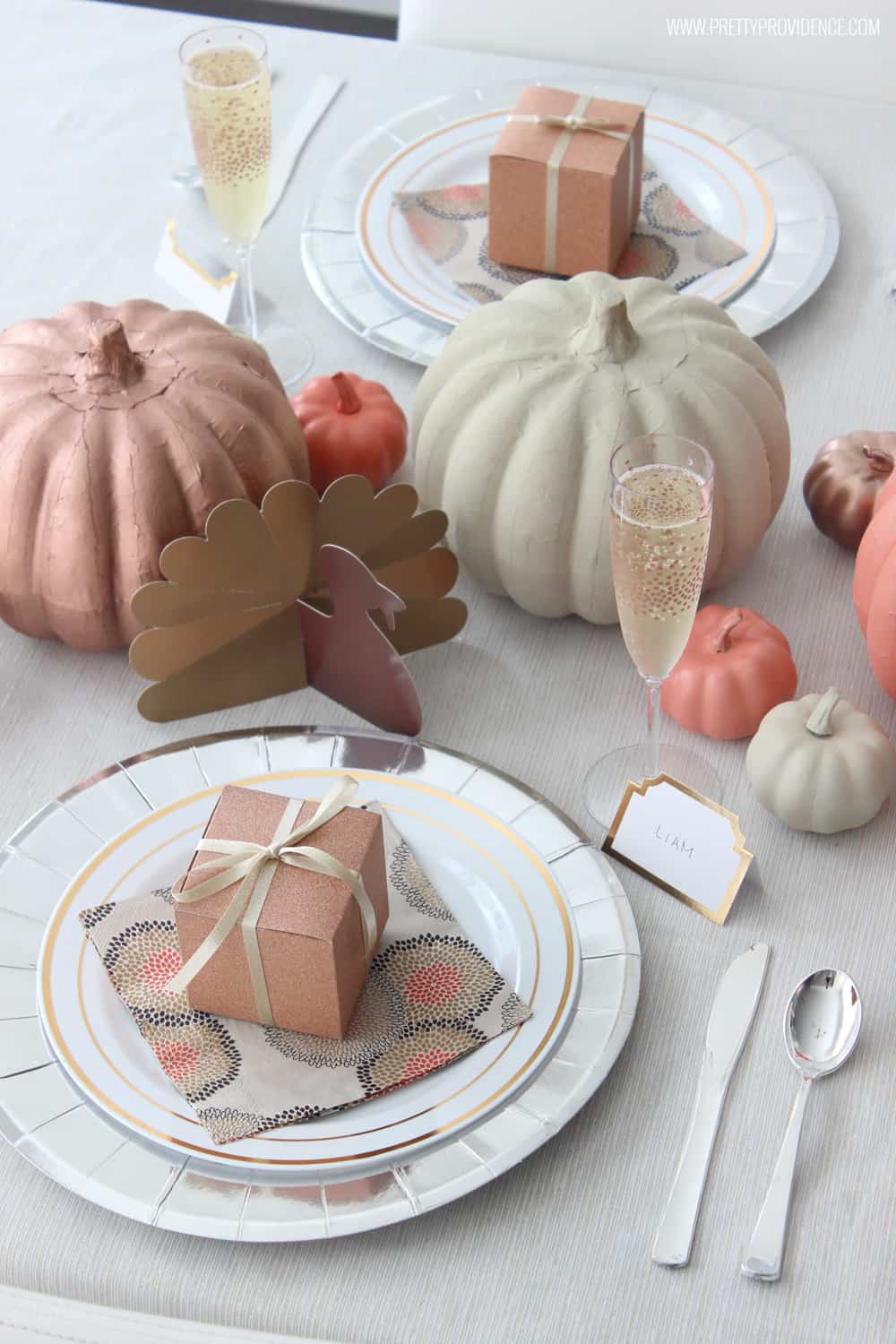 3.) Find activities for the little ones.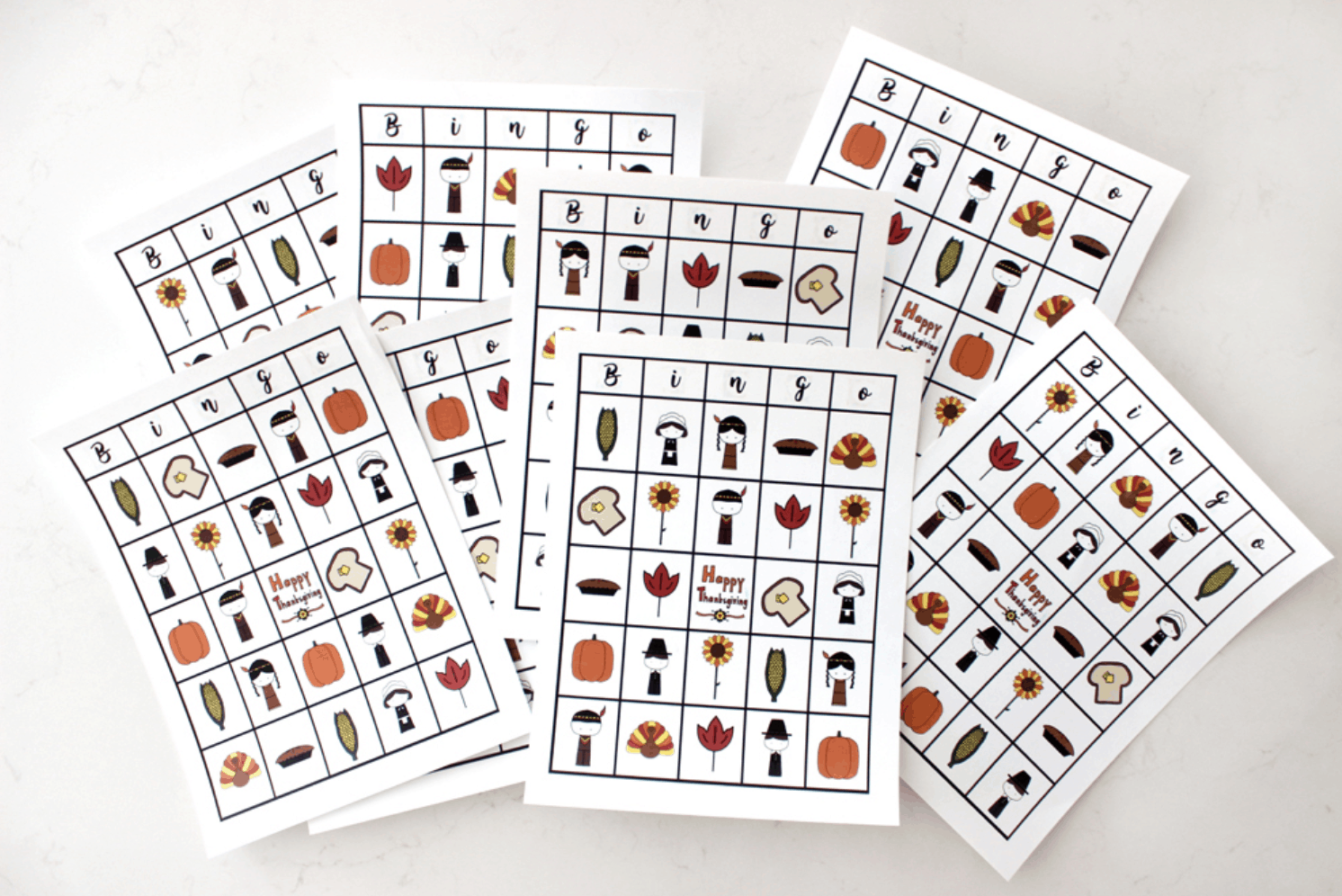 Also a game changer for us! It can be so hard preparing food (let alone visiting with friends) with a ton of littles running around who are "bored." My kids love Bingo, and these Free Printable Thanksgiving Bingo sheets were a huge hit last year! To keep up the Tim Tam biscuit fun, we are also going to have them play the "face to biscuit" game! Basically, what you do is you have them place the biscuit on their forehead and try to get it into their mouth without using their hands! If it drops they just have to place it back on their forehead and keep trying! Not only do the kids love it, but it is super fun for everyone watching as well! Haha. Making a thankful tree or a gratitude chain are also great activities for kids and adults alike.
4.) Split up the responsibilities.
You can't do it all. I have never hosted a gathering when guests didn't ask what they could to or bring to help. Guess what, it's okay to say yes! If everyone coming brings one side dish your work is practically done! Plus, it is fun to get to try new things and see how others prepare old favorites!
5.) Little touches go a long way.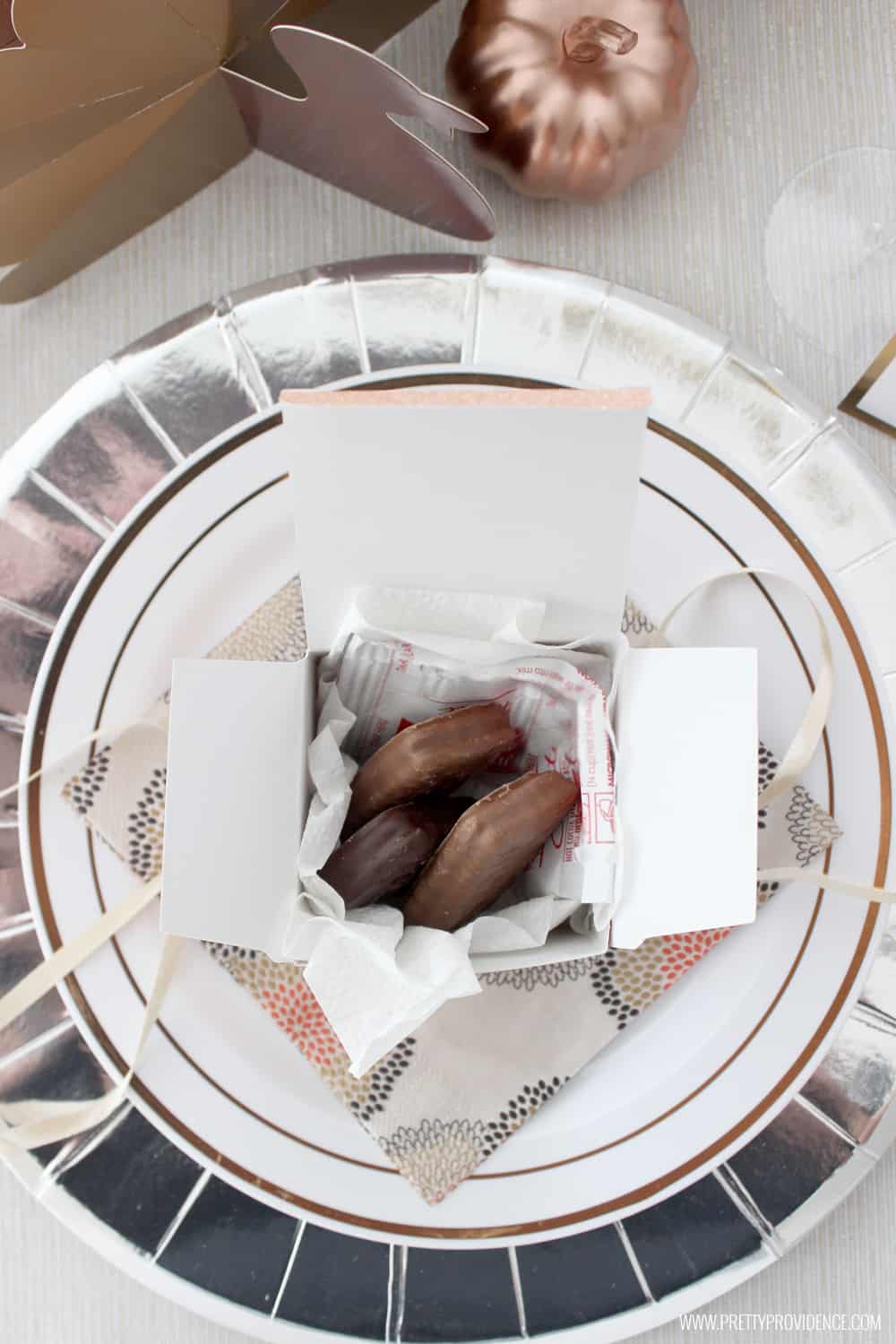 I have found that the key to any successful party or gathering is never spending a ton of money on fancy decorations. It is all about the thought behind it and simple touches that show guests you put a bit of yourself (and them) into things. For example, my Father-in-Law hates cheese, so if we are ever making a dish with cheese we reserve a little bit out for him, cheese free (if possible). Another way I love to put thought into my get-togethers is by making a special playlist for the event. It is fun to compile thematically appropriate songs from artists I know my guest like! It's always a fun talking point too! I also love putting together little favors for guests to take home with them. For these favors I just put a few Tim Tam Biscuits in those cute rose gold boxes with a packet of hot chocolate so guests can do their own Tim Tam Slam at home! If you don't know what the Tim Tam Slam is, you are in for a treat! Here is a great step by step tutorial you can reference!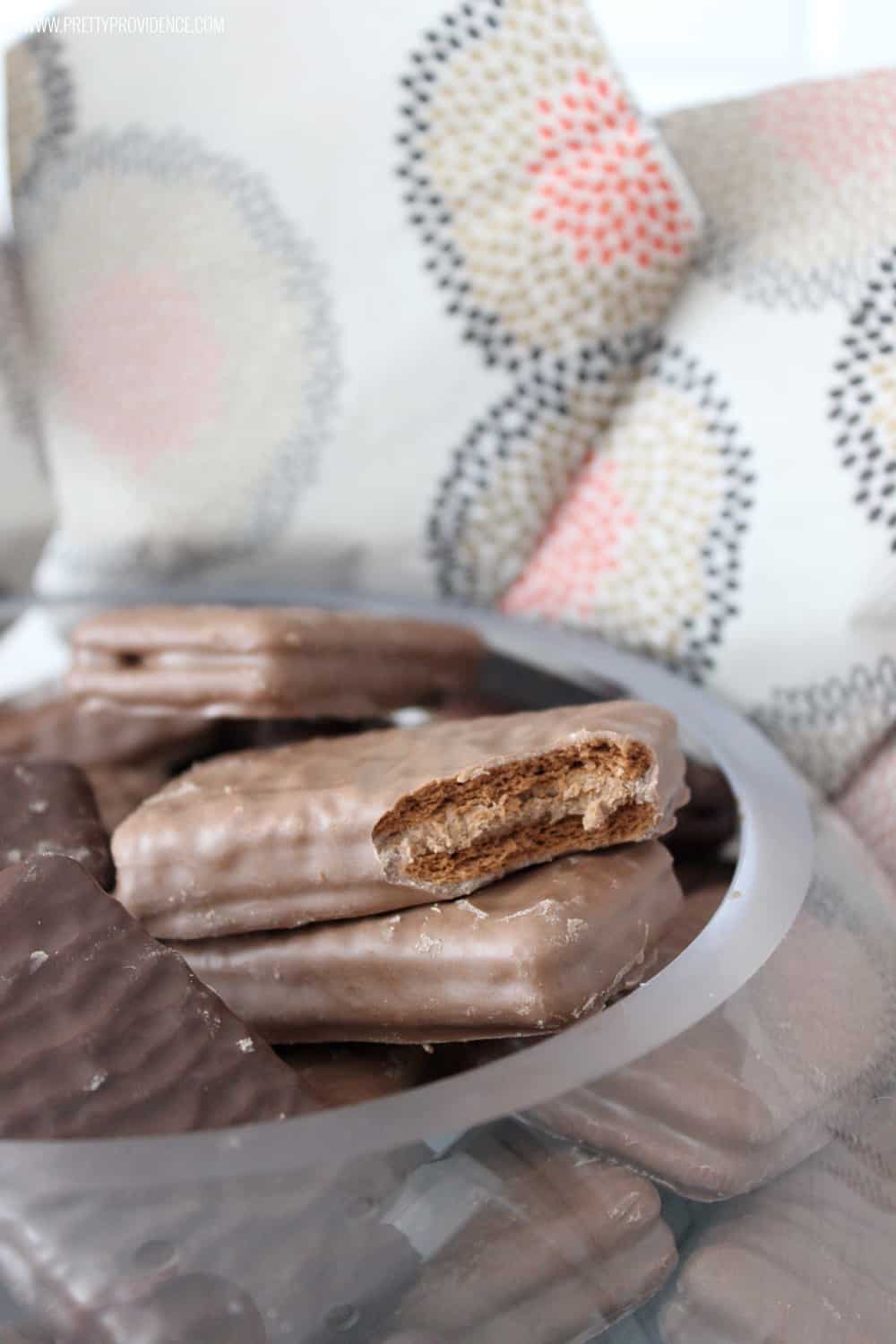 I hope these tips were helpful for you, bring on the holiday season friends! Best of luck with all your parties and get-togethers!
xo,

Thanks to Tim Tam biscuits for sponsoring this post!