This easy Turkey Treat Bowl is the perfect Thanksgiving centerpiece. It's fun, easy to make and you can fill it with your favorite treats!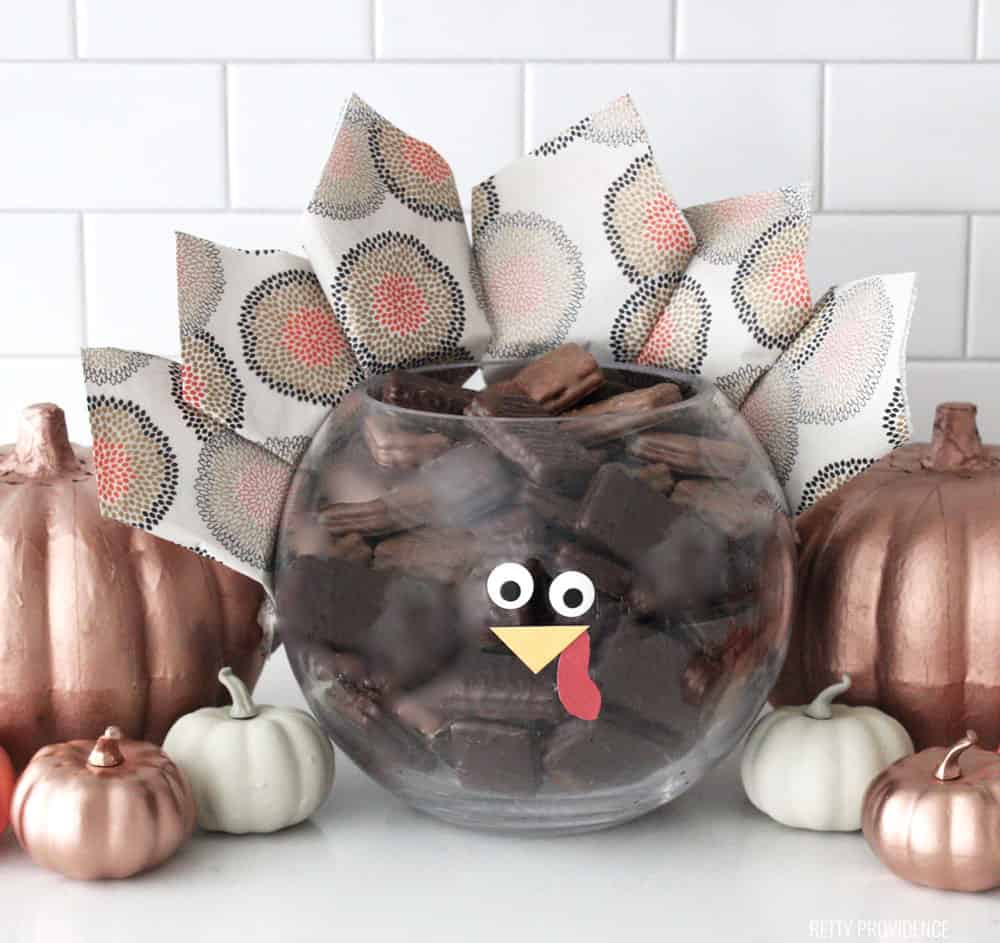 Hey friends! Can you believe we are already in the midst of the busy holiday season?! I love this time of year so much! Planning and hosting Thanksgiving is one of my favorite things to do. I love making the actual Turkey, the side dishes, and coming up with festive ideas like this kids Turkey place setting and our Turkey Cheese Platter! Naturally the next step was a Thanksgiving Centerpiece that could hold our favorite treats inside it.
Thanksgiving Centerpiece
I wanted a fun Thanksgiving centerpiece that the kids would like as much as the adults, and I came up with this Turkey Treat Bowl, which can be filled with whatever you like! It is very easy to make as far as Thanksgiving centerpieces go. Make sure to check out all of these Thanksgiving table decor ideas as well.
The only challenge will be keeping little hands from eating the treats before guests arrive!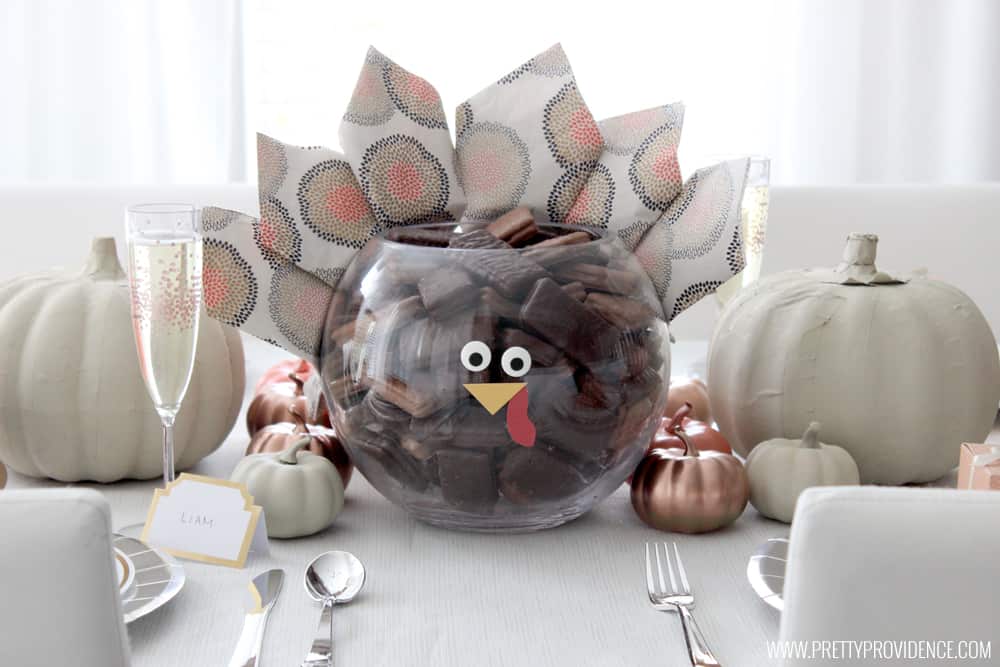 How to Make a Turkey Treat Bowl Thanksgiving Centerpiece
Materials:
Instructions:
Loosely fold napkins into a cone shape. Find a detailed tutorial for this napkin-fold here.
Use scotch tape or glue dots to keep napkins in place.
Attach napkins to the back of the treat bowl using glue dots, fanning them out so it looks like Turkey feathers.
Cut eyes, gizzard and beak out of card stock, and attach to the front of the treat bowl with glue dots.
Thanksgiving Table Settings and Decor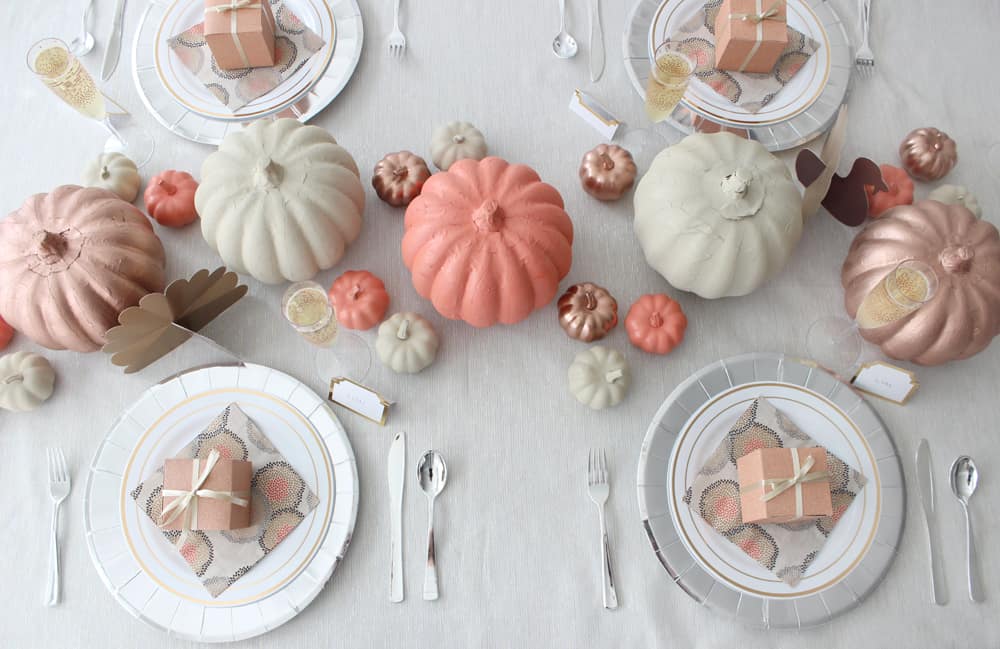 Traditionally people use their finest dishes for Thanksgiving, but I use paper products. I hate doing dishes! It always used to annoy me to have to miss so much of the party washing dishes instead of visiting with friends (or cleaning for literally hours once they had left.) I almost never host parties on real dishes anymore!
It is so FREEING! It can still be beautiful. This entire Thanksgiving table is set with disposable products.
The chargers, silverware, napkins, plates, favor boxes, glasses and paper turkeys pictured above are all from Oriental Trading (they have everything!)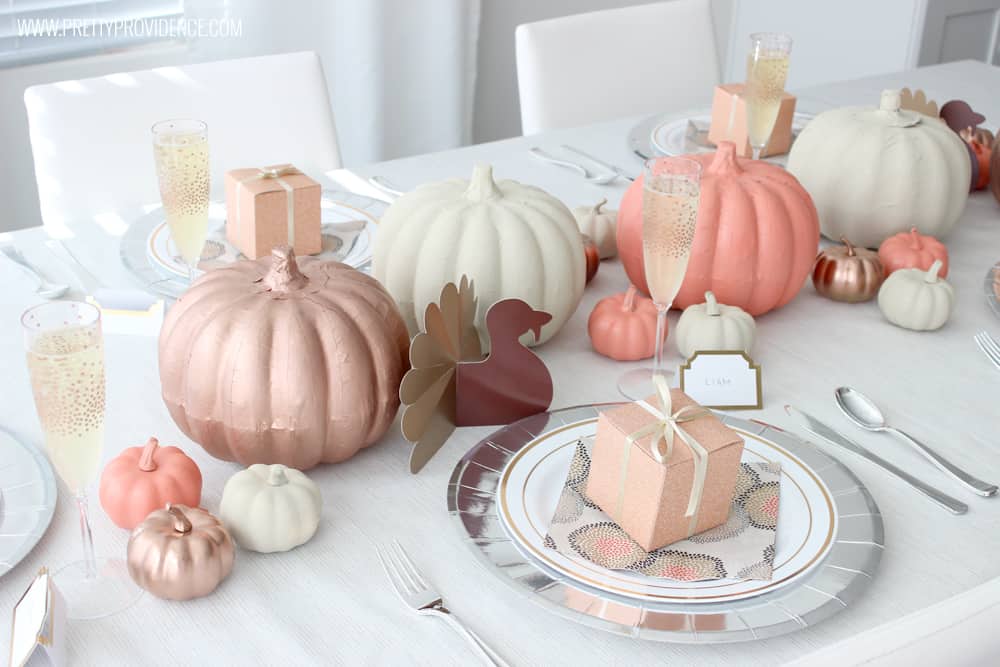 I also found some craft pumpkins on clearance after Halloween and spray painted them. They turned out so cute and fun. I already can't wait to incorporate them into my decor next year! The pumpkins make for a great Thanksgiving centerpiece on their own. Here's a closer look at the table setting.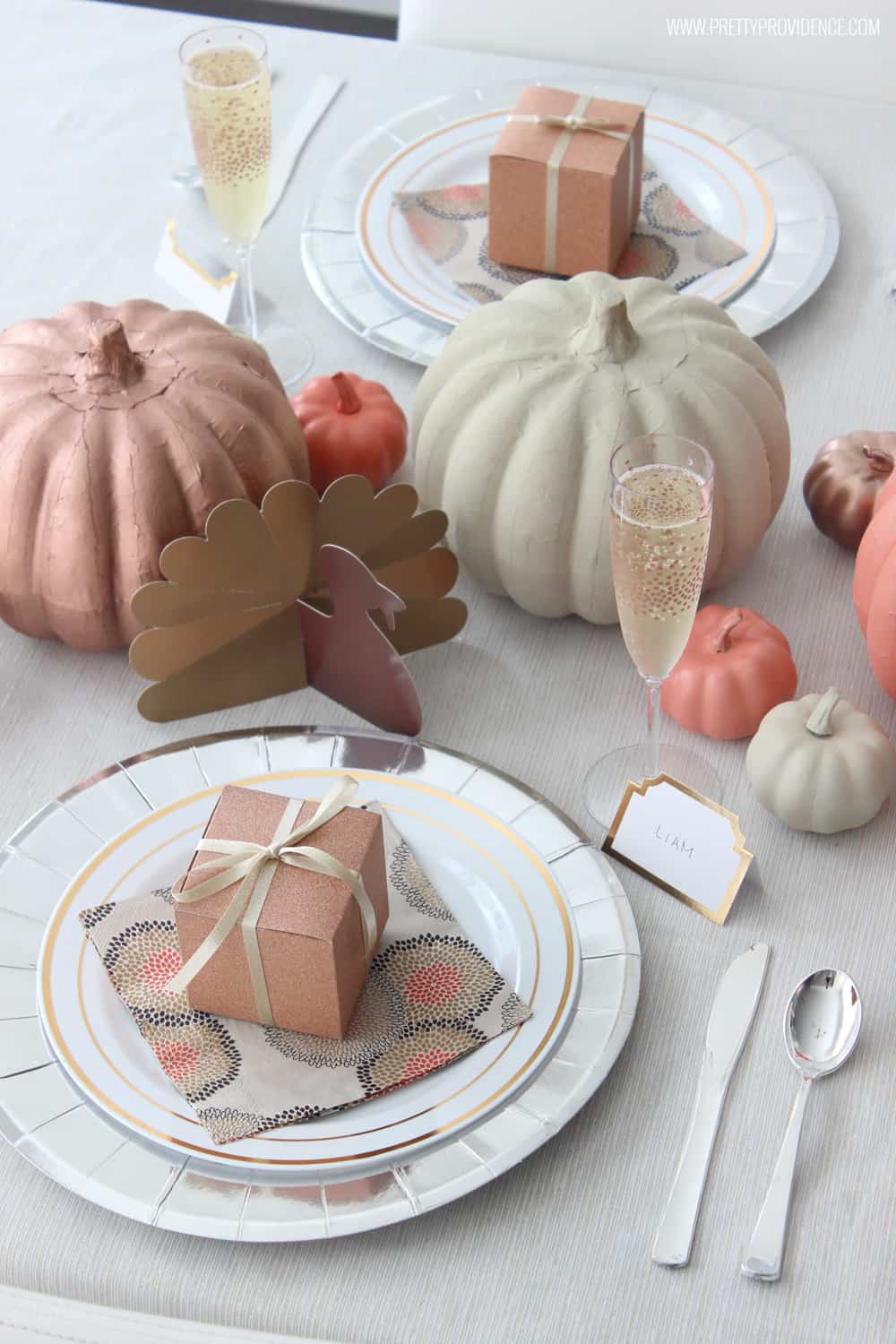 Thanksgiving Favors
I also love to put together Thanksgiving favors for guests to take home. This year, I put a few Tim Tams in the cute rose gold treat boxes. I also included a packet of hot chocolate so guests can do the Tim Tam Slam at home! If you don't know what the Tim Tam Slam is, you are in for a treat. Here is a great step by step tutorial you can reference.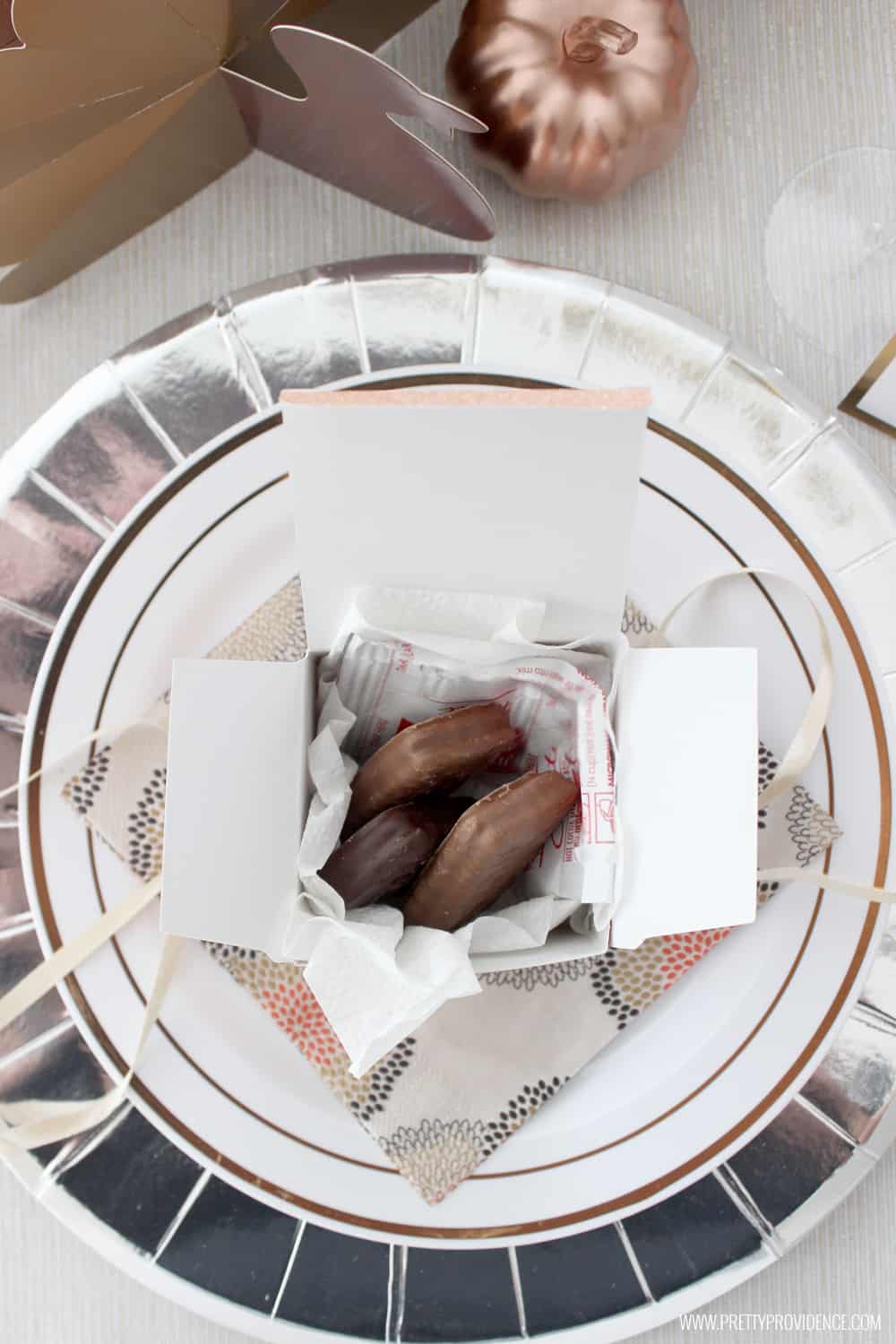 I hope these tips were helpful for you, bring on the holiday season friends! Best of luck with all your parties and get-togethers!
xo,

This post was originally published in November 2017 and has been updated with new photos and more detailed information.