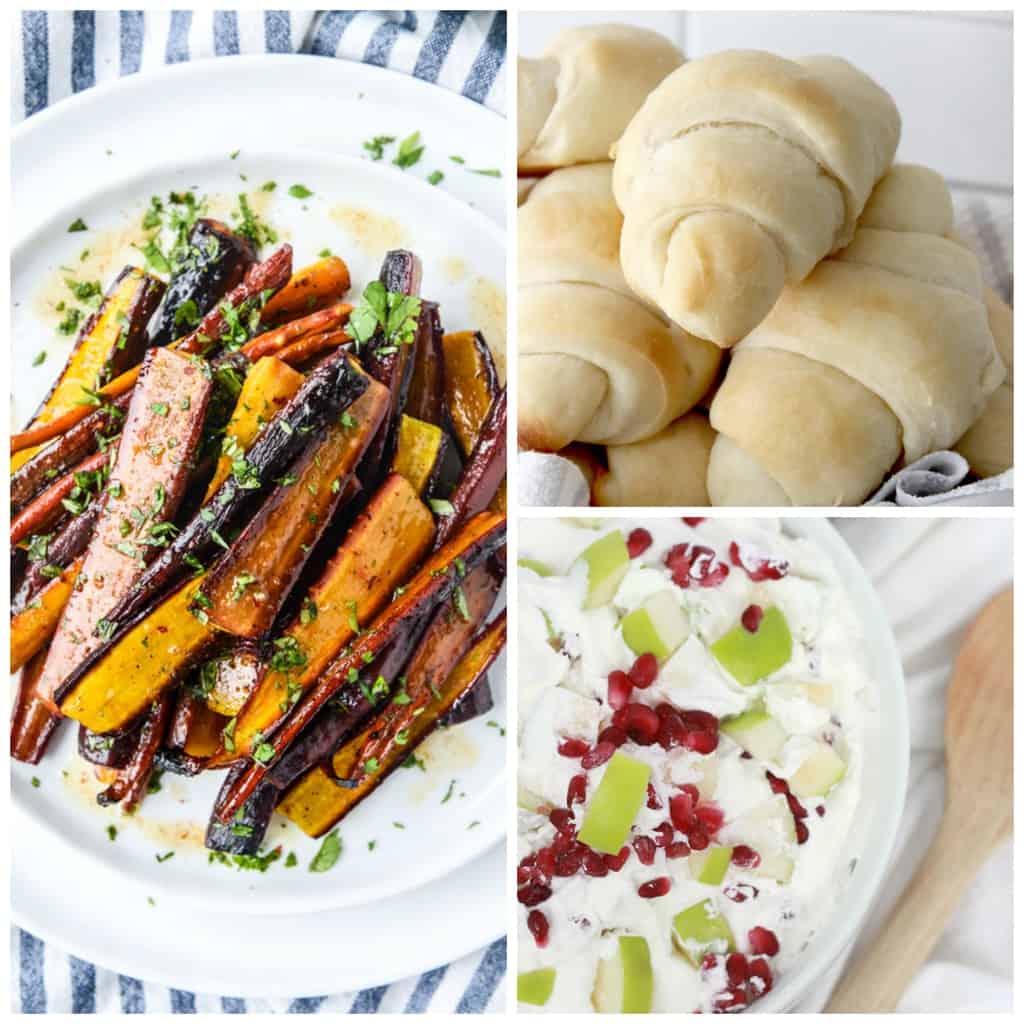 I am SO excited for Thanksgiving this year. I'll be hosting some of my family from out of town and I have grown to LOVE hosting Thanksgiving over the past few years. I used to just think Thanksgiving was fine, nothing that special. I liked the mashed potatoes and the parade but really I could take it or leave it. I think I love it so much now because I don't get to see family as often so it feels extra special when we do. That, and I really love hosting because I get to geek out over choosing the dinner menu and setting the table. So… as I'm sitting here pouring over which recipes to make, I decided I should share some of our tried and true favorites, and some that I'm hoping to try this year from other sites! Prepare yourself for a visual feast! (PUN TOTALLY INTENDED.)
APPETIZERS
These cranberry & feta pinwheels are so easy but look fancy and taste AMAZING!
Sounds like the most delicious veggie dip ever – and it's definitely the most beautiful platter! From All Things Thrifty.
This Turkey Cheese Platter is so cute and fun! The kids will go crazy for it!
A quick and easy cheese tray is ALWAYS a good idea. Plus, it looks fancy!
SALADS
Sometimes you need something light and crunchy to balance out all the heavy sweet Thanksgiving food. These salads look so refreshing and a great counterbalance if you want to lighten things up a bit.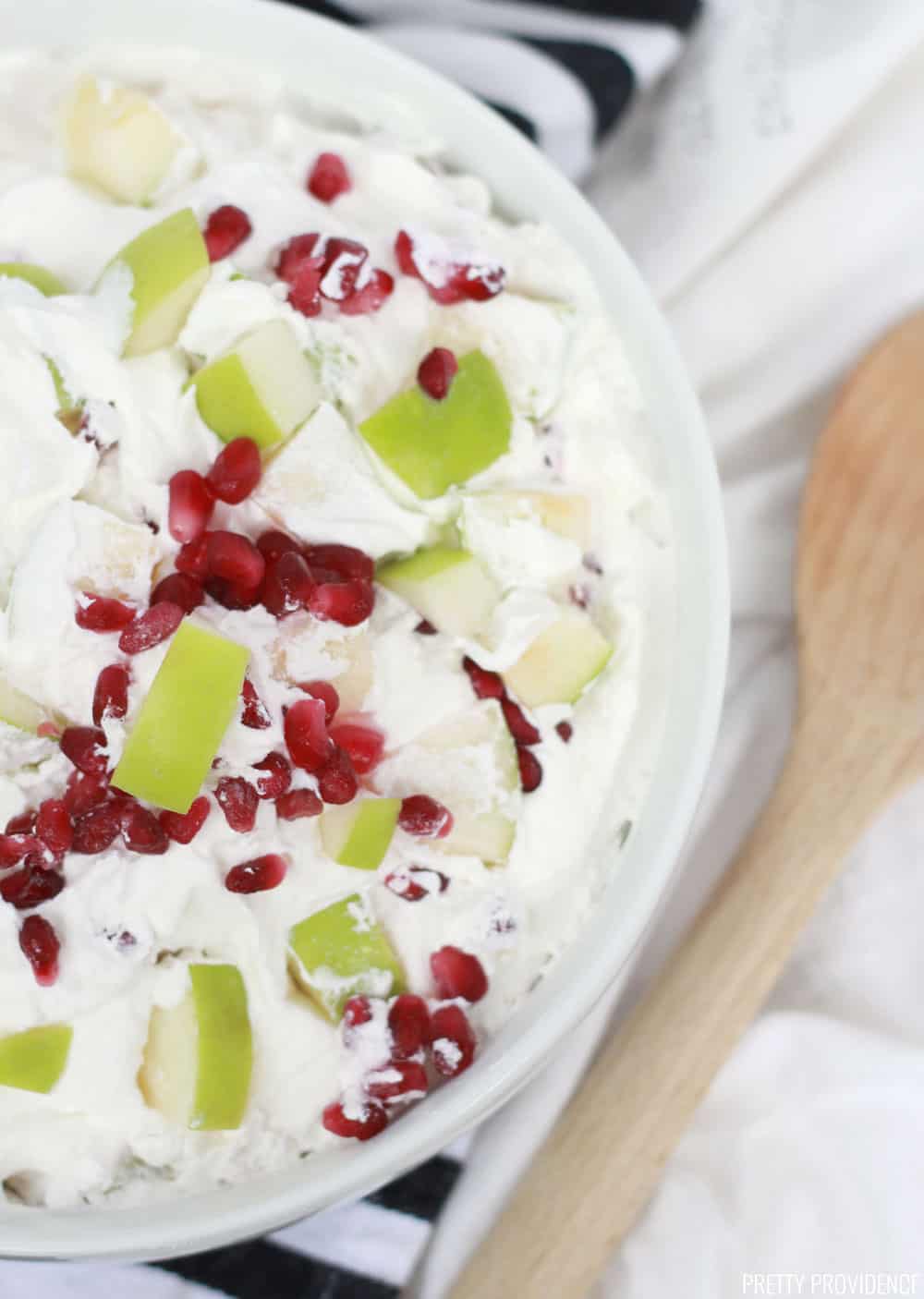 My light and refreshing Pomegranate Apple Salad is a MUST. It's the perfect Thanksgiving fruit salad recipe!
This Spinach Poppy Seed Salad is a great choice. Light, tasty and full of all the veggies. I'm pretty sure a helping of this justifies an extra piece of pie.
It might seem different to do a Greek Salad for Thanksgiving, but they're so tasty how can you not?
Ok this one's not necessarily on the healthy side, but it is a salad. I will fight about it if you want to. This Pomegranate Apple Salad is so incredibly easy and has been one of my favorites for years!
This Harvest Broccoli Salad from Little Bits Of looks like it will pair so well with all the warm comforting flavors of Thanksgiving dinner. The addition of roasted sweet potatoes will make you forget you're even eating salad.
How does this strike you – Pumpkin Goddess Dressing?! I can't wait to try it. This Fall Harvest Salad from the Seasoned Mom looks amazing.
This Chicken Ramen Salad from Over The Big Moon is one of my favorites ever. It's a little bit sweet and just so amazing.
Okay, I don't love cranberry sauce but this Cranberry Fluff Salad from Tastes Better From Scratch looks RIGHT up my alley!
Potatoes
Potatoes will always be the forever Thanksgiving staple. Whether they're sweet, savory, or simple, you really can't go wrong with a good potato dish.
Of course we'll start with a classic Funeral Potatoes or cheesy potato casserole, is literally the one thing I look forward to eating most each Thanksgiving! Delicious, comforting, and so easy to put together! It would make a great addition to any menu.
Slow cooker loaded mashed potatoes are really great for busy Thanksgiving days. I love slow cooker recipes at Thanksgiving, because I can shove it all in the slow cooker and f0cus on other dishes until dinner time!
Savory Sweet Potato Casserole with Sage Breadcrumbs  is a great way to change up the classic sweet potatoes and marshmallow recipe.
These Slow Cooker Ranch Potatoes are amazing AND you can just let the crockpot do the work while you are cooking everything else!
Ok but if you do want to go the sweet route, you should definitely try this Sweet Potato Casserole with Marshmallow and Pecan Streusel from Celebrating Sweets. It looks divine.
If you really want some "WOW" responses on Thanksgiving, you've got to check out these Twice Baked Sweet Potato Puffs from Tastes of Lizzy T.
Wanna know a secret? Brown Butter makes everything better. If you don't already know that, try it with these Brown Butter Mashed Potatoes from Self Proclaimed Foodie.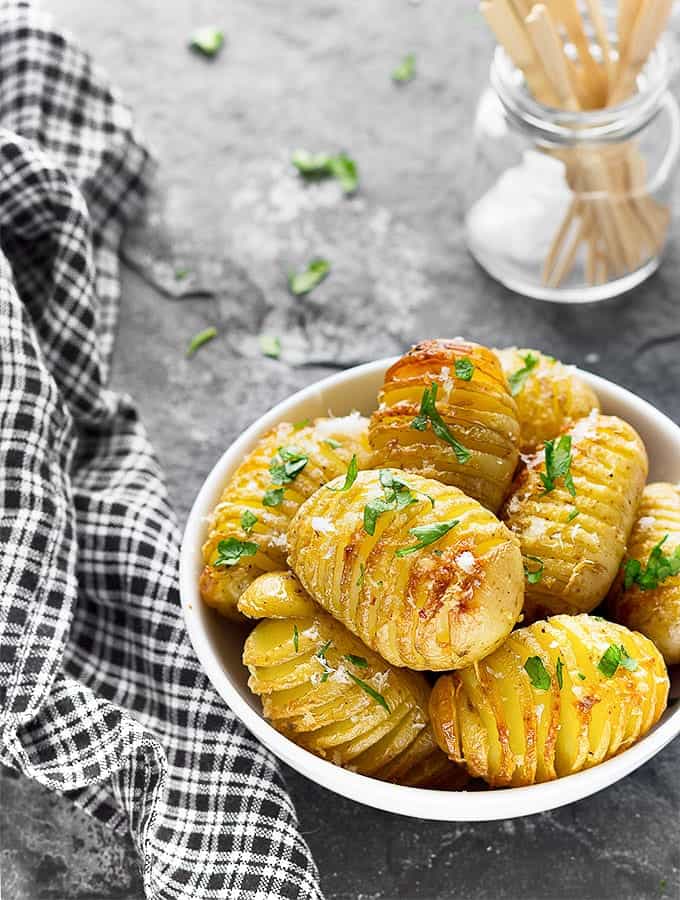 Another twist on a classic, these Garlic Parmesan Mini Hasselback Potatoes look so easy! I love using mini potatoes because they cook so much faster than the larger ones.
If a sweet potato casserole sounds tasty, but like too much work, you have got to take a look at these Sweet Potato Casserole Bites from Basil and Bubbly. They look insanely easy! and adorable too.
Maple Meringue Sweet Potato Casserole looks so fancy! Country Living has made this meringue look effortless if you're willing to put in a bit of extra time.
These bacon wrapped potatoes with dill sauce? Heaven.
Cheesy mashed potato casserole with bacon from Baking Beauty – looks absolutely heavenly!
I love when I can use the slow cooker for sides because the oven is doing a lot of other work for Thanksgiving! This slow cooker sweet potato casserole  from Baking Beauty is perfection.
Loving the idea of savory sweet potatoes! These from baked parmesan sweet potatoes from Lil Luna look AMAZING!
STUFFING

I love cornbread stuffing, and this cornbread and sausage stuffing from Delicious meets Healthy is calling my name!
MAC & CHEESE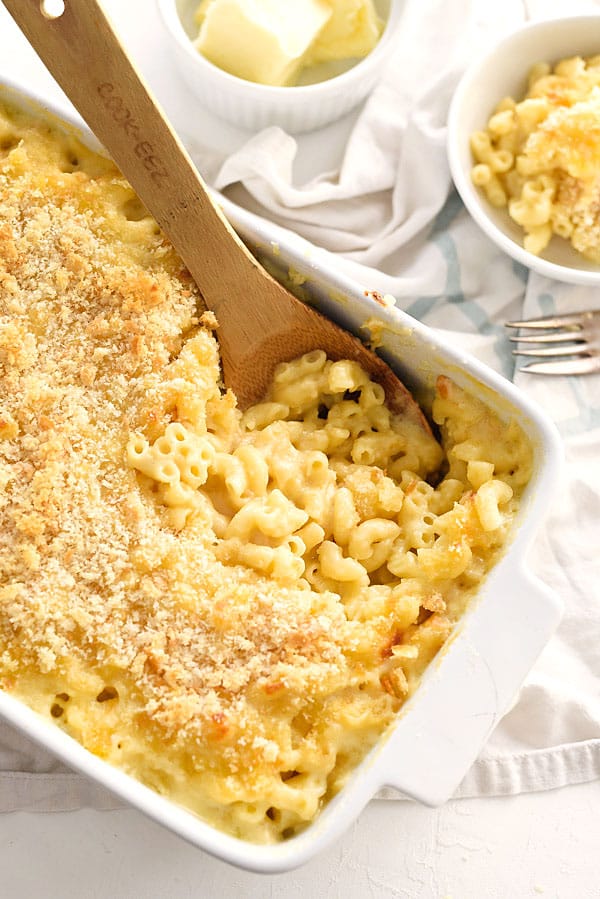 This Best Ever Homemade Mac & Cheese  from Foodie Crush is making my mouth water!
The best ever truffle mac & cheese…. with hand grated white cheddar. This sounds AMAZING! From Meg O. on the Go
VEGETABLES
As we saw with the salads, you've really gotta have some veggies to round out your Thanksgiving menu. These side dishes are packed with veggies, and are simple enough to let the ingredients stand on their own.
These Pomegranate Roasted Carrots with Brown Butter and Feta from How Sweet Eats look so amazing. I have them on my menu for this year!
Oh my gosh. Cheesy Cauliflower Au Gratin from I Wash You Dry looks incredible!
Balsamic and brown sugar glazed carrots. 1000 times yes, you guys.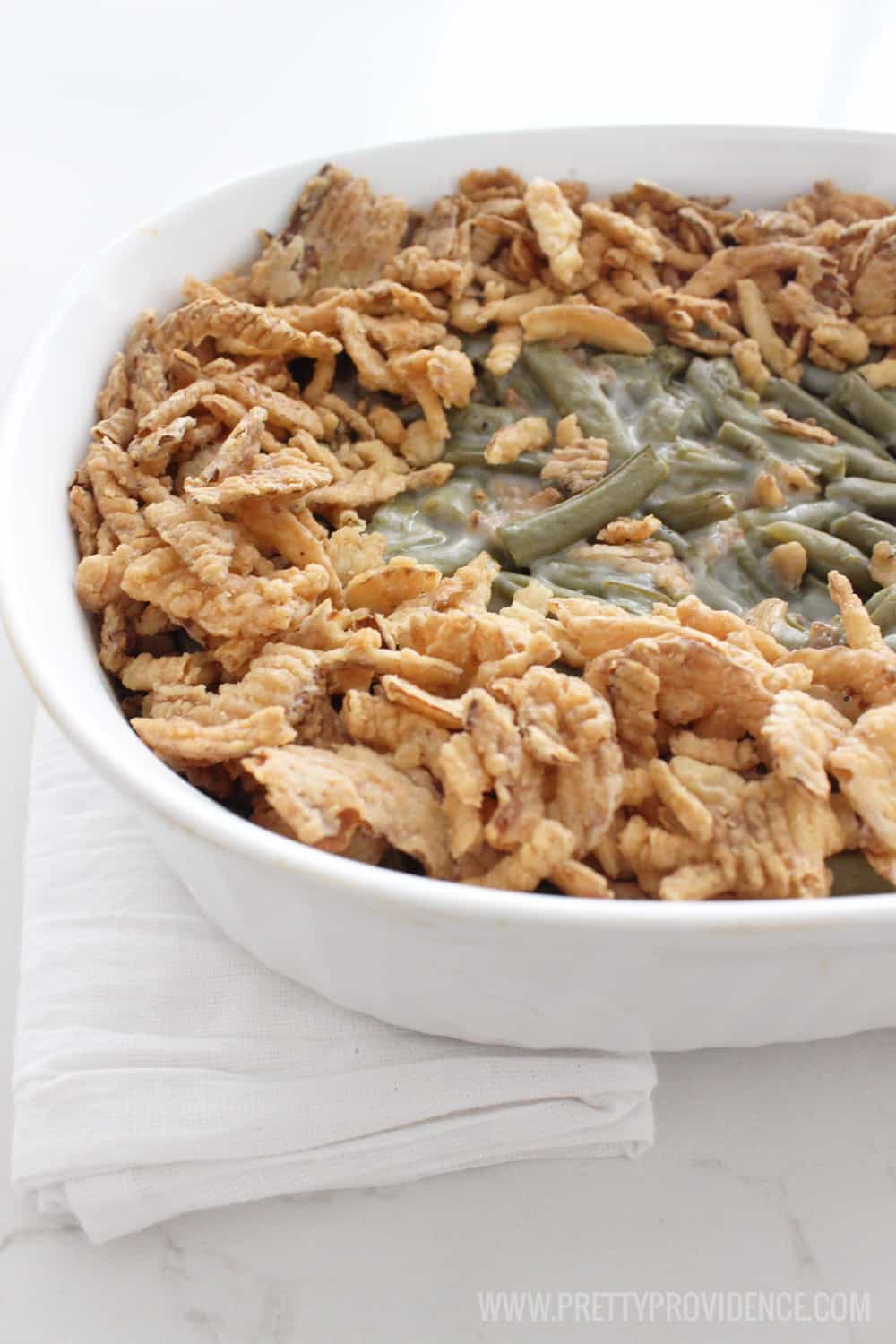 This quick & easy Green Bean Casserole is a staple!!
These Citrus and Honey Roasted Beets from Eat your Beets look like little gems on the dinner table! Beets can be a little polarizing, but if your guests are a fan, they'll love this side dish.
I have to be honest, before I saw this recipe for Roasted Kobacha with Tahini Dressing, I had no idea what Kobacha was. It's just a different species of squash, and now that I know about it I can't wait to try it! And I owe it all to Chez Us.
This Spinach and Zucchini Vegetable bake from Just a Pinch looks so deliciously healthy. Cant wait to add it to my Thanksgiving table!
Roasted carrots might seem like a boring Thanksgiving dish, but this Ginger Cardamom Spiced Carrot side dish from Savory Spin is anything but boring!
Am I the only one who thinks Onion Gratin seems super intriguing? I cant wait to try this one from Kalyn's Kitchen
Sometimes all you need for a good roasted veggie is a bit of lemon and a bit of cheese. This Roasted Lemon Parmesan Asparagus from Pumpkin N Spice looks super easy and delicious.
Last gratin recipe I promise. This Rosemary Parmesan Butternut Squash Gratin from Abra's Kitchen looks like everything good about Thanksgiving in one warm and guilt free dish.
Spinach and White Beans sounds like a recipe that has been in the family for years doesn't it? Who knows, maybe they served something like it at the first Thanksgiving!! The Live-In Kitchen has brought us a real classic.
If you want a simple veggie – steam some broccoli with the best broccoli seasoning ever.
BREAD
Pumpkin dinner rolls!? You are kidding me. These look incredible and so perfect for Thanksgiving dinner – from our girl Pam at Over The Big Moon.
A crowd favorite – my Grandma's Famous Dinner Rolls. Make these and everyone will be begging for more!
I literally can't say no to classic, fluffy dinner rolls. Love this recipe from Lil Luna!
Grains
Whether its rice, quinoa, or risotto, a good grain on the side can do wonders for your Thanksgiving menu.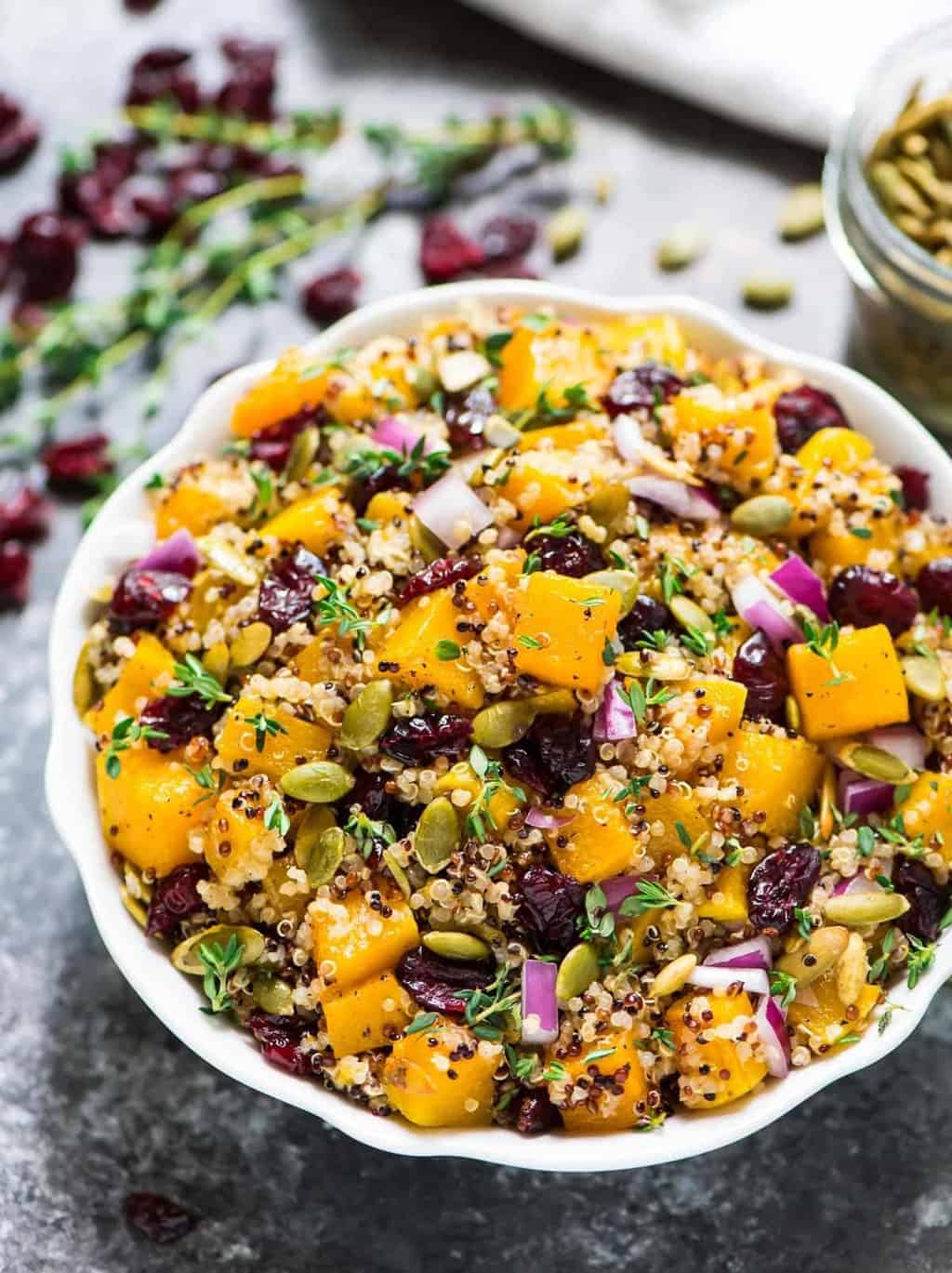 We'll start with a simple classic, this Easy Lemon Brown Rice won't try and compete too much with the other dishes on the table, but if you've got a bit of citrus in your turkey recipe it will pair so well!
You have got to jump over to this Butternut Squash Quinoa Salad from Well Plated to see how colorful it is. It would look so beautiful on the Thanksgiving table.
I have to admit I've never tried Farro, but after seeing this recipe for Farro with Dried Cherries and Pistachios from Cravings of a Lunatic, I'm kinda dying to.
Listen to these ingredients: orange, cranberry, almond, rice, cinnamon and parsley. If that's not Thanksgiving in a bowl, I don't know what is. This Orange Cranberry Almond Rice Pilaf from Oh Sweet Basil will fit right in on the table-scape.
Thanksgiving or not, we love this Pumpkin Risotto from Platings and Pairings at our house. The dried cranberries and goat cheese (I could eat goat cheese all day every day if I had to) just make this risotto so perfect during the fall season.
If you're a wild rice fan, take a peek at this Cranberry Pecan Wild Rice from What a Girl Eats. Cranberries are the rubies of the food world and they turn into gold at Thanksgiving. I'm sure they take this wild rice to the next level.
Will you have a Vegan friend or family member at your house this year? Quinoa is your friend! So filling and delicious, it's basically a blank canvas for all of your favorite flavors. This Lemony Quinoa with Butternut Squash from Fat Free Vegan Kitchen is not only Vegan, but looks so delicious!
Drinks
We love this Homemade Sparkling Cider (just like Martinelli's!)
This Cranberry Lime Spritzer tastes sooo good with turkey and stuffing!
I don't know about you, but I now have like 10 different recipes I need to test out before Thanksgiving comes around. While those traditional dishes will always have a special place at the table I love throwing in a new one here and there to keep things interesting! Do you have any side dishes you can't give up? or any you think we missed?
Don't forget to pin this!