The BEST blueberry pancakes with blueberry syrup you will ever eat in your life! Seriously restaurant quality delicious!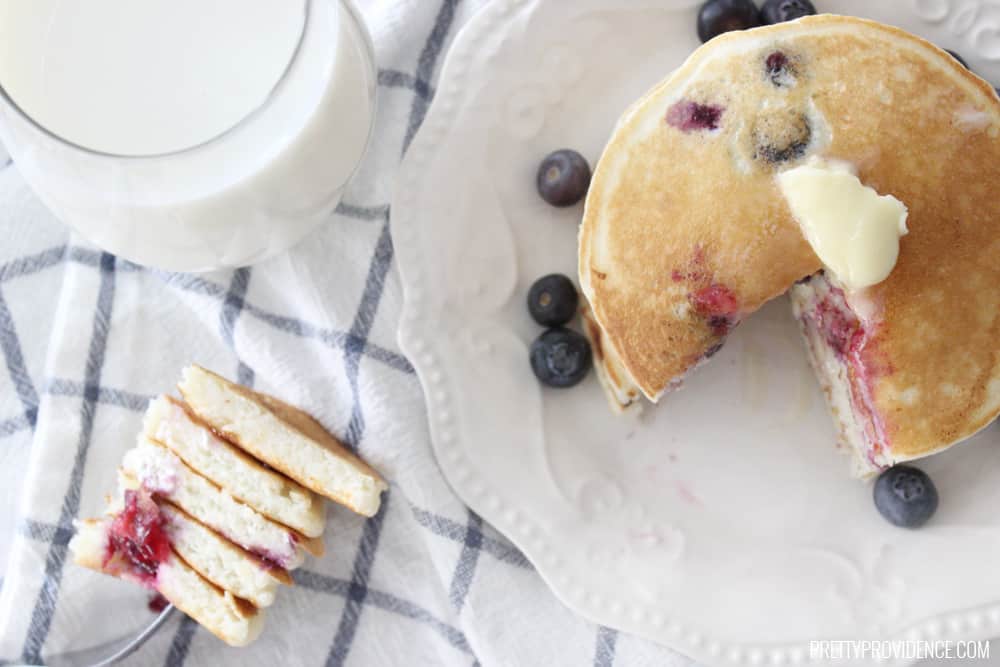 These blueberry pancakes with blueberry syrup are going to change your life. Bold claim? Maybe. True? Yes!
My husband and I sometimes have very different taste buds when it comes to food. He is more of a fruit dessert person and I am a chocolate person. He loves steak and practically all meat and I am not a fan. One thing it seems that we always agree on is breakfast, breakfast, BREAKFAST! It's no wonder we eat breakfast for dinner at least once a week!
Anyway, my mom got this blueberry pancake with blueberry syrup recipe from a friend years ago and it quickly became one of our very favorite pancake recipes! These blueberry pancakes are moist, delicious, and NOT sickly sweet. I'm so excited to share the recipe with you guys, because all the best things in life are meant to be shared!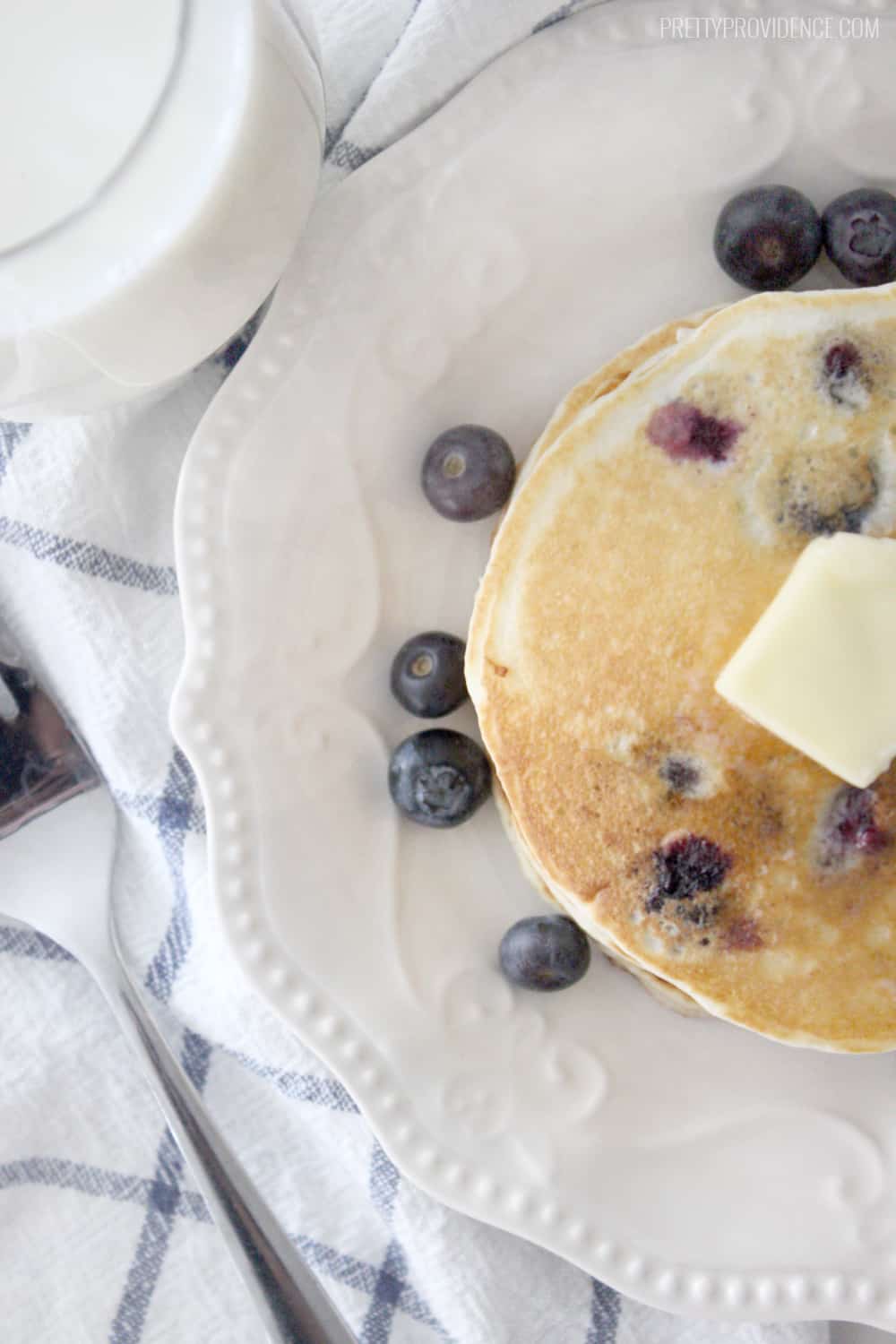 Also, do not panic if you are not a huge blueberry syrup fan! These pancakes are equally as delicious with the traditional maple syrup! We typically always make the blueberry syrup when we make these (because it is so easy and fun) but some of my kids usually opt for maple and that is yummy too!

Blueberry Pancake Recipe
First things first, you ready for the best ever blueberry pancake recipe?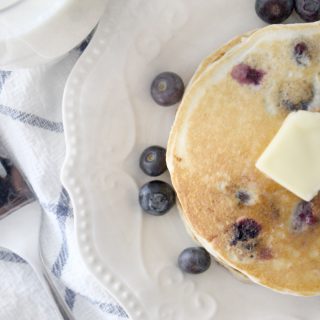 Blueberry Pancake Recipe
The BEST blueberry pancakes with blueberry syrup you will ever eat in your life! Seriously restaurant quality delicious!
Ingredients
2

cups

flour

1/2

cup

sugar

4

tsp.

baking powder

1 1/2

cups

milk

8

oz

sour cream

1

cup

fresh blue berries

2

eggs
Instructions
Combine your dry ingredients in one bowl and your wet ingredients (excepting your berries) in another bowl. Slowly add wet ingredients into the dry bowl and mix well. Fold in berries. If possible, let mixture sit for awhile before cooking pancakes.


Cook pancakes on griddle until golden and enjoy!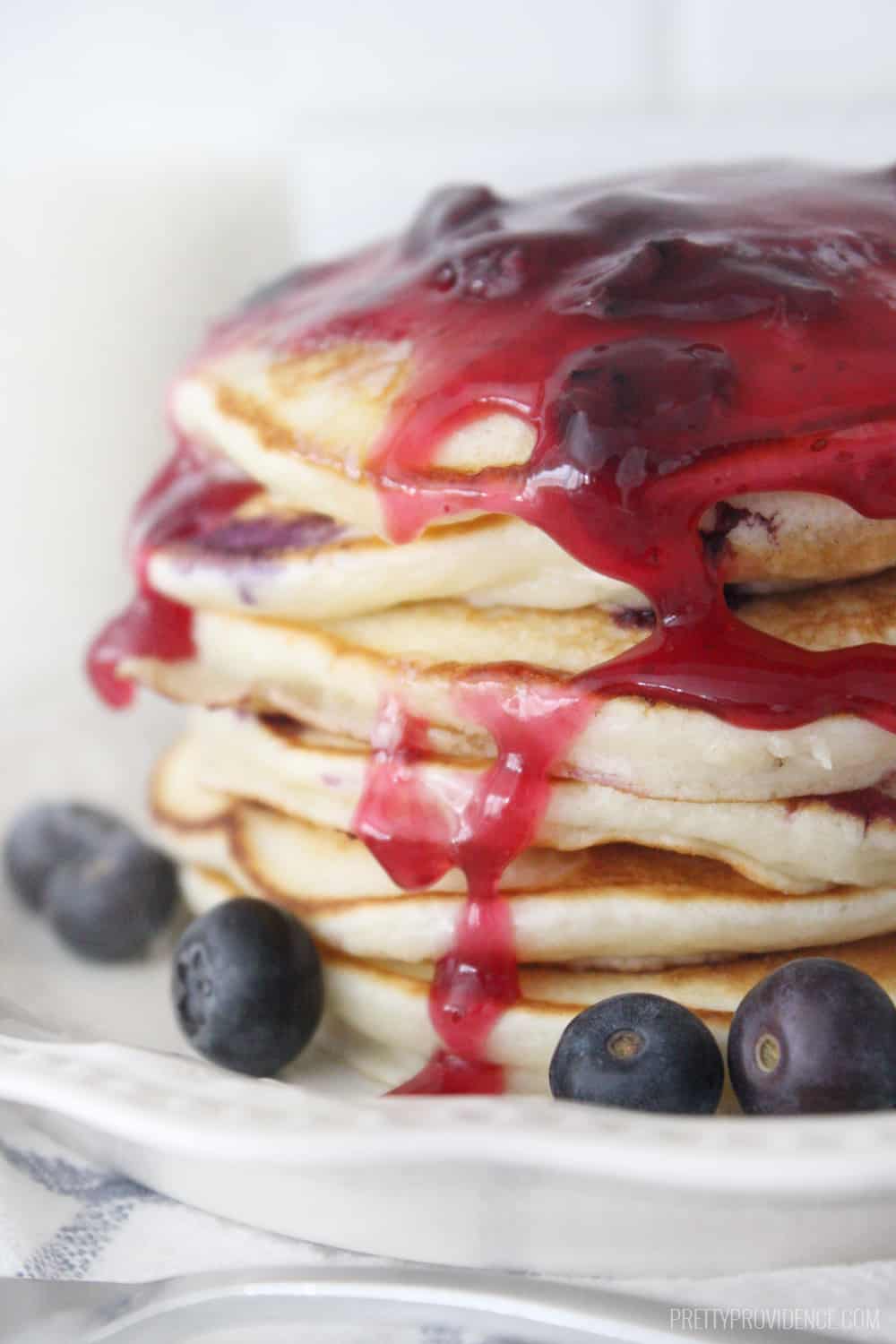 Blueberry Syrup
Okay now onto the blueberry syrup! Don't worry if you have never made homemade syrup before– it is so easy!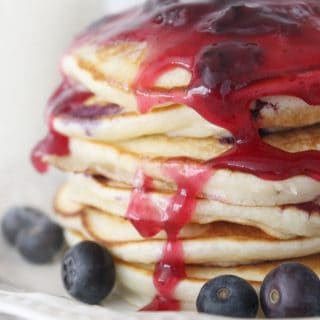 Blueberry Syrup Recipe
The best blueberry pancakes smothered in a delicious easy to make homemade blueberry syrup!
Keyword:
blueberry pancakes, blueberry syrup, homemade syrup
Ingredients
1/2

cup

sugar

2

TBSP.

corn starch

1

cup

water

1

cup

fresh or frozen blueberries
Instructions
Mix sugar and corn starch together in a small saucepan. Slowly add water to pan and whisk continuously to prevent clumping. Add blueberries and bring to a boil. Boil for 2 minutes and enjoy!

Recipe Notes
This blueberry syrup is not meant to be overly sweet, but if you'd like you can add a little bit more sugar to sweeten things up! 

I hope you all love these pancakes as much as we do!
xo,


If you like this post, check out the secret to making amazing crepes or the world's best breakfast casserole!
Shop This Post:
Don't Forget to Pin for Later: