If you are looking for fun way to give gift cards, try this gift card wreath idea!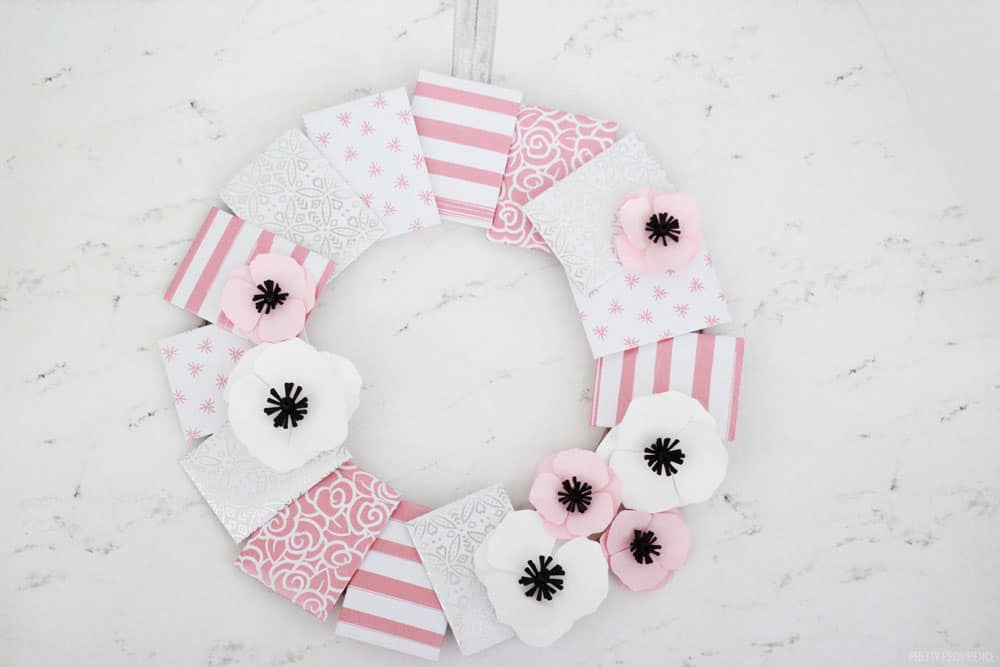 Gift cards are one of my favorite things, you guys. I know some people don't love to give gift cards because they feel like it isn't personal or thoughtful, but I totally disagree. Especially if you go to the effort to choose a gift card to somewhere that the person you're buying for LOVES to shop or eat at. It's the gift of an experience! One thing that is kind of a challenge though, is wrapping the gift cards. You can put them in a card, but sometimes you want to do something a little different. That's where this gift card wreath comes in!
I just got the new Cricut Explore Air 2 Wisteria bundle, and I wanted to use it to make some awesome gift card holders. To anyone unfamiliar with Cricut bundles: they are basically a sampling of really fun materials that come with the machine! This Wisteria bundle is full of sparkly things like holographic glitter Iron On, a foil-embossed paper pack, exclusive Iron On designs, and some of the new SportFlex Iron On. It's really great to have a variety of things to try out when you get a new machine. I thought it would be fun to make a wreath out of little gift card envelopes. Some of them have gift cards in them, the others have notes inside with things that you love about the person, or Thank You notes for different things, that kind of stuff. I made the gift card envelopes with foil embossed paper and I cut some paper flowers to embellish it with as well.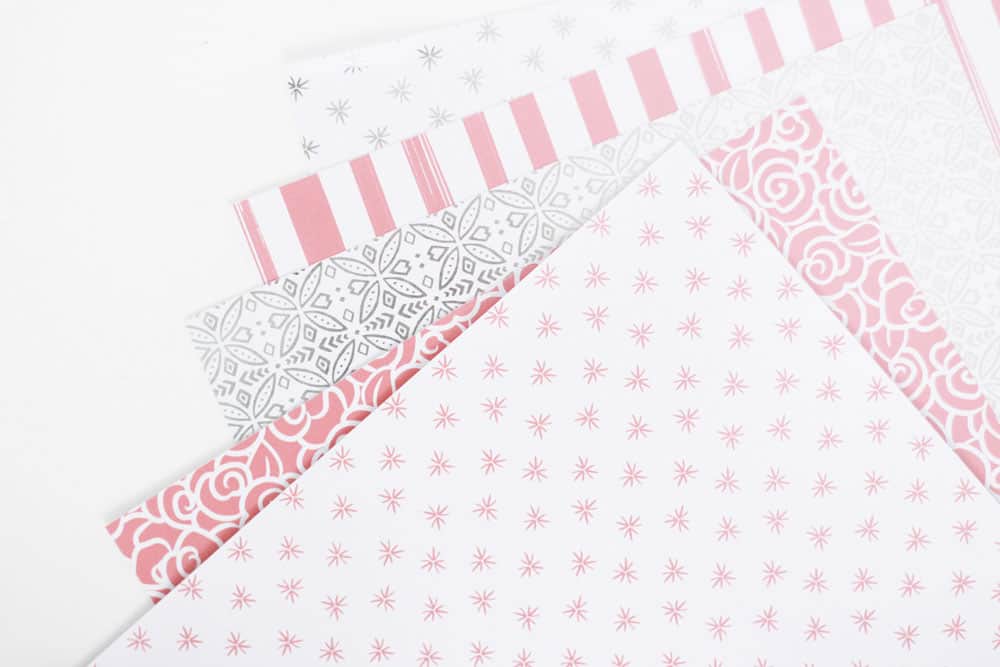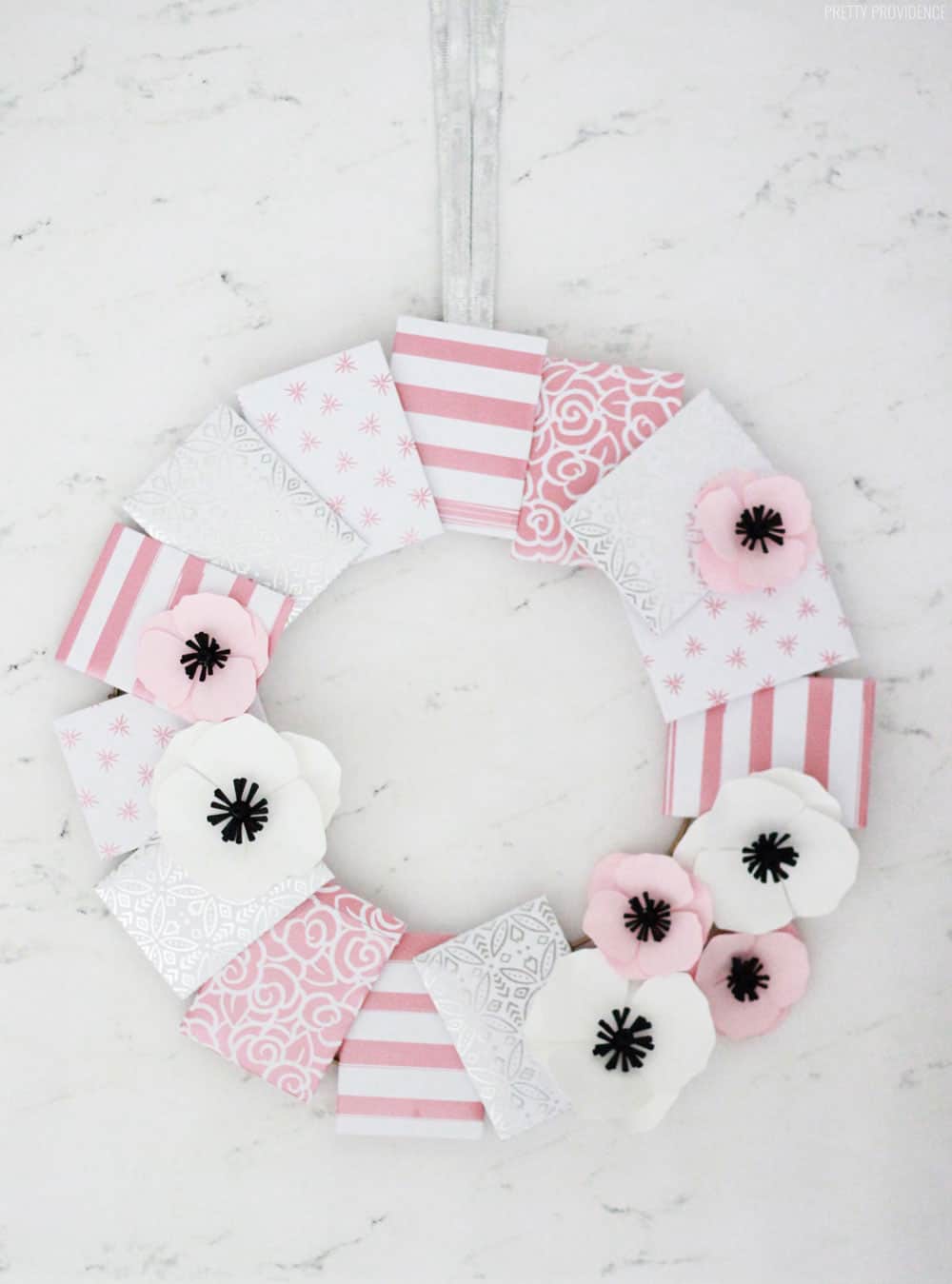 HOW TO MAKE GIFT CARD ENVELOPES WITH A CRICUT
Materials:
4-5 variations of card stock. I love these pink and silver foil papers that came in my Wisteria bundle!
Cricut
Light Grip Mat
Quick Dry Tacky Glue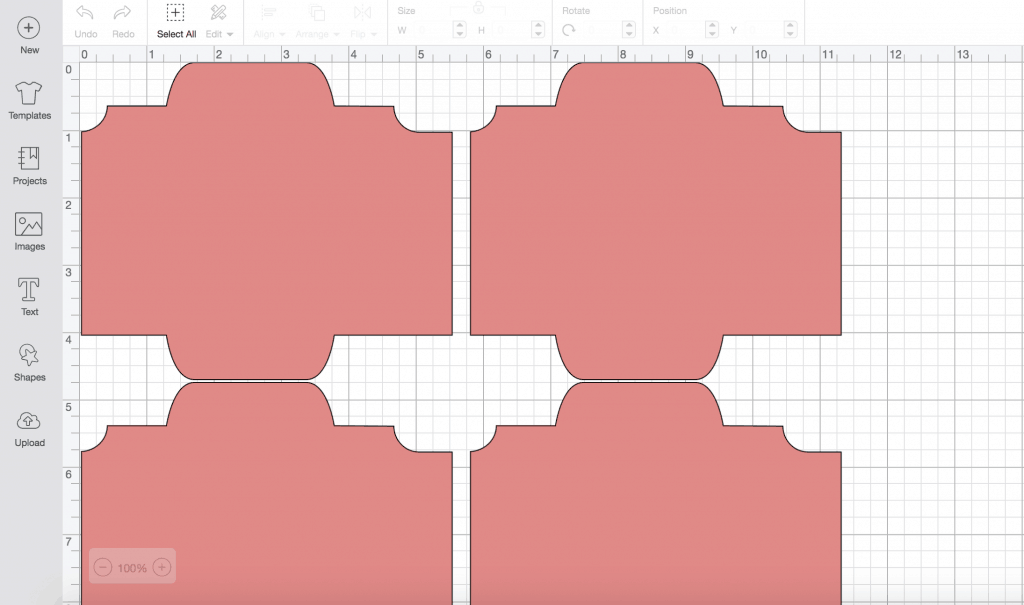 Instructions:
Place a piece of card stock onto a light grip cutting mat & load into your Cricut.
Load this gift card envelope template into Cricut Design Space.
Make sure your machine is set to Card Stock.
Cut!
Repeat this until you have 12-16 gift card envelopes cut.
Fold the envelopes and glue them together. (I like to use Quick Dry Tacky Glue)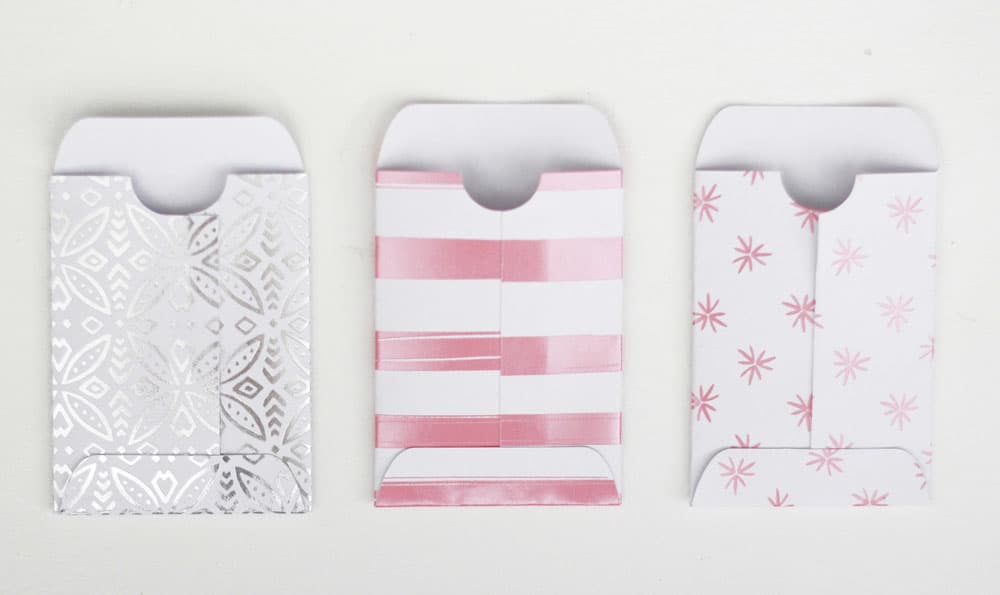 Quick sidenote: can we talk about this beautiful new Cricut Wisteria Explore Air 2? It's shimmery and purple and I just love staring at it. I actually have it displayed on my bookshelf because it's so pretty! It's available exclusively at JOANN.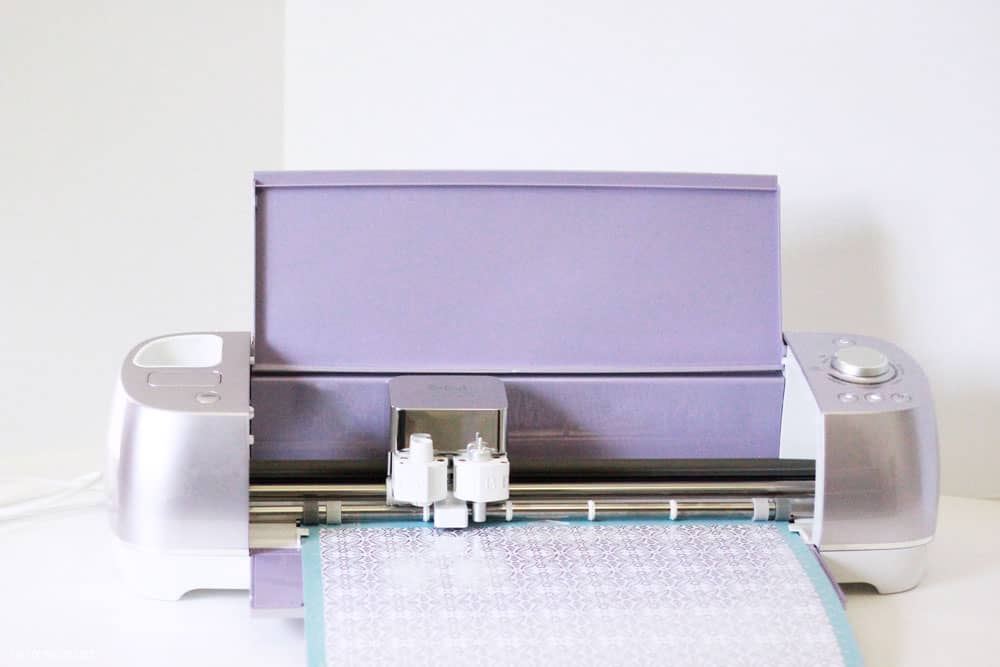 HOW TO MAKE PAPER FLOWER POPPIES WITH A CRICUT
Materials:
2-3 variations of card stock
Cricut
Light Grip Mat
Quick Dry Tacky Glue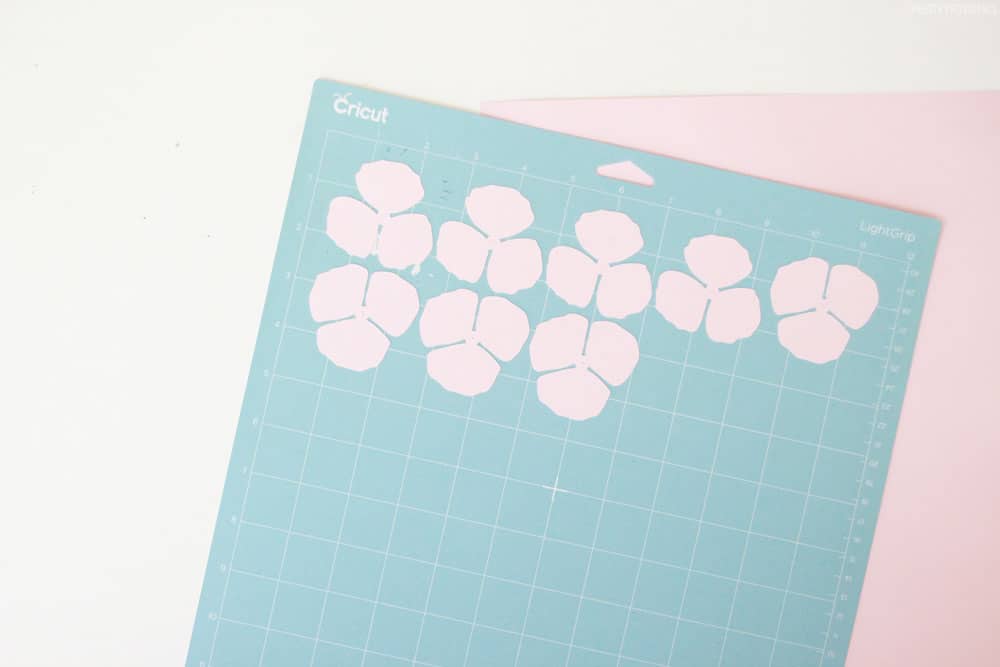 Instructions:
Place a piece of card stock onto a light grip cutting mat & load into your Cricut.
In Cricut Design Space, go to Images and search Poppy #MA3E13 – this is included if you have a Cricut Access subscription!
This 3D flower has a lot of parts. Since I was making a few of them I decided to Ungroup the parts and just cut the petals first, then cut the pistils next. (I opted not to cut leaves.)
Make sure your machine is set to Card Stock.
Cut! Repeat this step again for the pistils.
Roll the pistils up and secure with tacky glue as you go.
Bend the petals and glue it all together.
HOW TO MAKE A GIFT CARD WREATH WITH PAPER ENVELOPES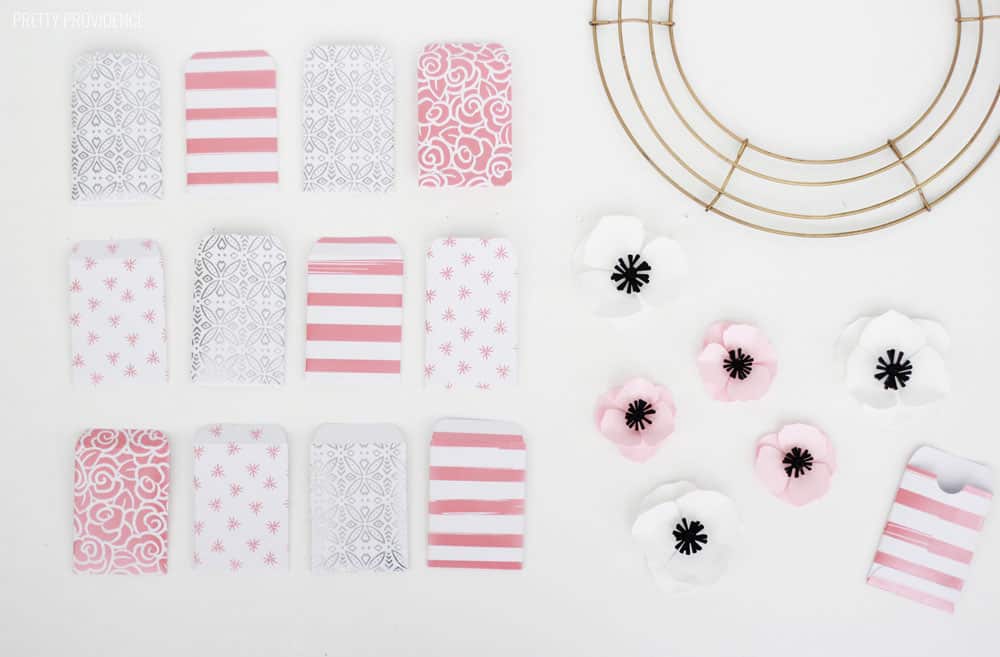 Materials:
12-16 Small Gift Card Envelopes
3 or more paper flowers
Wire wreath form
Scotch Tape
Gift Cards
Small Notes
Glue Dots
Ribbon (optional)
Instructions:
Fill gift card envelopes with gift cards and sweet notes for your person. Use glue dots to close the envelopes.
Arrange the gift card envelopes on the wreath form until you like the pattern, and add paper flowers too.
Once you have an idea of how you like it, secure the envelopes to the wreath form with scotch tape. (We want this to be relatively easy to open!)
Use tape to secure the flowers too.
Add ribbon for hanging the wreath.
SHOP THE POST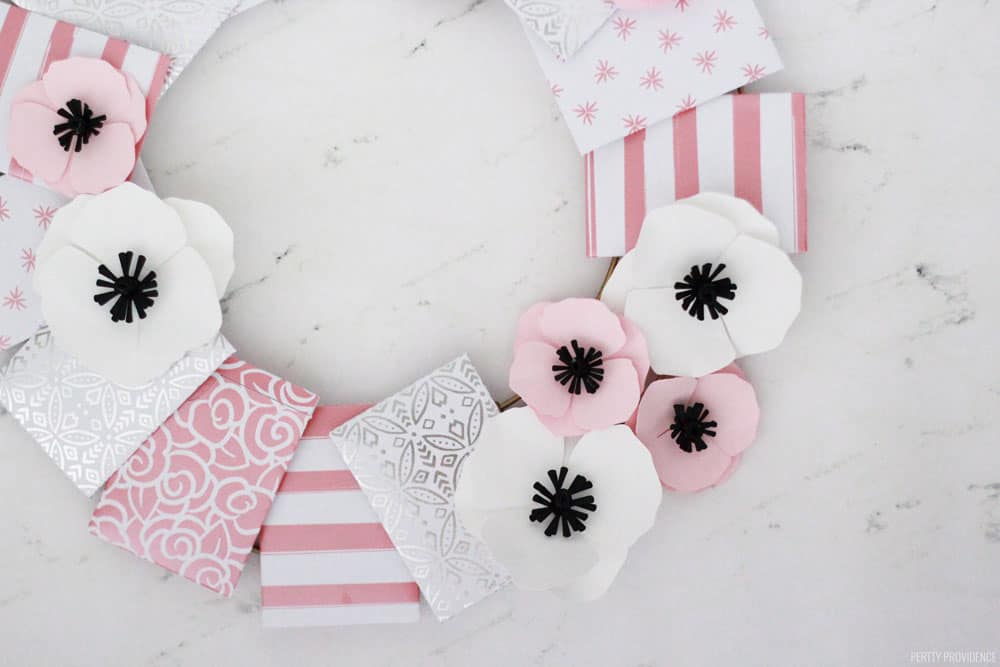 Sooo fun, right!? Loving this idea for wrapping gift cards. I made this with Mother's Day in mind, and I can't wait to make a Christmas version later this year!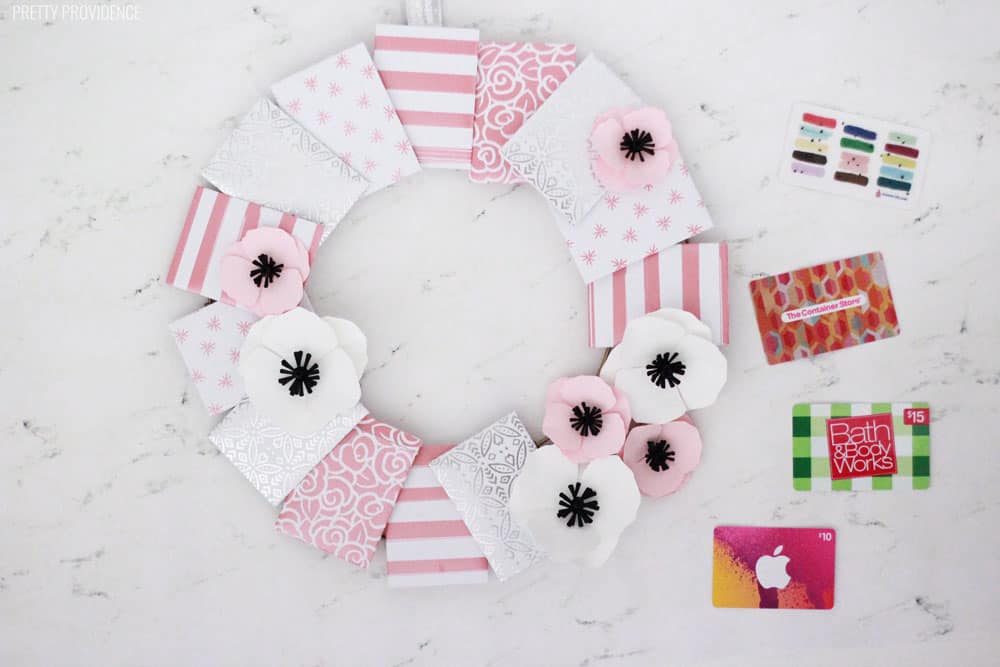 I hope you'll try this one next time you're giving some gift cards!
You may want to check these out too:
How to Make Paper Flowers
DIY Paper Flowers Cake Topper
Free Printable Gift Card Envelopes
Free Printable Christmas Gift Card Sleeves
Funny Gift Card Sleeves for Christmas

This is a sponsored conversation written by me on behalf of Cricut. The opinions and text are all mine.