These easy Pumpkin People are such a fun no-carve pumpkin decorating idea. Dress them up with felt bows, glasses, hats and mustaches, and you have adorable Halloween porch decor!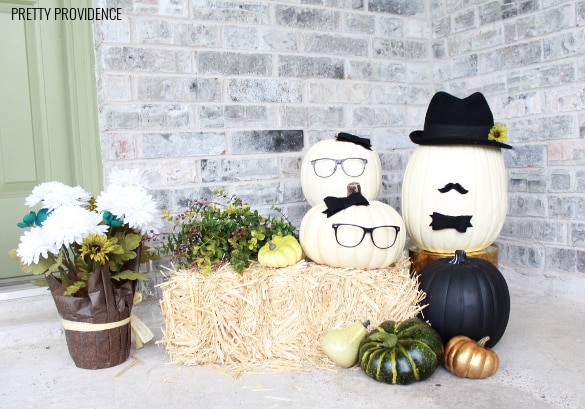 Happy September, y'all! I couldn't wait to decorate my porch for fall this year. It definitely has to do with the fact that the craft stores are always putting their Halloween stuff out in late August. Visiting the craft store always gets my wheels turning.
I love decorating for Halloween with neutral colors. Case in point: my Mummy Halloween Wreath, Haunted House Wreath, and these adorable Mini Mummies!
Checking out all the new fall decor the other day, I was drawn to the black and cream craft pumpkins. Go figure! I had this fun idea for No-Carve Pumpkin People, and am obsessed with how they turned out.
No-Carve Pumpkin Decorating Idea
I wanted these no-carve pumpkins to represent our family, so I did two little lady pumpkins and one man pumpkin with a top hat and mustache. After we had my second daughter two years later, I went and got another pumpkin to add to the group!
How to Make No-Carve Pumpkin People
Materials:
Craft pumpkins – whatever sizes and colors you want
Black felt
Scissors
Glue gun
Accessories of choice (glasses, hats, etc. — have fun with it!)
Silk flowers (optional)
Everything you need:
Instructions:
This is a very loose tutorial because everyone will probably want to make these their own!
Bows
Start by making some felt bows. I used this easy tutorial and it took me all of ten minutes to cut out my felt and hot glue them together. Hot glue bows on the top of the head or on the bottom if you're doing a bow-tie.
Glasses
To add fake glasses: take the temples off the frames and hot glue the nose piece of the glasses to the front of a pumpkin.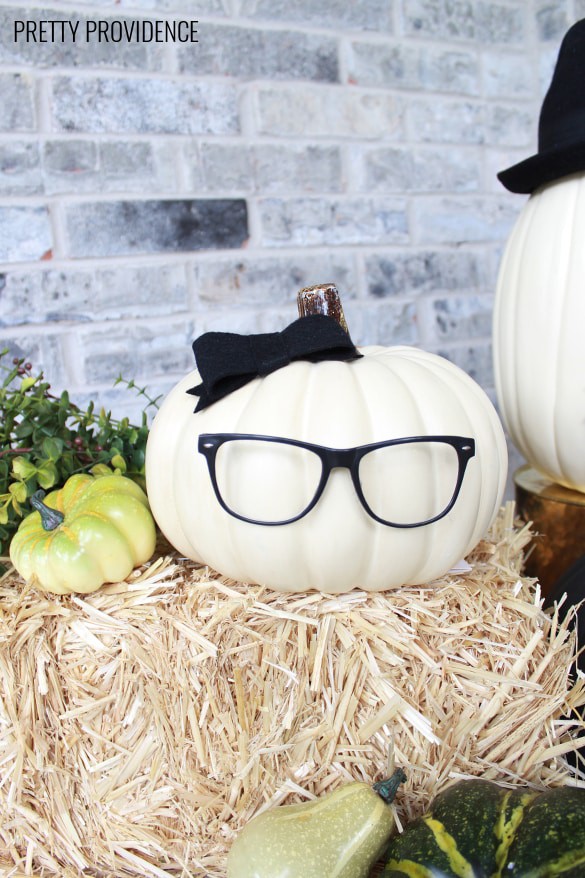 Hat and Mustache
Take a hat and put hot glue around the inside edges, then carefully place it on top of the pumpkin. Allow to cool. I used a hat I had in my costume stash, and added a silk flower to it, also with hot glue.
Then, I added a little costume mustache because apparently I wanted my pumpkin to look like Charlie Chaplin. Success?!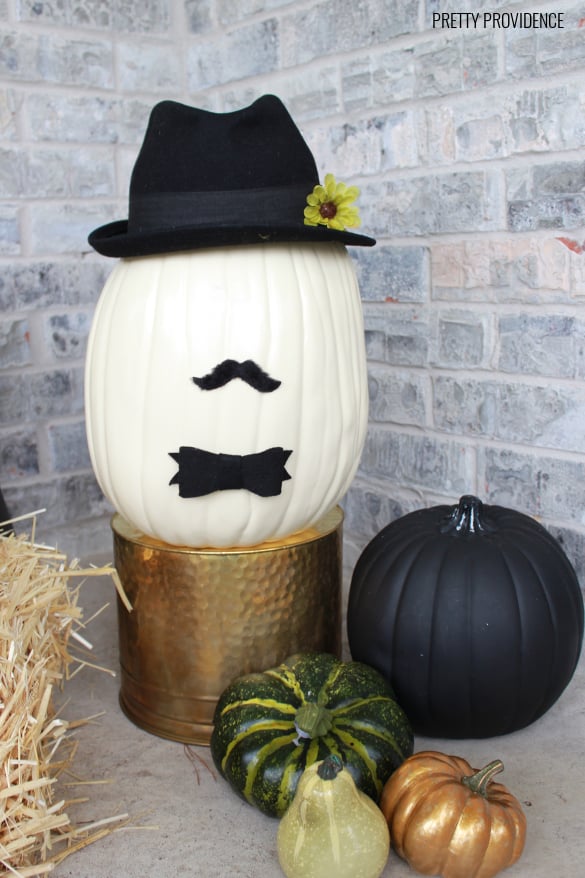 That's pretty much it for the pumpkin people! Super easy. I love the way these give my porch decor some extra personality. We rounded out the porch decor with a hay bail, silk flowers and some smaller gourds in green and gold.
Check out our Halloween page for more fun Halloween decorating ideas, recipes and costumes!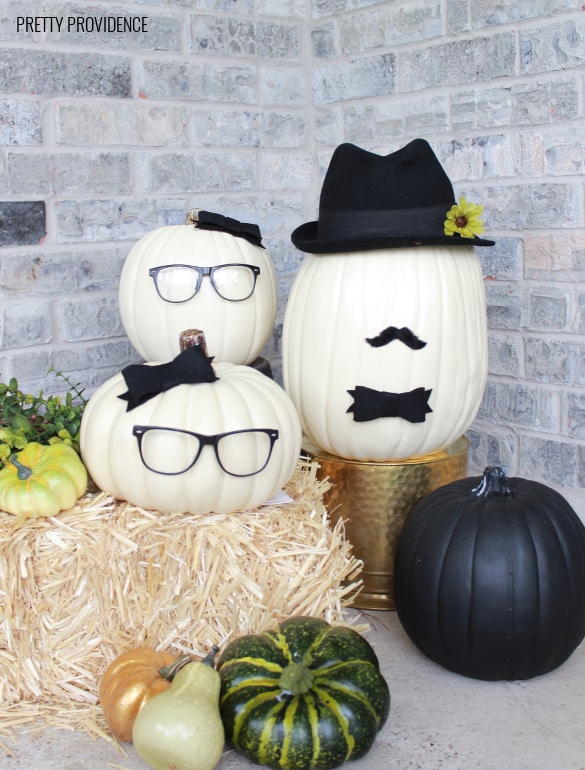 Am I the only one that wants nothing to do with real orange pumpkins? Give me all the pretty craft pumpkins! Especially since they are 40% off making them cheaper than real ones and you can re-use them every year… #budgetfriendly