Check out these fun Halloween crafts for adults! Lots of fun ideas for DIY Halloween decorations, tote bags wreaths and more!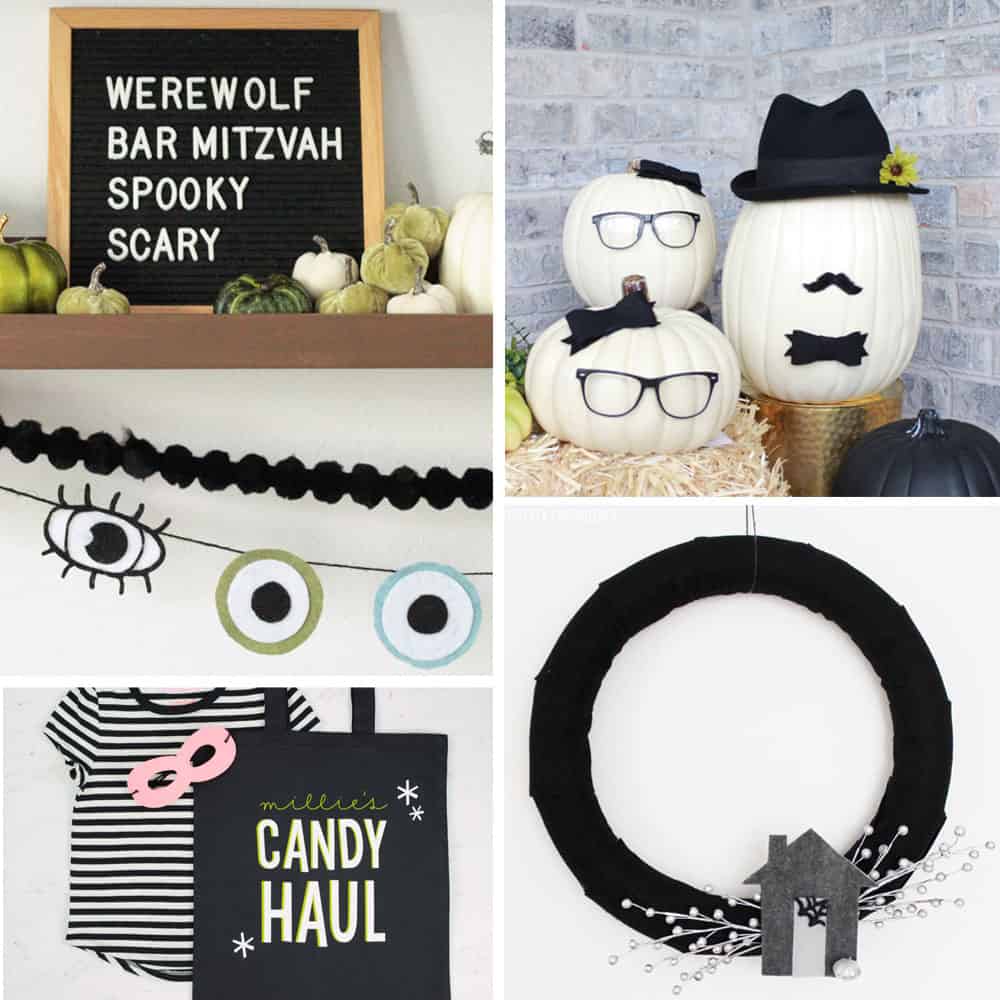 Hey guys! Today, I've rounded up some awesome Halloween crafts (for adults, mainly) that I love! This Mummy Halloween Wreath is a crowd favorite, and we can't ignore the Pumpkin People we use year after year. I hope you love them all as much as I do!
While you're here, check out our whole gallery of Halloween ideas, including treats and costumes!
Halloween is one of the only holidays that I really decorate for, so I like to try to make at least one new Halloween craft each year to add to my growing collection.These are all so easy that you can do them while you watch Hocus Pocus or something…
Halloween Wreath Ideas
Because your front porch has more visitors in October than probably any other month of the year (Trick or Treaters) a Halloween wreath is kind of a must! Even if I only keep it up for a few weeks, it's so fun to make easy Halloween wreaths and porch decorations.
This Modern Halloween Wreath featuring a mini Haunted House is so cute! Love the black and silver especially.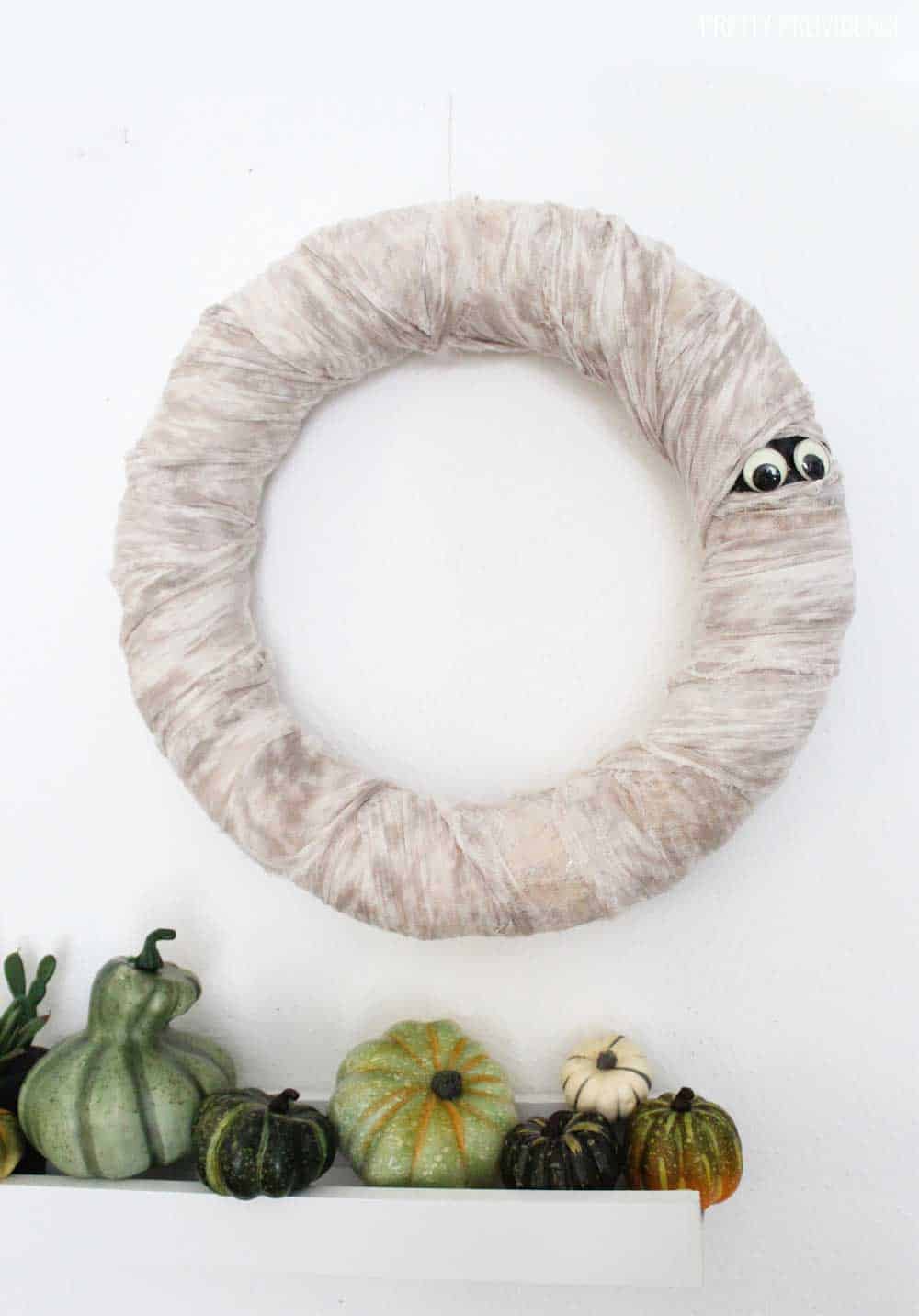 I love mummies so this Halloween Mummy Wreath is one of our faves!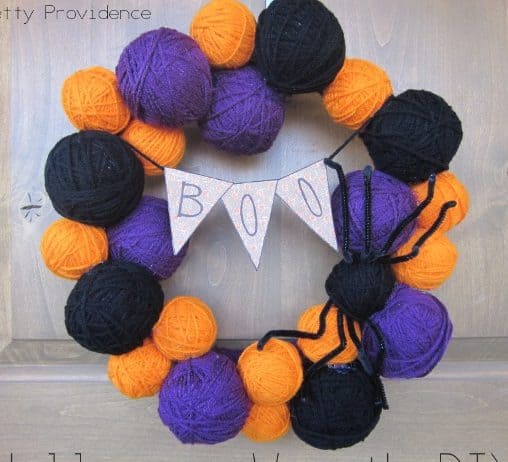 Super easy and under $10 to make, this Halloween Yarn Ball Wreath is cute, creepy and cost-effective.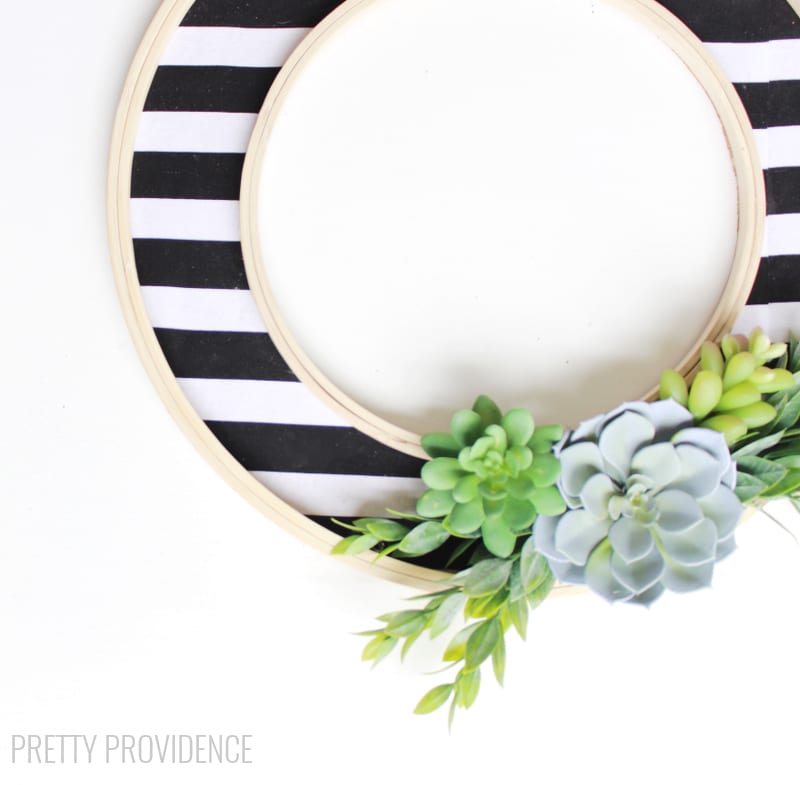 This Modern Hoop Wreath wasn't technically created for Halloween, but it works so well for it, and Better Homes and Gardens featured it in their Halloween issue in 2018!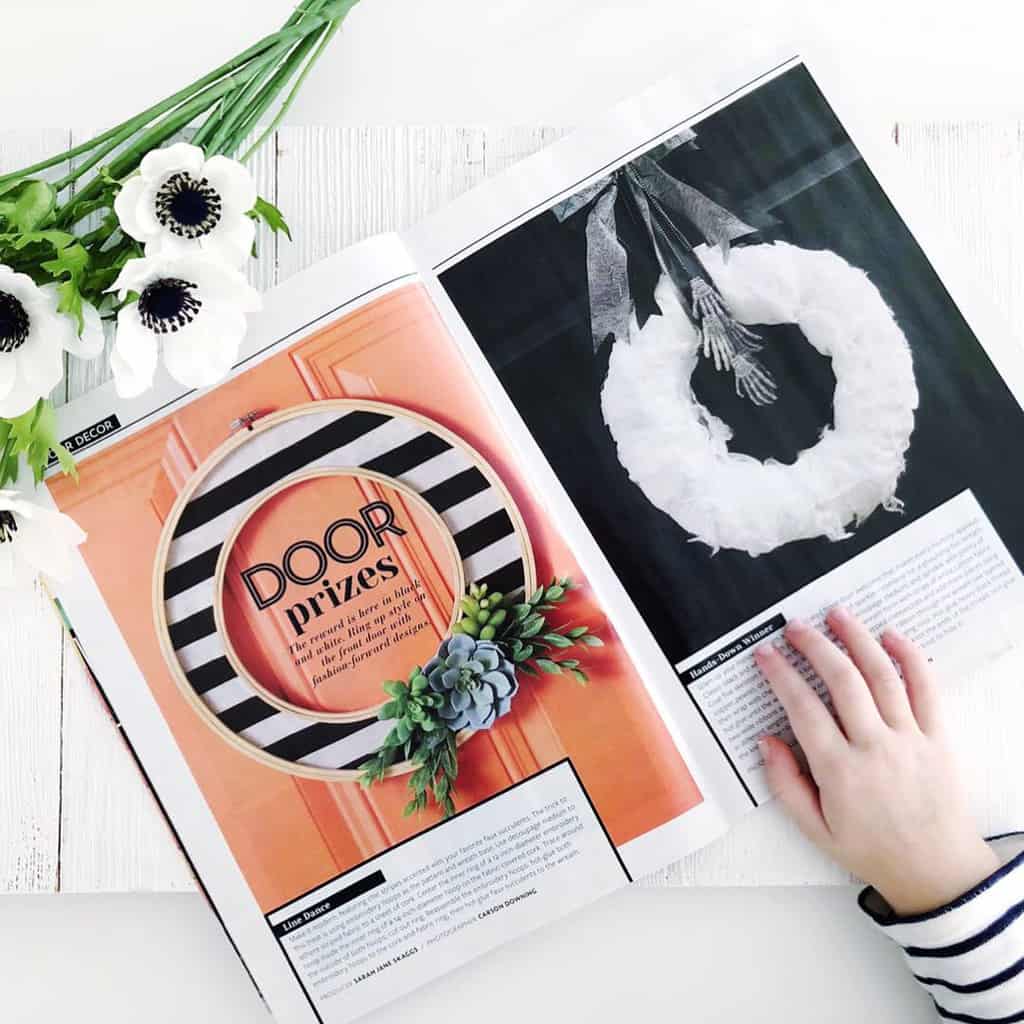 DIY Halloween Trick or Treat Bags, Tote Bags and T-Shirts
Iron-On projects are my favorite kind of craft. Most of the time I think of Cricut crafts or Iron-On as an adult craft only, but no. A lot of these Halloween crafts are fun for adults OR kids!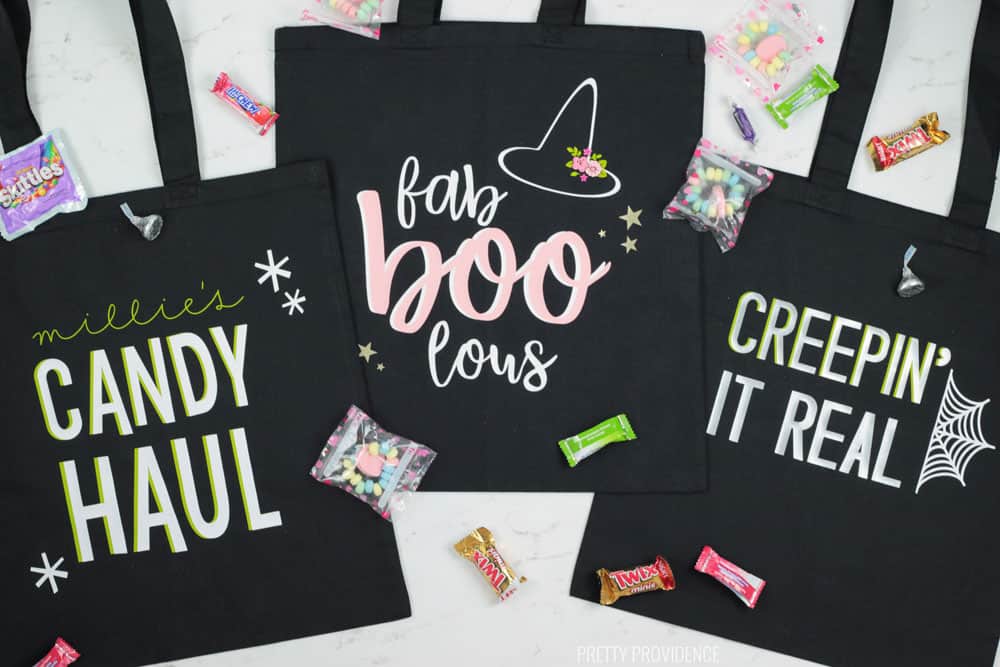 All three of these DIY Trick or Treat bags are so fun! I think Candy Haul is my fave. Which one would your kid love!?
DIY Trick or Treat bags are a fun low-pressure craft to do for Halloween. I like making them with my kids and we've done it a few times for a youth activity at church! It's always a hit!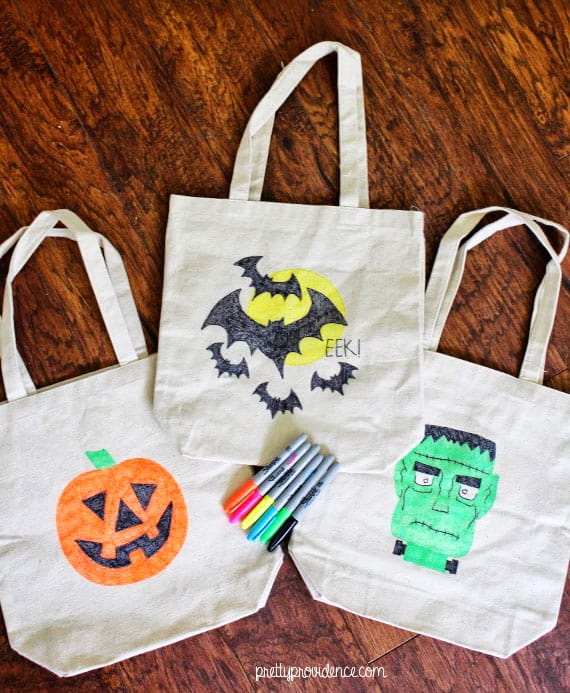 Make these DIY Trick or Treat Bags with sharpies, a pencil and a printable coloring page. This is a super fun Halloween craft to do with older kids!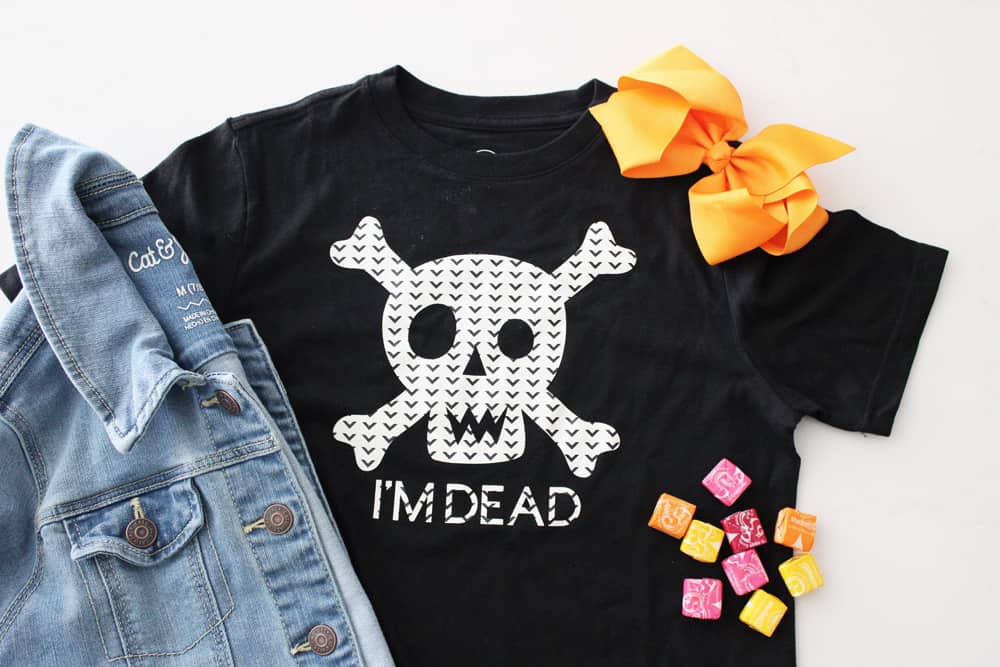 This 'I'm Dead' Halloween T-shirt is too cute. I love the patterned Iron-On used here but it would be cute with plain white or some glitter iron-on as well!
Halloween Porch Decor
More Halloween porch ideas!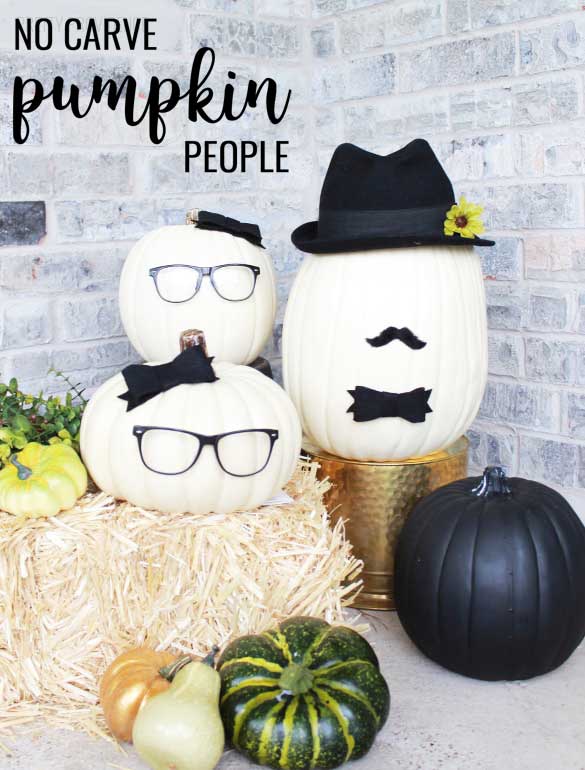 No-Carve Pumpkins are a must in Texas. Carving pumpkins has never been my favorite thing, but especially here where carved pumpkins go bad in two days! It's just not worth it.
My trusty Pumpkin People though, they have lasted four years so far and are still going strong! I get so many compliments on them. Make these, you will not regret it!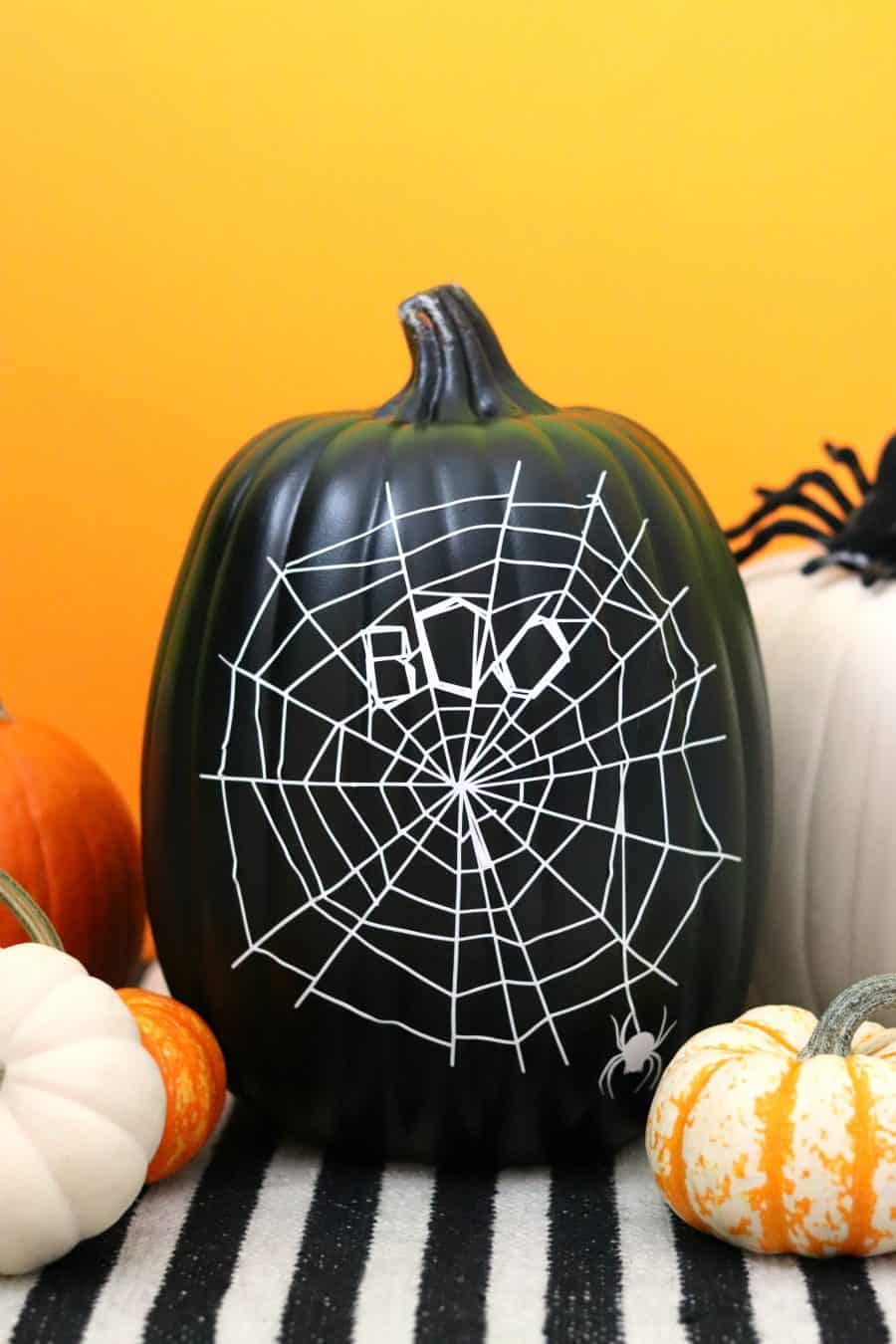 Vinyl is the easiest way to decorate a No-Carve pumpkin these days, if you have a Cricut or a Silhouette! Love these pumpkins by A Girl and a Glue Gun!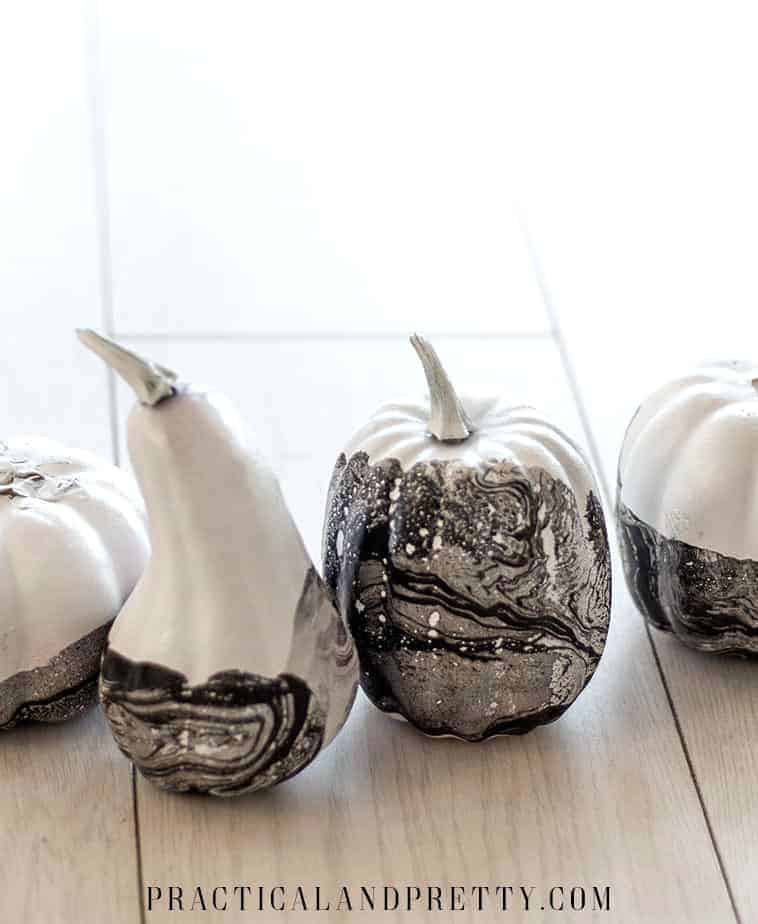 These Water Marbled Pumpkins are so cool and modern! We love this idea by our friend Anna.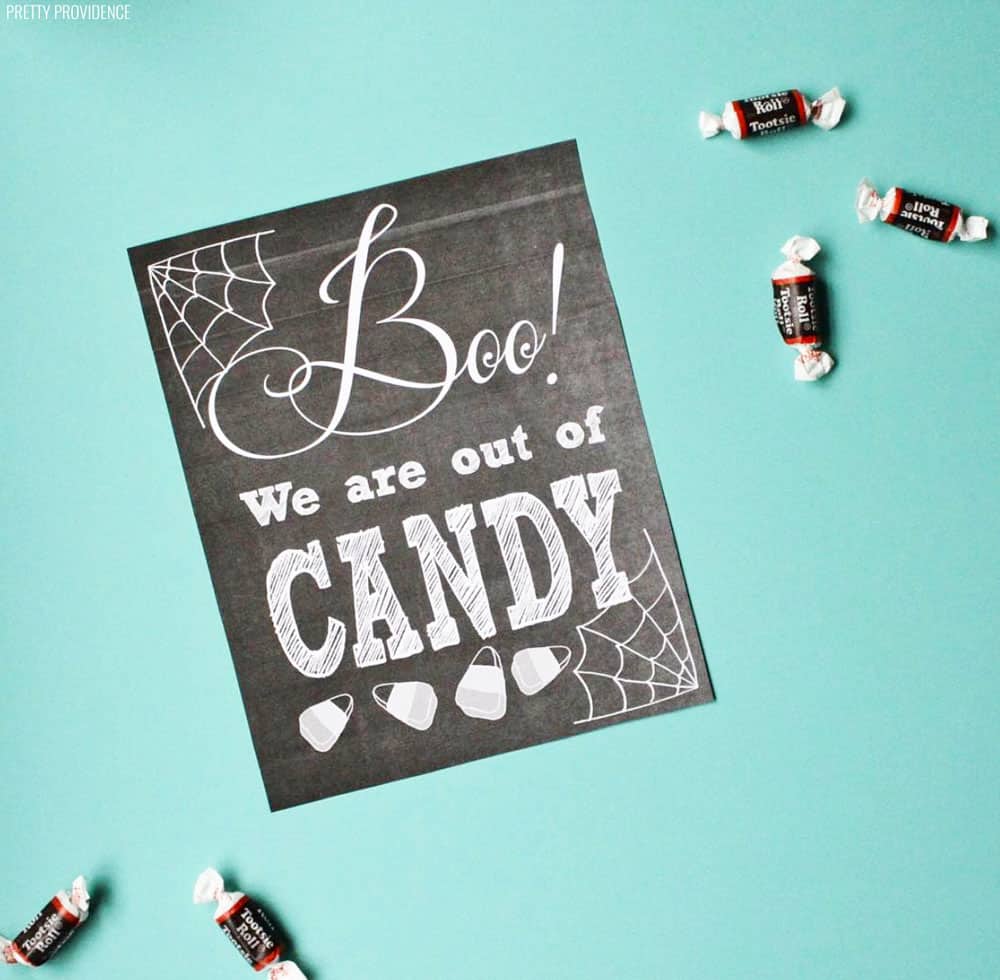 This Out of Candy Door Sign is genius. I printed it off and have used it every year since! So convenient when you don't want your doorbell ringing at 11 pm…
DIY Halloween Decorations
The best kind of Halloween craft is the kind that you can use year after year! You know, I just like getting a return on my investment. So DIY Halloween decorations for inside are my fave.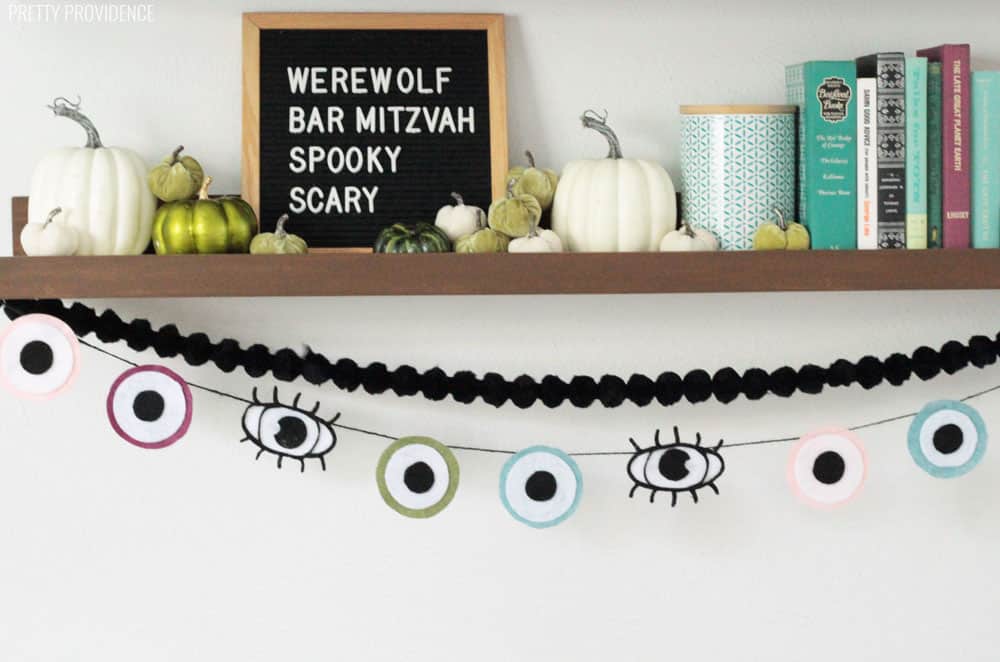 This Easy Eyeball Garland is fun and I love that it matches the rest of my home decor! Use felt in whatever colors you like.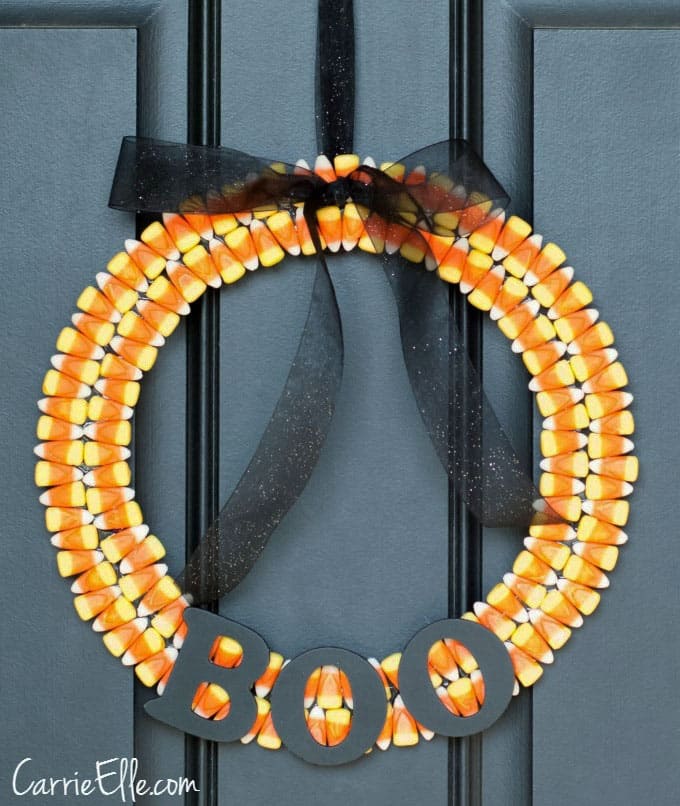 This DIY Candy Corn Wreath by Carrie Elle is really cool. Don't hate me for saying this, but in my opinion, Candy Corn should be used for decorating, and is not fit for eating.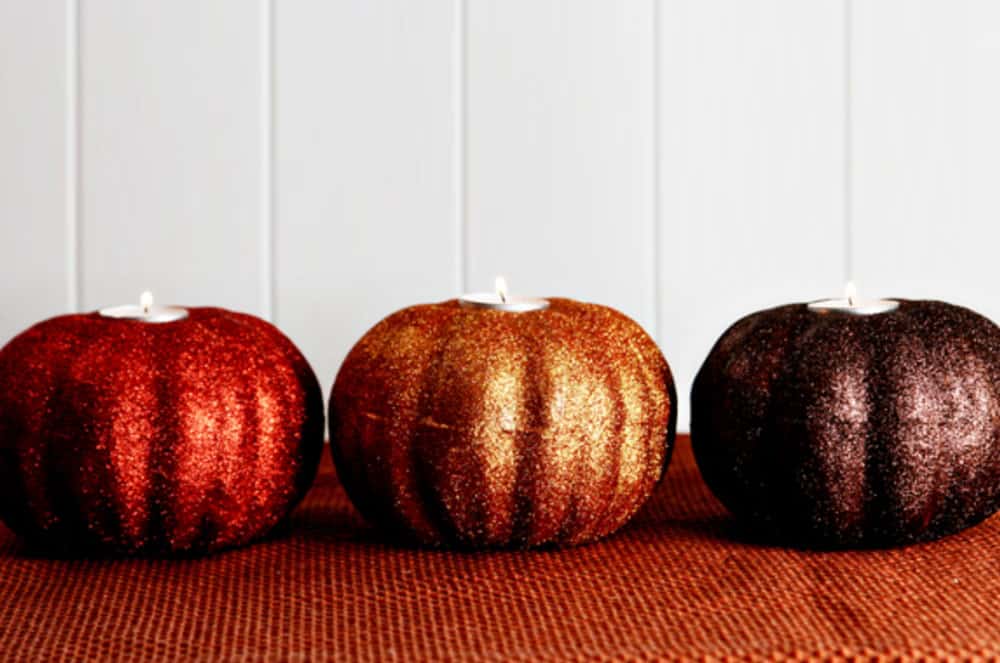 These Glitter Pumpkin Candles are so fun and they could stay up from September through Thanksgiving! Perfect for a mantel or table centerpiece.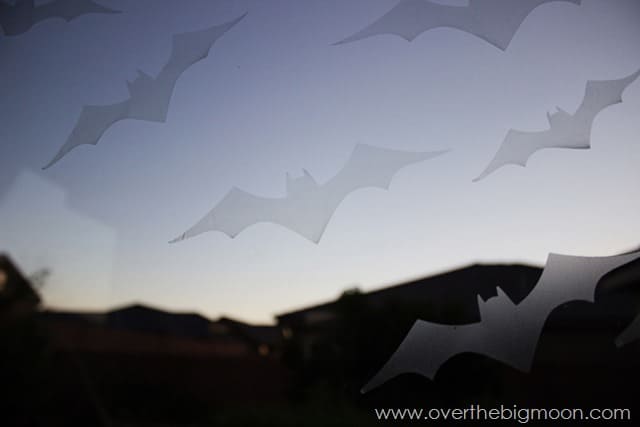 These DIY Halloween Window Pane Silhouettes are super cool.
Halloween Activities for Kids or Families
These DIY Halloween Flashlight Projections would be so fun to make and use for story time with the kiddos!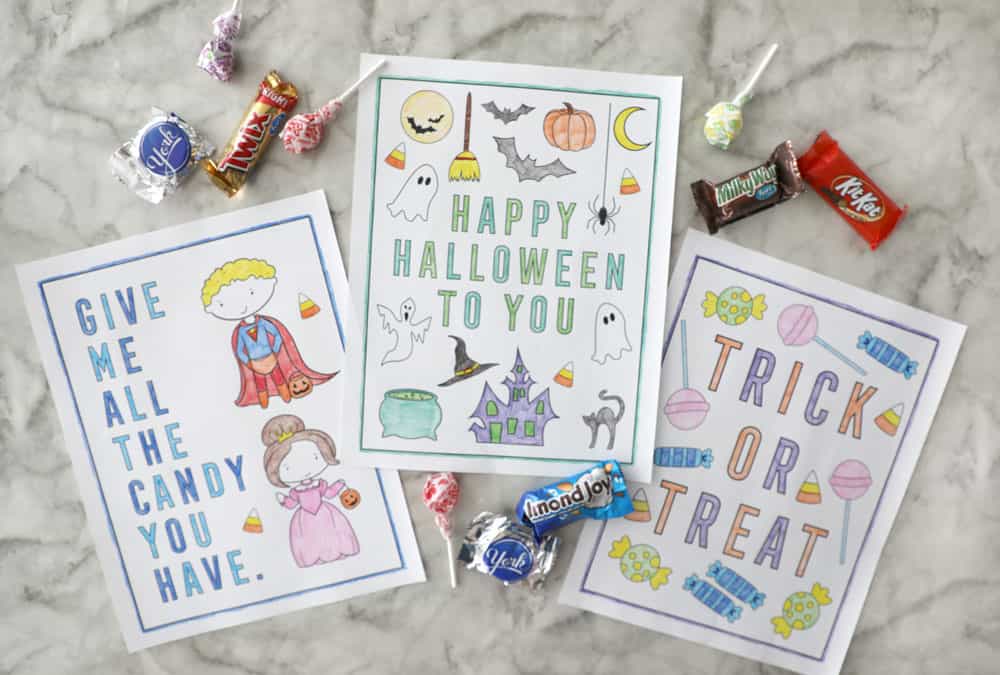 Halloween Coloring Pages are always a hit at our house. I like to print these out and color them with my girls while we chat after pre-school!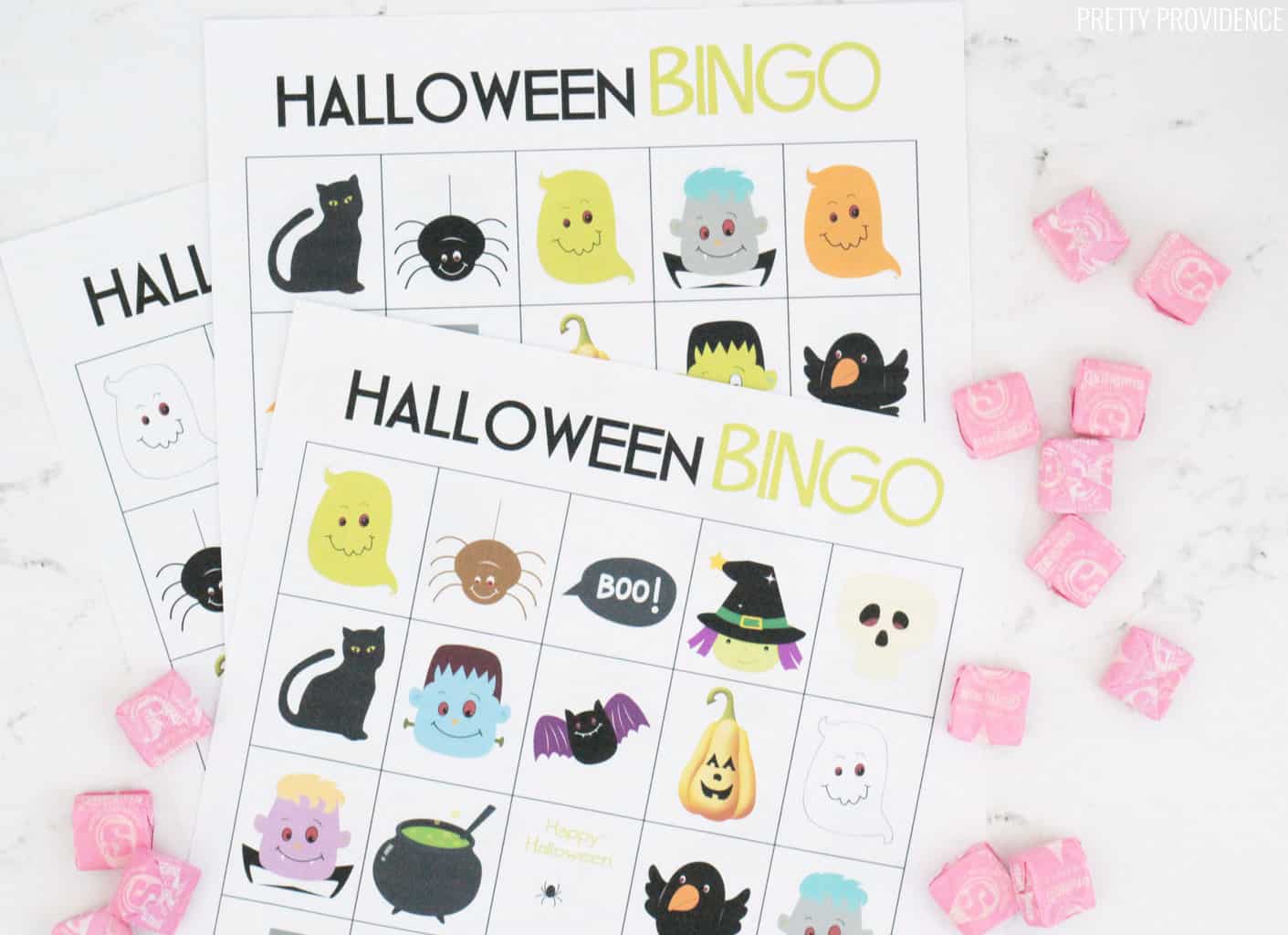 Halloween Bingo is a tried and true classic. We love playing this as a family, so while it isn't technically a craft, you do have to print it out and cut out the calling cards. I had to include it.
What do you think? Which one is your favorite?
xo,

This post was originally published in September 2015 and has been updated with new pictures and more detailed information.