If you're like us, you probably went through many glass baby food jars when your kids were young. So many that you can start your own baby food company. Instead, why not make crafts with baby food jars now that your kiddos are getting older. We've done a little fun research and found 21 Amazing Ways to Repurpose Baby Food Jars!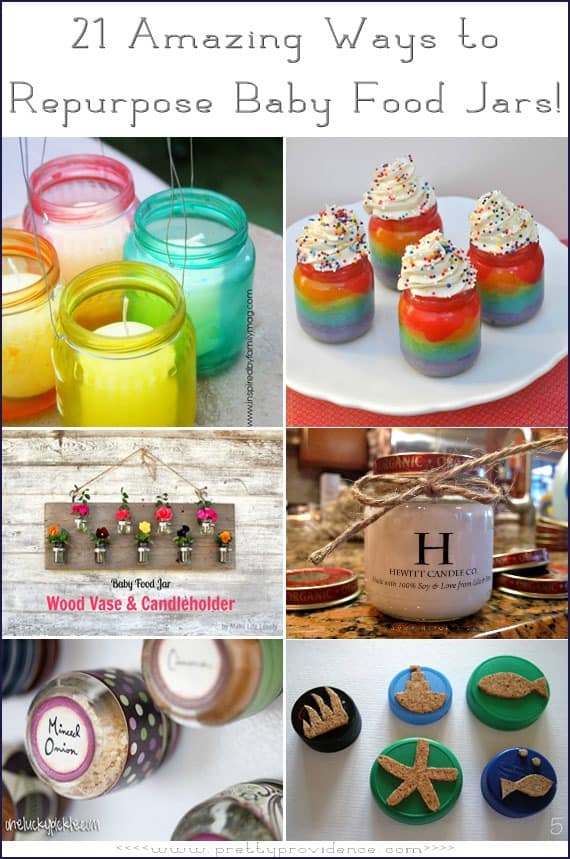 How to Make Crafts with Baby Food Jars
When using glass baby food jars, make sure you clean out the jar and lid thoroughly. These glass jars can be used in the oven if making a mini cake or pies in a jar just make sure you remove the labels. Do not, however, put these jars in the freezer, they may burst. Here are some other ideas for these jars:
Grow herbs and spices in the jars
Dip them in paint to create a mini vase
DIY magnetic spice jars
DIY nail polish remover jars
Make mini snow globes
Color-coated crayon containers
We did a little fun Pinterest research and found these 21 Amazing Ways to Repurpose Baby Food Jars.
1. Paint Dipped Baby Food Jars
These Paint Dipped Jars by Oh Happy Day are perfect for those flowers your little ones pick in the yard. Choose a different color for each season.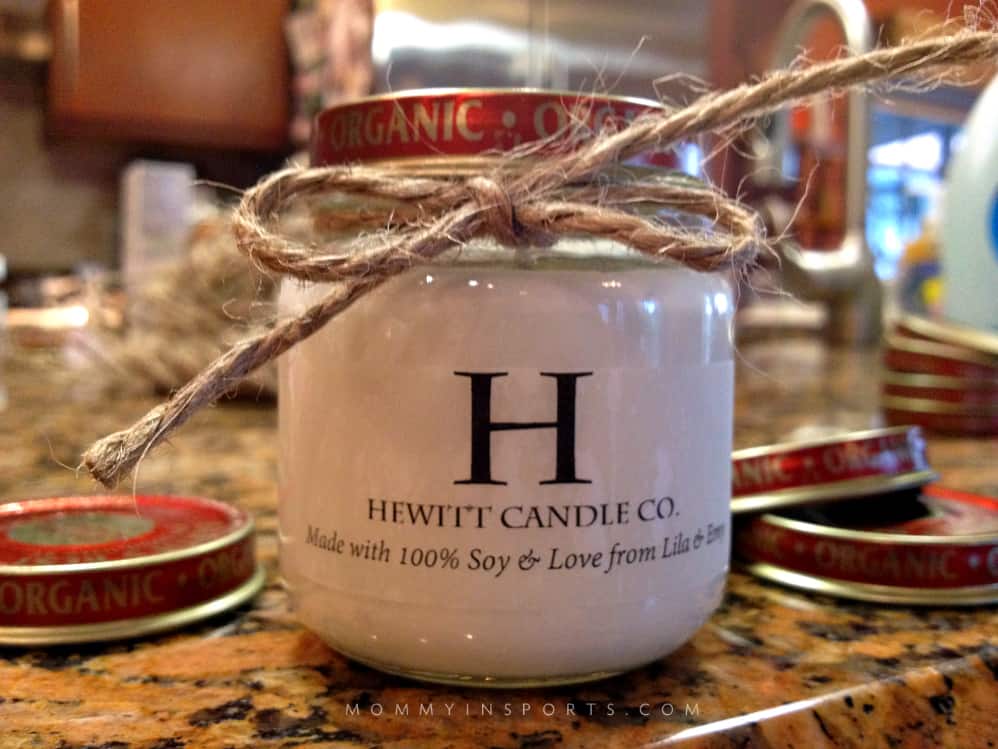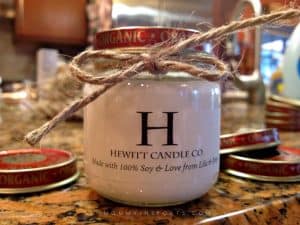 2. Baby Food Jar Candles
Making candles is always a fun project with baby food jars. These Adorable DIY Baby Food Jar Candles are a fun way to keep these baby food jars alive and make great gifts too.
3. Party Favors
Throwing a kids birthday party? Use up your old baby food jars to make Party Favors by Make Life Lovely.
4. Vases for Flowers
These Vases by Stay at Home-ista make a wonderful home for flowers picked by your kids. These are also nice gifts for the grandparents.
5. Planting Seeds
These baby food jars can also be used for Planting Wheat Berries by See Jane Blog
6. Dyed Glass Luminaries
Or make these Dyed Glass Luminaries by Inspired by Familia for your next project.
7. Make Mini Cakes
As I mentioned you can bake with these jars, just remove the labels so it doesn't burn. I love these Mini Cakes by Make Life Lovely.
8. Magnetic Spice Holders
TheseMagnetic Spice Holders by Dav.I.Son can store all of your spices.
9. Baby Chandelier
How cute are these Chandelier by Mother Earth Living?
10. Wood Vase and Candleholder
Feeling adventurous? Try making these Wood Vase and Candleholder by Make Life Lovely
11. Handmade Stamps
Here's a unique use of the jar lids. These Handmade Stamps by Fishes Make Wishesare beautiful.
12. Craft Room Storage
Get organized with this idea for a Craft Room Storage by Good Housekeeping
13. Yogurt Parfaits
These Yogurt Parfaits by Hill Dale House can be made for a baby shower.
14. Picture Magnets
How Crafty are these Picture Magnets by Oh How Crafty!
15. Chandelier
You may like this Chandelier by Craftster for your kitchen or dining room. This is one of my favorite of the 21 Amazing Ways to Repurpose Baby Food Jars!
16. Cupcakes in a Jar
I'm thinking these Cupcakes in a Jar by Lotte Lu and Brother Too will make a great dessert tonight.
17. Homemade Finger Paints
Your kids will love making these Homemade Finger Paints by Easie Peasie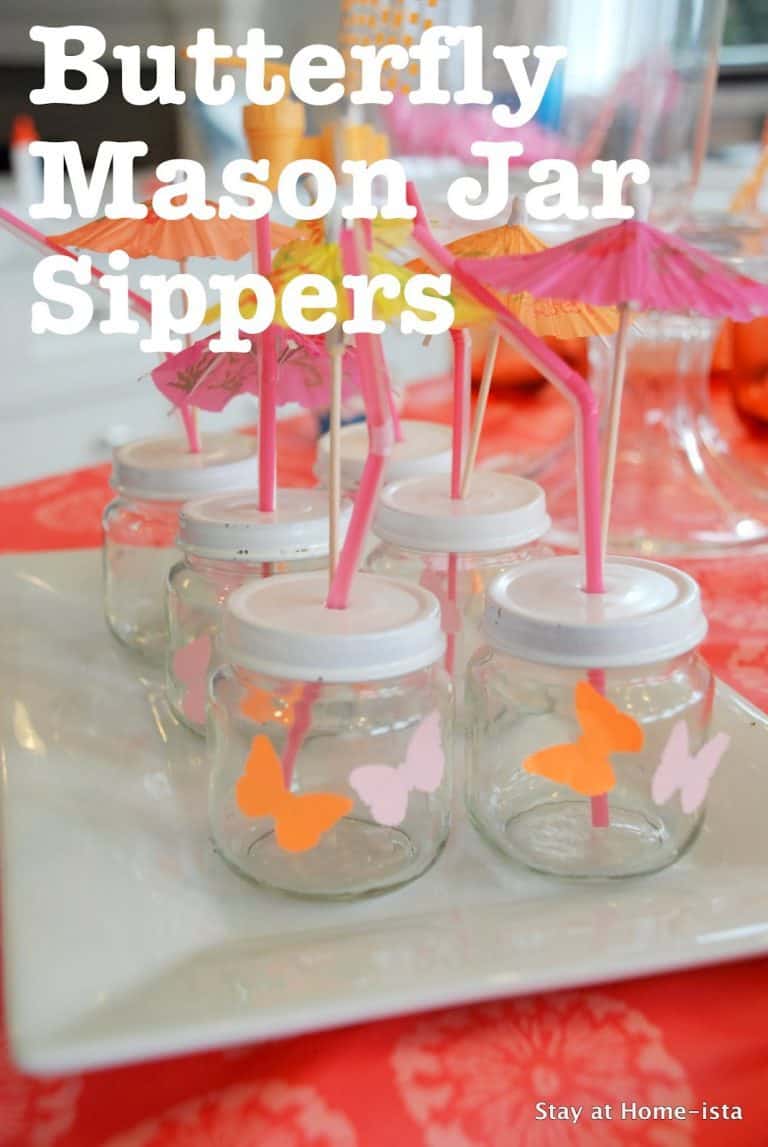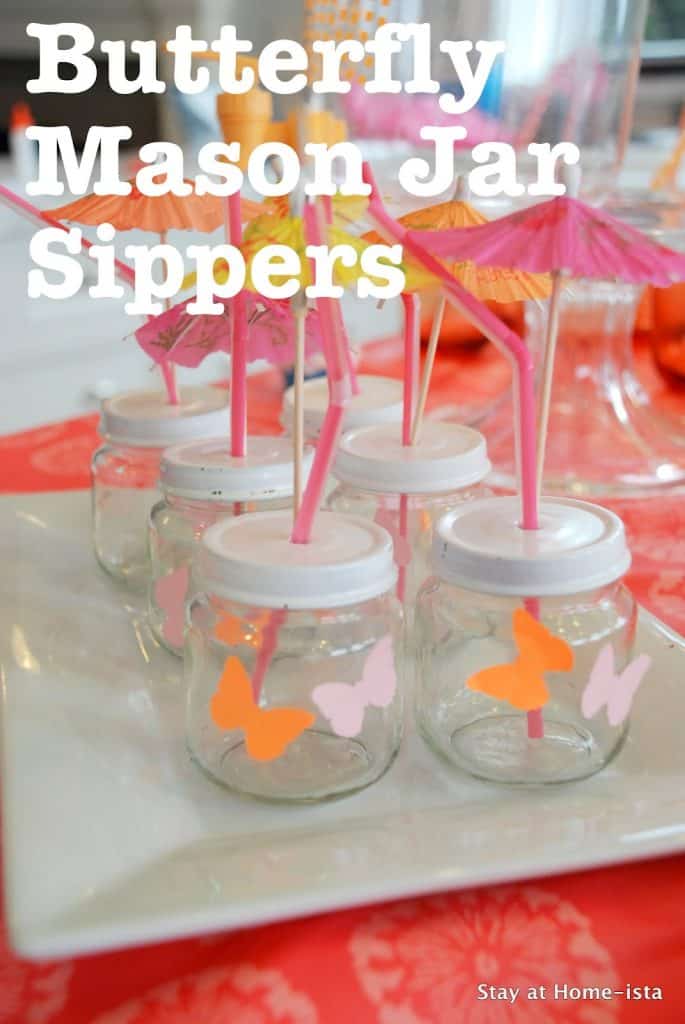 18. Butterfly Sippers
These Butterfly Sippers by Stay at Home-ista are perfect for a little girls birthday party and one of your crafts with baby food jars.
19. Valentine's Day DIY
Get in the Valentine's Day spirit with So Festive!
20. Pot of Gold
Or make a St. Patrick's Day Pot of Gold by DIY Inspired.
21. Tree Ornament
And this Tree Ornaments by Simply Ciani is perfect for the holiday season.
Holy amazing am I right? These 21 Amazing Ways to Repurpose Baby Food Jars are really special and so creative. I seriously want to make all of them! I am feeling so inspired by these talented ladies, don't be shocked if you see a whole bunch of baby food jar projects on the horizon here at Pretty Providence. Happy eating to babies everywhere!
Pro Tips
When cleaning out the jars, make sure you remove the baby food labels while it's wet. It's much easier to remove.
These jars can be put in the oven, just make sure the labels are already removed.
Do not put these jars in the freezer, glass can break when frozen.
Acrylic paint works best when painting glass.
Which projects are your favorites? Make sure you let us know below. Or if you make one, share your creations by tagging us on Instagram.