*This recipe is adapted from the meatball recipe found on page 424 of the Better Homes and Gardens New Cook Book
. I love this book. We use it all the time, if you are in need of a good cookbook, consider this one.

OUR LATEST VIDEOS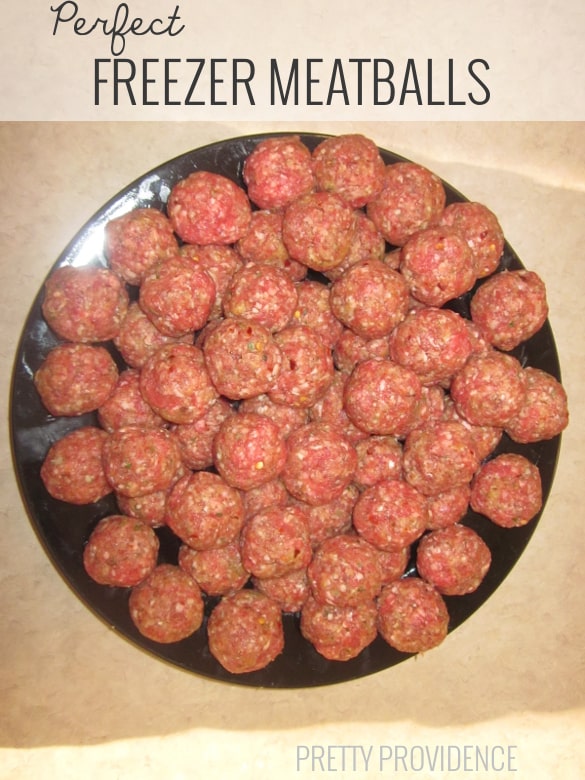 I am not exaggerating when I say these are the perfect meatballs. They are easy to make, use mostly things you have on hand, freeze like a dream, taste amazing how they are, or can be manipulated with any sauce (ie: add a teriyaki sauce, or a sweet and sour sauce, or a BBQ sauce or marinara…etc.)
Here's the recipe:
4 eggs slightly beaten with fork
2/3 cup soft bread crumbs (I have made them with italian or regular and both work fine)
1/2 cup finely shredded parmesan cheese
1/2 cup snipped fresh parsley (I always just use dried parsley, and it works fine)
1/2 cup finely chopped onion (Again, lazy me uses dried onions)
2 teaspoons salt
1 teaspoon crushed red pepper flakes
2 cloves garlic, minced
3 lbs ground beef
2 tablespoons olive oil
Add all ingredients except olive oil into a large bowl and mix well.
Roll mixture between your hands to shape into balls. Each ball should be about two tablespoons worth. With meatballs this size, the recipe will yield about 40 meatballs.
Heat olive oil over medium heat in a big skillet. Cook meatballs until brown and cooked through, (about 6-8 minutes on each side). The skillet below is the biggest one I have, so I can only cook half the meatballs at a time, so I only had half the olive oil at a time as well. If you aren't planning on freezing any you could definitely cut this recipe in half.
Drain the oil off. Flash freeze meatballs in a single layer on a parchment paper covered baking sheet.
Once frozen, place in freezer bags or tupperwares to store in freezer. For best results, use within two months.
And for the record, ours have never even come close to lasting us two months. Haha. Hope you like them as much as we do!
*This post may be linked up at one of
these
fabulous linky parties, check them out!