Here we've gathered ALL the best girl baby shower ideas! From baby shower themes, to decorations, food, free printables and games. We've found pink, floral and princess baby shower ideas galore!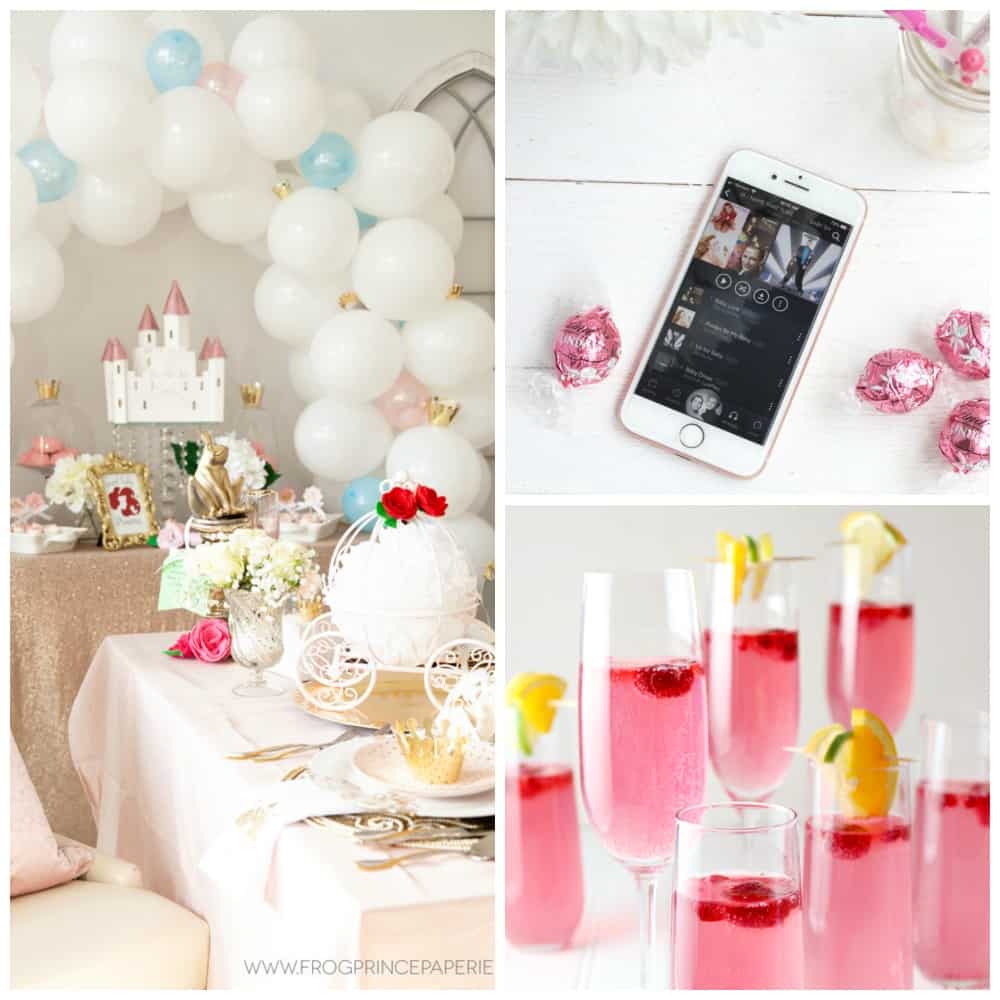 Are you expecting a little addition to your family or have a loved one who is? One of the best things about prepping for a new baby to enter the world is getting to plan a baby shower!
Before we dive in to ALL the girl baby shower ideas, have you read our tips for how to throw a baby shower on a budget?
There are so many options for themes, food, games, and lots decoration ideas. We're expecting a girl soon in our family so today we are sharing GIRL baby shower ideas. There is so much fun baby shower inspiration here – we love everything princesses, pink, floral or sparkly right now!! Let's see if any of these ideas inspire your next shower. (Check out our Boy Baby Shower Ideas too, a lot of them can be easily adapted for a girl or be gender neutral!)
Girl Baby Shower Themes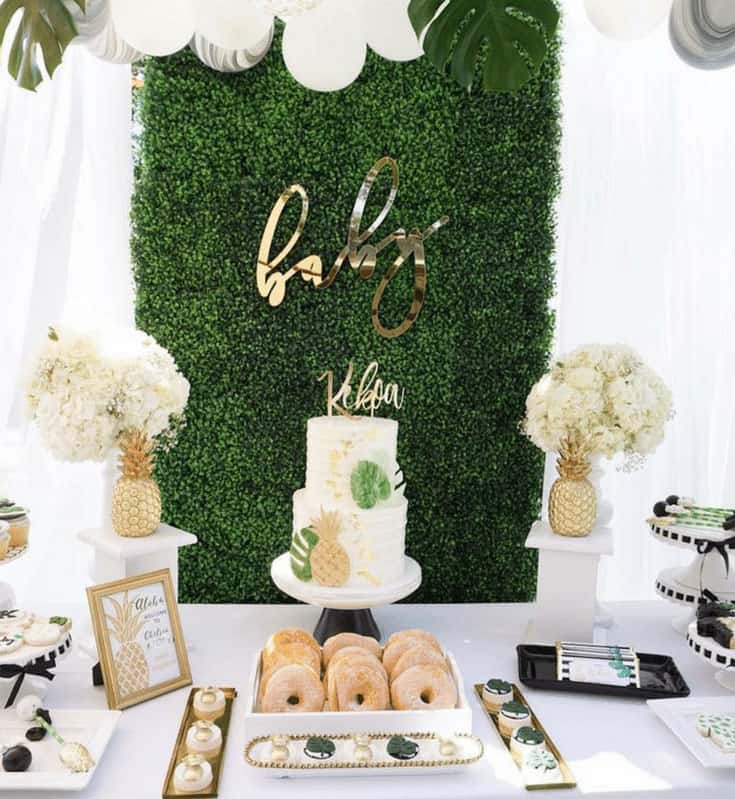 Princess Baby Shower Theme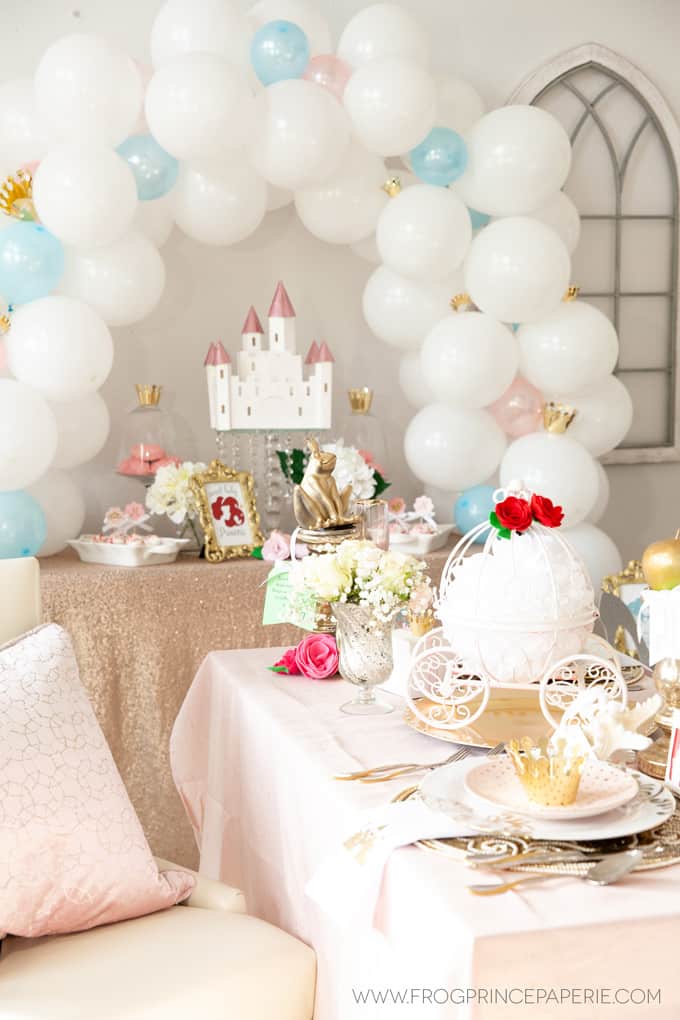 Every single detail of this Disney Princess theme baby shower is amazing! Paula at Frog Prince Paperie has outdone herself. And you know we love that she made a lot of the decorations with her Cricut Maker!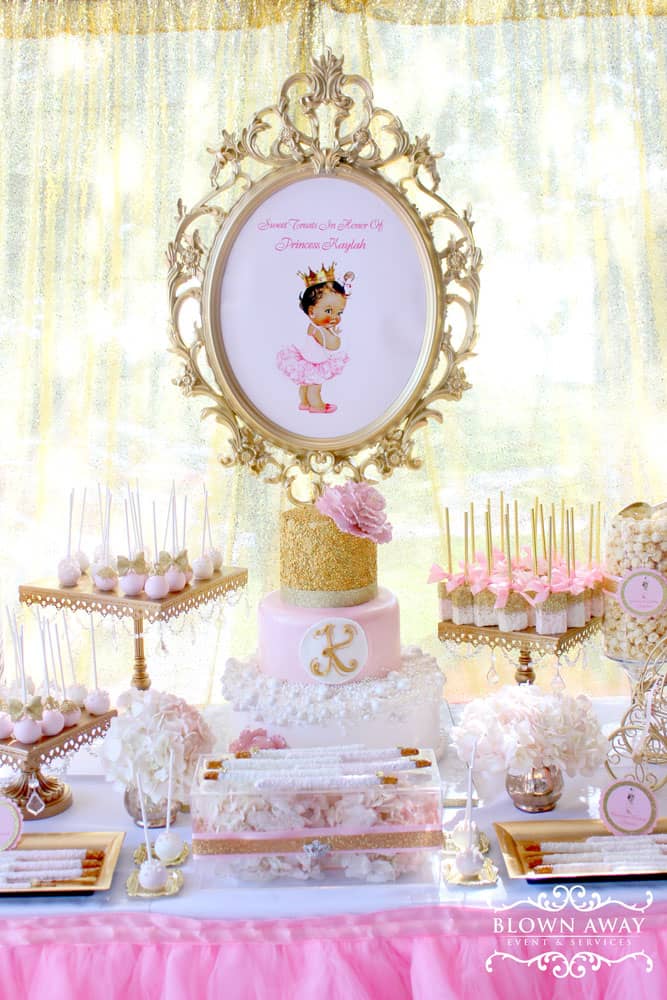 Girl Baby Shower Decorations
A party is only as good as it's decor, right? It can be one of the most fun parts about planning any party! We've already seen some amazing decorations in the baby shower themes section, but we found some really cool stand-alone decor ideas that needed to be shared as well.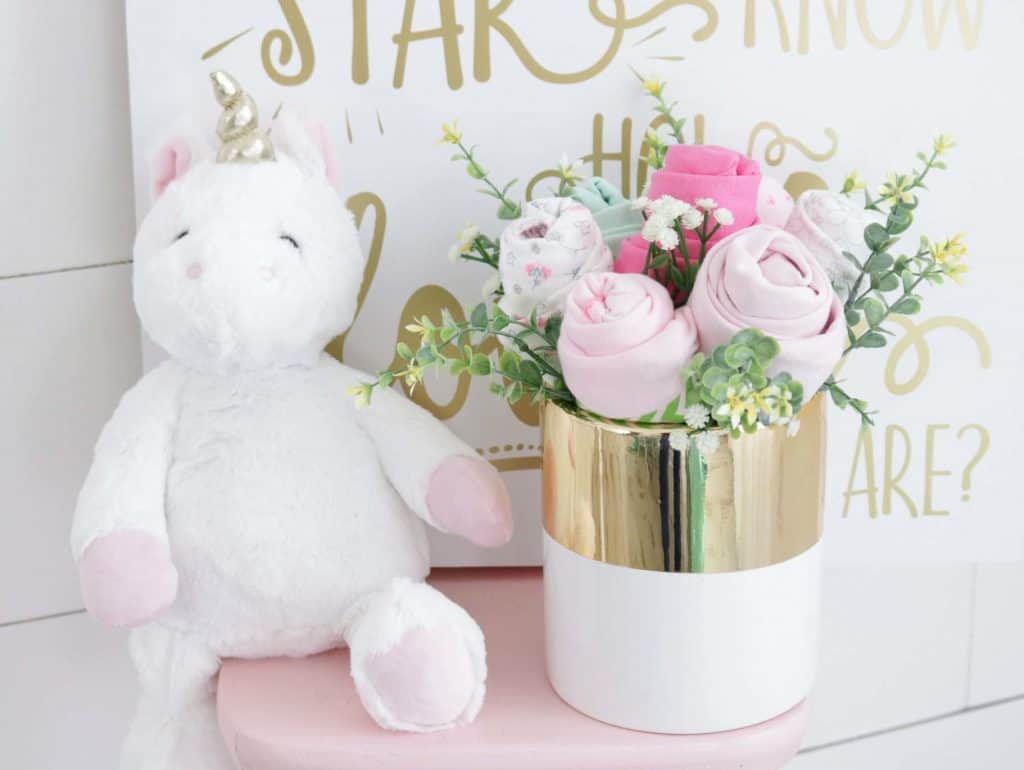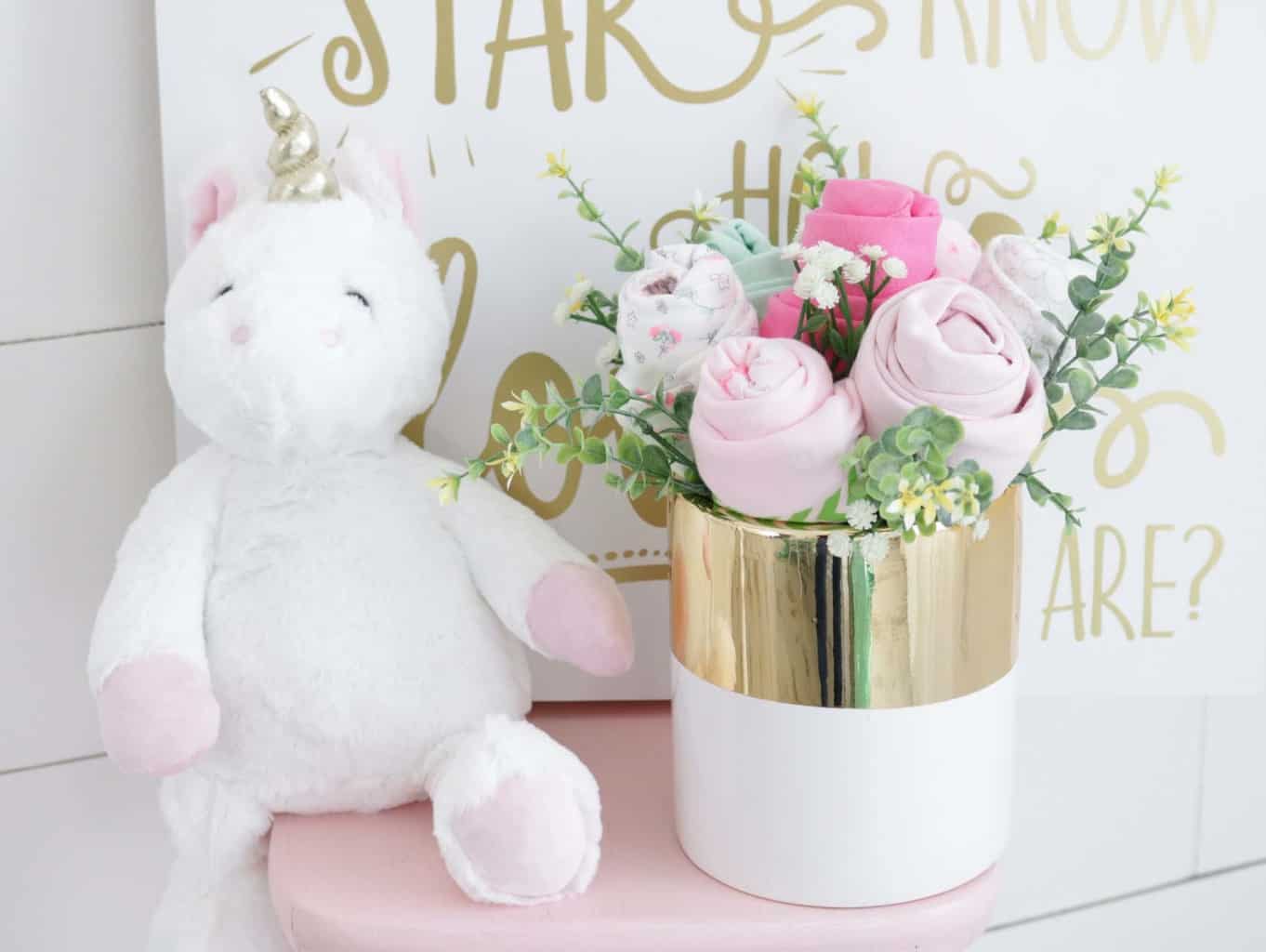 A baby shower onesie bouquet! I love this idea by Made of Sugar and Spice on Fun 365. This is doubles as decoration AND gift and it's SO PRETTY.
I love this flower backdrop behind a treat table. I think it would be so easy to recreate with just a stick, some twine/string and some flowers (real or fake!)
This DIY Balloon Garland is appropriate for any party, and would look so cute in pink and purple shades as a little photo spot for your guests. It's also a great way to preserve the memories for the one guest who won't remember any of it! (aka baby to be)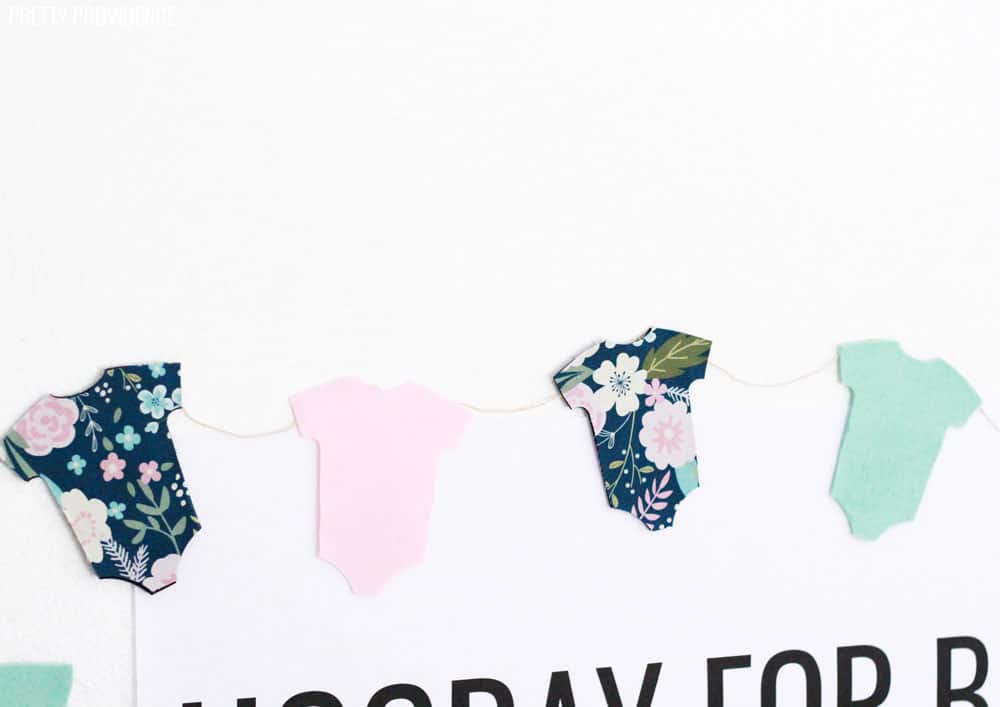 A onesie garland is always a solid choice! You can use newborn sized onesies and the gift them to the new baby, or make one out of felt and fabric! Either way, it's cute and on-point.
I love this idea for a woodland inspired Tree Branch Letter. Cafe Mom gives a link to purchase one, but I'm sure you could make your own easily with a trip to the craft store and a trusty glue gun.
Baby Shower Games
Baby Shower games can be controversial! They're not necessary to the baby shower if you or the mama-to-be aren't big fans, but they can be a great way to keep everyone entertained and involved. They are definitely a good way to break the ice and get people talking if guests don't know each other.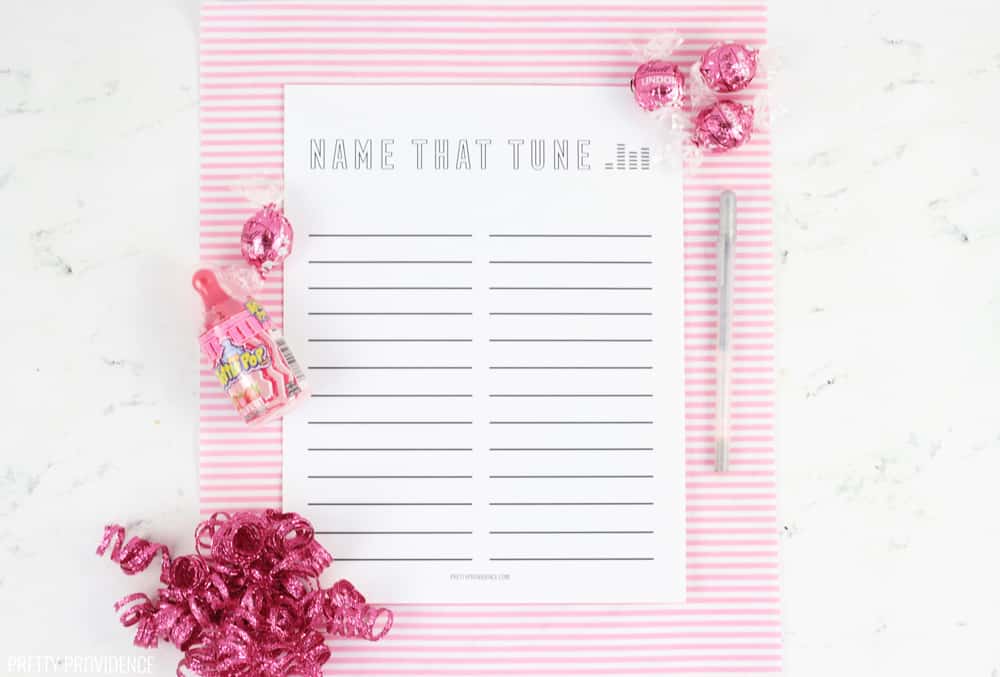 We love this Name that Tune baby shower game because it is super fun and easy! Use the premade playlist of songs with baby in them, or make your own. Music gets everyone talking. Your guests will love it!
Baby Shower Gift Bingo is another fun and easy game idea. Guests fill out the bingo card with what gifts they think the mom will open, then as they are opened, they might win big!
No baby girl can have too many headbands or bows. This DIY Headband Station from the Ribbon Retreat would be such a great way to keep everyone entertained and would make some bonus gifts for the mother to be!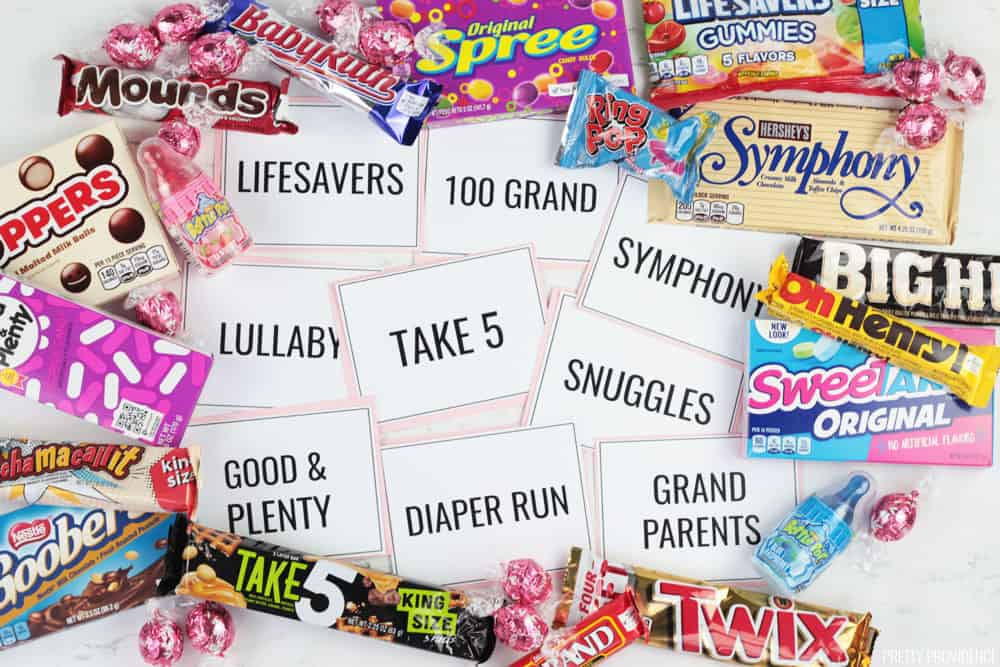 Our Candy Bar Matching Baby Shower Game is one of the most popular baby shower games ever. It's super fun and gets everyone involved in the party!
You've heard of Cards Against Humanity right? This Babies Against Parenthood game from the Eco Friendly Family looks absolutely hilarious and would be such a fun game to play at a baby shower. The best part? It's printable and totally free!!
Emojis are a language all their own, and I love the idea of this Emoji Pictionary of popular children's books! This printable from Sugar and Soul is so adorable and completely free!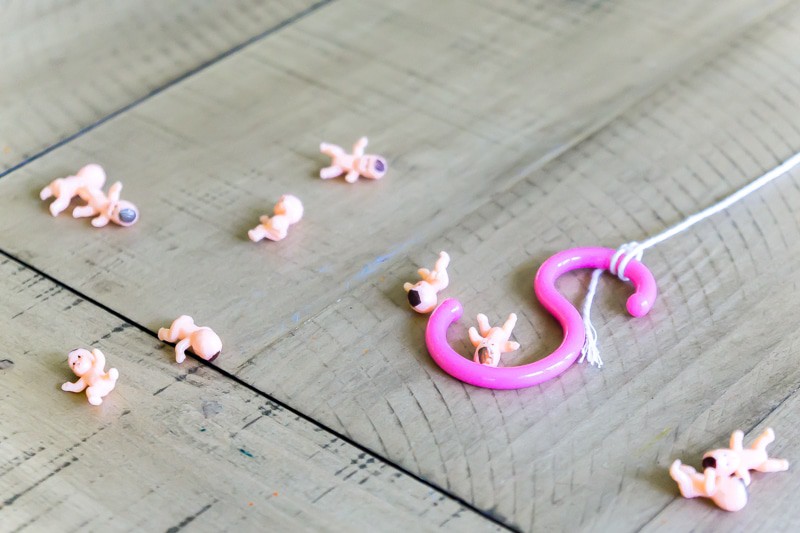 If you're a minute to win it fan, you'll love this compilation of Hilarious Baby Shower Games from Play Party Plan. You can create a major competition by using all of them, or pick and choose a few to mix into a few other games. These are sure to get your guests up and moving and would be great ice breakers.
Pink Baby Shower Food
It is a truth universally acknowledged that the most important part of a party is the food. It can be the funnest part to plan (especially with a good theme) and to share with the guests!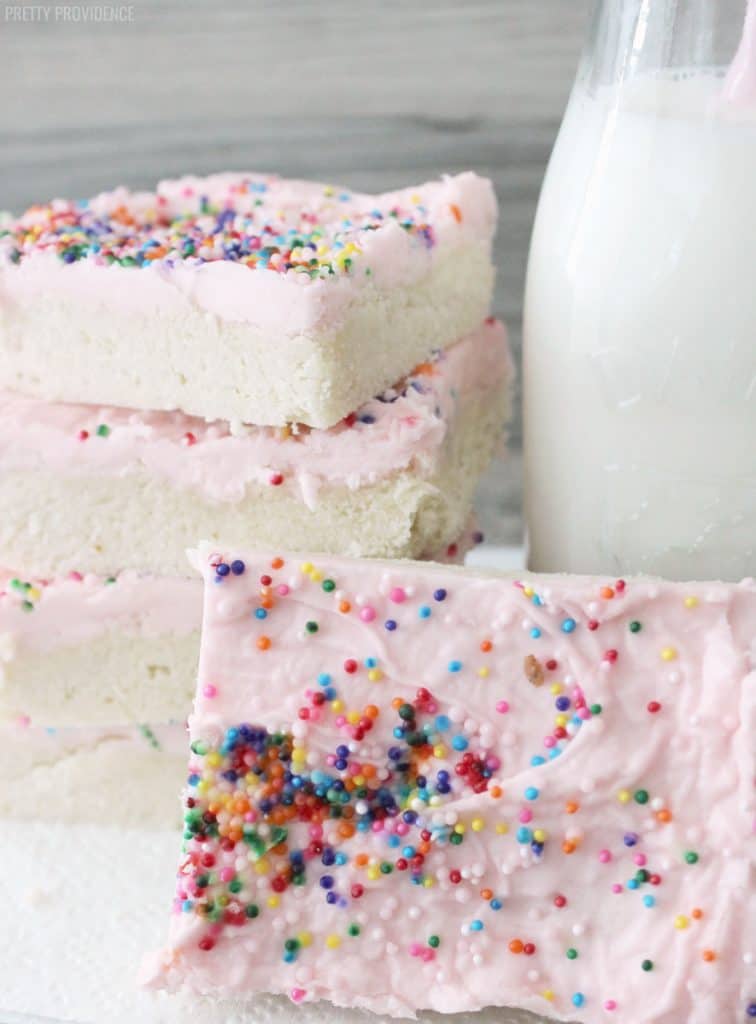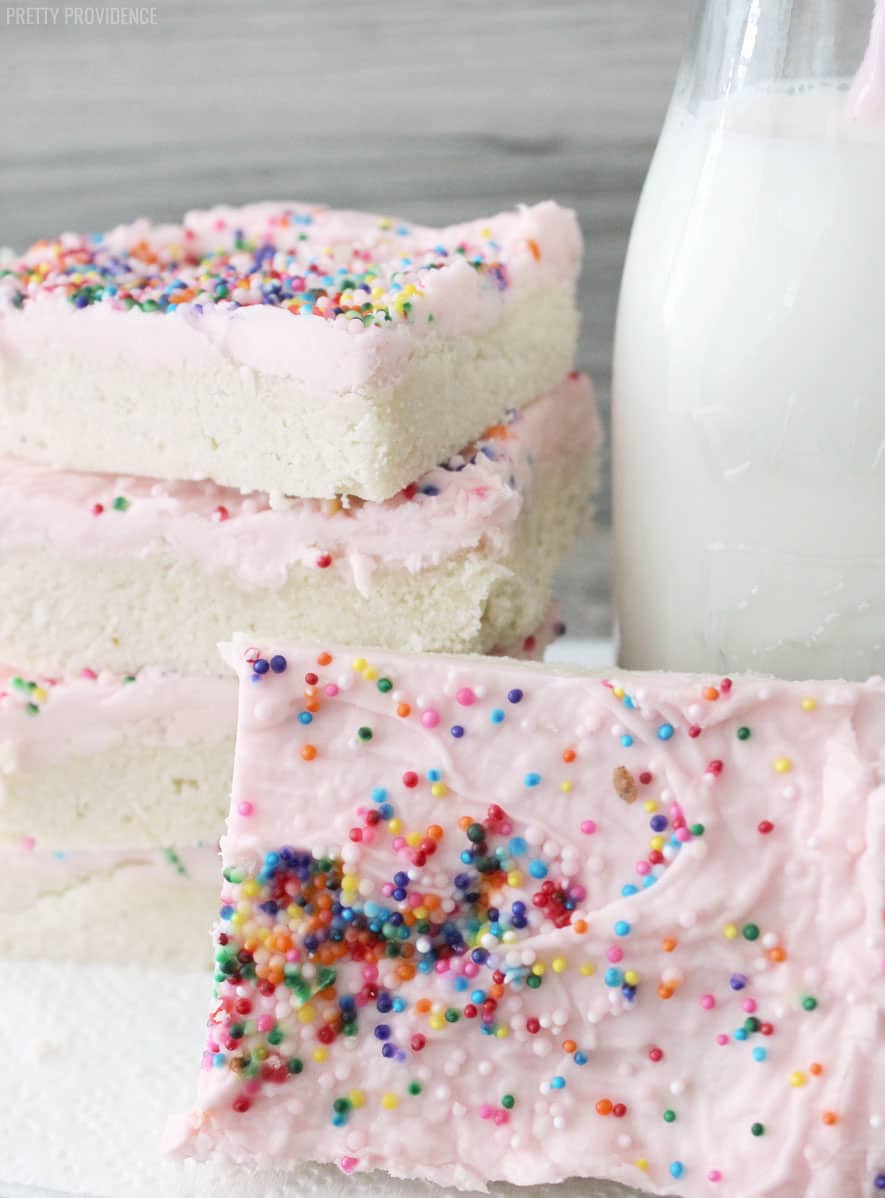 Sugar Cookie Bars are one of our FAVORITE desserts ever. They are perfect for feeding a crowd, and you can make the frosting any color you like. Perfect baby shower food!
No one can pass up a good batch of muddy buddies. Brit+Co have made them baby shower appropriate by adding pink or blue candies to Muddy Buddies.
How great do Strawberry Chocolate Chip Cookies sound? These are from Sally's Baking Addiction and they are so pink and would look amazing on a baby shower grazing table.
With all of the other planning and prep that goes into a baby shower, simple recipes are a must. I love how easy these Raspberry Yogurt Tarts from the Cookie Rookie look. I mean 5 ingredients? How awesome!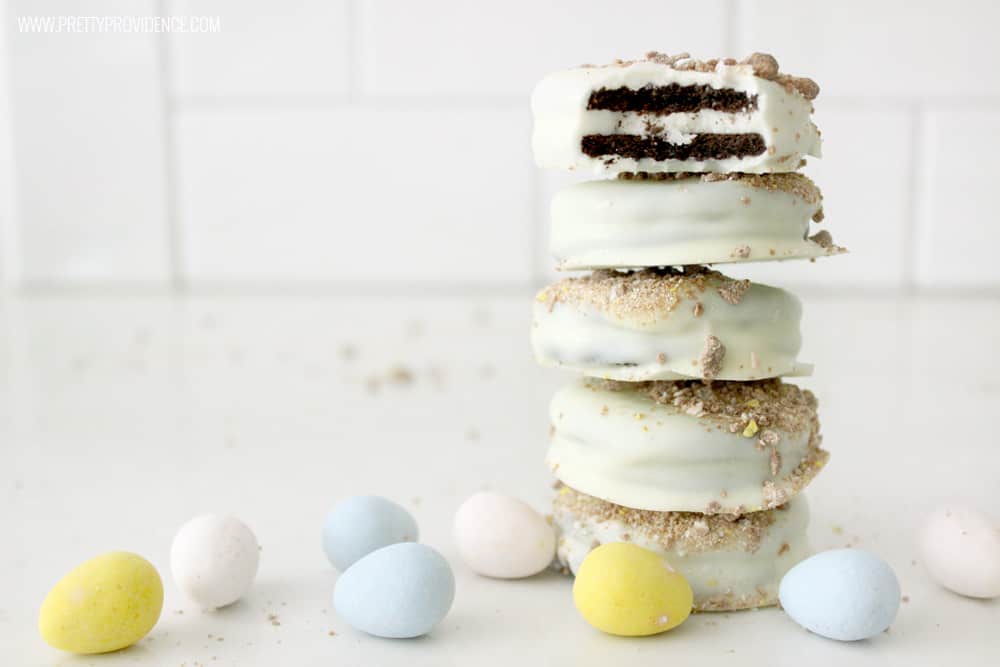 We love White Chocolate covered Oreos for any occasion, and especially for baby showers!
Raspberry Fluff is another perfectly pink recipe. It goes with any baby shower menu and your guests will love it!
You HAVE to click through to see these Strawberry Milk Whoopie Pies from Sprinkle Bakes. They're so adorable, and what food says "a little girl is coming" like strawberry milk!?
Undoubtably the best thing about a girl baby shower is all of the naturally pink foods you can use. These Raspberry Swirled Cheesecake Cupcakes from Cooking Classy take full advantage of that fact and look so beautiful.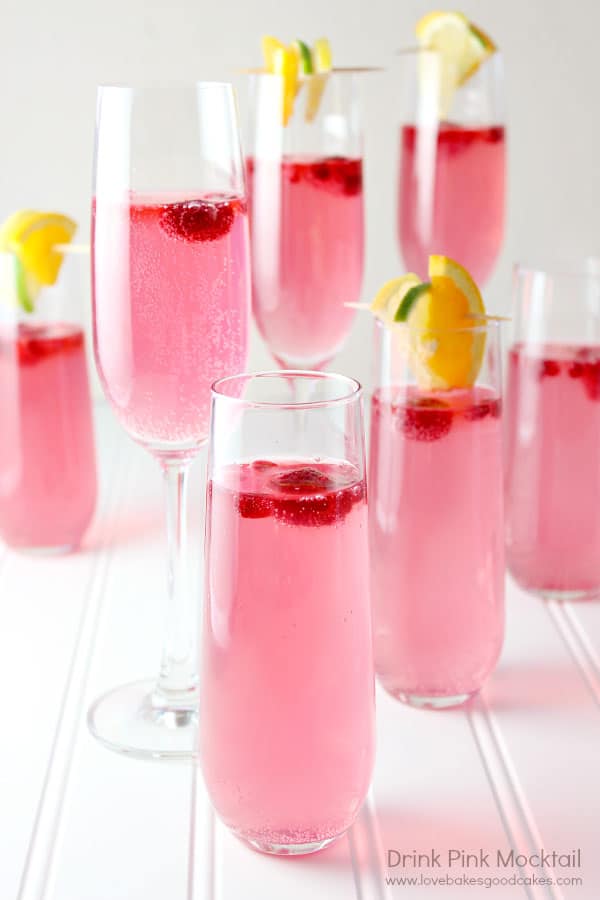 Let's not forget drinks! This pink mocktail from Love Bakes Good Cakes looks amaaaazing.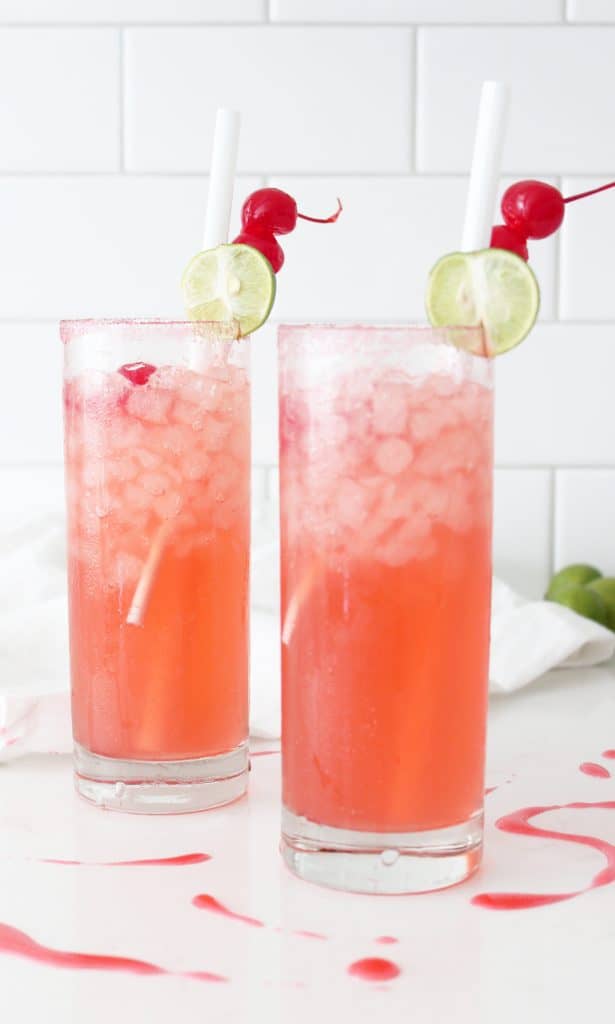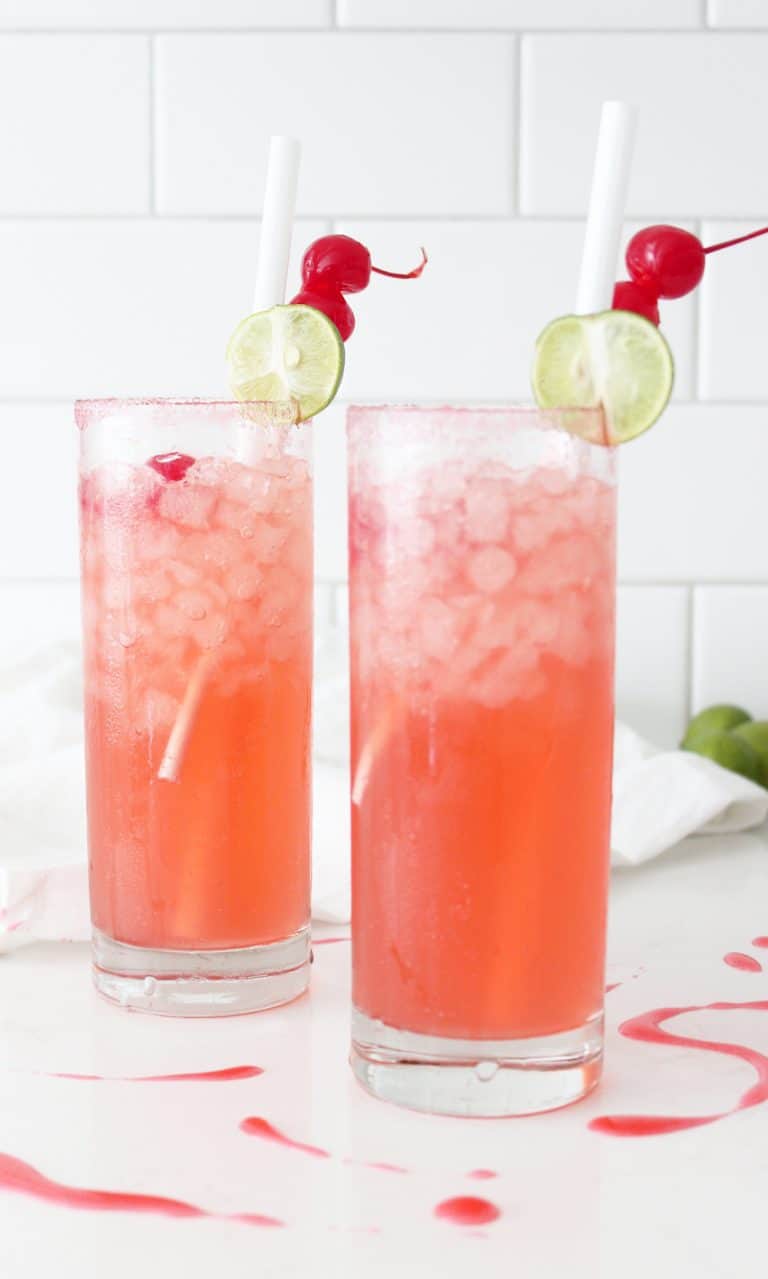 Favors
A great way to leave your guests with a memorable experience is to give them a fun favor to take home after it's all over! These ideas can also be used for prizes if you're planning on playing some games during your shower.
Every one loves a party favor they can take home and use. I love these favors with rom Bath and Body Works. You could easily use a generic brand of the same, or use a lotion or soap instead if you can find them on the cheap!
I love this idea of a favor that will continue to "grow" just like the baby will! We Heart Parties has some awesome ideas for her floral baby shower, and one of the best are these little Succulent Party Favors! At first, I thought it was going to be crazy expensive, but really you can get trays of succulents on amazon for around $2 a plant.
These Nail Polish Favors from Baby Gizmo are so cute! It would be so easy to get a bunch of cheap nail polishes either from the dollar store, or Target and put a simple tag on them for a memorable favor.
I'm dying over these About to Pop soda party favors from Evermine. This would be such a great thing to get in bulk and would be so easily affordable, but still so cute!
Evermine just has so many great ideas! I also love their "Baby is Blooming" seed packet favors! They're so adorable and would be so fun for your guests to look back on well after your party.
Make sure to check out all of our baby shower gift ideas too: