You will love thIS READY TO POP baby shower THEME! with A popcorn TOPPING BAR, a soda pop bar, balloons and a FREE POSTER you can print TO DECORATE WITH!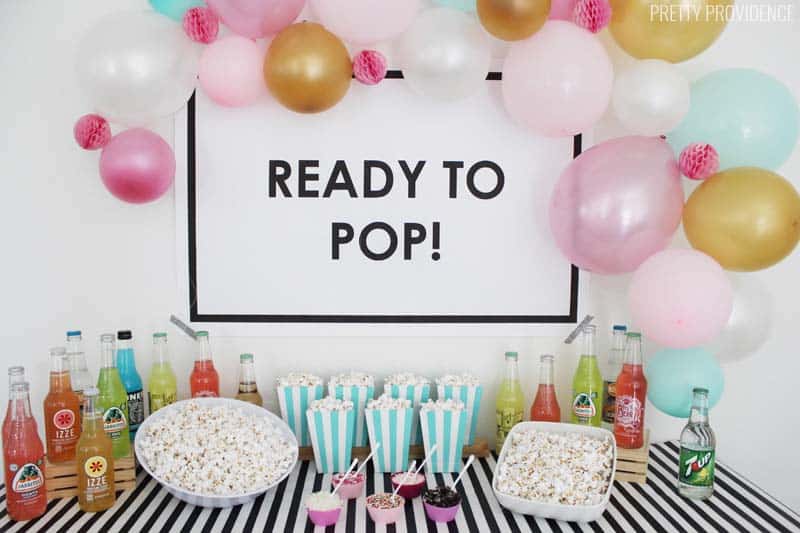 Have you guys seen the 'Ready to Pop' baby shower theme before? I have always thought it was such a great idea - especially because when I was pregnant I literally felt like I was ready to pop... haha. It's just so fitting. Plus, there are so many creative things you can do with this theme! Once I got going with the balloons as decorations, the popcorn and the soda pop, it all just fell into place.
BABY SHOWER FOOD - POPCORN TOPPING BAR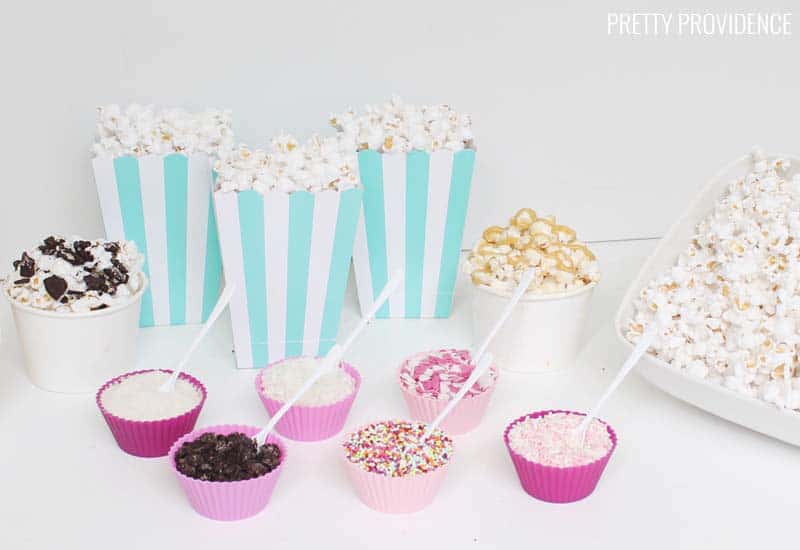 For this shower I knew I wanted to implement my party popcorn topping bar - it's kind of my favorite since I'm such a popcorn fanatic anyway.
SODA POP BAR
For drinks, I gathered up a bunch of old fashioned "soda pop" flavors. I went to three different stores to get these (overboard, I know!) But they are so fun, and I'm glad I did it! No regrets.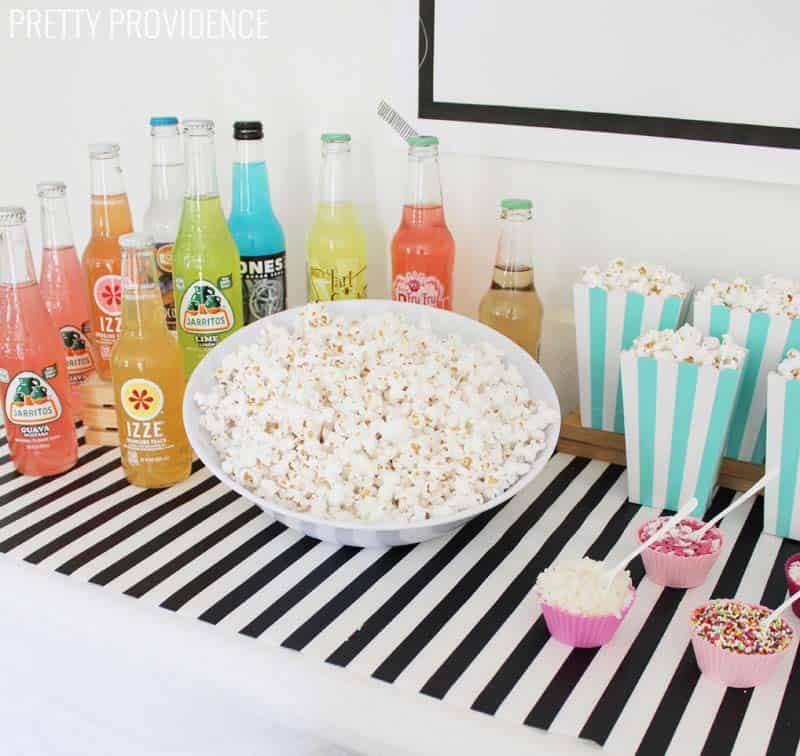 READY TO POP BABY SHOWER DECOR
I made the poster that says "Ready to Pop" and if you want to print one of these babies for yourself you can do so! Just download the file and save the file to your computer. This poster is sized to 24x36 (2 feet tall and 3 feet long.) I had mine printed at FedEx Office. This is important - it's really cheap, like $4.50 at my store, IF you make sure to specify that you want it printed in black. The default is Full Color - but since this is in fact a black and white poster, you shouldn't pay for full color.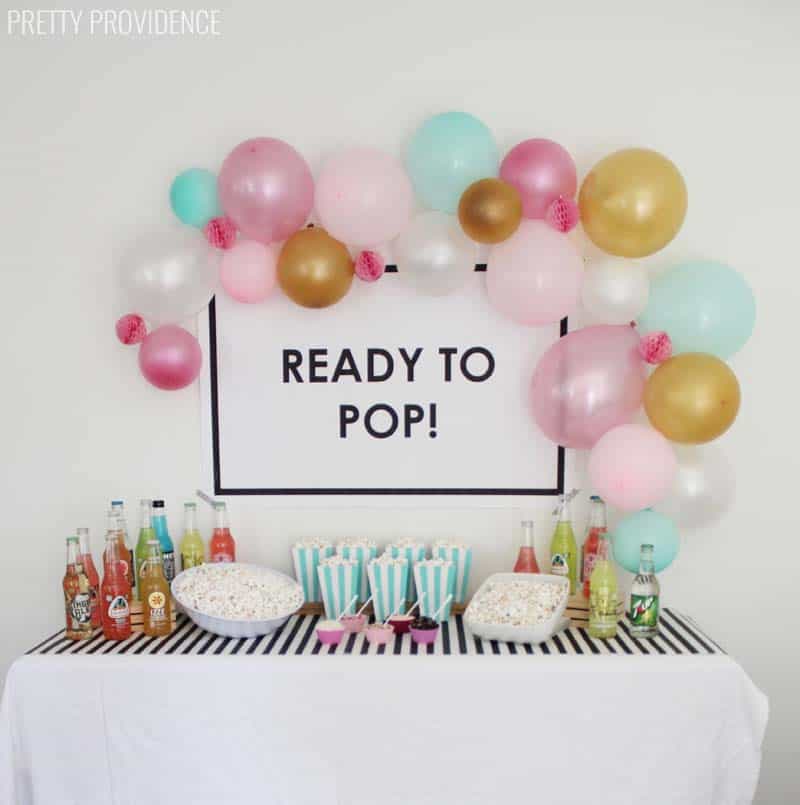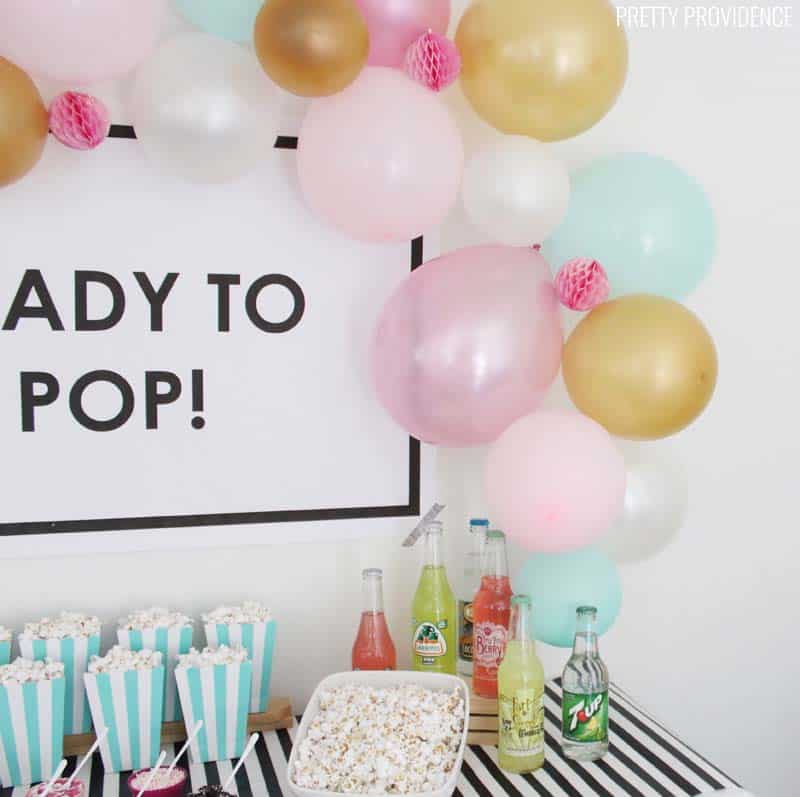 The last detail is this balloon garland! You guys, these are way easier to make than you might think! See the full tutorial HERE.
SHOP THIS POST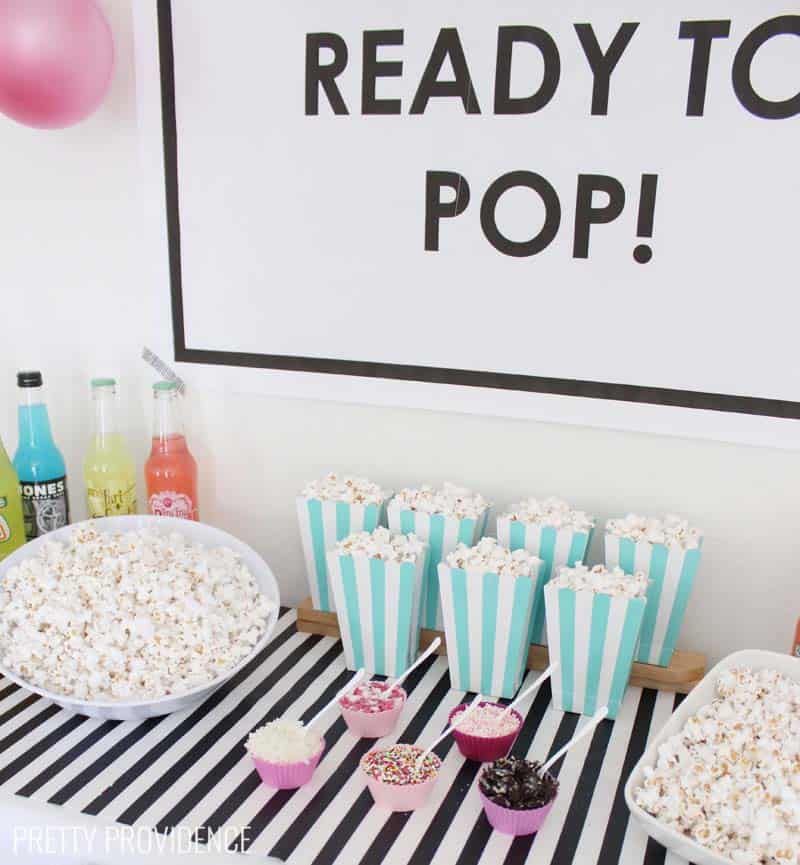 All of these details just go together and everyone loved the popcorn bar and sodas! (I mean, who wouldn't?)
If you need a fun shower gift idea that doubles as a decoration - try this Classy Diaper Cake! Everyone always LOVES these, and it can double as a fun centerpiece! Plus, these DIY Padsicles are a must have for the Mama to be. Trust us, she will love you so much for those.
Check out our other Baby Shower Posts
Tons of Awesome Boy Baby Shower Ideas
Where the Wild Things Are Baby Shower
Favorite Books to Give at a Baby Shower
Classy Diaper Cake Tutorial
Diaper Basket Baby Shower Gift
How to Throw a Baby Shower on a Budget
Candy Bar Baby Shower Game
And definitely check out the details on these supporting 'READY TO POP' baby shower ideas:
| | | |
| --- | --- | --- |
| Party Popcorn Topping Bar | | |