Just a couple weeks ago (the first weekend in July) we had a family reunion for my husband's side. The crazy thing about it is that we pulled this thing together within three weeks of finding out that everyone would be in the place at the same time. This rarely happens, because we are all spread across the country – in Utah, Texas and Alabama. We live in Houston, and since everyone was traveling here I wanted to make sure that it would be a fun and memorable weekend for everyone.
My mother-in-law came here early so she and I planned most of it together. I have come up with a few tips and ideas that I'd like to share because while it may seem daunting to plan for a big group of people – it doesn't have to be complicated. Of course, all of the planning will depend on your family; how big a group you have and what they like. We had 19 total.
Family Reunion Ideas
First thing – in my humble opinion – family reunion tees are a must! I was really excited to design one and have dabbled in graphic design here and there so I got to work. If you don't love that kind of thing, there are some really great options for designs on Etsy! Then once you have your design figured out, you can get them printed.
Family Reunion T-shirts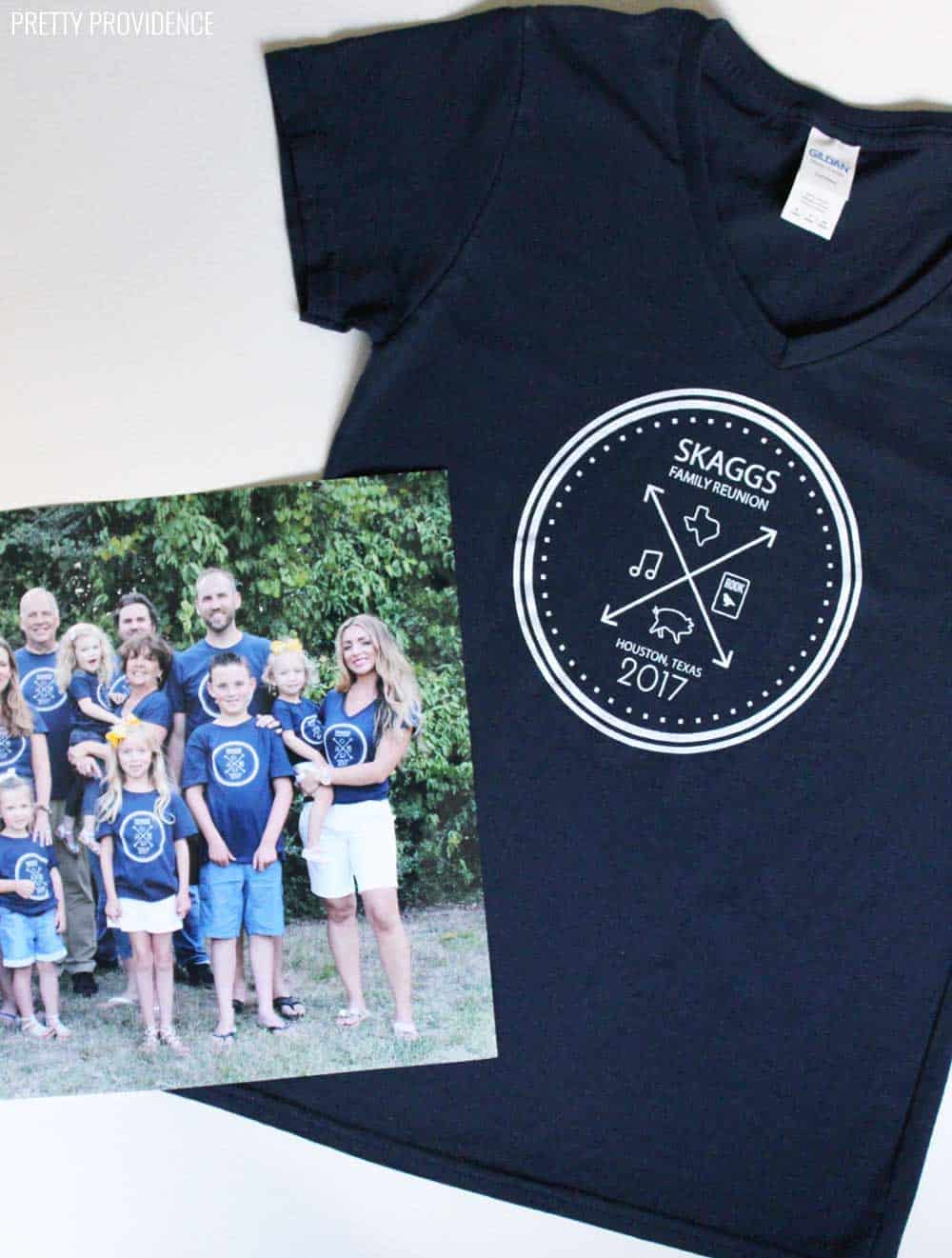 You know we LOVE to make our own t-shirts. Here is our tutorial for how to make a custom shirt with a Cricut. I worked with Create A Shirt to have these made and they rushed the order for me since we didn't have any time to make them. I went with v-neck tees for the ladies and crew neck for the men and kids. They are great quality and the whole family LOVES them! How many reunion t-shirts have you seen that look this good?!
Schedule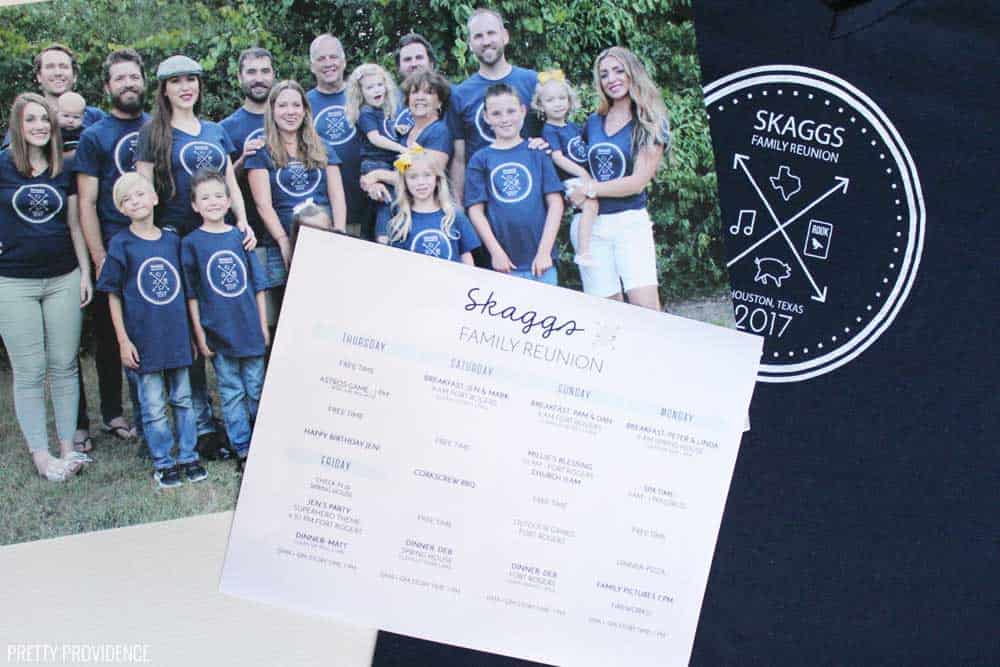 We knew that we wanted to start and end the days together, while allowing for some flexibility through the day. A strict schedule would never work with a group this big! So, we printed up a calendar with the important things on it. When we'd meet for breakfast and dinner, any important activities or events that we'd all need to be there for, and so on. The main things we wanted to highlight were a birthday party Friday night, Sunday we had a baby blessing, and Monday we took family pictures! We added meal and clean-up assignments to the calendar too.
Meal Planning
You'll want to decide beforehand how meals will be done. Maybe everyone takes care of their own meals, or maybe you take turns? My mother-in-law decided she would provide the dinners for each night, and then each individual family took a turn being in charge of one breakfast. Lunches we just had leftovers or went out! At other reunions I've been to, all of the meals have been divvied up among the smaller families. I think this works great if you don't want all of the responsibility to feed people to fall on just one family! It also allows for each family to share their favorite recipes or specialties, which I think is super fun.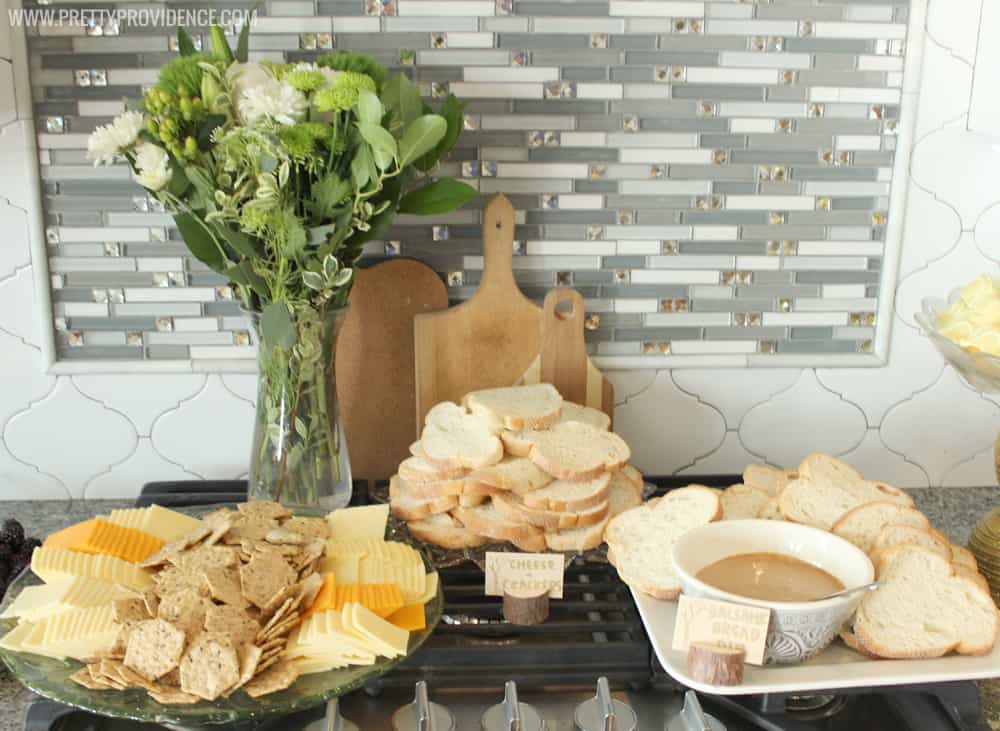 Cheap ways to feed a crowd:
These recipes are great for feeding a lot of people on a budget. They're delicious, and they are easy to adjust for any amount of family you need to feed!
Family Reunion Games + Activities
The location of your reunion will determine how much you need to plan as far as activities go. Growing up, we always had our reunions at the lake, so we didn't need to plan fun things to do. We just all took turns going out on the boat and hanging out at the beach.
This time around, we had a swimming pool and a big yard to work with so aside from swimming, we decided to have a corn hole tournament! This turned out to be the perfect laid back thing for us to do! It requires no real skill or athleticism, so everyone could play – even me! (I am super un-coordinated.)
Family Reunion Games:
Minute to Win It Style Games
My husband made our corn hole boards himself, but these boards from Amazon look great, too. I also recommend horse shoes or other yard games. Group games like The Game of Things or Head's Up are also great for groups! (You don't actually need a board game to play those last two. You can look up questions for 'the game of things' and do it yourself, and Head's Up is actually a free app!
Also, if you want to make an easy kids version of corn hole you can find a tutorial right here.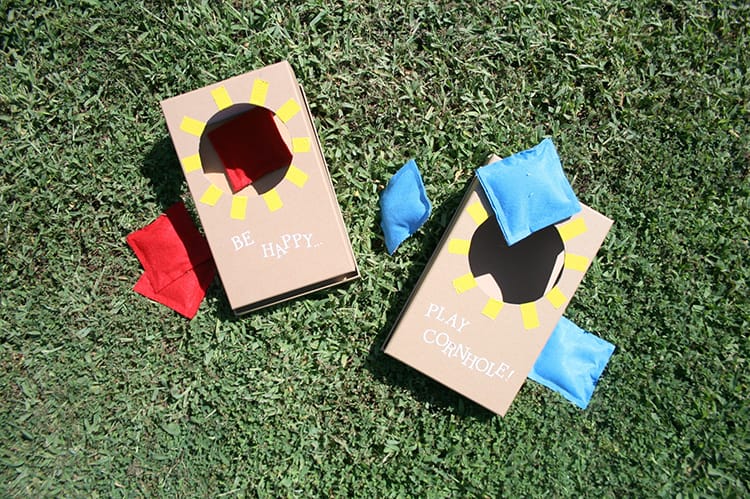 General Family Reunion Planning Tips & Advice
Don't ask for feedback on everything. With a big group, you will always have a lot of opinions to sift through. Nothing will get done if you do this. Make some decisions, keeping in mind the general needs and wants of the group, and press forward.
Be flexible! Don't expect everyone to stick to a plan that you made. That just isn't realistic, and in the end it's about fun and family time – not about the specific activities you plan. If something falls through or people decide they aren't into something, brush it off.