Over 21 delicious and unique Green Salad Recipes you are sure to enjoy! Make them for dinner, lunches or to bring to a party or gathering. However you eat them these salads are tried and tested and taste approved!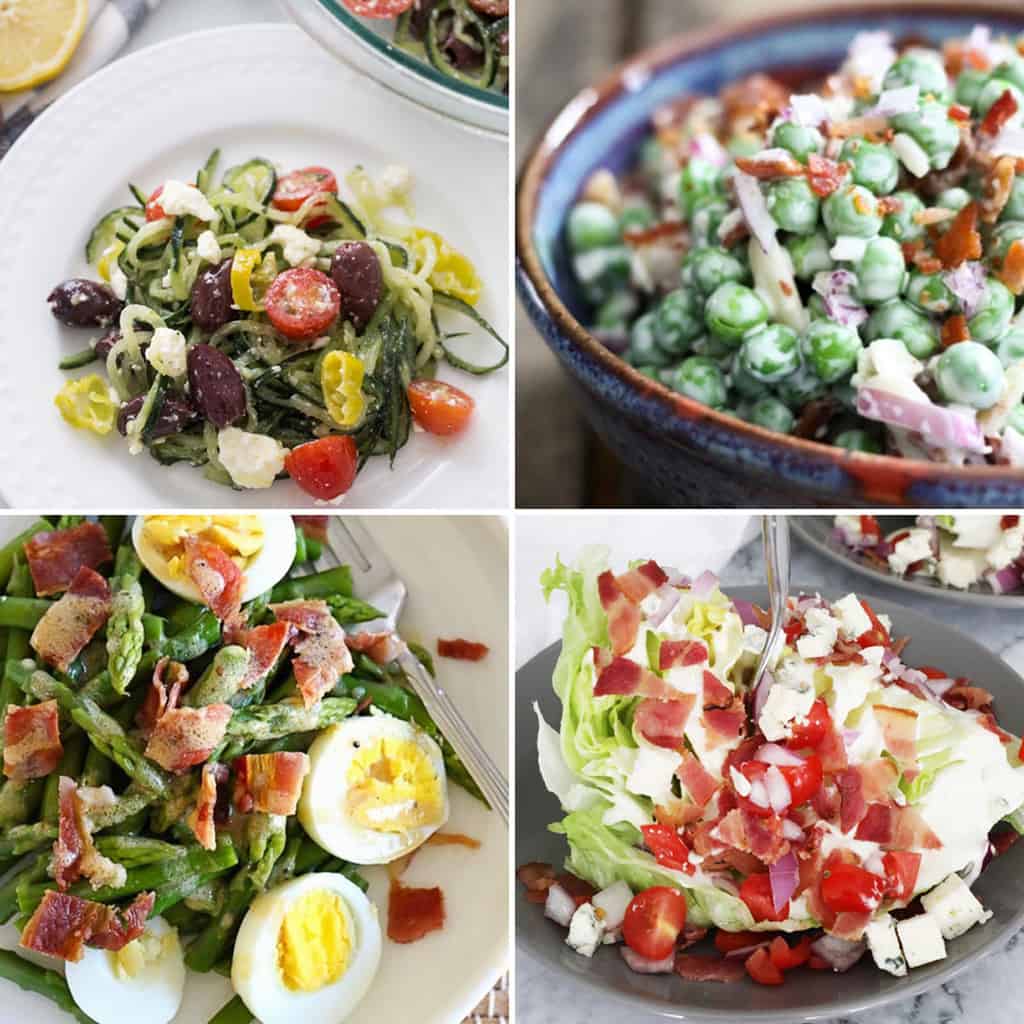 So in the months since the babe has been born I've been trying hard to get my eating habits together. The trouble is, I basically don't like very many healthy foods… particularly vegetables. How is that for a grown woman to admit? Basically the one form in which I actually enjoy vegetables (besides my favorite green smoothie recipe) is in a green salad!
Green Salad Recipes
Since we have been having salads for dinner multiple times a week for the last few months I went on a search for some new yummy dinner salad recipes. Let me just say… MIND. BLOWN. I am totally stoked about our dinner menu's being completely livened up moving forward!
So, of course, I have to share my finds with all my cyber besties!
If you prefer other types of salads you will love the best bowtie pasta salad ever our favorite cucumber and tomato salad, this pomegranate apple salad, or this amazing homemade red wine tomato vinaigrette!
Or you can find our entire Salad Gallery here.
Simple Green Salad Recipes
Get excited, because these dishes are literally all amazing! If you are looking for a quick, easy, no fuss healthy dinner these are the salads for you! The wedge is one of our all time FAVES.
Mixed Green Salad Recipes
There are so many different options when it comes to large mixed salads! With all these options you are sure to find several winners that your family is going to swoon over! Not only are these great for bringing to family parties and gatherings, but they are also awesome just for a nutrient packed weeknight dinner.
Unique Green Salad Recipes
These beauties are not your typical salad recipe! I love the uniqueness and variety offered here. If you think you are sick of eating salads, one of these yummy recipes is sure to change your mind!
Green Salad Recipes with Chicken
Adding a protein is such an easy way to take a salad from a side to a main dish! If you can't find one you like here, you can easily add more protein to any of the awesome salads in this round up.
Tossed Green Salad Recipes For a Crowd
A salad is a must at any family party or gathering, and these are a few of our favorites for that purpose!
Green Salad Recipes with Fruit
Where are all my fruit lovers at?? If you love fruit on your salad these gems are for you.
I mean, is your mouth watering, or is it just me? Which one looks the best to you guys?
Also, if you need a delicious main dish to go with these amazing salads you HAVE to check out our classic Chicken Schnitzel! It is unbelievably good!
xo,
This post was originally published on July 29th 2015 and has been updated with better photos and more salads and more information generally.