Cricut. All opinions are 100% mine.
This is a sponsored post written by me on behalf of
If you're looking for some new Cricut project ideas to try with your Cricut Maker, or you're shopping around deciding which machine to get, this post is for you! Here are ten different projects for beginners and Cricut pros alike!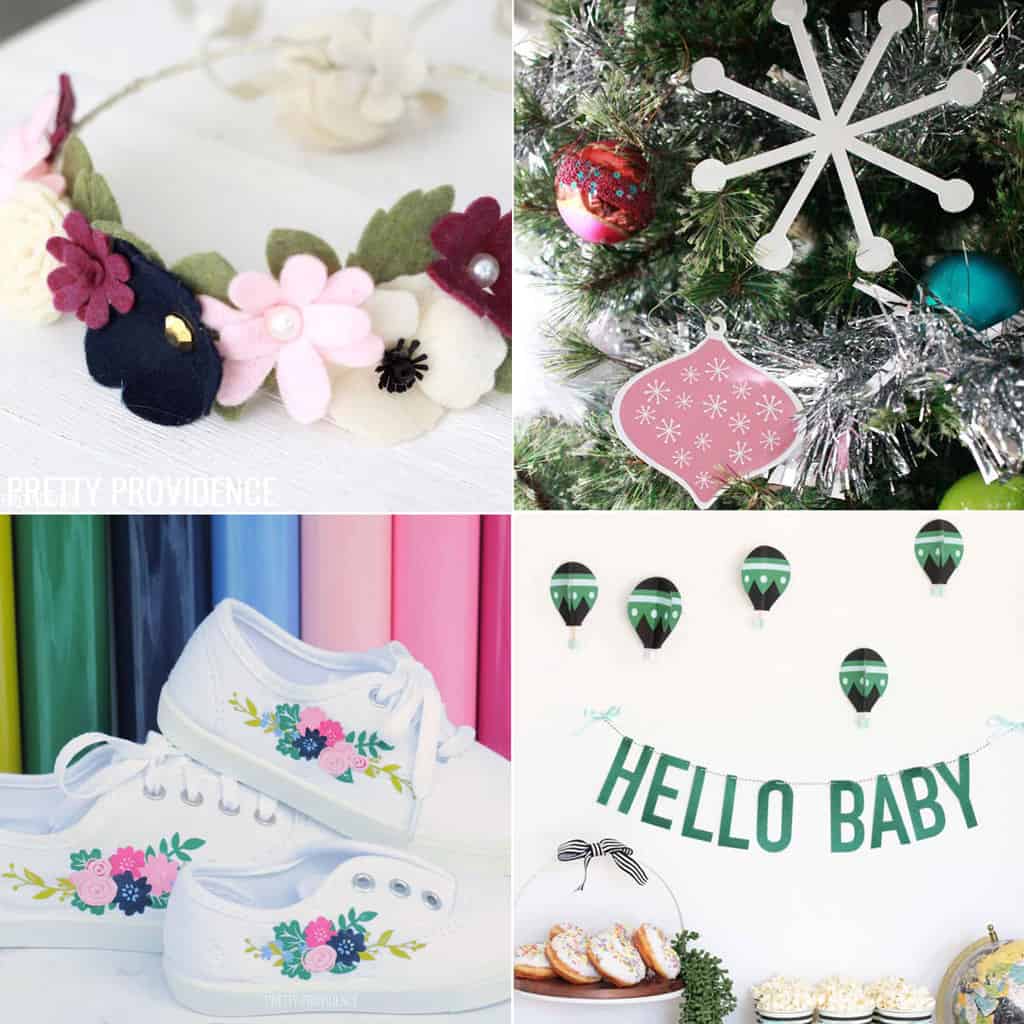 *This post contains affiliate links.
You know how much we love Cricut. One of the questions we get asked a lot is "which Cricut should I buy?" and to be honest, that is a hard question because we love all the Cricut machines. There are definitely differences between them, though. Today we are focusing on the Cricut Maker! We have an entire Cricut Maker Review that you can read, as well as in-depth posts about the Cricut Knife Blade and Cricut Rotary Blades!
I love my Cricut Maker because with its adaptive tool system, there are SO many different materials it can cut. As a result, the crafting possibilities are endless. Today, I thought it would be fun to SHOW you how versatile this machine is with ten of our favorite Cricut Maker projects.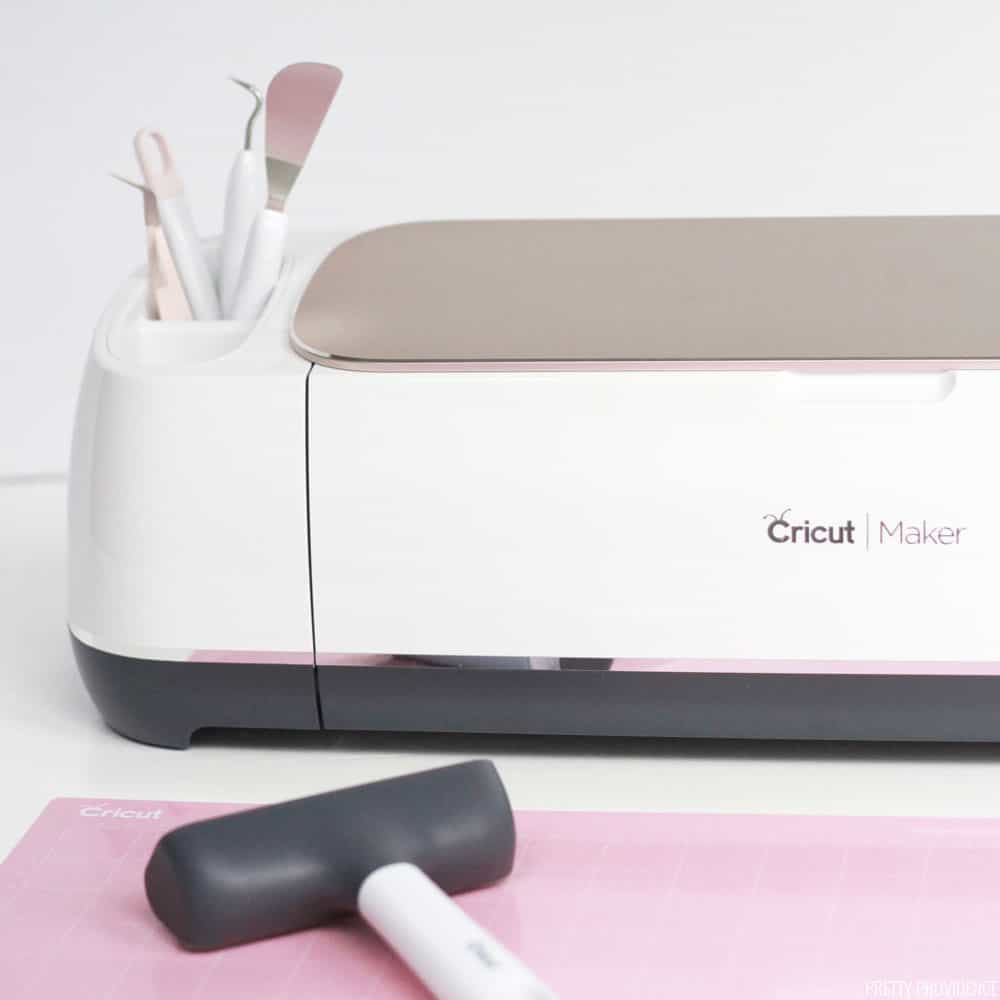 If you use Cricut Design Space, be sure to check out my Everything You Need to Know about Cricut Fonts post! It is full of tips and tricks, plus a cheat sheet with all of my favorite Cricut fonts to use for projects!
Cricut Project Ideas
For this Hot Air Balloon Baby Shower, I used multiple Maker tools!
Rotary Blade to make the felt "Hello Baby" banner.
Scoring Wheel to make the lollipop envelopes and hot air balloons.
Fine Point Blade to cut the card stock for the envelopes and paper hot air balloons.
These shoes are one of my favorite projects ever.
I used the EasyPress Mini to iron the small floral design on layer by layer, and I used an iron-on protective sheet to keep all the layers from melting!
Since they are made with iron-on, you can make them with a Cricut Maker or any Cricut machine.
The first time I cut fabric with the rotary blade, I couldn't believe how clean and perfectly it cut fabric!
These fabric butterflies cut with the rotary blade made the perfect addition to this no-sew Princess costume.
I also used the rotary blade to cut the felt for the crown.
Felt flowers for the win! This second Princess costume, also no-sew is my personal favorite of the three I made.
The rotary blade cut the felt flowers beautifully, and I made a ton to embellish the princess dress and make a matching felt flower crown.
These socks are a reader favorite, and it's no surprise why! They are so fun and make perfect gifts, stocking stuffers, or just make some for yourself when you're feeling snarky!
Home Decor Projects
This DIY wallpaper in Jessica's son's room cost under $20 to make with the Cricut Maker. Can you believe?!
The fine point blade cut the removable vinyl like a dream.
Since this faux wallpaper AKA wall decals are made from removable vinyl, they can be easily removed if we decide to redecorate!
Jessica pulls out this Happy Birthday banner every time someone in their family has a birthday! Since it's made with 2 mm Chipboard, it is sturdy and is still looking great.
Chipboard was cut with the Knife blade.
This modern quilt project is near and dear to my heart. I added sentimental details with fabric and iron-on, and it still makes me happy every time I see it!
Fabric was cut with the rotary blade.
I used the EasyPress 2 to embellish the squares with fabric and iron-on details.
I adhered fabric to Chipboard, so that the squares would be sturdy.
Cricut Chipboard comes in 11" squares which I felt was the perfect size so I didn't have to cut it down at all.
I cut the intricate flowers out of fabric and I still cannot believe the details that blade can cut!
I made these craft storage labels with removable vinyl for my Craft storage closet, which to be honest is full to the brim with Cricut supplies! You should check out the whole set up - I transformed my under the stairs closet into craft storage space.
I used the fine point blade to cut these labels.
The closet holds every Cricut supply I own!
Holiday Decor
The Cricut Maker made cutting these felt eyeballs SO quick and easy. I love my Cricut for Holiday decor because making it yourself is so much cheaper and you can customize it to match your home!
I used the rotary blade to cut the felt, and used Cricut felt as well.
These chipboard Christmas ornaments add so much 'WOW' factor to my Christmas tree. My family members have even requested that I make them some for their tree next year!
I used 2 mm Chipboard cut with the Cricut Knife blade to make these large Christmas ornaments.
After cutting, I cut the Chipboard I painted some with craft paint, and to others I added metallic permanent vinyl.
Jessica made some cool Chipboard ornaments to give as neighbor gifts too!
I hope you have found some inspiration in these Cricut project ideas! I think it's amazing to look back at projects I have done and realize how many different things you can make with a Cricut Maker.
Which project is your favorite?!