This is a sponsored conversation written by me on behalf of Cricut. The opinions and text are all mine.
Tons of amazing personalized gift ideas using a Cricut machine in one place. If you want inspiration for giving your loved ones something special that they will always cherish this is the post for you!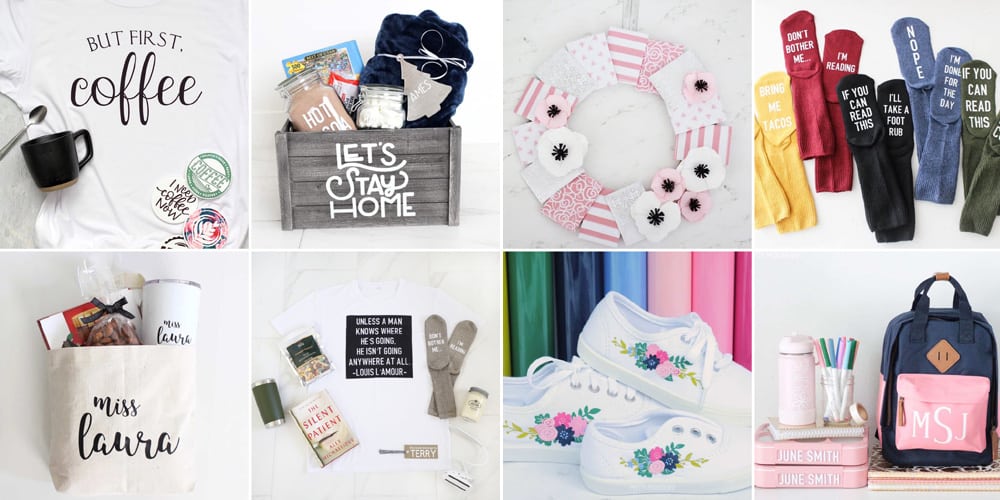 As you guys know I LOVE finding the perfect gift for my loved ones (like this reader gift basket I recently made for my Dad or these best friends shirts I made for my kids)! As I get older I find more and more that making something is often the best way to do this, because something you make for a loved one is instantly something money can't buy. My favorite way of personalizing gifts is of course using my Cricut!
Personalized Gift Ideas
We have been sharing gift ideas here for as long as the blog has been around, and I thought it was high time we rounded up some of our favorites (as well as some favorites from our friends) for you all in one place. I hope this makes browsing through simple and gets your creative juices flowing!
If you want to see all of our fun gift ideas in one spot you can also browse through our gift idea gallery here. Also, if you are gifting to someone who loves Cricut or wants to get into it, here is a great round up of all the best Cricut products to give as gifts!
Okay, are you ready to see some great ideas? I've broken them down into categories to make browsing through a little easier! Below you will find sections for gift baskets, personalized gift ideas, and t-shirts!
Cricut Gift Basket Ideas
I love giving gift baskets because they are perfect for the few people that you want to do something a little nicer for, but you can't think of one big thing. They are also easy to accumulate things for over time, if you like planning ahead for the holidays like I do!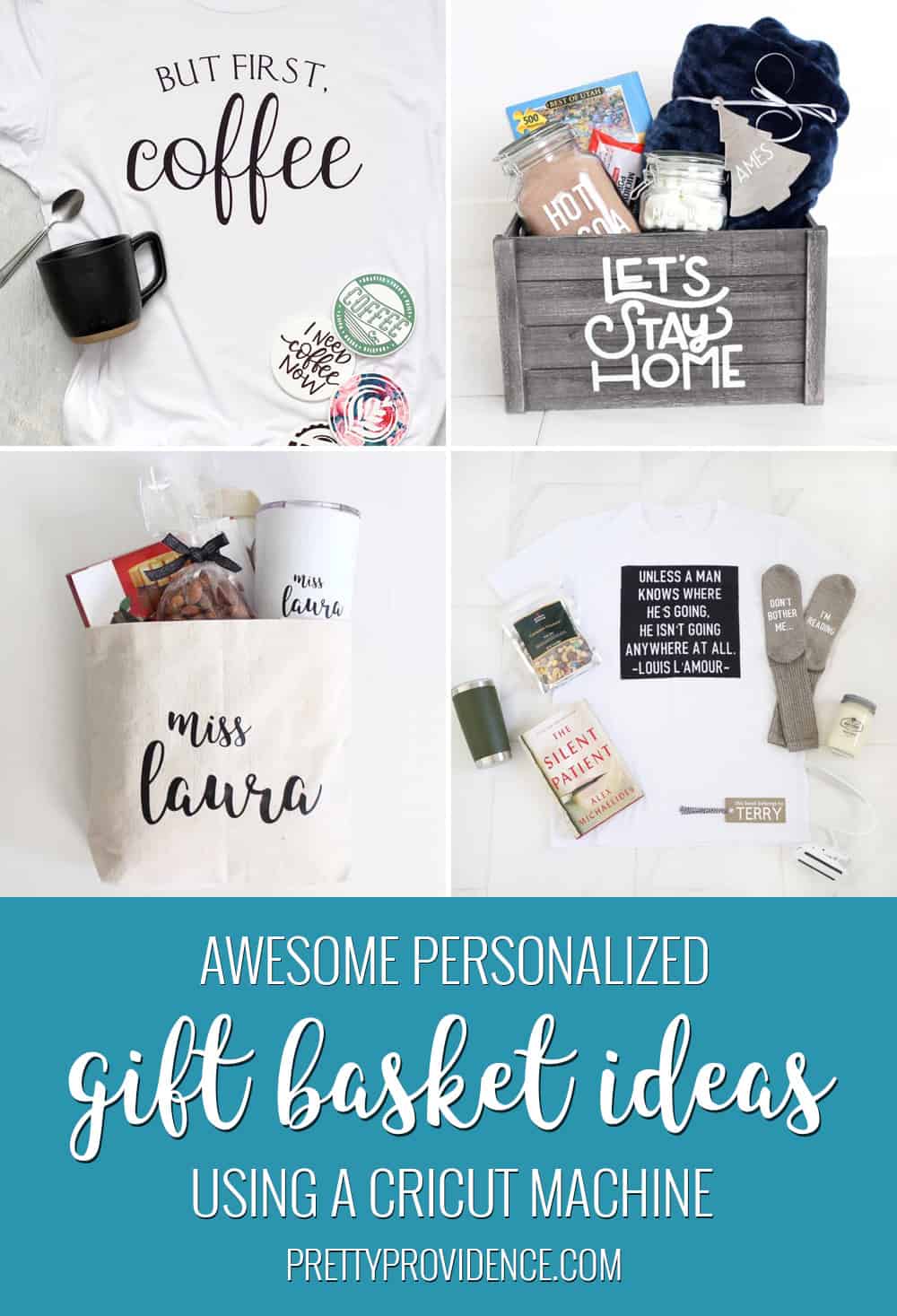 I gave this cozy night in gift basket to a few of our close friends last year and it was a big hit! I used iron-on vinyl to monogram the blankets and regular vinyl to add they lets stay home onto the baskets and the hot cocoa and marshmallow jars.
I mentioned this readers gift basket earlier that I made for my Dad. He helped instill my love of books and reading and it was so fun to put this together for him! I used infusible ink to make him a shirt using a quote from his favorite author, used iron on vinyl and faux leather to make him a personalized bookmark, and lots of other fun things as well!
We all know how hard teachers work for our little ones, and I always try to give them something special to express my thanks. This personal teacher gift idea is sure to be a hit. How cute is that canvas bag with their name on it in iron-on?
I love this coffee themed gift idea that our friend Pam from Over The Big Moon put together! She made it using infusible ink and I am dying over those coasters!
Personalized Cricut Gift Ideas
If you have a smaller budget but still want your gift to feel really meaningful, these personalized gift ideas are the way to go. Receiving something homemade always makes me feel special, because I know an extra amount of thought and time and energy went into the gift. Here are some great ideas that have been big hits for us in the past!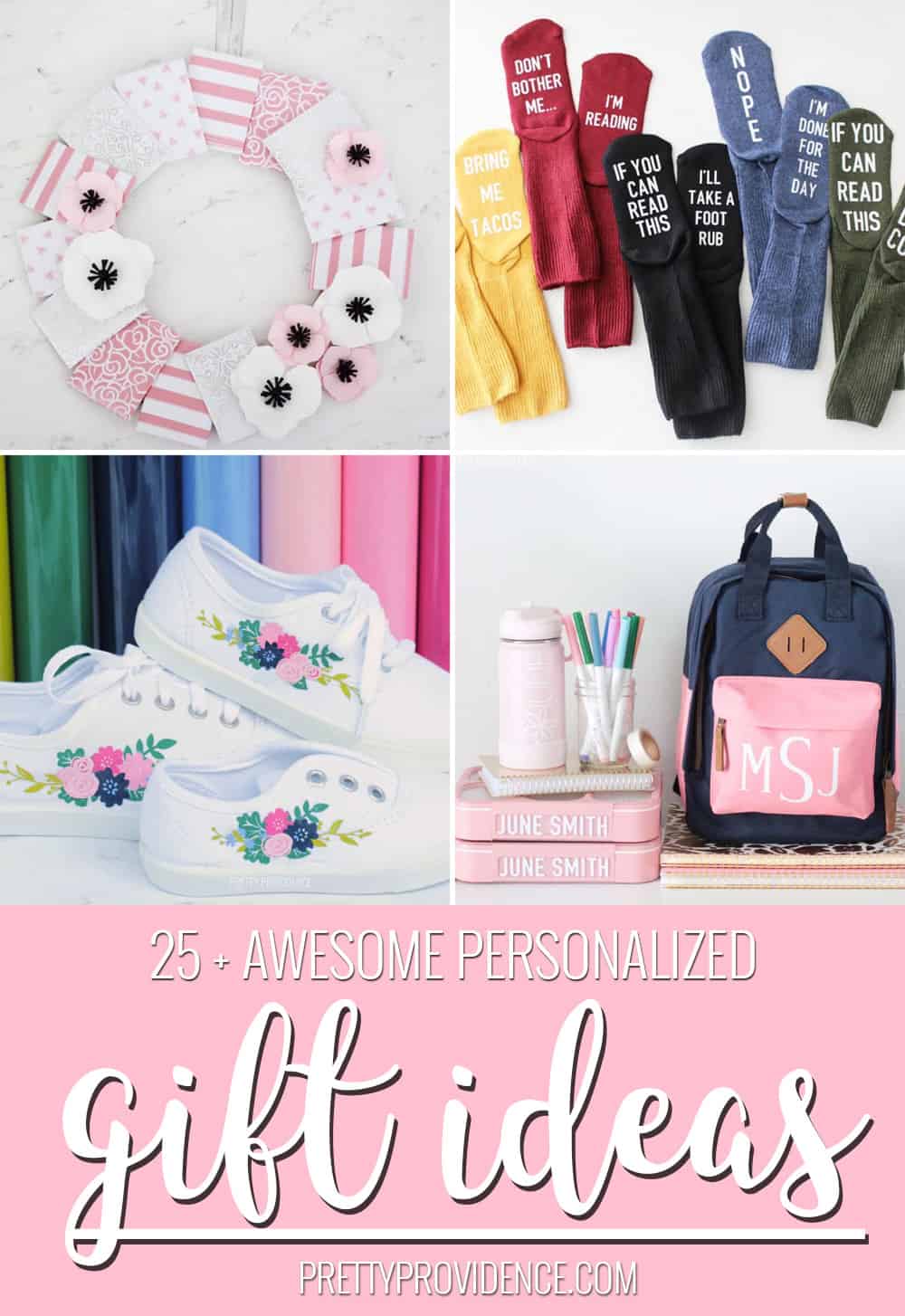 I am obsessed with these matching iron-on shoes that Sarah made for herself and her girls! I mean, how cute are they?? Plus, they take some cheap Walmart sneakers and turn them into a really fun and meaningful gift. The possibilities for embellishing with iron-on and shoes are honestly endless!
What little kid doesn't love their name on all their things? I know my kids do! Personalized school gear is a great way to make giving practical things like backpacks and lunchboxes a lot more exciting for the little people in your lives!
These personalized tote bags are amazing. Not only are they so functional but they are dang cute! I think I need to make these for my kids for Christmas!
Our funny DIY socks are one of our most popular posts! I gave them out as gifts for Christmas last year, and I have made them several times since! Every time I give them they get rave reviews. Who wouldn't love a pair of custom funny socks?? I used iron-on vinyl for these as well!
I embellished these adventure themed fanny packs to gift my kids before a Disney trip last year and they were obsessed with them! They still wear them all the time. Less then $10 each to make!
These DIY Princess Costumes are perfect for the little diva in your life! They can wear them all year round as dress ups.
Who wouldn't want to receive a custom gift card wreath?? Keep in mind not ever envelope needs to hold a gift card or cash! You can also add handwritten notes, small trinkets or DIY "coupons" to help keep things affordable!
I love this beautiful leather bound journal from our girl Anna at Practical and Pretty! Not only is it beautiful but it is functional too. A great gift for the writer in your life.
This DIY Monogram Tie from Anna is amazing as well! It's perfect for the men in your life. I wan't to make one for both Dads and all my brothers!
These embellished personalized kitchen towels from Pam at Over the Big Moon are so fun! They would make perfect neighbor or friend gifts– so many fun possibilities here!
I love these DIY Menu Board and think it would make such a fun gift for the chef or homemaker in your life! Heaven knows I want someone to make one for me!
This Fabric Quilt Wall Art is definitely more time intensive, but would make the most beautiful keepsake for someone special. Definitely a gift that would stand the test of time.
Gift the Perfect Personalized T-Shirt
T-Shirts are one of our very favorite things to gift! They are easy to make, really affordable, and really fun to personalize! Plus, who doesn't love a cozy T-Shirt personalized just for them? All you need is a T-Shirt and Iron-On or Infusible Ink and Cricut Blanks and you are good to go!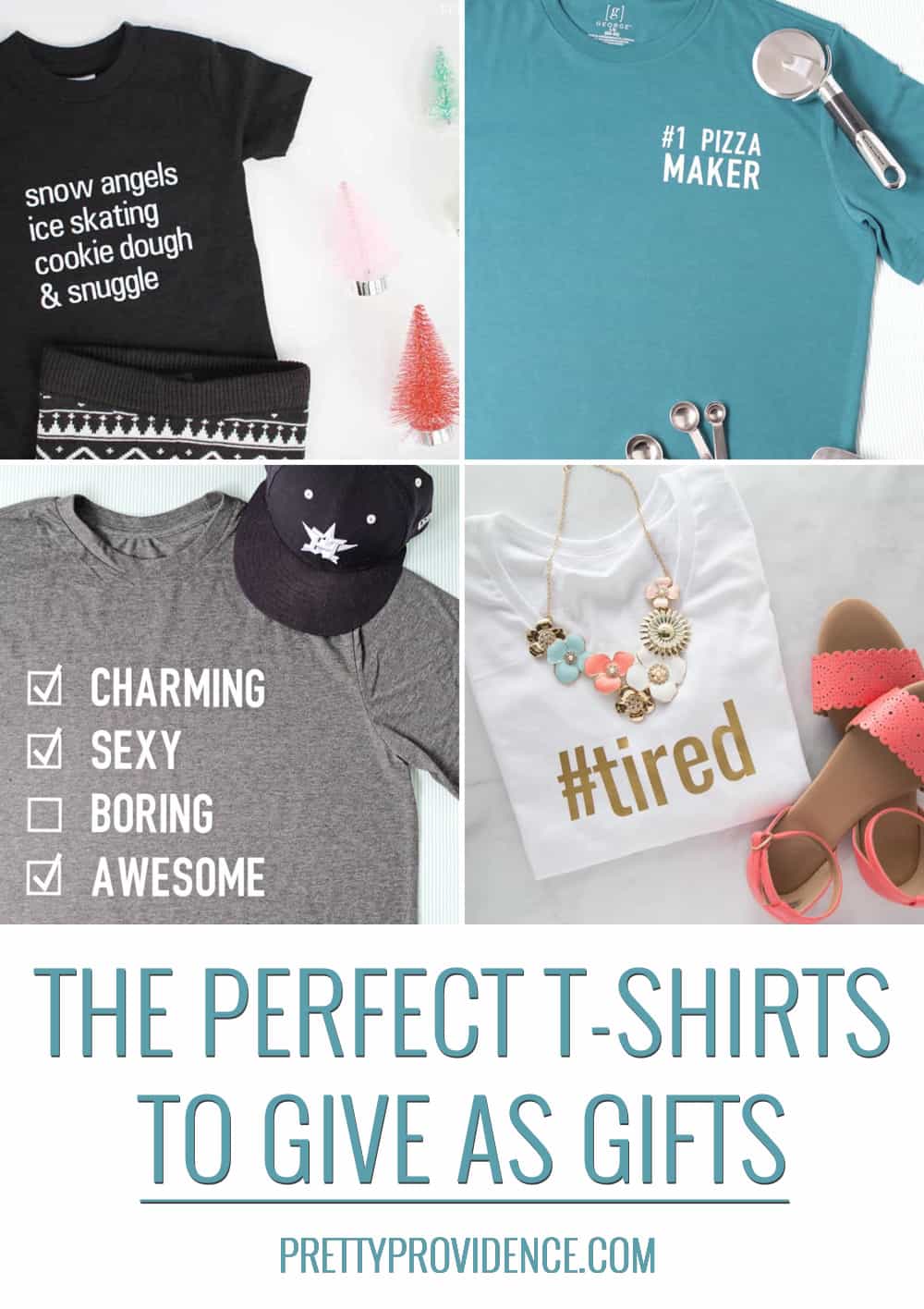 Well there you have it friends! I hope you found some inspiration for those you love this Christmas!
xo,