We are so, so excited to introduce y'all to our newest contributor, and first ever interior design contributor, Kelsey  Wells of The Wells Collection. Kelsey studied interior design at Brigham Young University, then got a job as a designer at Ethan Allen, and recently left to start her own design business. She is a wealth of design knowledge and DIY projects and we cannot wait for you to "meet" her! Her blog is brand, brand new, so be sure to give her some love! Oh, she is also Jess's sister!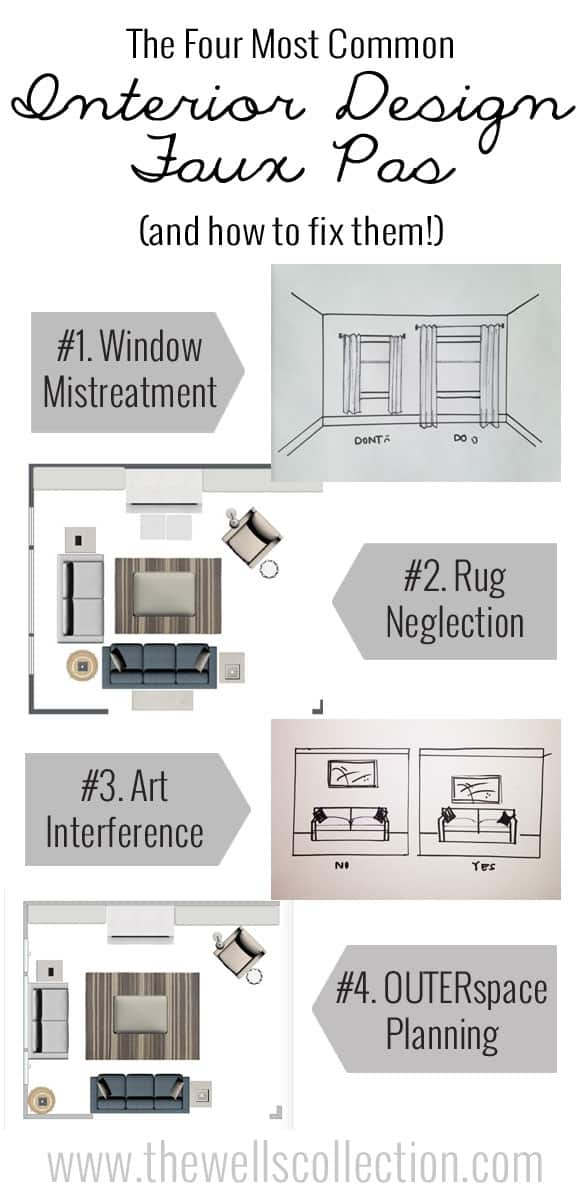 Rules are meant to be broken, right?
Don't wear white after labor day.. no candybars for breakfast.. shower daily (girl, please).. don't wear black with blue.. no jumping on the bed.. I call BS. On the other hand, however, socks should NEVER be worn with sandals. And leggings really should never be worn as pants. Really.
While there are plenty of rules in interior design I feel I had to learn just so I can break them, today's post is about the ones that are in the "no socks with sandals" camp. Because although ignorance can be bliss, when I come home and realize I have been walking around with my baby's poop all over my blouse (that smell WAS me), ignorance is not bliss. Ignorance is embarrassment, and why couldn't someone just tell me?!
Well, this is me telling you. Today I am your interior-design sister or BFF, and I've got your back. PLEASE know my intentions for this post are certainly not to offend anyone, I simply feel these things are too easy to fix not to be shared. SO, without further ad0 I give you…
THE FOUR MOST COMMON INTERIOR DESIGN FAUX PAS