How to personalize a cup or tumbler with vinyl. Follow this complete tutorial for DIY vinyl tumbler decals with all the tips and tricks. Personalized tumblers make great gifts and they are so easy to make!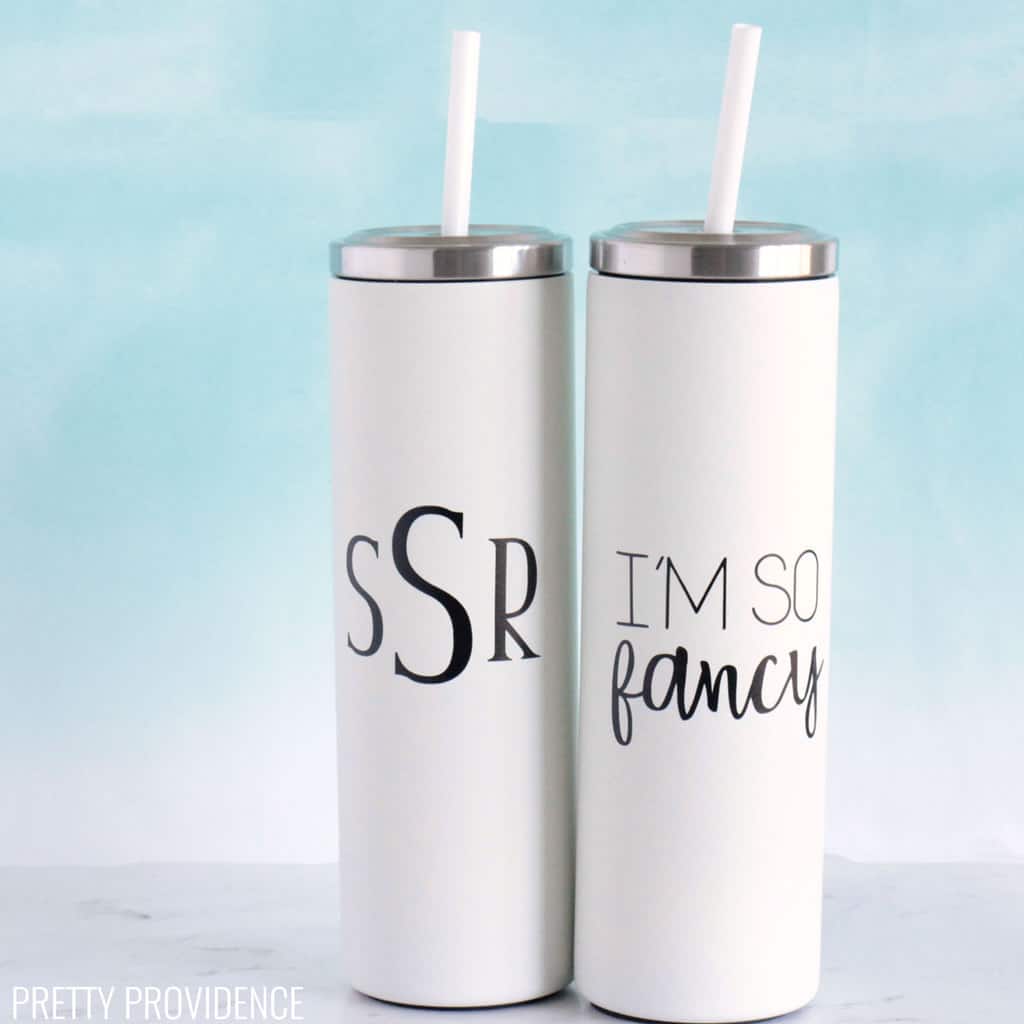 For a few years I've been adding personal designs to my tumblers with vinyl and my Cricut machine. It is high time for a very detailed tutorial, where I can share all the tips and tricks I've learned along the way! You can use this tutorial to personalize anything – a Yeti Cup, Hydroflask, mug, glass jar, etc.
*This post contains affiliate links.
Personalized Tumblers
I love making personalized cups. There is something so fun about having a monogram, nickname, or favorite team on your drink! Song lyrics are fun too. I have probably made 50 different tumbler decals over the past few years, some for myself and many to give as gifts. Somehow I never get sick of it!
Tips & Tricks
Before you start designing, head over to read Everything You Need to Know about Cricut Fonts – a post I wrote detailing my favorite Cricut fonts, tips and tricks for using them, and some of the best font combinations you can put together! For even more Cricut info head to our Cricut page.
The Best Vinyl for Cups
I personally use Cricut Permanent Vinyl to personalize tumbler cups. It comes in so many colors. The vinyl lasts really well even through every day use and washing over and over in the dishwasher.
We use it to label our kids' water bottles and lunchboxes, make teacher gifts, and label bins and containers in our house. Jessica made a really cool cup recently too with all kinds of stickers to represent her favorite things!
*Stainless steel cups, like Yeti brand or Hydroflask should be hand-washed with hot, soapy water. You can wash them in the dishwasher, but they might be discolored or damaged over time.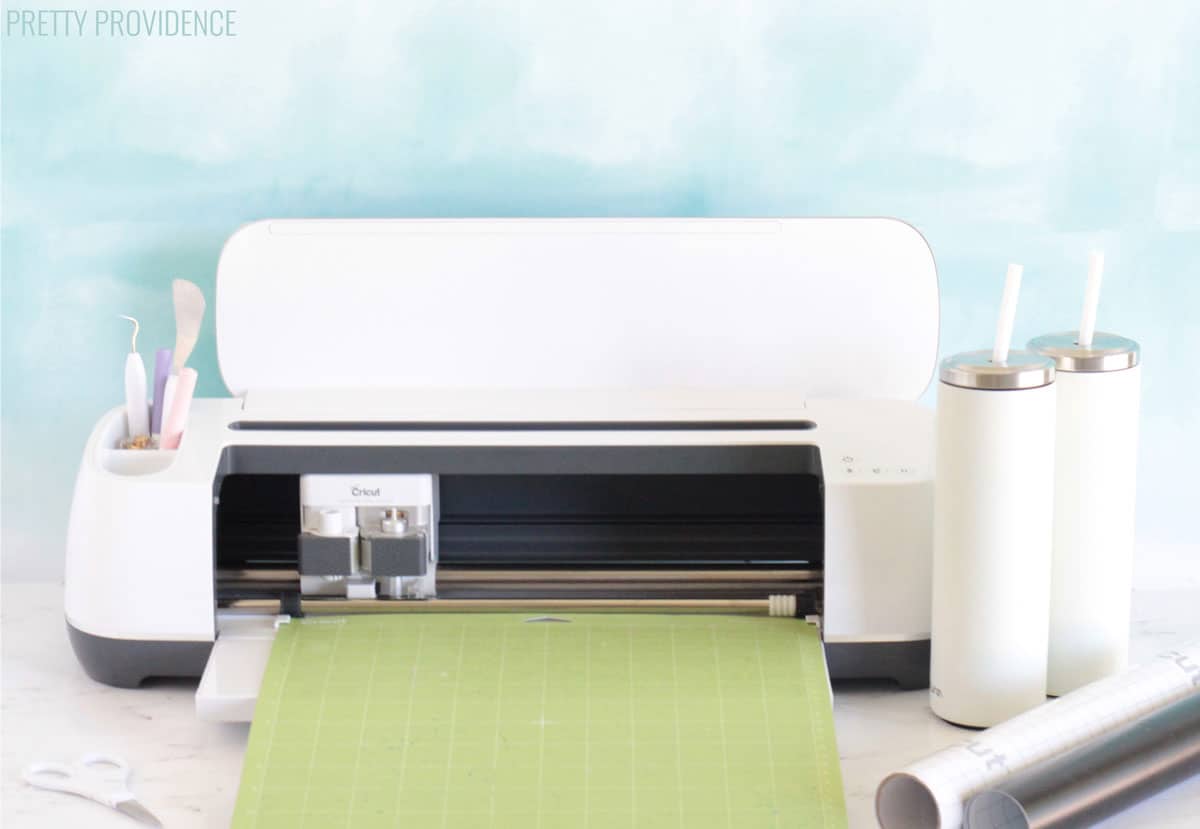 Materials Needed:
The tumblers I used for this tutorial are these Skinny Cups from Amazon.
How To Make: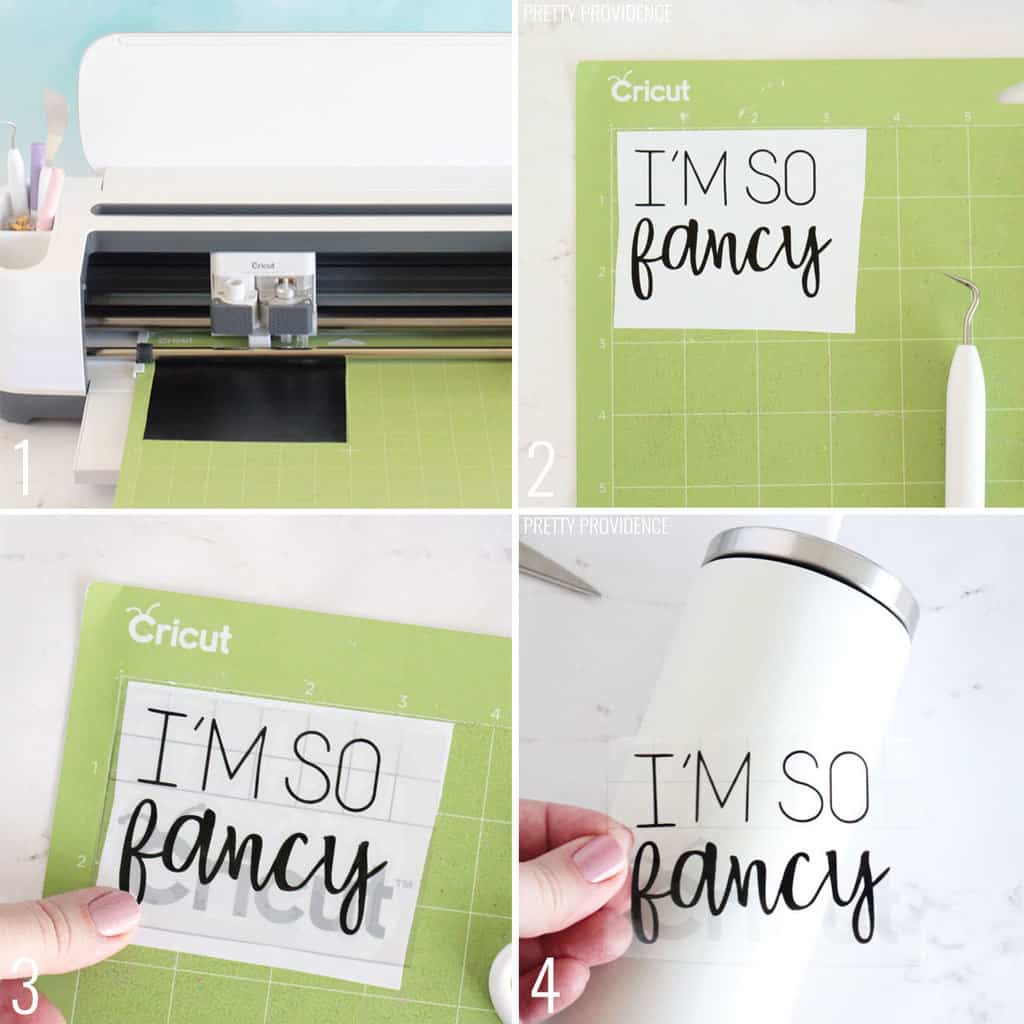 Cut vinyl design with Cricut machine.
Weed excess vinyl from around the outsides and the insides of the design.
Put transfer tape down onto the design and burnish (A.K.A. rub) with your thumb or the back of a weeding tool. Make sure it is good and stuck.
Pick up transfer tape and make sure the whole tumbler decal is stuck to it. Position it over the cup where you want to apply it, then press the design and transfer tape down to stick it on.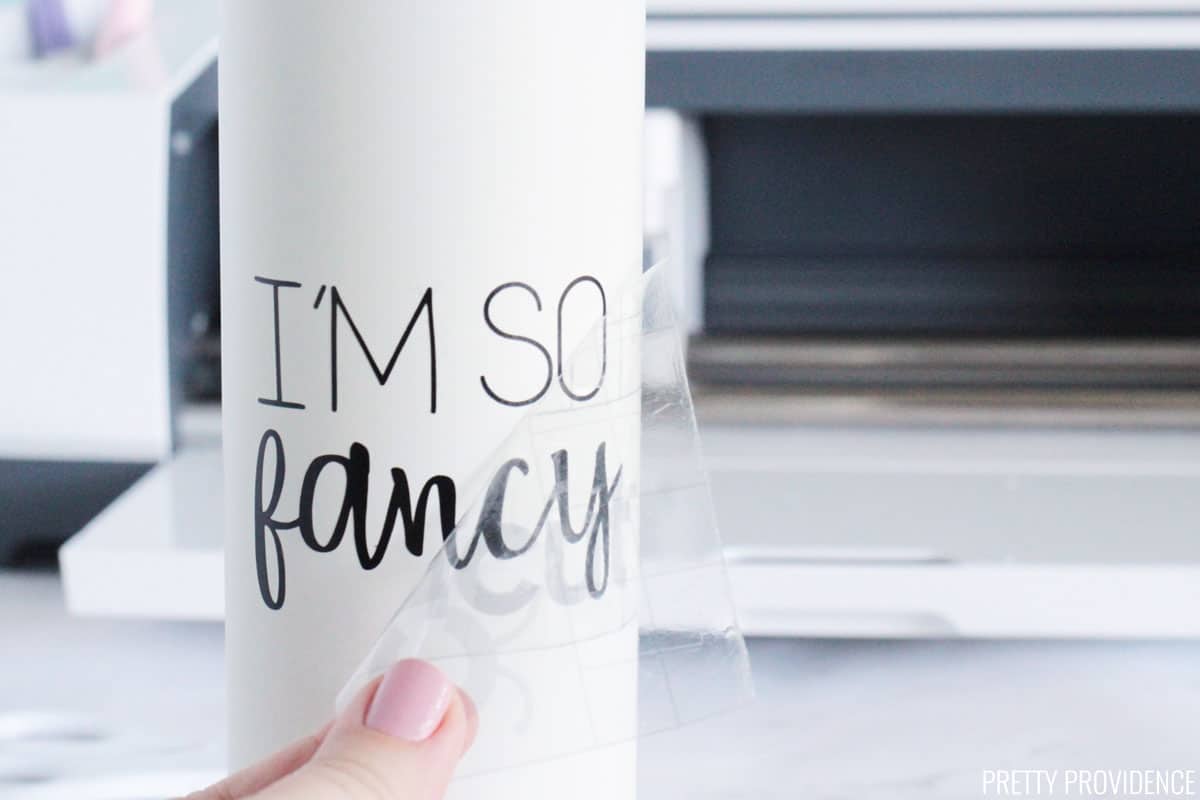 Remove (below) transfer tape slowly, pull diagonally from one corner. If any of the design starts coming up with the transfer tape, press it back down, burnish more, and try again.
Ta da! I hope you have fun making your own personalized Yeti cups!
If you use this tutorial, we'd LOVE if you leave us a comment and positive review! Also — tag us on instagram @prettyprovidenceblog so we can see what you're making!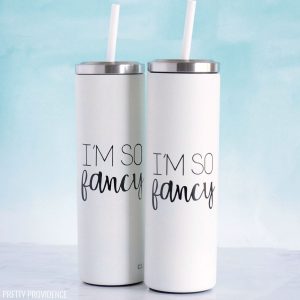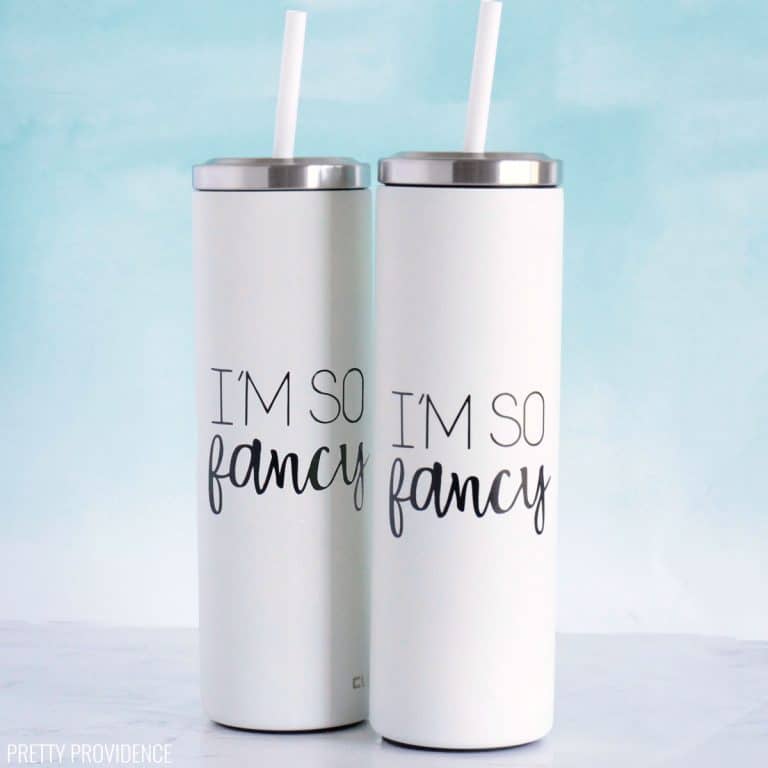 Vinyl Tumbler Decal
How to make a tumbler decal with Cricut vinyl! Follow this easy step-by-step tutorial for a personalized yeti tumbler.
Print
Pin
Rate
Equipment
Cricut Machine

Standard Grip Mat (green)

Scissors

Weeding Tool
Materials
1

Stainless Steel Tumbler with Straw

Cricut Permanent Vinyl

Cricut Transfer Tape
Instructions
Open design in Cricut Design Space and size it to fit your cup. Make sure your design is 'attached. 'Weld' if you are using cursive letters. Click 'make it.'

Select 'vinyl' from the materials list if you are using a Cricut Maker. If using an Explore machine choose 'vinyl' using the dial on the machine. Check to make sure that the fine point blade is loaded in your machine. Choose 'continue.'

Cut a piece of vinyl to the size needed for your decal, leaving a centimeter extra on the sides. Put the vinyl onto your green mat. Follow the prompts in Design Space to cut the vinyl.

Weed extra vinyl from around the words and inside the letters using a weeding tool.

Cut a piece of transfer tape and press it down onto the vinyl design. Burnish the transfer tape. (Burnishing: Rub back and forth over the tape with your thumb or the back of a weeding tool until it is good and stuck.)

Slowly pick up the transfer tape and if any of the letters aren't coming up with it, put the tape back down and burnish again.

Place the design with transfer tape onto the tumbler and burnish with your thumb.

Pull transfer tape off of the design slowly, diagonally from one corner.

Done! Now you have a cute, personalized tumbler decal!
Notes
Permanent vinyl is the best kind of vinyl to use for tumbler cups.
Cricut Permanent vinyl will last really well.
You can put this vinyl through the dishwasher but stainless steel tumblers hold up better if you hand-wash them. 
Do you have more questions about Cricut or a desire for more in depth tutorials like this? Check out this amazing course!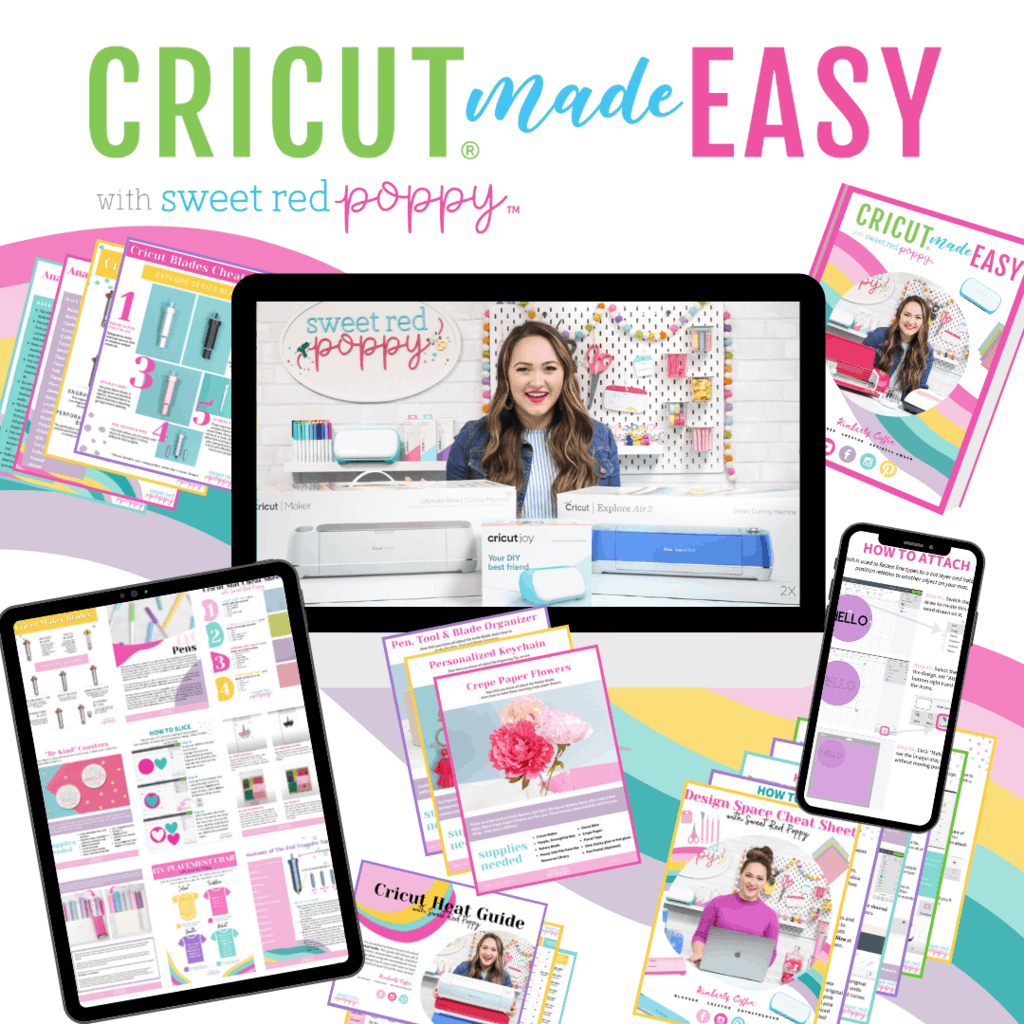 Our friend Kim from Sweet Red Poppy made this Cricut Made Easy Course and it is beyond amazing you guys! So worth it if you really want to invest in growing your Cricut knowledge. Here is a sampling of what it includes:
19 Video Modules(Chapters)
50+ Step-by-Step Video Tutorials
30+ Cricut Cheat Sheet Printables
160+ Page E-Book "Maker's Guide to Cricut"
All 3 Cricut Machines Covered (Maker/Joy/Explore family)
16 Different Projects with Printable Guides
80+ High-Quality SVG Files
Print then Cut Sticker Files
Design Space Glossary
Exclusive Facebook Support Group
Tips and Tricks from an Expert!
Click here to check it out! Or just go to our Cricut project gallery to see ALL of our Cricut projects and tutorials!