Wondering how to season ground beef? You'll never use another ground beef seasoning for freezer cooking or adding to easy dinners, like tacos, spaghetti, casseroles, or chili, because this one's the best of the best!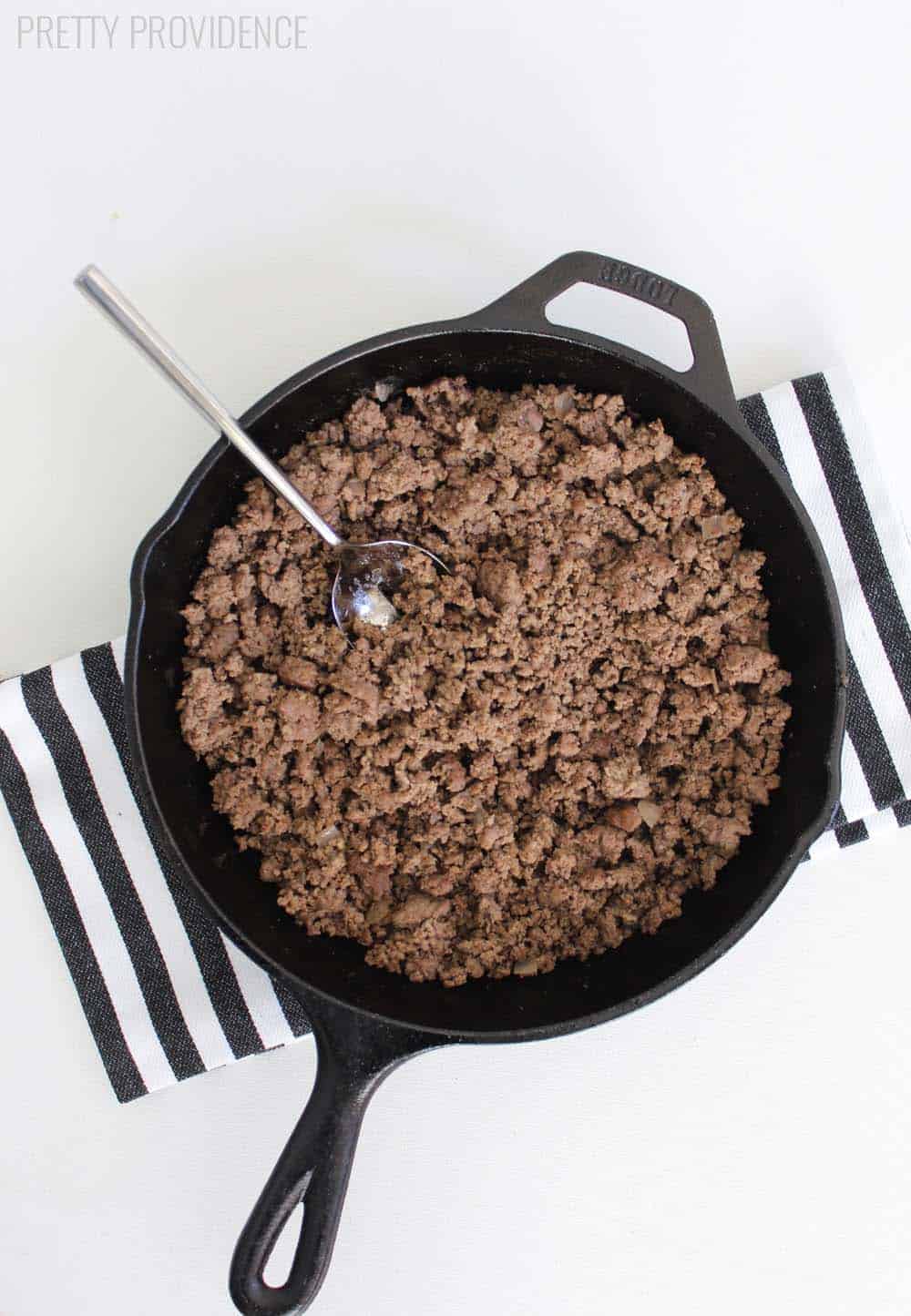 You guys, I have finally figured out the secret to cooking at home more often and not having it feel stressful for me. The secret is having delicious, seasoned ground beef cooked and ready to go! Ground beef is the base of so many easy dinner recipes and it's inexpensive. Since I like to use it in so many different recipes, I season it enough that it tastes delicious alone but can also work in sauces and tacos and other easy dinner recipes.
Ground Beef Seasoning
Sometimes I buy 4-5 lbs at a time when I see it on sale at the grocery store. I season and cook the meat, let it cool, and then separate it into quart-sized plastic freezer bags. You can also use gallon-sized bags, but I like quart-sized because they hold about one pound of beef, which is the perfect amount for our family.
If you love cooking with ground beef, a few of our favorite recipes to use this meat in are Easy Korean Beef, the Best Lasagna Soup, our easy Tater Tot Casserole, or our Healthy and Delicious Beef Enchiladas! Or you can find all our favorite dinner recipes here!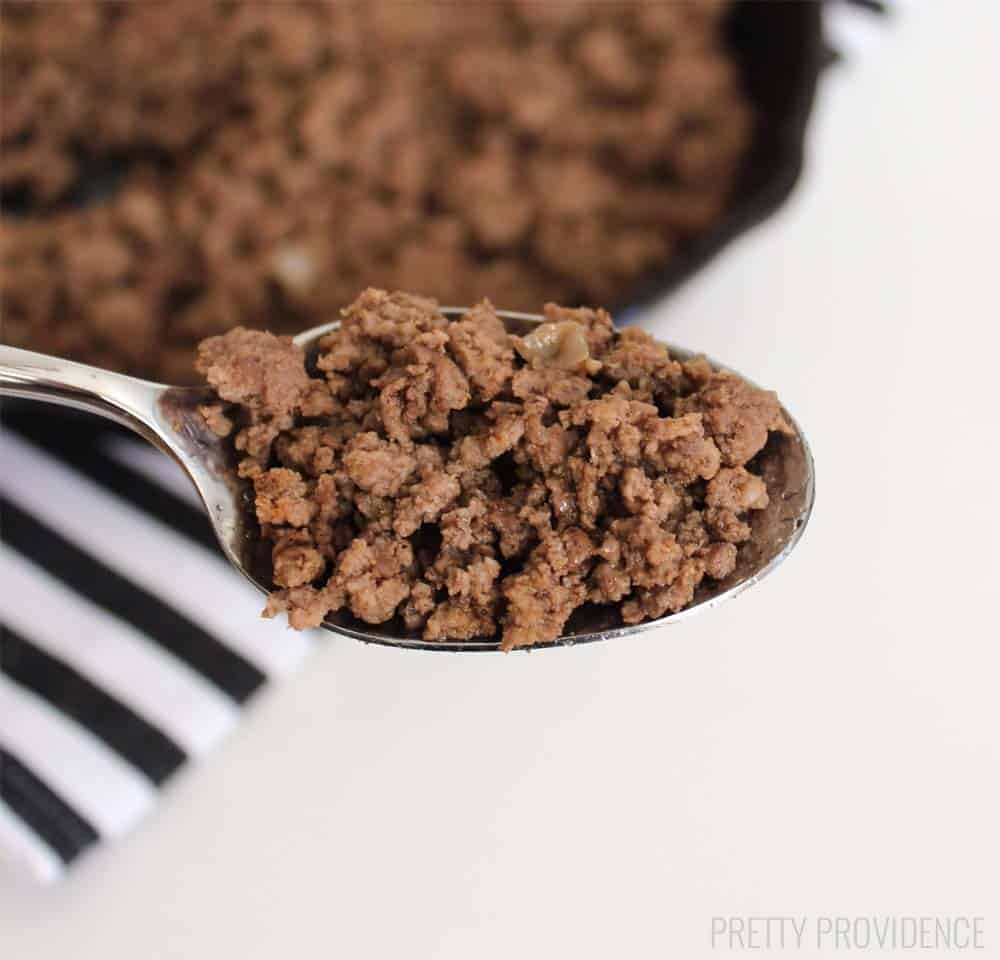 I think one of the secrets to getting a really good flavor is to sauté onions and garlic before adding the uncooked beef. It adds dimension and great flavor! Seriously… try this. I have also done this using the pre-chopped frozen onions, and it works really well! Just rinse and thaw your onions in a colander first to get out all the excess water.
I have decided that I think the beef browns and tastes the best when cooked in a heavy pan like an iron skillet, so I recommend using one if you have it.
How to Season Ground Beef
Heat olive oil over medium-high.
Add chopped onion to the pan and cook until tender.
Next add ground beef, garlic, and seasonings. Stir.
Continue to cook and stir for 15 minutes, or until beef is browned.
Enjoy in tacos, in spaghetti sauce, chili, etc.
How to Freeze Ground Beef
Let ground beef completely cool.
Put beef into a freezer bag and lay it flat on the counter.
Squeeze extra air out of the freezer bag and seal it tightly.
Label the bag with a sharpie. (Don't forget to date it.)
Cooked ground beef can be stored in the freezer for up to 4 months.
Here are some the items I use to cook with:
*This post contains affiliate links.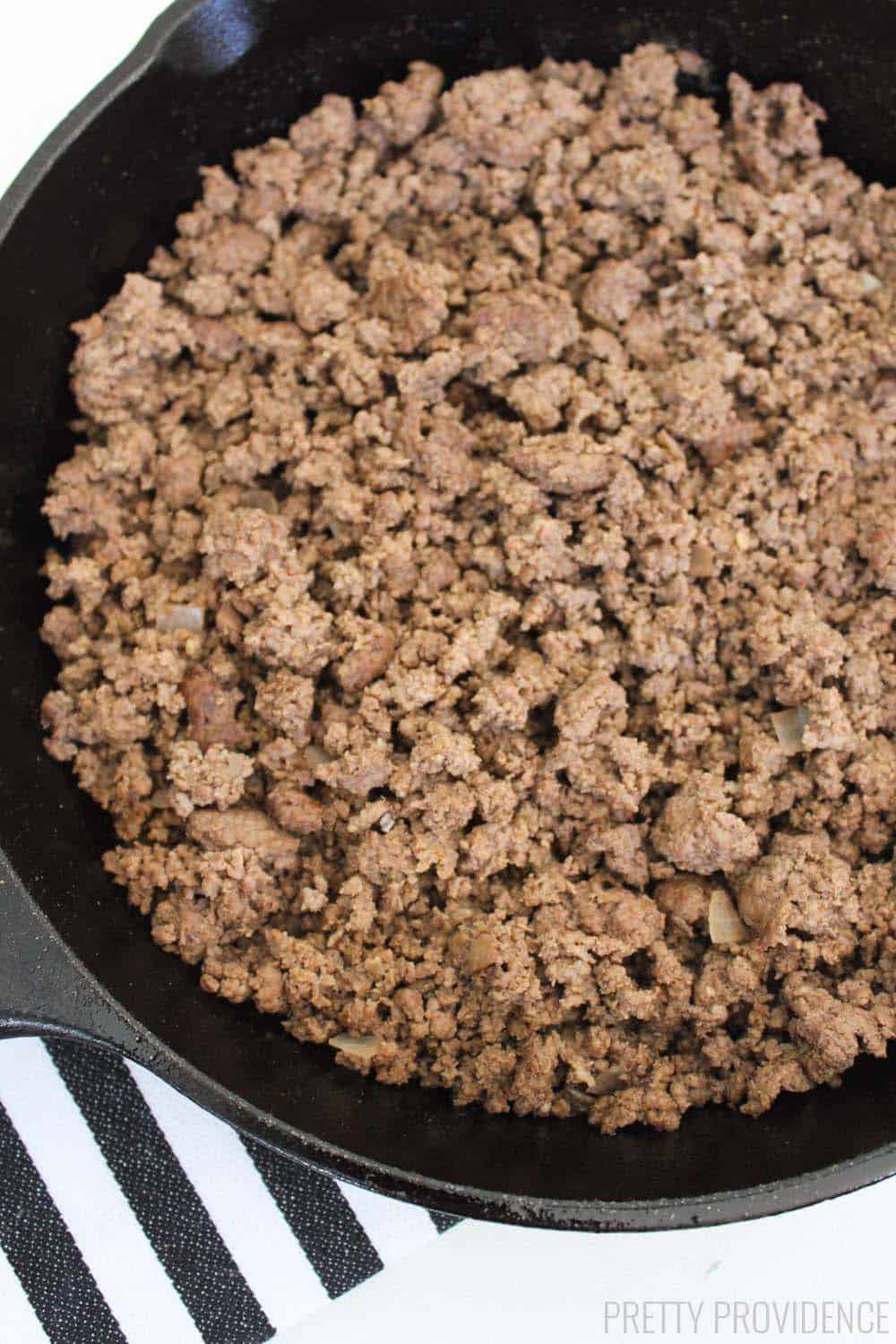 You will be amazed at how much less stressful dinner time is when you have ready portioned and cooked to perfection meat that you can grab out of the freezer at any time! Your life is about to get so much easier.
If you try this recipe and like it we would love for you to leave us a comment and positive rating! They mean so much to us!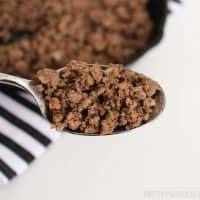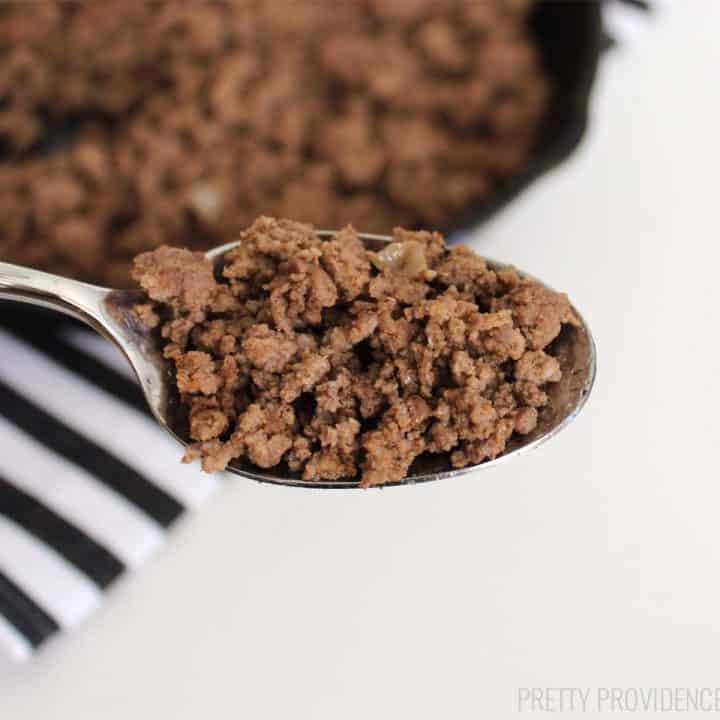 Ground Beef Seasoning
How to cook ground beef, perfect versatile ground beef seasoning, and how to freeze ground beef for later! This ground beef recipe is perfect for tacos, marinara sauce, lots of easy dinners!
Print
Pin
Rate
Instructions
Add oil to a heavy duty pan over medium-high heat.

Add ground beef and break up to distribute evenly in pan.

Add onion, garlic and dry seasonings, stir.

Continue to cook and stir for 15 minutes or until meat is browned.

Enjoy in chili, tacos, pasta, lasagna, stroganoff - basically any easy dinner recipe!
Nutrition
Serving:
3
oz
|
Calories:
325
kcal
|
Carbohydrates:
1
g
|
Protein:
19
g
|
Fat:
26
g
|
Saturated Fat:
9
g
|
Cholesterol:
80
mg
|
Sodium:
658
mg
|
Potassium:
329
mg
|
Vitamin C:
0.7
mg
|
Calcium:
25
mg
|
Iron:
2.5
mg
Happy freezer stocking!!

This post was originally published August 16th, 2017 and has been updated with a video and more detailed information.